Sims 4 Vocaloid & Hatsune Miku CC (All Free To Download)
This post may contain affiliate links. If you buy something we may get a small commission at no extra cost to you. (Learn more).
Vocaloid and virtual idol Miku Hatsune have been a part of internet culture for over ten years.
The voice software revolutionized music production for amateurs, especially those who were already into anime girls.
The result was an explosion of indie music hits to which Miku, Rin, Len, Luka, and the rest of the Vocaloid crew lent their digitized voices.
As it often happens with communities built around self-expression (and Tumblr), Vocaloid and The Sims have a significant fandom overlap. It's no surprise that there'd be some demand for custom Vocaloid content – and modders have been supplying since the days of TS2.
Put on your favorite Vocaloid playlist and join me as we take a look at the best ways to show your Voca-love in The Sims 4.
10.

Numbers Tattoo
One of the classic Vocaloid gang's defining traits is the number tattoos on their arms, which correspond to the order in which their voice packs were released.
It drives home the whole "virtual AI pop star" aesthetic, and some people have even gotten them tattooed themselves in real life.
This tattoo pack by NgSims3 will give you tattoos 01 through 04, belonging to Miku, Rin, Len, Luka, and Teto.
Even if you're not planning on making every Vocaloid2 mascot, it's a great detail to make clear that your colorful-haired music-inclined Sim is indeed a virtual singer (or a very dedicated fan).
9.

Vocaloid Wallpaper
Most of us don't have the privacy or the means to plaster our walls with our waifus and husbandos in real life.
But The Sims is a place where reality and fantasy come together to make your dreams come true.
CC Creator Yu'Chan brings us a collection of sleek Vocaloid wallpapers depicting Miku, Rin, and Kaiko.
All three wall heights are supported, too. So you really have no excuse not to make your walls into a Vocaloid concert.
8.

Miku and Friends Poster Set
Another less in-your-face way of showing your Voca-love is through posters, which can either be placed together as a single splash of weeabo style or spread tastefully around your Sim' home.
This set by EdogawaConan includes three high-quality posters depicting our favorite Vocaloid mascots in different situations, like working together on some music or just posing for a pic.
Get this for someone who loves anime, but isn't quite sold on turning their lives into a crazy Pocky-sponsored otaku MTV Cribs episode.
7.

Simple Miku Long-Sleeve Tees
Some Sims prefer to dress like ordinary people during the day, then change into their otaku gear at night – and these cute long-sleeved Miku t-shirts seem like the perfect Vocaloid fan pajama.
The CC set features two adorable chibi Miku designs on two gorgeous long-sleeved tees in yellow and pink, respectively.
What I love the most about these tees is how real they look.
We all have that shirt we got at an anime convention or some questionable store on IG we wouldn't be caught wearing outside, but that we love to wear at home.
6.

Yuzuki Yukari Eyes
If you're looking for some unique anime-looking eyes to decorate your Vocaloid-inspired CAS creations, these Yuzuki Yukari Eyes might be just what you need.
They're modeled after Yukari, a 2011 voicebank mascot notorious as one of the leading Mobile Vocaloid Editor products.
While Yukari is adorable, I think most of you will get more use of these eyes as a starting point for other virtual idol characters.
They're not only appealing, but also look different enough to give off that "synthetic human" vibe.
Creator NgSims3 offers fantastic Rin-inspired eyes and cute anime eyes as well.
5.

Lunenore's Hatsune Miku Set
Creators Lunenore and WinglySimmer teamed up to bring us this attractive Miku set – featuring everything you need to get the famous virtual singer for a concert in San Myshuno.
Lunenore's experience with Gothic and fantasy-inspired outfits lent itself well for the intricate detail found in some of these pieces.
Fans of Lunenore will notice it breaks away from her usual style, but it's just as good as the rest of her work.
This set includes the top, skirt, boots, and headset in bright colors and great detail.
You'll also find the eyes, number tattoo, and hairstyle waiting for you – all in the base TS4 colors.
4.

Casual Vocaloid Tees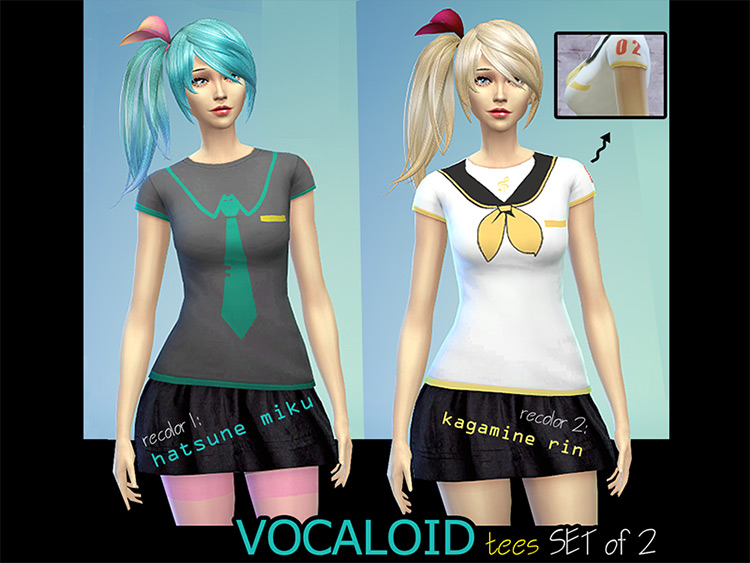 I love full-body Miku Hatsune costumes as much as the next guy.
But if you want to keep stuff somewhat realistic in your Sims game, they're not really practical.
A great alternative to still get some Voca-love in your Sims household is these Casual Vocaloid Tees by NireSims, which look like something you might actually see someone wearing in real life outside of an anime convention.
The pack includes Miku and Rin's outfits translated to minimalist t-shirts, wearable by men and women from teen to elder.
Get them for your "weeb but socially functional" Sims.
3.

Miku 10th Anniversary Billboards
Miku celebrated her 10th anniversary back in 2017, but your Sims will hardly notice the time paradox once they start seeing these 10th Anniversary Billboards crop up in San Myshuno.
Created by YuBeace, this billboard pack is meant to help you take your weeabo décor taste out of the bedroom and into the world.
This is includes a fair variety of posters promoting the anniversary, the Project Diva Future Tone game, and more.
Among these, I'd say my favorite is the one where Miku promotes Pepsi along the Kagamine twins.
You thought only Kendall Jenner could make terrible Pepsi ads?
2.

ZouYou's Hatsune Miku Outfit
Next up is my all-time favorite Miku outfit, brought to us by ZouYouSims.
What makes this custom content stand out from the rest is the level of detail and faithfulness to the original.
Whereas others cut corners here and there due to software and skill limitations, this is the real deal.
It even has the odd latex-like texture seen on Miku's classic outfit in several media.
This pack includes the dress, shoes, headset, and hair accessories, and it'll work well with almost any twin-tail hairstyle.
1.

Hatsune Miku Hair
A fantastic option would be this robust Miku hair pack by creator Simandy, which endeavors to give the player as many variations on the pop star's hairstyle as possible.
The hairstyle comes in three different lengths (the extensions are found under "Hats" in CAS) and a sum total of 59 different colors – including EA's 18 base tones and Simandy's proprietary "puppy crow" color palette.
The high quality and attention to detail in this item is astonishing.
If you told 13yo me (who was just getting into The Sims 2) this would be available for TS4, I'd have asked whether your uncle worked at Nintendo too.
Browse:
Lists
The Sims 4
Video Games