The Sims 4: Best Waiter & Waitress CC (All Free)
This post may contain affiliate links. If you buy something we may get a small commission at no extra cost to you. (Learn more).
In the real world, being a waiter or waitress isn't all that glamorous.
It's a job that requires a lot of hard work for relatively little reward, and handsome serving uniforms don't do much to make up for that fact.
But pretending to deal with entitled customers, poor management, understaffing, and low wages?
That's a completely different story!
Maybe it would suck to actually live that way, but watching your sims work as hopeful waiters or waitresses can be downright romantic. Besides, in the world of The Sims 4, it can turn out to be an extremely fun and rewarding job.
There's just one problem: unmodded Sims 4 simply doesn't have the capacity for your wild waitstaff fantasies.
This list can fix that.
And yes, you still get to have the serving uniforms.
Part-Time Waiter Career Mod
First things first; you're going to need a mod that actually adds "waiter" as a viable career path for your sims.
It seems pretty silly that this isn't in the base game, seeing as working at a restaurant is one of the first real world jobs many people get.
Thankfully, Marduc_Plays made a mod to fix this oversight.
It's a 3 level part-time career, which means that it's perfect for busy parents and young adults trying to make their way in the world for the first time.
In order to actually follow your sim into a restaurant job (waitstaff or otherwise) you would need to own the Dine Out game pack.
But in lieu of that, this simple rabbit hole career mod will give your sim the much-needed ability to work as a waiter.
Sometimes simple is better.
In this case, it's definitely cheaper!
Waitress Dress from the Musical "Waitress"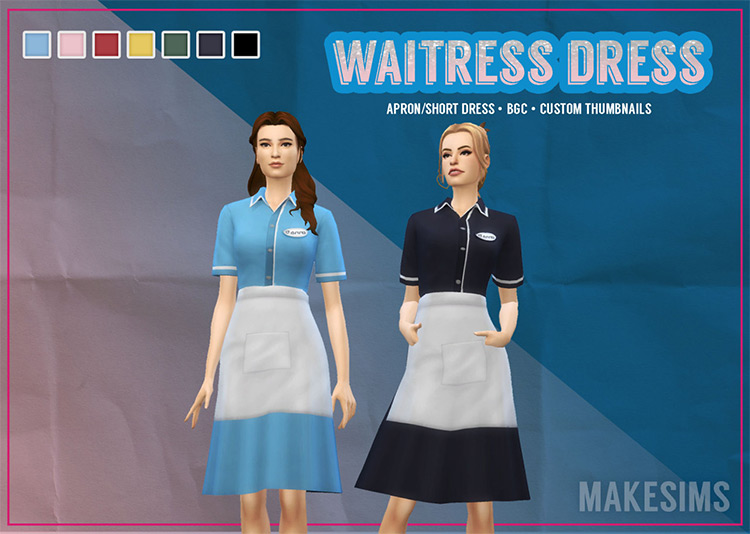 Speaking of making your way in the world, this maxis-match waitress dress was pulled straight from Jenna's costume in the broadway musical Waitress.
If you're constantly plotting down to earth, rags-to-not-quite-riches-but-better-than-rags storylines for your sims, then this is definitely the outfit CC for you.
Hopefully your sims won't be involved in as much drama and trauma as Jenna was.
But you never know – sims can get up to some crazy things!
And don't worry: it comes in more than just the two show inspired colors. This dress has 6 color swatches plus black, all of which are sporting the traditional white trim.
Colores Urbanos' Waitress Set
If you're looking for a versatile, one-size fits all waitress uniform then this Waitress CC Set is what you need.
At first glance, it just looks like a generic 1940s waitress outfit – and that's technically not wrong.
But it's actually super customizable.
Since it's split into four pieces (shirt, skirt, hat, and apron) and each piece has 30 color swatches available, there's a completely ridiculous number of combinations you can pick from.
Sure, you could use the classic American waitress look. But you could also change it up for something more casual or modern.
Just don't get too carried away. You're still on the job, after all!
Retro Diner Waitress Outfit & Hat
This bright and fun retro waitress set is a breath of fresh air amidst many of the more serious looking entries on this list.
Although some of the outfits we've looked at give off a "hardworking woman in the 1940s" type of vibe, none of them have truly nailed the distinctly feminine, mildly risqué look of the 1950s diner waitress like this one has.
Complete with pins coating the front and a matching hat, you'll finally be able to turn the tables on Karen and make her be the low wage worker.
Alternatively you could choose a less controversial 50s name for your sim, such as Deborah, Nancy, or Patricia.
Regardless, with 24 creative swatches to choose from, you'll have the freedom to customize her outfit however you see fit.
And you could even re-create the whole time period with some other 50s-era CC.
Cute Butler/Waiter Outfit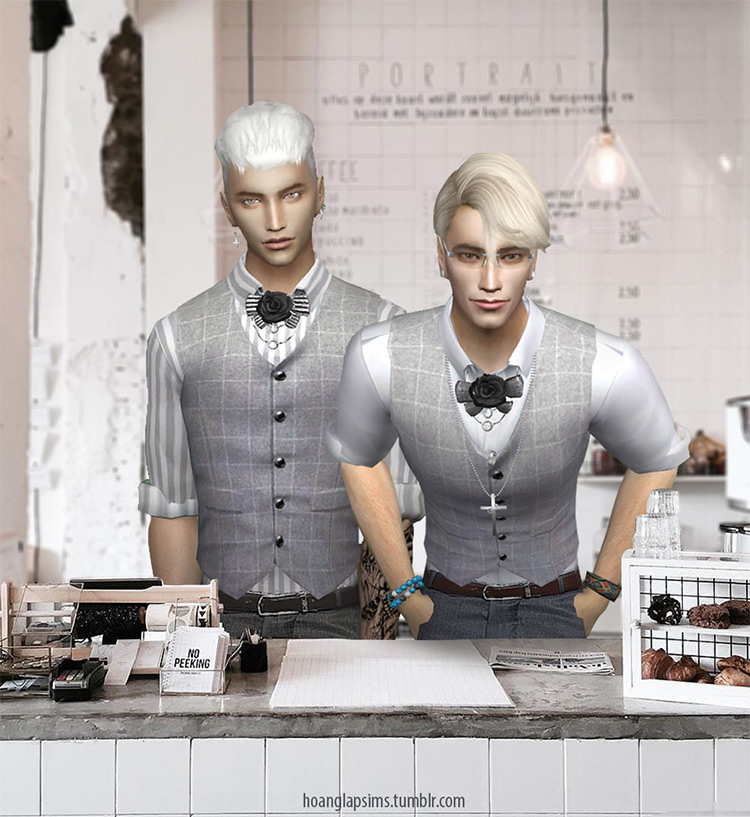 At long last, I present to you this piece of wonder:
A waitstaff uniform that's eyecandy and exclusively for men.
As much as I understand the appeal of cute waitress dresses, sometimes you just really need your male sims to look equally as snazzy.
Compared to many of the other items on this list, these tops look far more sophisticated.
Forget drive-by diners, your sims will look like they belong in an upscale cafe.
The only thing you need to keep in mind is that it's meant for use with the Get Together expansion pack, where these outfits will fit right in with the bars, cafés, and nightlife of Windenburg.
Cupcake Apron Set
This set is a bit different from the others in that it's a bakery themed set, as opposed to your typical restaurant.
Bakeries can totally act as a restaurant, especially since they often double as a café.
But there's something about bakeries that feels special to me.
Maybe it's the calming atmosphere or the 'homemade' feel of baked goods.
Or maybe I just like muffins too much.
Either way, this CC is definitely a keeper.
It only comes in one color scheme (pink, white, and red). But it's adorable enough as-is that I don't mind.
Plus, it comes with a male and female version. So you can enlist an entire household (or two) as bakery workers if you so desire.
Aramark Diner Uniform Recolors
This is probably my favorite set to use with the Dine Out game pack, because it's essentially just a better version of the default waitstaff uniforms.
It has the same casual (okay, generic) charm, but it fixes a few design flaws and adds a bunch of new colors, which is definitely worth it to me.
Specifically, they now have that wonderful white trim that every respectable waiter's outfit should have and the skirts actually match the tops now.
Yeah, they're small changes.
But they make a big difference when it comes to the overall look of the outfit.
It also comes with a little paper hat. You can download this set just for the little paper hat, I won't judge you.
How May I Serve You? Waitress Posepack
Now that your sims are ready to start their new lives as waitstaff, it's crucial that you're able to send quality pictures to your friends showing off how incredibly cool your sims' lives are.
These 9 poses will let your sim truly look the part of a hardworking but harried waitress.
Of course, her wage isn't specified in the posepack, but you can tell by her posture that it isn't enough.
Most of the poses are just reflective of your everyday server's duties.
But it also includes the pose "having a hard day after work", which I think really sells the whole aesthetic.
Browse:
Lists
The Sims 4
Video Games