TS4 CC: Best Wall Clutter Worth Downloading
This post may contain affiliate links. If you buy something we may get a small commission at no extra cost to you. (Learn more).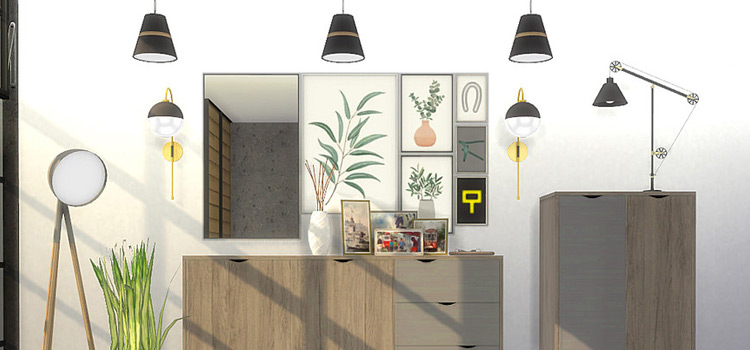 I always stay conscious of wall space when I'm building my sim's homes and community lots.
I like the space to feel full and lived-in. And the easiest ways to achieve that is with shelves, mirrors, and (of course) eye-catching wall art.
I always enjoy decorating a space with my sim's personality in mind.
It's a fun way to shine a light on what makes your sim unique, and also helps to make your sim's house feel like their own unique home.
The easiest way to accomplish this is lots of amazing community-created content, and we've got some of the best compiled right here.
1.

Wyndham Hallway Set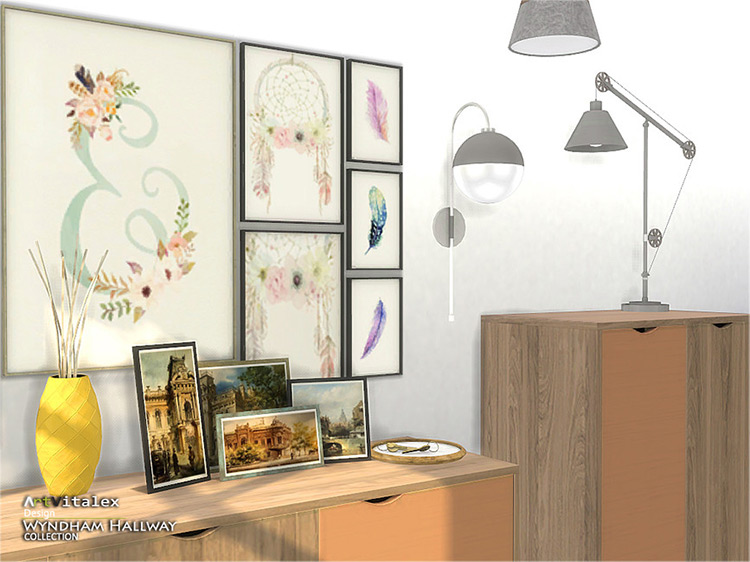 We all know the joke about The Sims and putting plants everywhere… and now that can apply to your walls, too.
This collage has a mirror and six simplistic paintings of plants and dream catchers adorned with flowers and feathers. Although this is called the 'hallway' collection, I think these look best in the bedroom placed over a short dresser.
2.

Steampunk – Worldrium – Scripted (Part 2)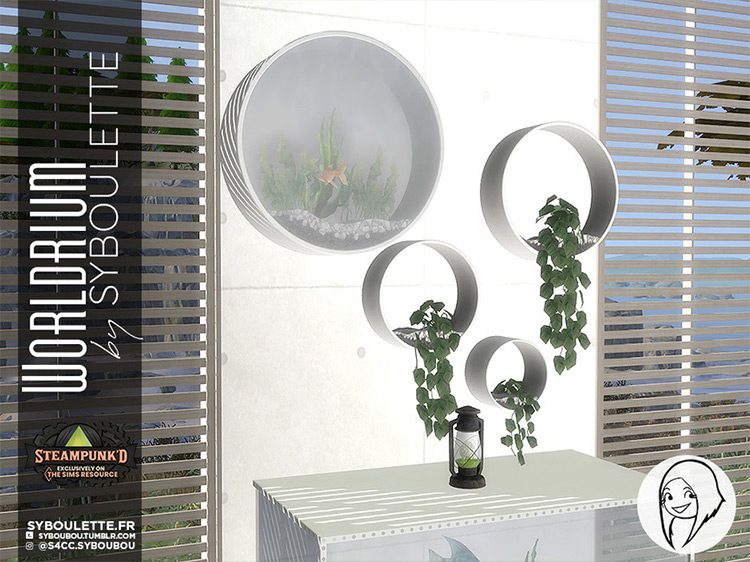 I just had to include this whole set because it's absolutely mesmerizing.
It was part of The Sims Resource's steampunk release series. And this creator, Syboulette, just blew it out of the park.
The hanging lightbulbs filled with plants? In love.
Although the best parts of this pack are the modern wall fixtures filled with cascading vines. I've seriously been thinking of recreating this in my own home. The giant circular aquarium is equally as amazing and goes perfectly with the plant fixtures.
3.

Boho Chic Dining Room Wall tapestry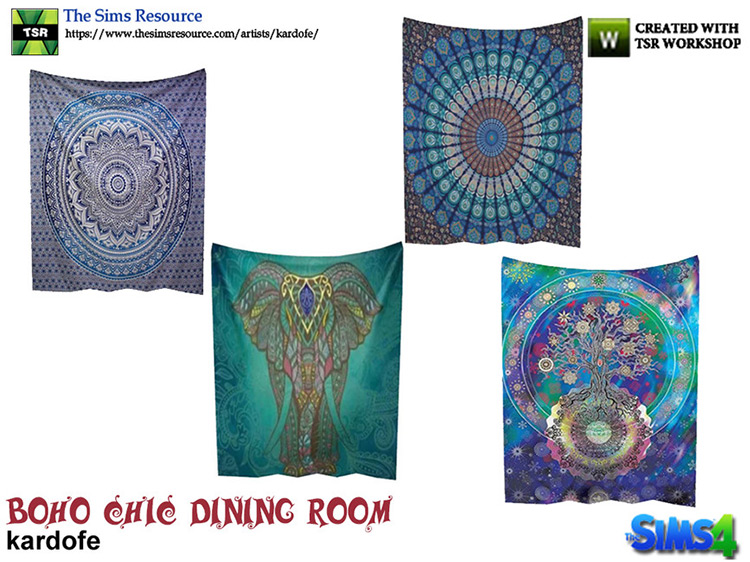 If your sims are more down to Earth, these hanging tapestries will fit their style perfectly.
I actually have a tapestry almost identical to the blue and purple mandala, so of course I had to grab them for my like-minded sims.
This CC set comes with two mandalas, an intricately designed elephant, and an ethereal tree of life. I have also used these tapestries as curtains to decorate my sim's dorm room and they turned out super cute.
4.

Fiora Living/Dining Room Decor
This high class set is perfect for 'art lover' sims, or sims with the 'snob' trait, or really any simmer with an eye for design.
The wall to floor paintings are available for both medium and short wall heights and both come in four different color schemes and designs, but my favorite piece in this set is the gorgeous carved gold mirror.
5.

Chroma Poster – Networksims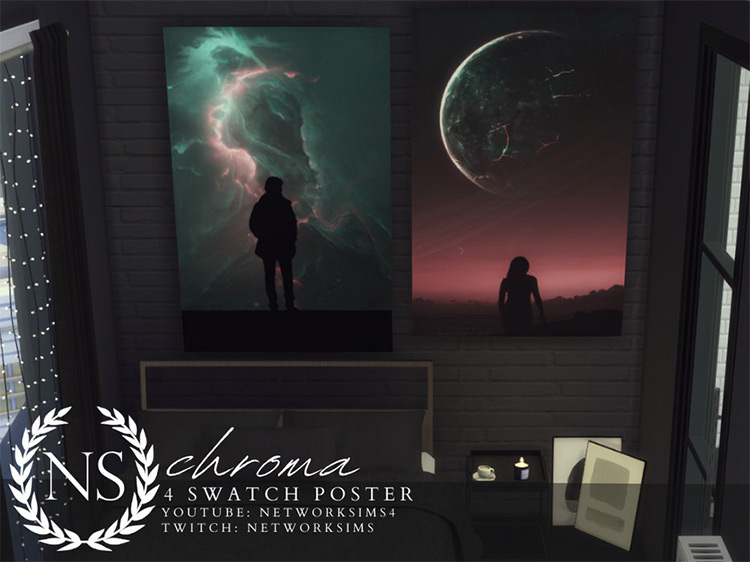 Posters like these would look absolutely amazing in your teen sim's bedroom or in your techie sim's computer room.
I have personally used these for sims who have been abducted, kind of like a little badge of honor.
These otherworldly posters come in four different styles, all with the color theme of red and blue.
6.

Olive Dining – Table Poster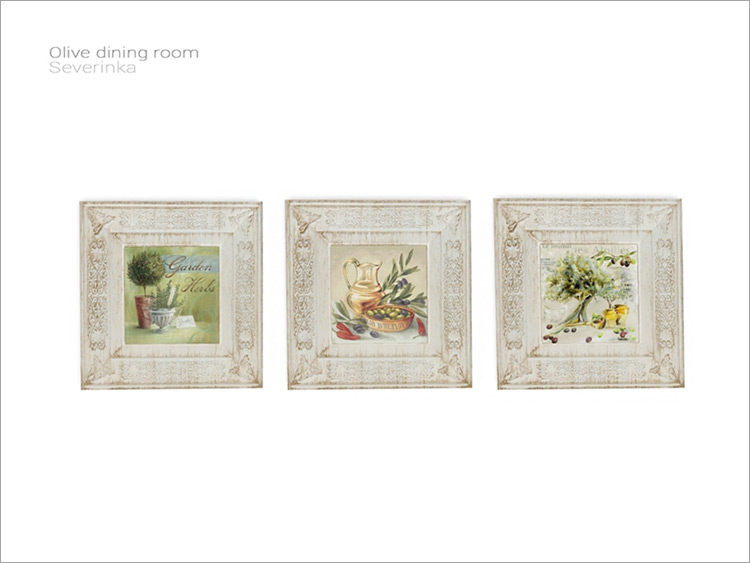 Rustic paintings like these just make me want to eat an entire bowl of pasta or a whole pizza to myself.
Luckily I have just enough self-control not to, because I have prints like these in my dining room.
These are the perfect decor for your Sim's kitchen or dining room, and I have even seen prints like these used as bathroom decor.
It was surprisingly charming alongside some cute lemon themed towels. I especially love the frame on these, it gives them sort of an antique feel when fixed around this art style.
7.

Chloe's Retro Travel Posters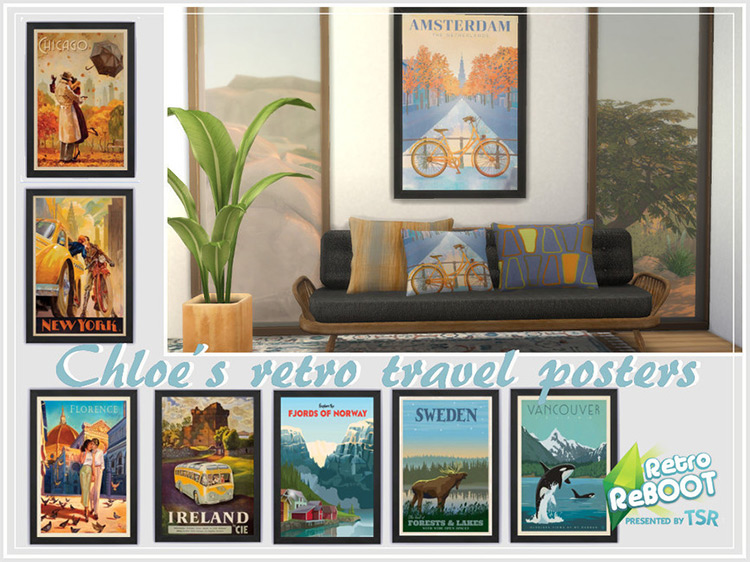 I'm in love with these!
Bring a sense of old-school style to your sim's walls with these absolutely charming retro city posters.
With all the different color schemes on these, it would be hard to find something that didn't match with your favorite design. The Chicago and Florence ones are my favorite with their warm yellow and orange hues, with Amsterdam coming in a close third.
Pop one or more of these up in your wanderlust sim's space, and then send them on a much needed vacation.
8.

Dayana Décor Set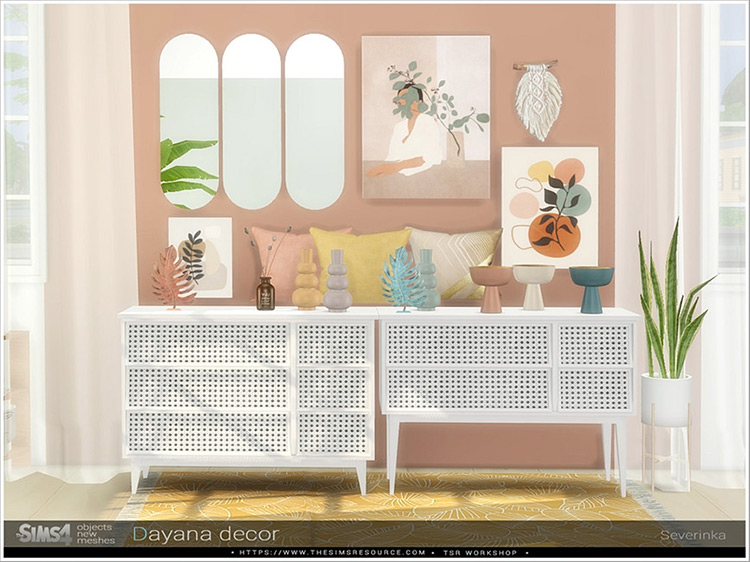 These colors are everything! I am such a sucker for pastels.
This bright and cheery set comes with a bunch of cute, matching clutter like pillows, rugs and sculptures as well as some beautiful wall decor.
The three oblong mirrors are just so inviting, the three minimalistic paintings look like something out of a museum, and the wooden macrame piece fits right in. I really love how the color scheme of this set pops while somehow also being subtle and sweet.
The paintings included in this set also come in four more styles not pictured here, all in a minimalist style and in the same soft colors.
9.

Major Inspo Corkboard Add-On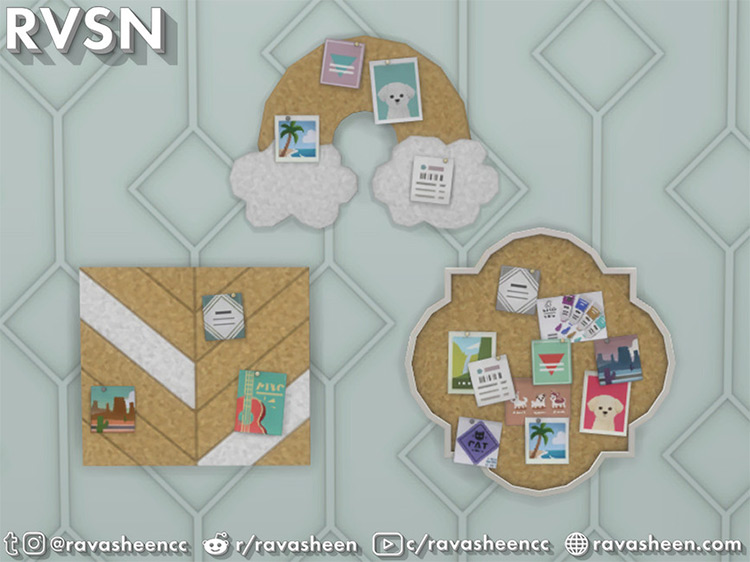 This corkboard set will add the final touch to making your kitchen or kid's room look effortlessly lived in and homey.
Choose from three styles of cork boards: square with white or black stripe accents, a cute quatrefoil design, and an adorable rainbow complete with white clouds.
This CC set also comes with twenty-seven different postcards, notes, and flyers that can be added to the cork boards or to a wall.
10.

Lit Wall Advertisements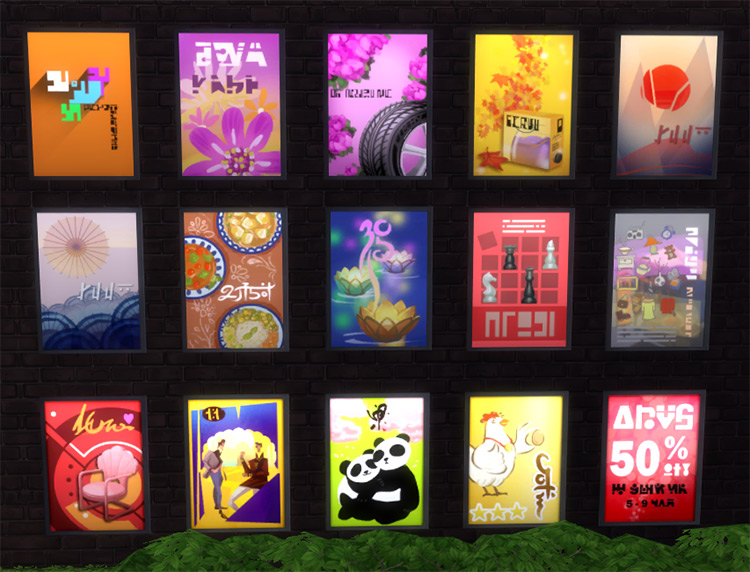 If your sims are serious about their movie hangout nights, then this is the clutter set that will take their setup to the next level.
Sixty-three illuminated wall designs are included in this pack, thirteen of which are movie posters.
There are also a few maps, loads of advertisements, and some stylish signs that could be used as art or as unique wall decor for your sim's home.
11.

Tessa Dining – Poster v02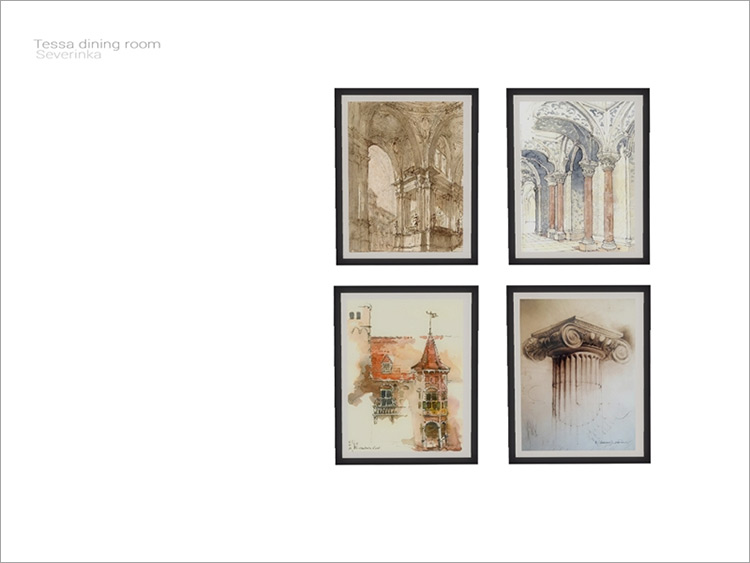 These gorgeous framed prints would look beautiful in a study or living room, a museum or a cafe – honestly, the opportunities are endless with such classy prints.
I especially love the watercolor art style and the focus on architectural design.
The prints come in four different styles, a realistic column, a hallway full of columns, a regal archway, and a watercolor painting of a spire attached to a small castle.
12.

Celestial Maps Wall Hangings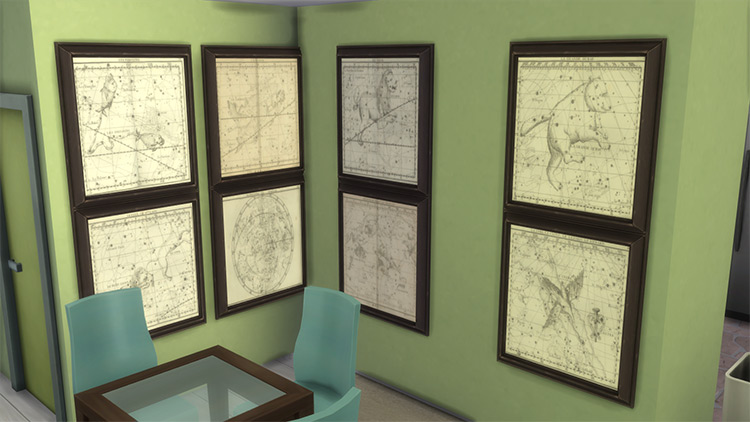 Brought to you by creator Indracanna, and inspired by John Flamsteed's record of the stars in the 1700's, these stellar prints show the constellations and their French names.
They give an environmental bonus, as they should.
These stylish prints would make a perfect addition to a study, bedroom, or a planetarium of your own design. These would also be great in a child sim's bedroom who aspires to focus on logic and has an interest in the stars.
13.

Cross-Stitch Wall Art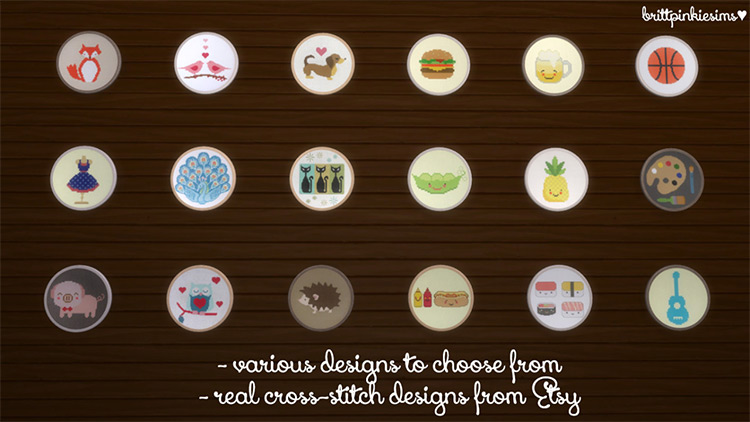 This cross stitch set is beyond adorable and would look fantastic in a cozy cabin next to your sim's favorite knitting chair.
There are a whopping seventy designs, including but not limited to a gumball machine, a fox, a hedgehog, a hot air balloon, a rainbow, Totoro, a happy pineapple, and lots more.
These are also great as a little nod to some likes that your sim may have which aren't easily reflected in your gameplay.
14.

Reto ReBOOT Vintage Paintings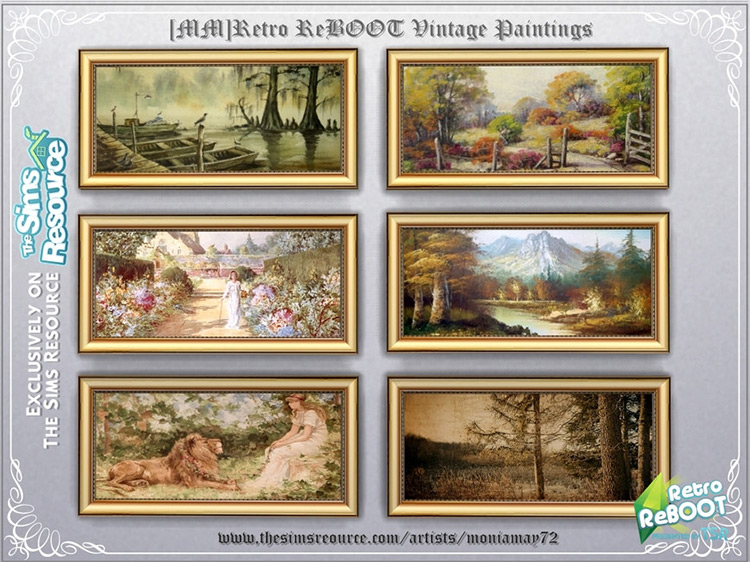 Paintings like these belong in a museum… or maybe they belong in your super rich sim's home.
The decision is yours.
These stunning oil paintings can easily adorn the towering walls of a mansion or hang in the walls of a gorgeous museum/wedding hall.
I love the variety included in this set. Each painting evokes a unique vibe, the somber green toned painting of birds and boats, the bright and hopeful florals of a stroll in spring, the powerful scene of a woman lounging with a lion – each a different scene and a different mood.
15.

Becca Stadtlander Calendar by Simmerberlin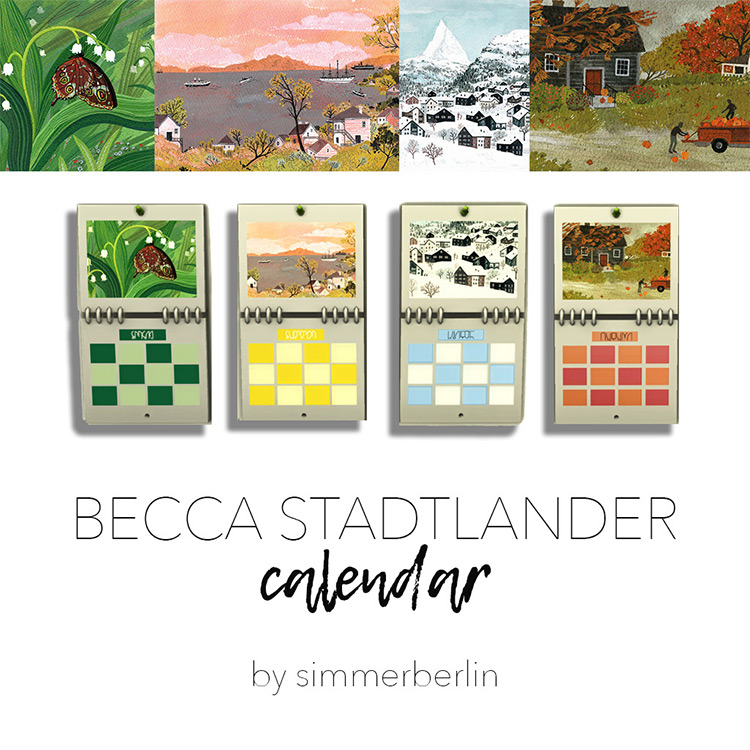 These calendars are made with real world artist Becca Stadtlander's beautiful prints.
I've always felt like the base game was lacking options for a lot of real world clutter, including calendars.
I always appreciate the little details in CC decor, like that the amount of days on these reflect the sim seasons instead of the length of real world months. All calendars come in four different designs, each reflecting one of the four seasons.
16.

Evi The Greek Painter Y.Moralis
These cubist paintings make for some of the best artsy prints for your sim's home.
They're super easy to match since they use solid, blocky colors, and their low-detail style allows them to fit perfectly into your Maxis match world.
More specifically, in this set you'll find ten unique paintings, all by the Greek painter Yannis Moralis.
The smaller paintings come framed with a matboard, making them look more important and therefore more worthy of your sims modern styled home.
17.

Msteaqueen: Aikea Guinea & Loch Pearl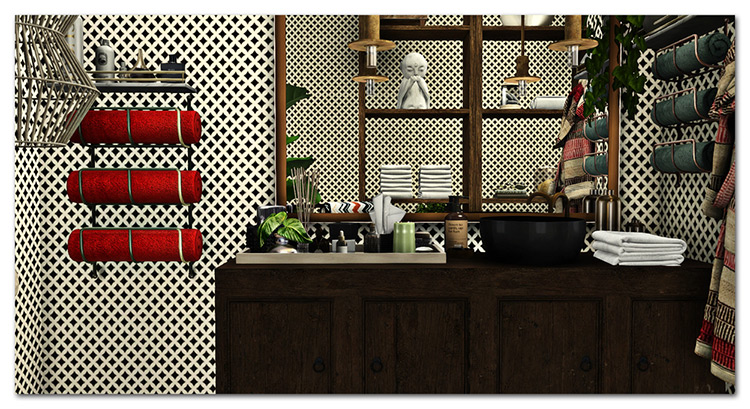 If you're looking for some décor for your farmhouse, ranch, or desert homestead, then look no further.
This CC set comes with carved decorative bull skulls that will really make it feel like "home on the range".
There are also three different styles of leaf wreaths, one of which has some little orange fruits throughout.
If your sim is a collector, this also comes with some scientific-looking diagrams of feathers, bugs, and plants. I have had these adorning the walls of my sim's collection display room for a while, and it truly brings the room together.
18.

Evelina Nursery Décor (Paintings)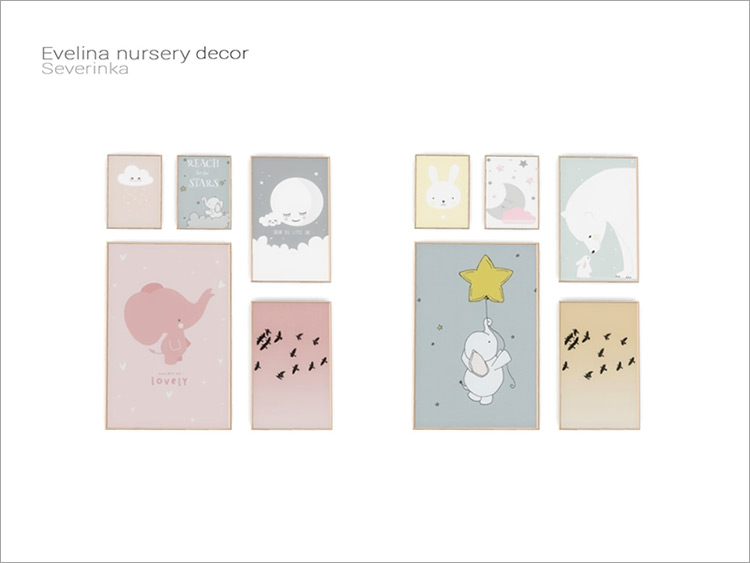 Absolutely precious paintings like these are the perfect addition to your new little sim baby's nursery – or even a kids room at the local library or gym.
These prints come in two color schemes, one that is mostly light blue and yellow, and another that is mostly pink and darker blues.
Both are completely adorable, especially the polar bear looking down at a tiny bunny.
Browse:
Lists
The Sims 4
Video Games