Best Sims 4 Wallpaper Mods & CC Packs For a Stylish Home
This post may contain affiliate links. If you buy something we may get a small commission at no extra cost to you. (Learn more).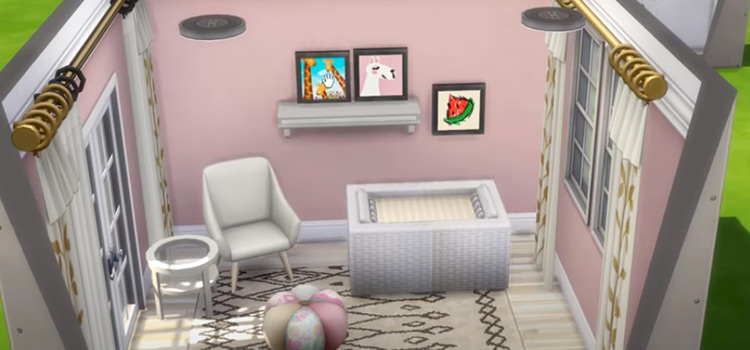 Interior design is one of the biggest aspects of Sims gameplay. You design a home, buy furniture, make some simoleons, and invest in re-designing your pad with more resources. It's just like real life, except with way more money!
While the developers have always made enormous efforts to give players a lot of variety, we all know that's never enough. Especially for those of us who've been playing Sims 4 since release.
While the base game's wallpapers aren't exactly lacking, they can still get boring after a while. And sometimes you need some truly specific stuff to bring a space together.
To help you find what you're looking for I've put together this list of wallpaper CC packs you can get online, all free, featuring a little something for everybody.
20.

Text Walls
Let's kick things off with something a little out of the ordinary.
After all, an entire wall covered with text isn't something you usually see outside of an educational context.
This trendy text wall by modder Rirann might be a bit much for most rooms. But used the right way, it can bring a lot of personality into a space.
It's the kind of thing you'd find in a recording studio. Or perhaps a chic coffee shop.
It comes in four color variations, designed with legibility in mind, and the panels seamlessly fit together.
Considering the words are all somewhat string instrument related, you should get this to persuade your sim into taking their guitar practice seriously.
19.

Princess Bedroom Walls
Did your sim recently produce a little adorable bundle of joy?
Then you know how stressful it can be to find the right decorations for a little princess' room.
Russian creator Severinka offers their take on what a tiny monarch's room should look like in their Princess Bedroom set, which includes these gorgeous pastel-colored walls with white wooden paneling that'll create a very classic royal effect.
18.

Interior Walls x3
Inspired by the Café Theatre as it's featured in Assassin's Creed Unity, these interior walls by Nutter-Butter-1 have a look of somber solemnity that can be used in a variety of ways.
While you may well try to recreate the Café or furnish your library with dark wooden panels, you could also go considerably bigger.
Maybe try turning a wing of your mansion into a museum, or even decorating the walls of your secret vampire lair. With The Sims, anything can happen!
17.

Venice Wall Decal
Decals have become a staple of modern interior design in the last few years. Starting at barbershops and other such businesses, but eventually making their way into the homes of hipsters and decorators alike.
Creator PinkZombieCupcakes brings the gift of decals to our sim abodes with four varied decals, each available in several colors.
Perfect to work as the centerpiece of a room or just to spruce up an otherwise boring area.
I especially love the decal tree featured in this mode, and my sims love hanging pictures on the wall as if they were growing off the tree's branches. Try it out yourself!
16.

Dual-Edged Wall with Dual-Paneled Wainscot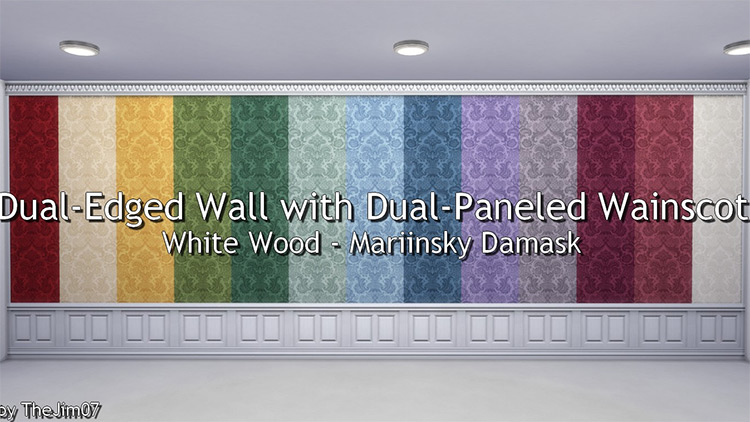 If you're looking for something that just screams elegance, this anachronistic design by modder TheJim07 is exactly what you need.
It celebrates the history of theater, opera, and ballet through the use of historical Mariinsky Damask print. Also framed by dark wooden panels that'll remind you of opulent stages and concert halls around the world.
Get some Greek statues and perhaps velvet chairs and you'll have a remarkably high-class room worthy of nobility.
Or an immortal vampire with a taste for the grandiose. Whatever suits your fancy.
15.

Metal Walls Set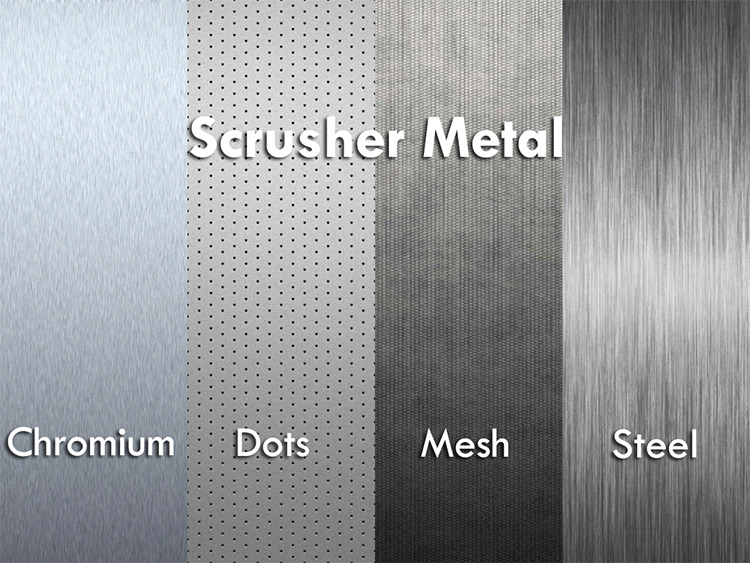 While a lot of us are perfectly fine covering our walls with boring old paint and floral wallpapers, the ultra-modern designers among us need something with a lot more impact.
Few things are as striking as solid metal walls, like in this Custom Content pack from modder Scrusher.
This set includes a chromium design, metal dots, mesh, and even just steel paneling that'll feel right at home in an avant-garde home.
Alternatively, these metal walls will give your secret underground lab – or your garage – that extra bit of cohesiveness you've been looking for.
14.

Girly Bunting Wallpaper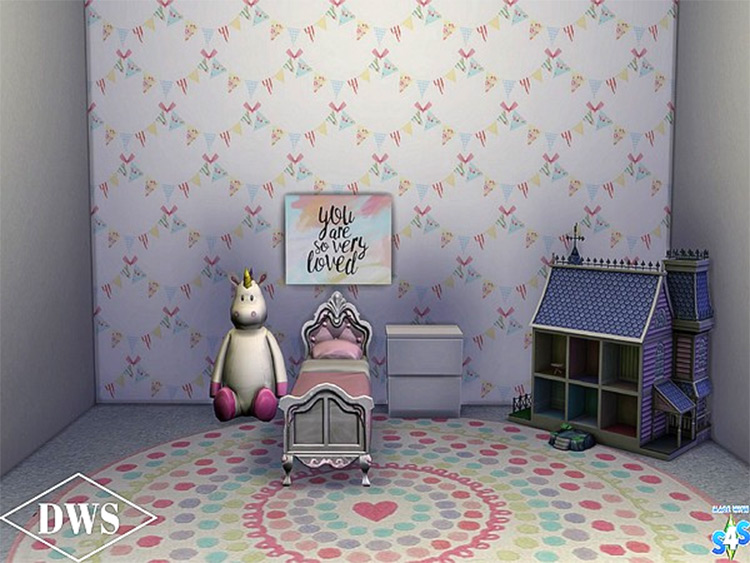 I've always been drawn to simple yet safe interior design options that go well with everything.
It works great to make a space feel homely.
But sometimes you need something with a lot of personality to bring out the potential in a room.
That's exactly what DreamWeaver Sims offers with their Girly Bunting Wallpaper set, including eight different designs charged with color and eclectic patterns that would drive anyone insane if they were used on all four walls of a room.
But they look amazing if used sparingly.
13.

BOE Tiles
Creator PralineSims is one of the most widely recognizable and respected names in the world of Sims CC. And their TS4 content is as good as it is abundant (and trust me, there is a lot of it).
The first one I'll be featuring is this set of ceramic-looking tiles. Perfect for bathrooms and available in a wide variety of colors ranging from pastels that'll work great for kids, or darker tones ideal for bachelors and bachelorettes.
Some of the most important things in our lives are done in the bathroom.
So why not put some effort into making a chic space?
12.

Salon des Nobles Wall Covering Set
We've gone through a couple of creations that would look right at home in mansions, but nothing captures that feeling of aristocratic taste quite like the Salon des Nobles wallpaper set by TheJim07.
This striking set brings a very "Versailles" style to the table with its intricate damask design, framed by white and gold paneling that'll make you feel as if you're walking through the halls of a palace.
Whether your sim is of noble descent or just an average Joe with over-the-top taste, this will give their home a monarchic appeal.
11.

Castle Wall Mural
Painting elaborate murals on children's walls has been popular for decades.
And your sims should have the chance to do the same for their digital offspring!
Broken into four wall tiles for easy setup, this mural depicting a castle in the mountains will bring a lot of personality into your toddler's room. Or any other playful space, really.
And the soothing blues of its color scheme are just fantastic.
10.

Stone Walls
Another amazing contribution to the world of custom content by the hand of creator PralineSims is this varied set of stone walls.
Options range from very rough styles suited for a dungeon, to a more refined veneer that would look amazing both on the outside of your home or as a striking highlight in a studio.
Or perhaps a kitchen.
This is only the first of many stone wall sets by PralineSims, all available for perusing in their Sims Resource profile.
9.

Bathroom Marble Walls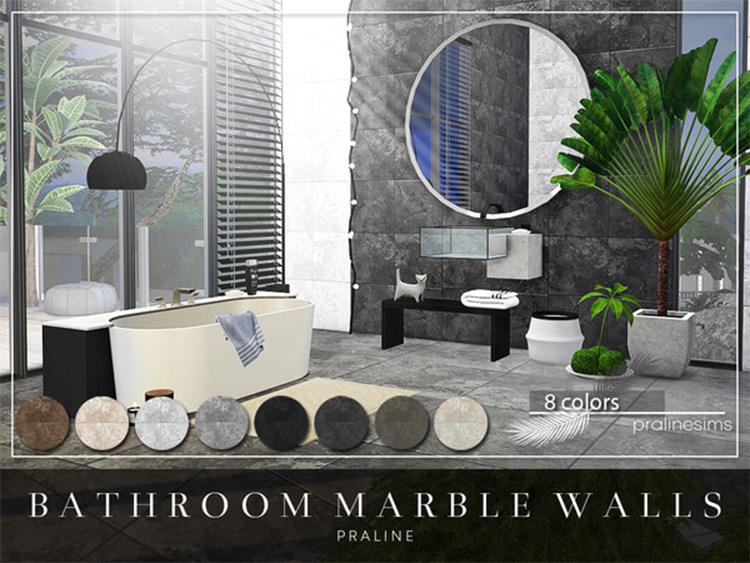 Also from PS come these decadent marble walls. And despite being conceived as a bathroom decoration, they could work in a variety of opulent spaces.
Any sim with a taste for luxury and the fine things in life needs marble in their home. And few things say "I'm swimming in Simoleons" like a marble bathroom.
It's like living in a high-class hotel for a house!
The Bathroom Marble Set also includes floors in the same natural-looking marble colors, so you can make a tasteful combination to elevate your bathroom design.
8.

Concrete Walls Set
Whether you're building underground cells to hold your enemies captive, or just enjoy pretentious avant-garde decoration, these concrete walls are something you can't overlook.
While they're all in the greyscale characteristic of the ubiquitous building material, they do vary in texture.
Styles go from the most brutalist visual appeal to something you could actually find in somebody's home.
PralineSims has several of these sets, also available if you check out their profile of releases.
7.

Brick Wall
Showing the raw materials of a structure is a design trend that's been around for decades.
And now your sims can partake in this odd yet eclectic(ie. kinda good) design style..
This realistic brick wall will give any space a sort of run-down post-industrialist appeal that could work as a contrast-lending piece in a luxurious space.
You could also use it to make a home with a history as a re-furnished factory.
What elevates this brick wallpaper mod over other options is the level of detail, going as far as to include peeled-off plaster for authenticity. So grunge.
And yes, this is also by PralineSims. It's not my fault they're releasing a ton of awesome stuff!
6.

Chasm Wall
The previous wallpaper CC listed above could work well with this amazing six-tile mural by creator NetworkSims, ultimately to make a space fit for a creative sim working on their next big hit.
I can vividly envision an artist, standing in the middle of a room in front of their dark-wood easel, running their brushes up and down with this striking mural as a backdrop.
Of course, it could also just be used in a bachelor's bedroom. Or something of the sort that's also rather depressing, yet true to life.
5.

Angel Walls Set
On the other side of the spectrum we find this classic floral-patterned wallpaper with a slightly Japanese feel by creator Severinka.
It includes six different patterns with soft pastel colors that'd look amazing in any room meant for relaxation. Maybe a child's bedroom, or perhaps the studio where your green-thumbed sim works on their flower arrangements.
Or maybe a weird yoga studio?
It may be old-timey in concept, but this can bring a lot of personality into any room in an anachronistic sort of way.
4.

Modern Living Wall Set
This Modern Living set is what you need for young-adult sims who are just beginning to carve their place in the world.
The wallpaper CC set includes bright wooden paneling with very detailed textures, along with light gray walls complemented by simple white baseboards, among other things.
It's tasteful, but not pretentious.
Neutral, but not boring.
And it goes very well with modern furniture of stylized design.
3.

Come Cozy Honeycomb Walls
This is part of a set including furniture and decorations for a modern, cozy look.
These Honeycomb Walls by Brazilian creator SIMcredible are just what you need to give spaces a unique yet homely look.
While turning your home into a beehive is usually not something everyone would do, the tasteful color combinations and retro theme can fit in well, allowing it to bring together a space without feeling like too much.
2.

Scandinavian Basics Wall Set
Scandinavian design has been all the rage ever since Ikea became a thing.
With its simple textures and bright neutral colors, the style gives spaces an airy and relaxed ambiance. Basically helping you make the most out of limited space.
This wall set by SimFabulous simply brings this style to your sim's home.
And while most of it is simply sober solid colors, it also includes a somewhat more intense triangular mosaic design that's perfect for kitchen walls.
1.

Behr Walls
When it comes to interior design, I've always thought that simple is best.
Creator Simsrocuted makes a solid case for simplicity with this mod of solid-color wallpapers inspired by Behr wall paint collections.
Considering this world-class company employs color experts to come up with the best hues, it's no surprise this mod has something perfect for every space.
It includes three sets of colors, from tasteful classics to sober neutrals and the more playful Colormania line.
It's a massive upgrade compared to the base game's over-saturated color options, and it's gotta be my favorite set of wall packs for Sims 4.
Browse:
Lists
The Sims 4
Video Games