Sims 4 CC: Best Wardrobes, Dressers & Walk-in Closets
This post may contain affiliate links. If you buy something we may get a small commission at no extra cost to you. (Learn more).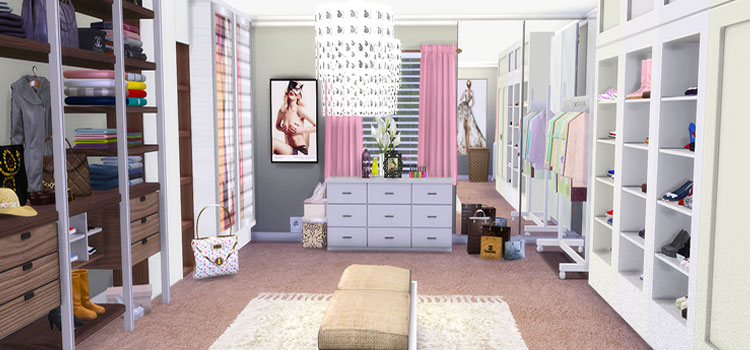 Everyone who has ever played The Sims knows that dressers aren't really about storing clothes. Those clothes probably wind up in piles covering the floor anyway.
It's more about the aesthetic, and about bringing function and decor together.
Your dresser says a lot about you, after all. There's bound to be a lifestyle difference between someone with a beat up, hand-me-down dresser, and someone with a walk-in closet. (Don't be offended, I fall firmly into the first category).
If you're someone who pays special attention to the 'look' of each room in your Sim's house, then I'm sure you've been left disappointed at times with the furniture offered in-game.
Sometimes you just need a little more. And more. Annnnnd more. That's the way it goes when I start CC shopping, anyway.
So without further ado, let's get into some of the coolest custom content ways to bring your Sim's bedroom or closet together.
10.

IKEA Nordli Dresser
Chic. Elegant. White.
At first glance this IKEA-inspired dresser may seem a bit plain, but I think it's rather refined.
All-white furniture is sure to bring a certain style to any room.
And even if all white isn't your kind of thing, this dresser is still the best of both worlds.
It'll fit perfectly alongside any wallpaper, flooring, or bed you choose, and won't clash with any decorations or clutter you might want to put on the top.
9.

Built-In Closet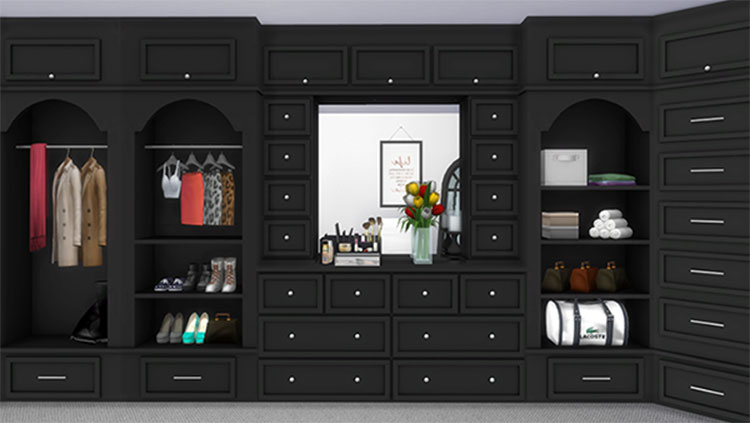 Walk-in closets aren't something I've ever really explored in The Sims 4.
Now I know what's been missing from all my rich Sim's mansions.
We can all join in on the bougie fun with this original mesh from 13pumpkin. Like many of the closets you'll see on this list, this Built-In Closet CC is all about customization.
You get to fill in all those shelves yourself.
For some that may be a hassle, but I actually really like this idea. Decide what type of things your Sim would have in their closet, where to put them, and how to decorate.
It's all on you, boo.
8.

Country Armoire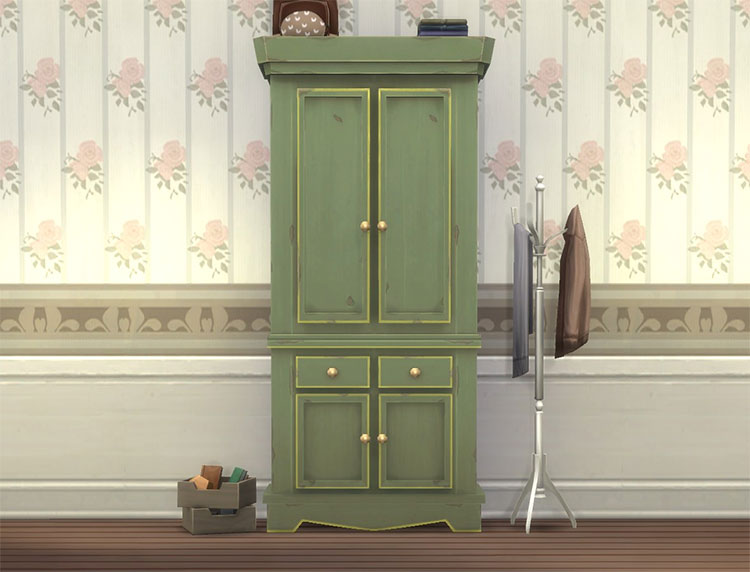 I don't know what it is about slightly weathered wood furniture that just gets me going, but this Country Armoire from plasticbox is one of my favorite CC on this list.
First off, I'll admit I'm not exactly sure what an armoire is. Whether it falls into the category of closet or wardrobe is beyond me.
All I know is there really isn't a ton of in-game furniture to accommodate those with more rustic tastes.
I'm definitely one of those players always looking to add a charming country flair to my Sim's houses, whether they're in Willow Creek or Newcrest, and this is my new go-to piece.
7.

Vintage Dresser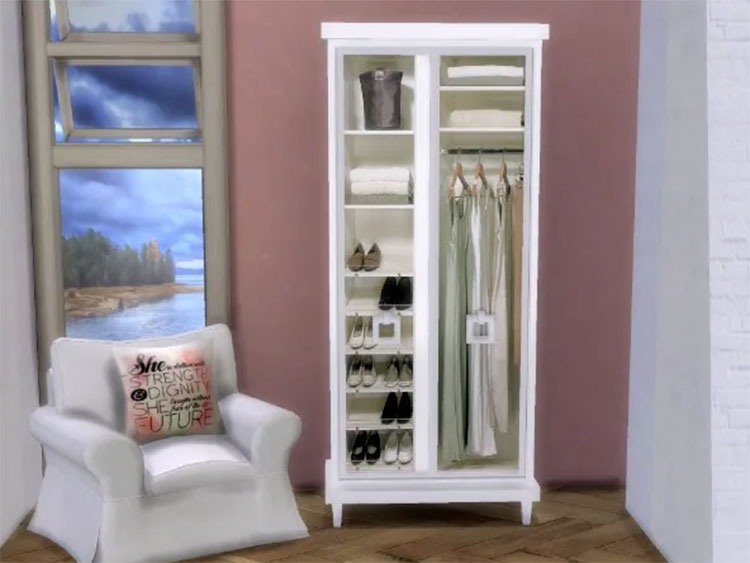 This tall dresser from Oldbox comes in six variations, each of which are equally glamorous.
Whatever look you seek, I'm sure there's something here for you.
Going for a discreet, more private wardrobe? The solid all-black one is your best bet.
Want to show off a little bit? Pick one of the variations with glass doors to reveal the shoes, purses, or dresses within.
There's also one designed with what I can only assume are London-inspired images, including a red telephone booth and double decker bus.
It's certainly unique, and for that alone I must applaud the creator.
The color schemes of the items on the shelves work for many types of Sims, too. Make a statement about who your Sims are by choosing from gentle pastels, a classic black and white, or some daring reds and beiges.
6.

Alpha Beta Phong Modular Closet System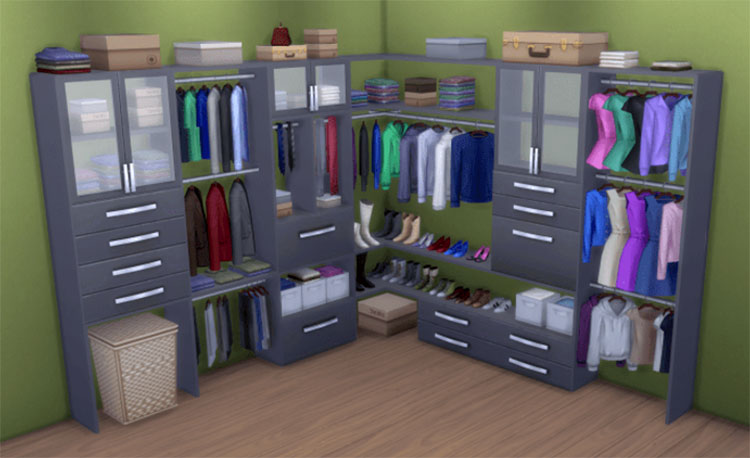 It's strange how much I love the organization of all these boxes, shelves, and hanging clothes considering my own closet looks like Mount Crumpit.
I guess that's what The Sims is all about deep down.
Holding your Sims to higher standards than you hold yourself to, and living out your dreams through them.
It only makes sense. This closet from brazenlotus is a lot cheaper to get for your Sims, and let's be honest, it'll stay looking nicer.
5.

Princess Bedroom Wardrobe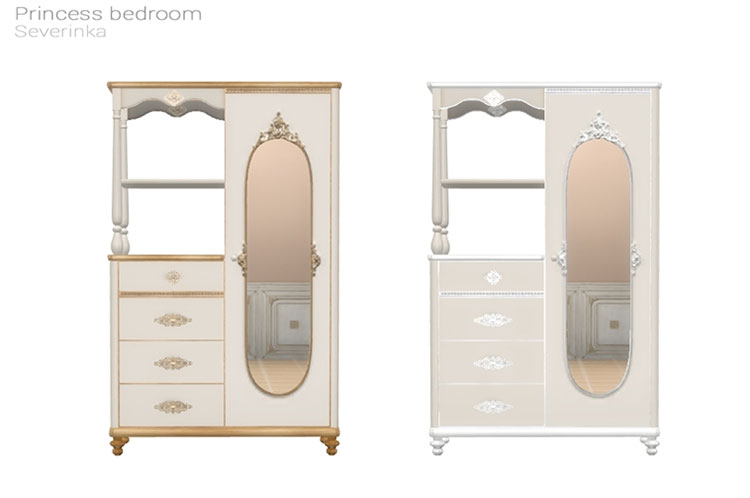 This one really takes me back.
Creator Severinka has dubbed it the Princess Wardrobe, but it reminds me a lot of the Barbie furniture I had about a million years ago.
Maybe it hasn't been quite that long. But nostalgia aside, this wardrobe is really beautiful on its own merit, and lives up to the name.
With such an ornate design and elegant color scheme, it definitely is fit for a princess.
But you're free to just plop it into Johnny Zest's trailer if you want to. No judging.
4.

Calligaris Dresser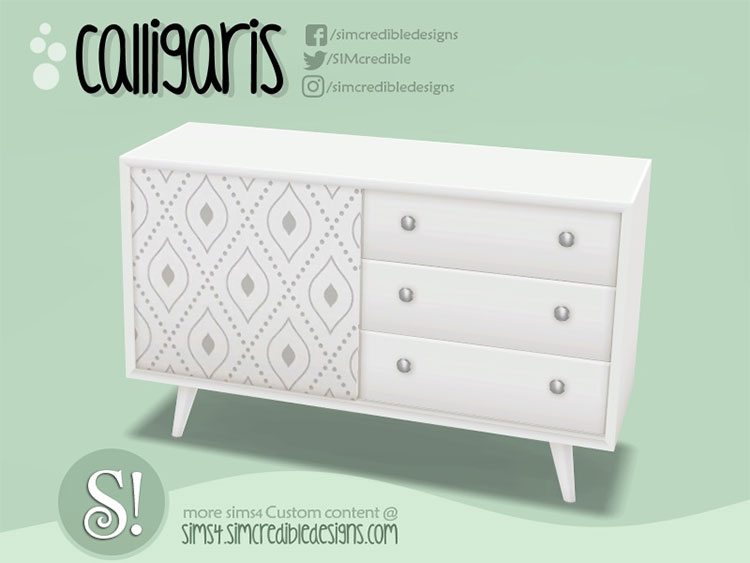 My love of rustic furniture and mid-century modern furniture are about neck and neck. And this dresser from SIMcredible manages to hit both marks.
I think this one could actually work as several different things.
Television stand, sideboard, that one old dresser everyone's Grandma uses for family pictures. There are enough swatches that you could, in theory, use one in every room of your Sim's house for a different purpose, without it seeming too weird.
And who doesn't love versatility?
Even if you just want one, it's still a solid choice.
Most of the time I gravitate towards wood, but I think the white is my favorite here. That's the perfect mixture of mid-century, with those fabulous slanty legs, and modern with the pattern.
3.

Takapuna Dresser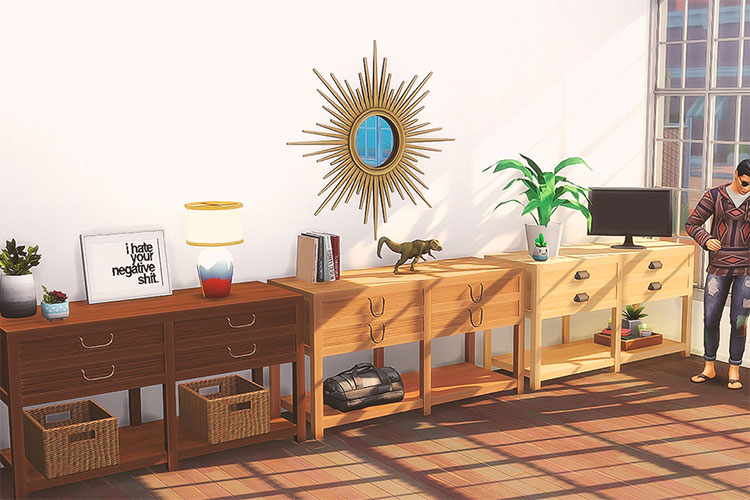 There are three versions, and they're as different as they are the same.
Does that make sense? Just me? Okay.
What I mean is that these dressers are mostly the same style, with a few little tweaks to fit different styles. One is a bit vintage, another has a slight nautical vibe, and the last is firmly modern.
And thankfully, there are slots on both the top and bottom! Where the developers may let us down by overlooking our need to clutter up every surface in our Sim's homes, the content creators will always come through.
2.

Bookcases & Wardrobes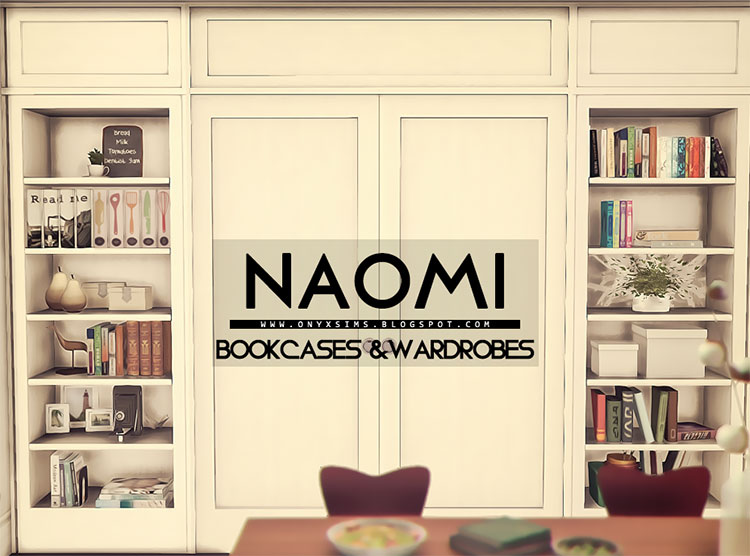 Here we have another little set that'll work in more than one room.
Kitchen, home office, bedroom – whatever you want to do, there's a way to make it work.
The possibilities are endless with some creativity, and maybe a little extra CC hunting.
And if you need to be mindful of space and don't want to dedicate too much of the floorplan to your Sim's wardrobe, it doesn't get much more compact than this.
This wardrobe really goes nicely between two bookshelves, which can be cluttered up in various styles. Books, photos, boxes, plants – they all work here. If you'd like to put clothes in there, I'm sure that's doable too.
This is one of the most nice, subtle ways to add a realistic touch to your Sim's living space. I feel like I've seen this in some form in real life homes more than anything else.
1.

Hang Around Closet Set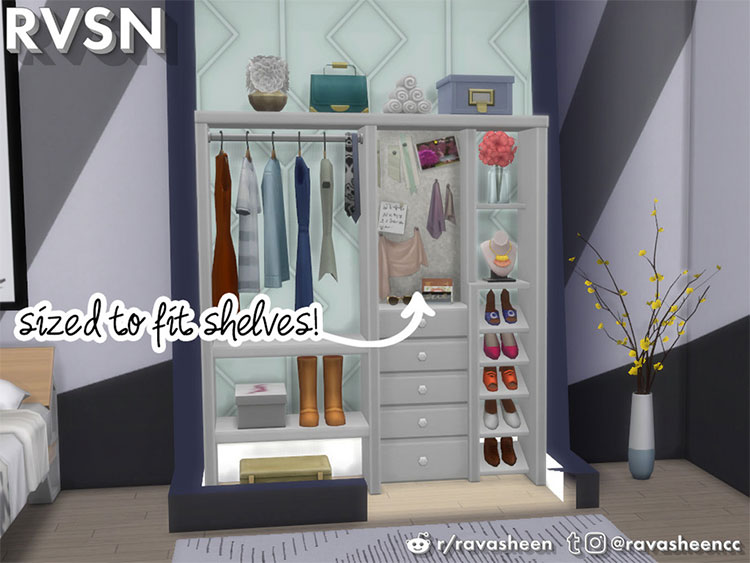 I saved the best for last, as they say.
This is not as elaborate of a closet as some of the others I've listed, and is more for the sensible average Sims out there.
RAVASHEEN comes pretty close to matching the Maxis style, and it's just all around pleasing to the eye.
Smooth lines, perfectly symmetrical drawers and shelves, straight slots for the clutter.
*Chef's kiss* Mwah, beautiful!
You may have to put in a little effort to get your Sim's Hang Around Closet to look like the demo screenshot for this CC, but I think it'll be well worth it in the end.
Browse:
Lists
The Sims 4
Video Games