Sims 4 Wavy Hair CC & Mods (All Free To Download)
This post may contain affiliate links. If you buy something we may get a small commission at no extra cost to you. (Learn more).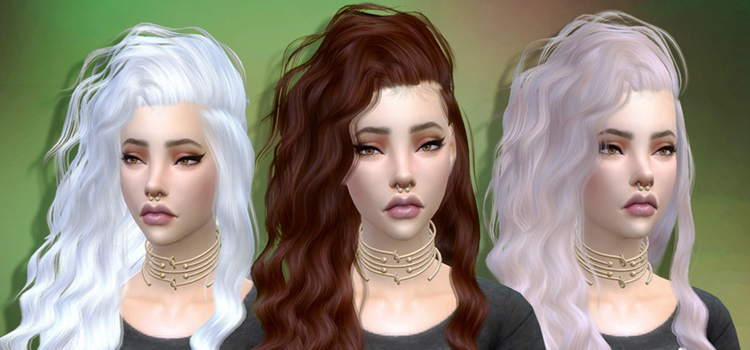 There's just something about wavy hair that makes it look good on everyone, you know?
Only some bone structures can pull off curls. Not a lot of face shapes were meant to rock stick-straight hair. But waves? Perfect middle road that nearly everyone can walk on.
Or wear, as the case may be.
EA's Sims are no different. They need flattering hairstyles just as much as you or me. So let's look into some of the best custom content-themed wavy hairdos your Sims are sure to adore.
It's high time your Sim changed their look, anyway.
I'll break down the following into collections of Alpha CC & Maxis Match, so skip to whichever you're more interested in.
Alpha CC Hair
TS4 Alpha CC is custom content specifically designed to make Sims look more realistic.
Texture-wise, they're often very detailed. Some will even exaggerate the play of light and shadow for a more hyper-realistic effect.
Alpha CC hairs are characterized by the individual hair strands rendered. And the obvious, exaggerated highlights (indicating smooth, shiny hair).
Here are some awesome Sims 4 Alpha CC sets for wavy hair.
Tatygagg's Taty_Alesso_Omen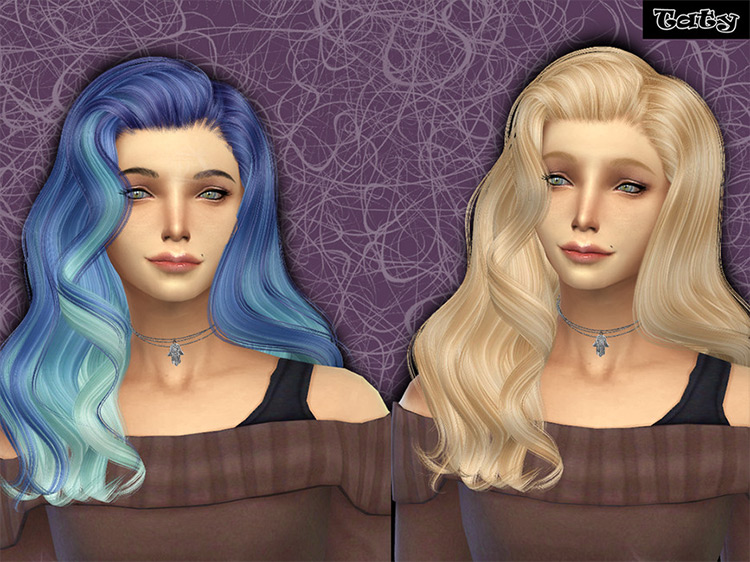 | | |
| --- | --- |
| Total Color Swatches: | 55 swatches (includes 13 two-tone variations) |
| Mesh Needed: | No |
I'm a huge sucker for long, wavy hair parted at the side. So the previews for this hairstyle had me hitting the download button ASAP.
I was not disappointed.
This gorgeous side-swept number has soft waves that fall just below the shoulder, and a playful chunk of softly-curled hair at the front, framing the face. That particular chunk also happens to change color depending on the base hair shade.
That's right; 13 swatches – out of the available 55 – have the side curl colored a different color than the rest of the hair.
And they all. look. beautiful.
Words cannot describe how utterly mesmerized I was flipping through the color combinations.
Classic black with a white streak. Soft powder blue running through baby pink. An almost hypnotic ocean blue with a splash of aquamarine.
I'm going to stop waxing poetic now and let the CC do the talking.
Anto's Effie Hair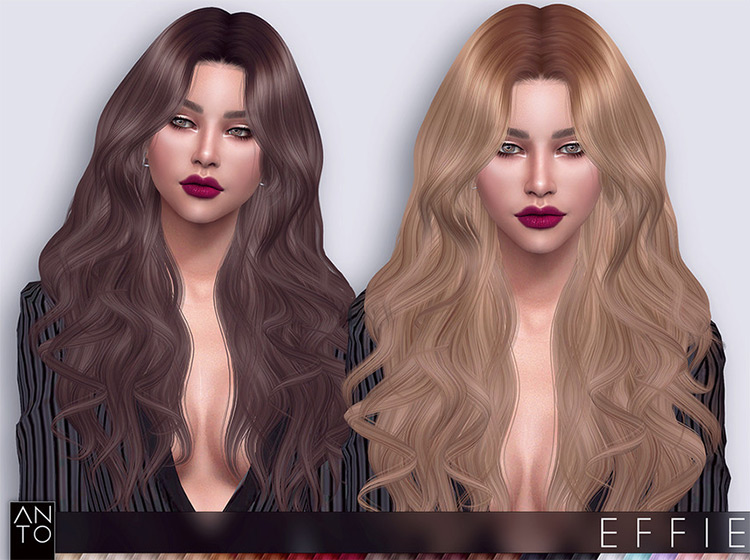 | | |
| --- | --- |
| Total Color Swatches: | 27 swatches |
| Mesh Needed: | No |
The quintessential "long and wavy" hairstyle, Anto's Effie hair is a simple straightforward piece that looks flattering on nearly every Sim.
Middle part, waves that frame the face, decent amount of volume on top and bottom – the beauty of this style definitely lies in its simplicity.
It's also got a great shade range.
No crazy neon colors(like the EA default bright pink and vibrant sea green) available, but plenty of naturals and a speckling of pastels at the end.
For what it's worth, I think the color range makes sense with this type of hair: soft, gentle, and a little more muted.
I frankly can't imagine those gentle waves in EA's bubblegum blue. The powder blue and mile lilac hues work much better with the aesthetic.
LeahLillith's Strong Hair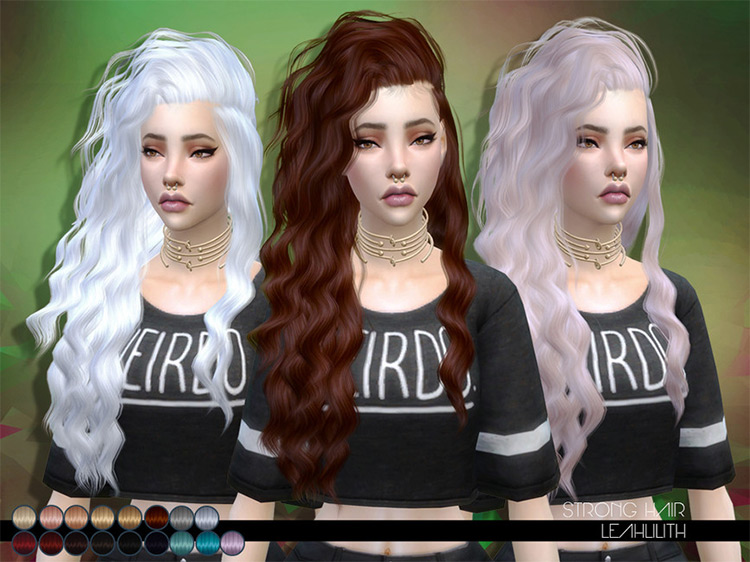 | | |
| --- | --- |
| Total Color Swatches: | 29 swatches |
| Mesh Needed: | No |
This hairstyle is less "side-part" and more "bundled up my hair and pushed it all to one side."
But, like, in the best way.
It looks so casual and effortlessly stylish – like your Sim just rolled out of bed and finger-combed those gorgeous waves out.
And in true Alpha CC form, there's a bunch of cute stray hairs flying around to give this piece more dimension.
It comes with 19 solid color options and the range is undeniably diverse. The texture uses heavy highlights, so none of the colors (regardless of their base shade) ever look flat or dull on this piece. A definite plus!
Anto's Madison Hair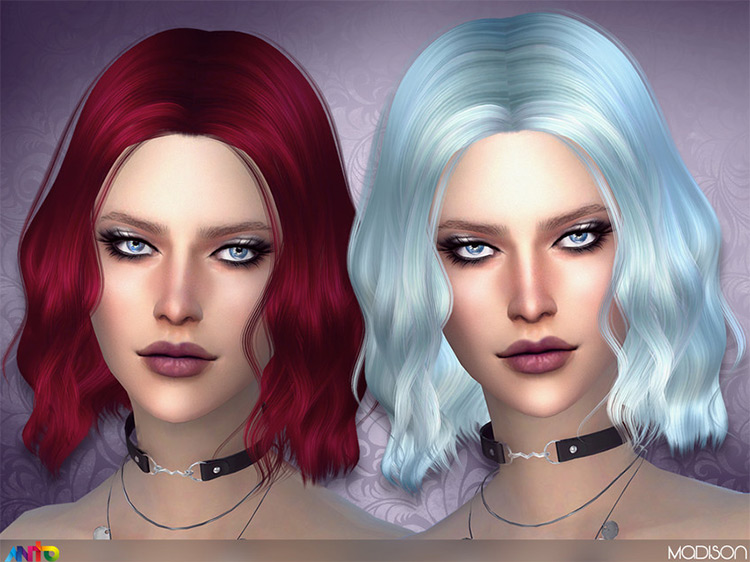 | | |
| --- | --- |
| Total Color Swatches: | 18 swatches |
| Mesh Needed: | No |
Another simple but elegant piece from Anto.
I'd say this Madison hair is much like the Effie hair, in the sense that it's the quintessential "short and wavy".
The neat middle part and the reasonably short length all scream "sensible, but still stylish".
The waves are definitely a little softer on this hairstyle, but it totally just adds to the classic, subtly elegant vibe the hair has going on for it.
It's just classy hair for a classy lady Sim, okay?
Color options are standard, but still pretty good. Decent mix of naturals and dyes.
Sharareh's WingsSims' OE106 Hair Retexture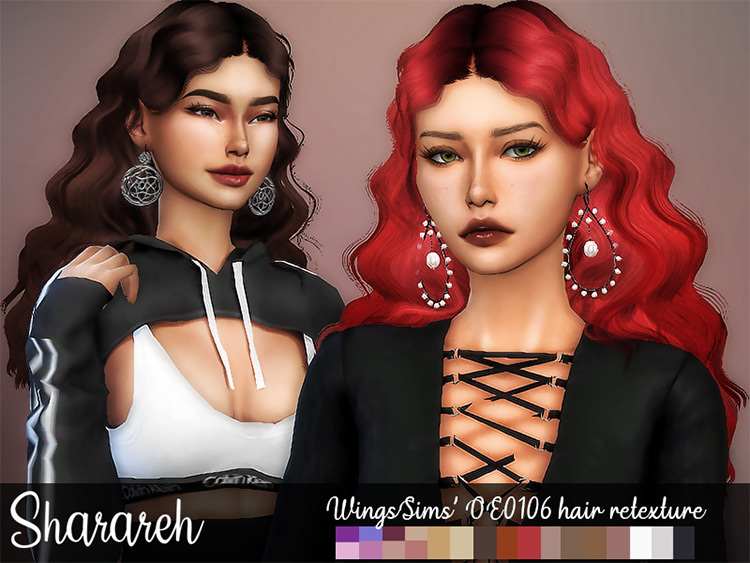 When I first saw this retexture, my initial thought was how much the hair looked like a cloud.
A cloud of soft waves and poof.
And that surprised me, because Alpha CC tends to look sharper and more defined (like the original mesh for this download, actually).
Fuzzy and clumped-together is more of the Maxis Match style. Hence, I was curious.
Mad kudos to sharareh. Their texture adds a lot more character to what would have otherwise been another quintessential "long and wavy" hairstyle (and we already have Anto's Effie hair to cover that, thanks).
Aside from creating fuzzier edges and smoothing down some wild stray hairs, she also created some cool color variations just bursting with flavor.
A lot of them have this pretty sweet ombre effect: three or four tasty colors combine to create a candy cloud right on top of your Sims' head.
Trust me, the result is a lot more appealing when you see it.
Aveira's Newsea Foam Summer – Retexture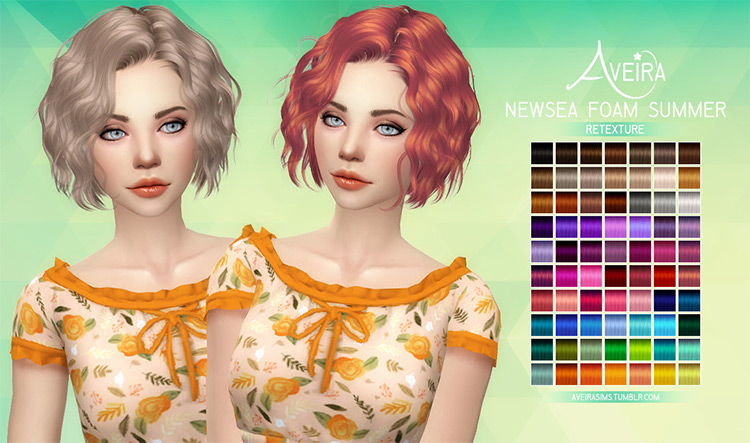 | | |
| --- | --- |
| Total Color Swatches: | 70 swatches |
| Mesh Needed: | Newsea's Foam Summer (included in download, no need to download separately) |
This hairstyle is short, silky, voluminous, and it stole my breath away.
NewSea is already pretty well known for gorgeous Alpha CC creations and stunningly shiny hair texture. Aveira's retexture of this particular mesh just seemed to amplify that, so I was pretty excited to try this in-game.
Needless to say, it's now a permanent resident of my Mods folder.
Color range is pretty freaking incredible, too. You have the option download only the natural colors for this hair, but why limit yourself? Why?
You can never have too many choices for hair, and 70 solid swatches seem like a good start.
If you download all colors then you get a diverse mix of naturals, neons, brights, and muteds.
Lots of conventional and conservative picks (I'm talking brown, beige, auburn) with equally as many wild and eccentric shades to balance it out (sea green, party purple, and electric blue, to name a few).
Maxis Match/Clayified Hair
Whereas Alpha CC is specifically designed to make Sims look more realistic, Maxis Match is designed to seamlessly blend into the vanilla game graphics.
That means it follows the cartoony, almost Claymation-like feel of The Sims 4.
In fact, when creators convert Alpha CC hairstyles into a Maxis Match texture, it's often called "clayified" hair – not a lot of details, but a lot of cute chunks. Let's check out these wavy 'dos!
Natalia-Auditore's Diana Hair
| | |
| --- | --- |
| Total Color Swatches: | 27 swatches |
| Mesh Needed: | No |
Inspired by the sword-and-shield-wielding Princess of Themyscira herself (of DC fame), Natalia-Auditore's Diana hair is the Maxis Match counterpart of Anto's Effie.
It's the quintessential "long and wavy" hair that looks good on everyone.
If you prefer Maxis Match over Alpha, then trust me when I say this hair will do well. Gorgeous design, decent detail, and it looks fantastic in-game.
The file comes with 27 color options; EA's standard 18 colors, and then nine extra unique swatches from the creator. There are a handful of naturals in there – more brown and beige, but at least the tones are different – and some surprisingly vibrant dyes.
No joke, there's a lime green-ish color that works surprisingly well!
Sevensims's "Bang Bang" Recolor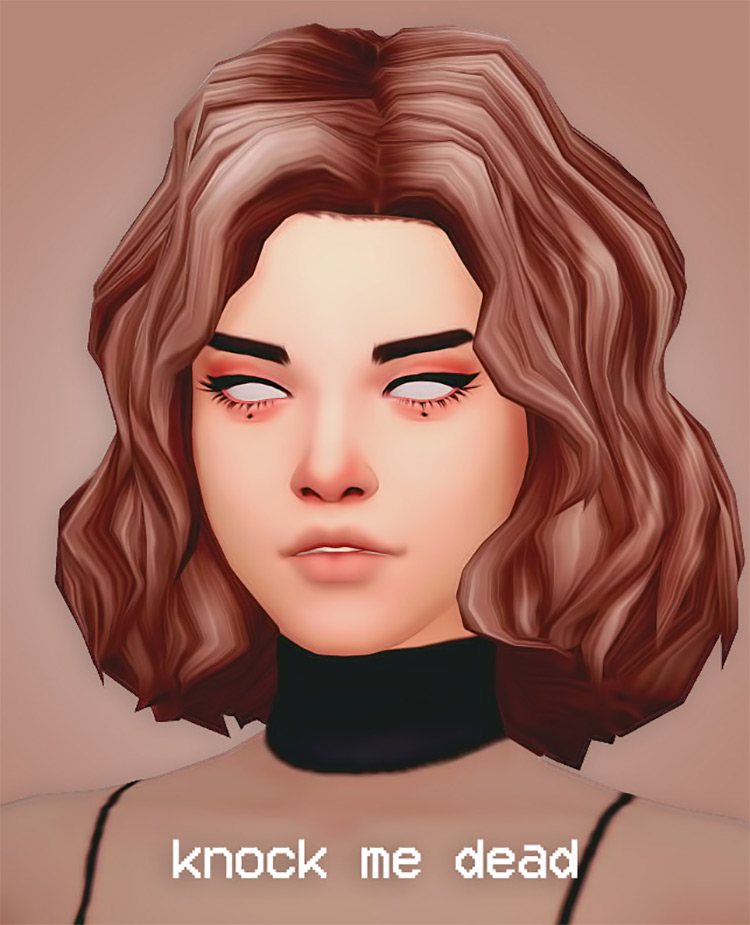 The link above is going to lead you to eight really cute hair recolors by sevensims. They're all gorgeous, and seriously, feel free to download any (or all) of them.
But the one I'm going to gush about is the third one: the bang bang hairstyle.
So named, I'm assuming, after the cute little whisper of bangs on the side.
This mushroom cloud of cuteness has volume and body like no other. It's big, it's bouncy, and it looks freaking fantastic!
Best way I can describe it is honestly the hair equivalent of a button nose: scrunched up, adorable, and you feel unnaturally compelled to boop it.
Simmerstesia's Pink Lily Hair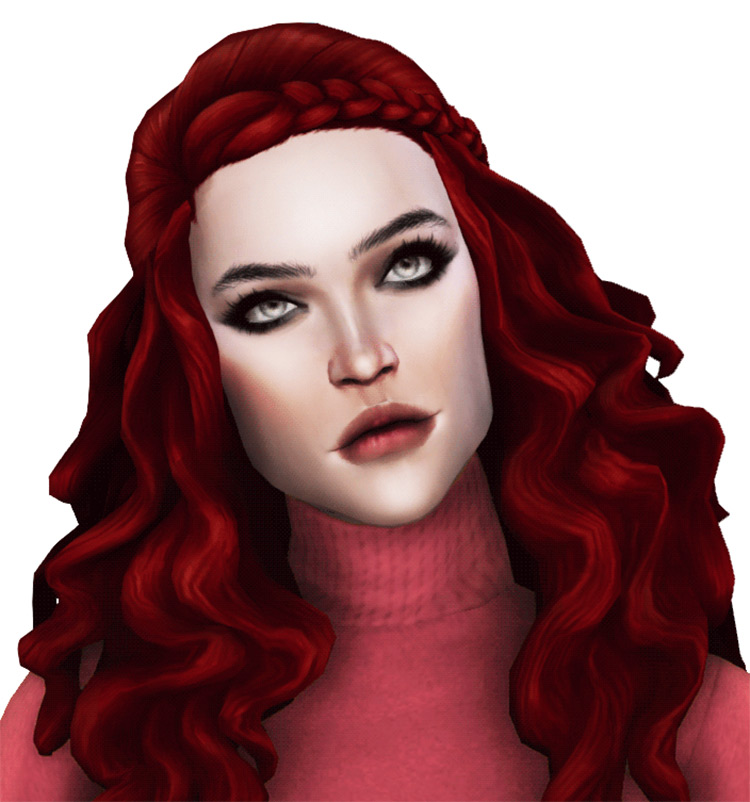 | | |
| --- | --- |
| Total Color Swatches: | 18 EA swatches |
| Mesh Needed: | No |
Injecting a bit of stylish Goth in this list, I present some adorable wavy hair CC: a pretty(and pretty big) hairstyle that's 90% waves and 10% braids.
Or bangs, depending which version you download.
Simmerstasia's Pink Lily hair has those loose, crimped waves that, in real life, would give real hair hella texture.
In The Sims, it simply gives it more body and bounce to work with.
Like I mentioned, there are two versions: one with a braid, and the other with blunt-cut bangs. I love how just changing one element changes the entire vibe of what is essentially the same hairstyle.
Can't play favorites here. They both look excellent. It really depends on what style you're going for.
I personally found the one with the bangs to be touching on the Lolita or Lolita-Goth style. The braid looked sweeter and more "ready for Ren Fair." Again, totally up to interpretation.
Toxicsimlish's Recolor of Rusty's Wavy Hair

The Maxis Match version of the quintessential "short and wavy."
I sometimes feel like people sleep on the basics a lot. Simple styles can be hella attractive due to their simplicity, and this stunning piece is no different.
Look at how effortlessly it swoops to the side.
The soft, subtle waves and loose curls at the tips. The sheer volume. This is a classy hairstyle for a classy Sim, alright? Just like Anto's Madison hair.
It's the kind of short wavy hairstyle that would look good on most anybody, and flatter most any face shape.
This recolor changes the swatches of the original mesh – which had a lot of gray streaks in it – to EA's standard 18 colors. So like the hair, the color options are basic. But in the best possible way.
SimMandy's Clarity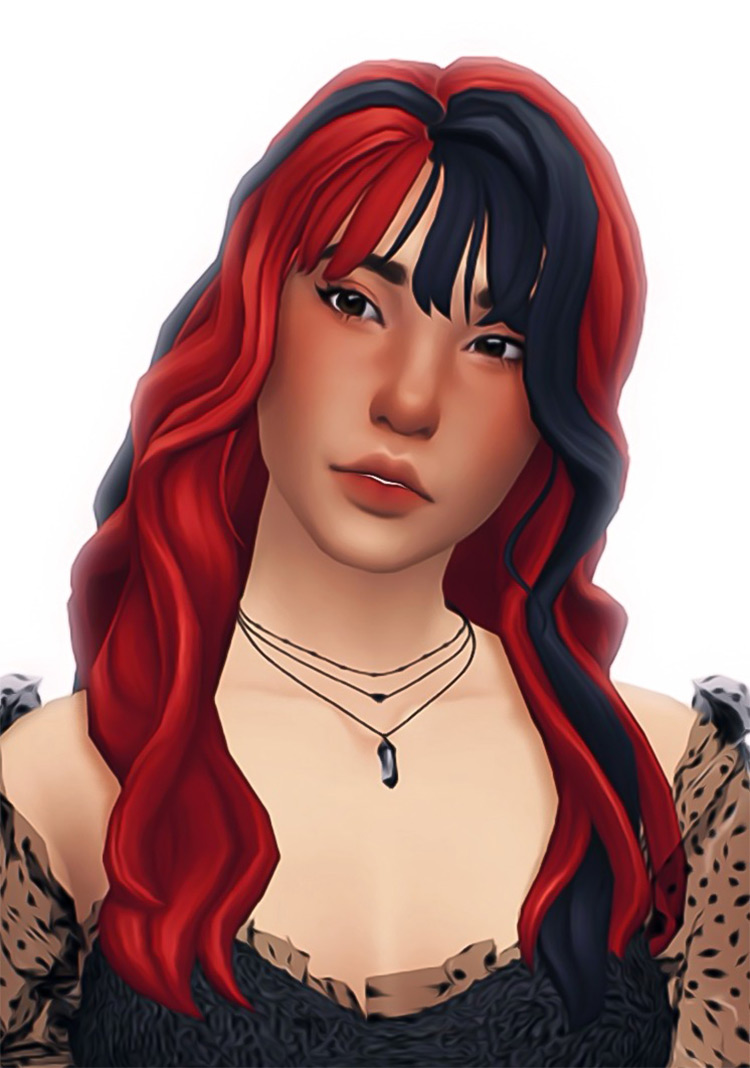 | | |
| --- | --- |
| Total Color Swatches: | 58 swatches for base | 58 swatches for hair streak |
| Mesh Needed: | No |
Is this hair gorgeous? Yes.
Is it one of my new personal Maxis Match favorites? Also yes.
Am I going to wax poetic about it, too?
I'm going to try really hard not to. Just know that I took 30+ photos of my female Sims with this hair, and I regret nothing.
The hair, by itself, already looks pretty delightful. Cute wispy bangs, decent volume up top, sleek waves at the bottom. Great hair, great style, 10/10 would keep in Mods folder.
But the creator upped the ante by adding an additional streak of color as an accessory (which you can find it in the Hats category).
So you wear the hair, you go to Hats, you equip the streak, and then you choose the color of the streak so that it's completely different from the base hair color.
Call me a sucker for customization, because I am.
Look, as much as I appreciate EA adding multi-colored hairstyle options to the base game, not being able to customize the color combination was a missed opportunity.
I mean, what if I don't want my black hair to fade to white? What if I want it to fade to pink? Or green? Can't do that with base game hair, but you can do it with this CC.
Clumsyalien's Wilfred Hair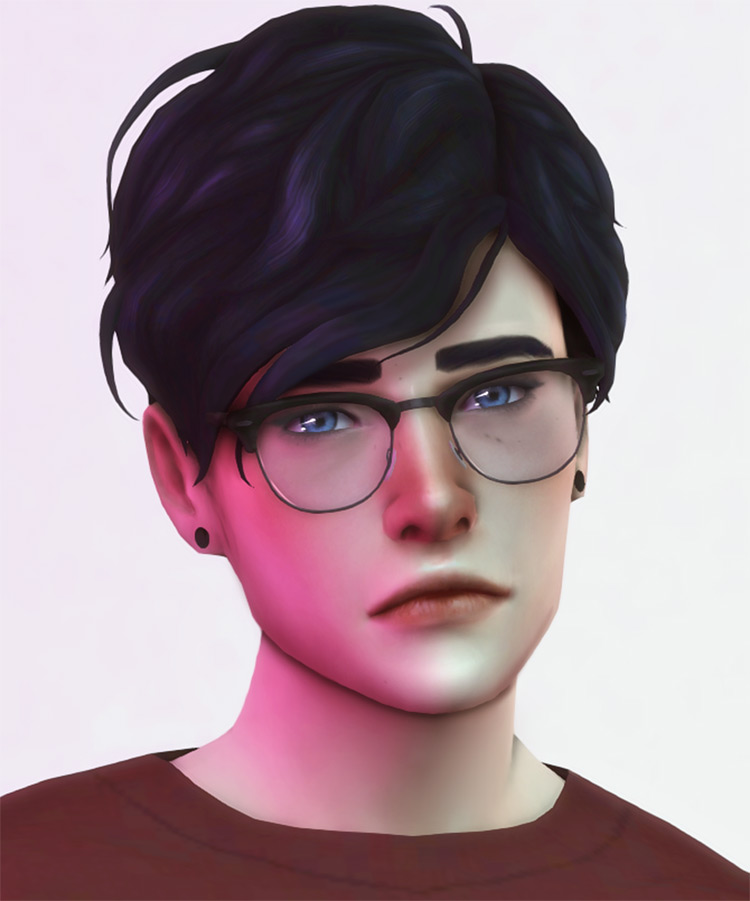 | | |
| --- | --- |
| Total Color Swatches: | 18 swatches |
| Mesh Needed: | No |
Wrapping up this list with a little something for the guys.
This here's Wilfred's hair. And it's a big, wavy number that's created specifically for your Male Sims. Definite bonus.
And the hair itself isn't half bad! It's got this rich, lightly tousled, slightly unkempt look that says "I'm a sensitive soul."
It also looks rather lush and princely – sort of like Disney's Prince Adam from Beauty & the Beast fame.
This one is one of the subtler & more understated CC sets in this list.
But that doesn't make it any less wavy. Plop it onto one of your arts n' crafts Sims to really sell the casual-but-creative-artist look.
Browse:
Lists
The Sims 4
Video Games