Sims 4 Wealthy Family CC, Mods & Lots (All Free)
This post may contain affiliate links. If you buy something we may get a small commission at no extra cost to you. (Learn more).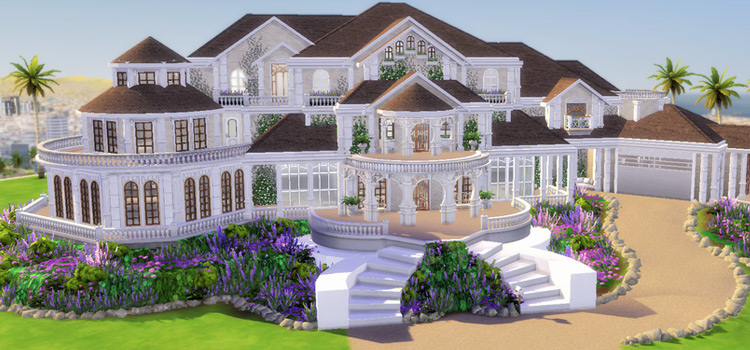 Wealth is relative, but we all know a wealthy family when we see one.
The expensive kitchen, huge television, and a backyard that almost looks like a small park.
No matter what style of gameplay you prefer, I think we've all had at least one wealthy family in The Sims.
If you're currently playing one and need some show-stopping furnishings that will make the whole neighborhood jealous, you're in luck. Because we've got some fancy CC just ready for your wealthy Sims to pick up.
Pricey appliances, home spas, gold-plated gyms, we've got all that and more on this list.
15.

H&B Portal Expensive Refrigerator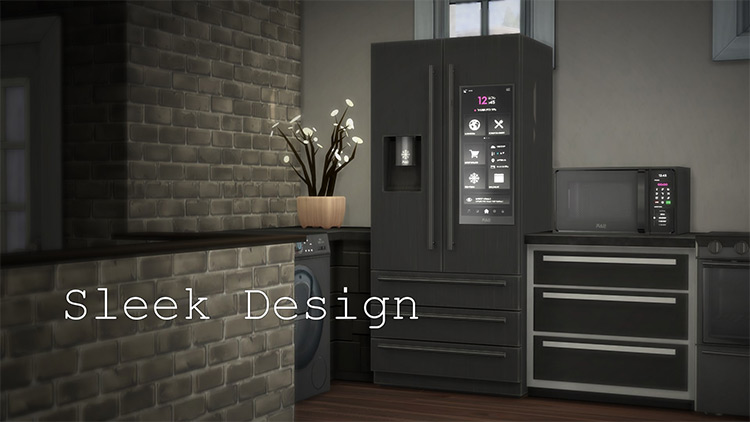 Every wealthy family needs an outrageously expensive refrigerator.
This H&B fridge from Littledica is so expensive that it's in the name. But rest assured that it's worth every simoleon.
This smart fridge comes with an OS interface that displays the time, date, weather and more.
Plus, all in-game upgrades are installed. And they also have the maximum food quality score, so all those gourmet meals will stay fresh for longer.
And if that wasn't enough, it comes in 13 colors for all your interior designing needs.
Now for the grand total:
*drumroll*
The H&B Refrigerator will set your Sims back §35,000 simoleons.
And if your Sim just shrugged from hearing that price, it's a safe bet that you should download it for them.
14.

Lavender Hill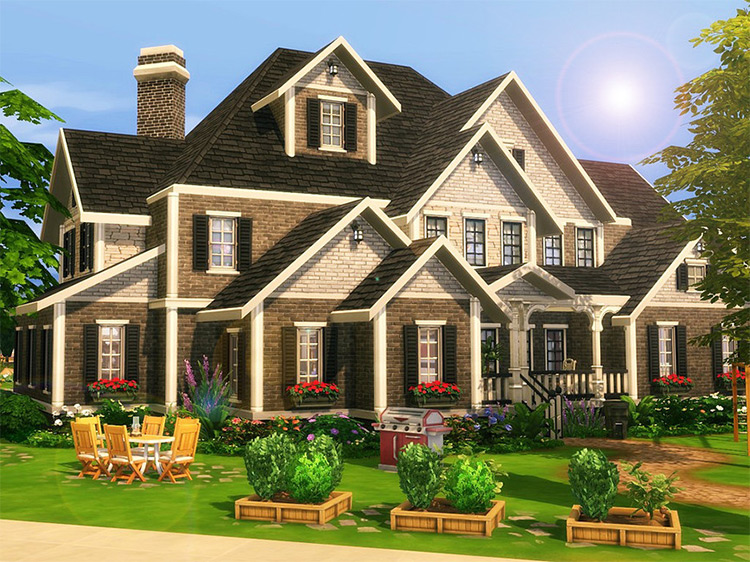 Big families are a ton of fun to play with.
For people who struggle with (or hate!) building, making a house for a big family is very much not fun.
But why bother when you can just download an already furnished lot? Take MychQQQ's Lavender Hill home, for example:
It's a 40×30 lot with 4 bedrooms, 2 bathrooms, a study and even an outdoor pool.
It's fully furnished inside and out with impeccable decorations.
Then all you'll need is §231,000 simoleons and you're good to go.
And best of all?
This is a base game only lot.
These are rare to come by, so if you don't have any packs and need a family home, don't hesitate to add to your game.
13.

Gallivanter Baller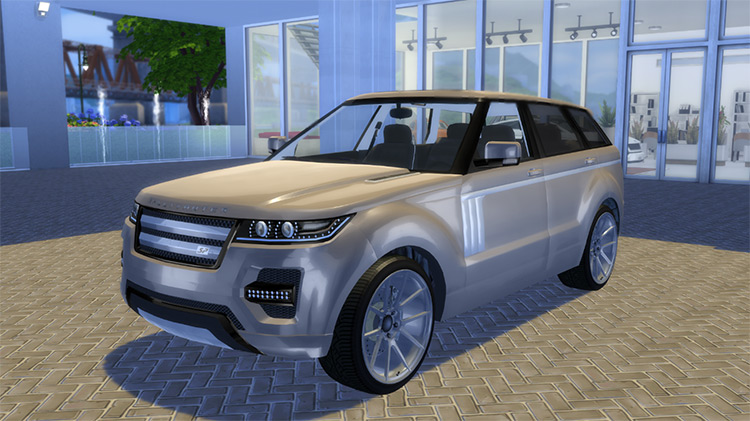 We know cars are a touchy subject when it comes to The Sims 4.
Many of us miss the open roads and variety of cars to choose from in The Sims 3. Heck, some of us would even settle for the car functionality from The Sims 2, where our Sims would drive off or into the home lot from loading screens.
But lack of functionality aside, the aesthetic of an expensive car goes a long way for storytelling.
That's why OceanRazr's Gallivanter Baller would look great in the driveway of a wealthy family home.
The Silver SUV is HQ and sleek, with lots of space for picking up and dropping off children.
This CC creator is known for making realistic deco cars, so if this one doesn't tickle your fancy, then feel free to browse their collection.
12.

H&B Powerwave Stove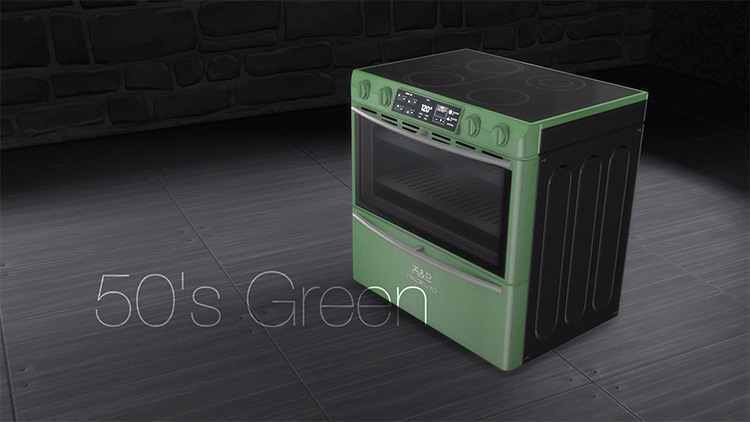 You can't have an expensive fridge without an equally expensive stove.
Littledica's companion appliance to the H&B Refrigerator is the H&B Powerwave Stove, a cooktop/oven combo with a touch-screen interface.
Not only does it come in the same 13 swatches as the fridge for matching, but it's also full of upgrades.
Skip the cleanings by using the self-cleaning feature, and enjoy high-quality meals with improved cooking quality.
And thanks to all those features, you can expect a similar price tag at §25,000 simoleons.
But hey, §10,000 simoleons less is sort of a discount… right?
11.

Milena Closet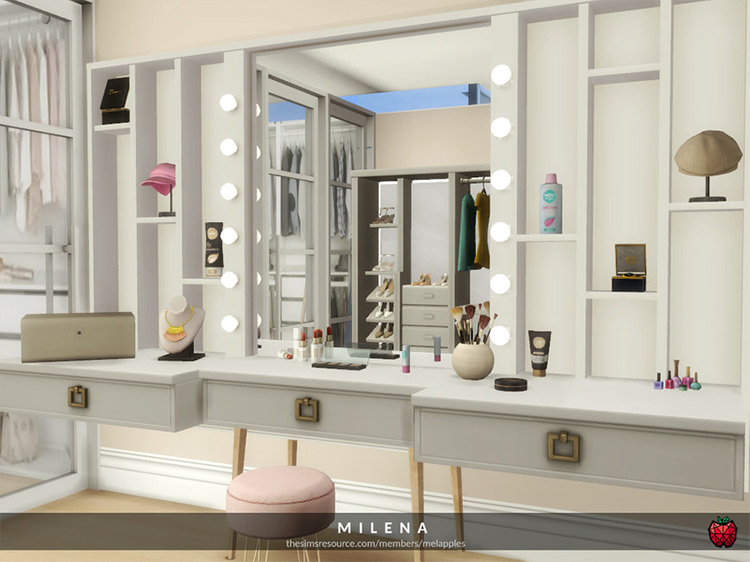 Walk in closets are a must for wealthy families.
Namely for wealthy parents.
What better place to get a few minutes away from the children than in your own fashion paradise? Well this walk-in closet from Melapples' is the ultimate in luxury.
For starters, it's actually two separate rooms: one for clothes, the other for a vanity/jewelry area and shoes.
This is actually a 4×7 room, so if you already have a house built or downloaded, just pop this down in the house to use.
Be warned that it does require a lot of CC and packs, so check the Creator Notes (Required and Recommended tabs) for everything you need to download it.
10.

Home Spa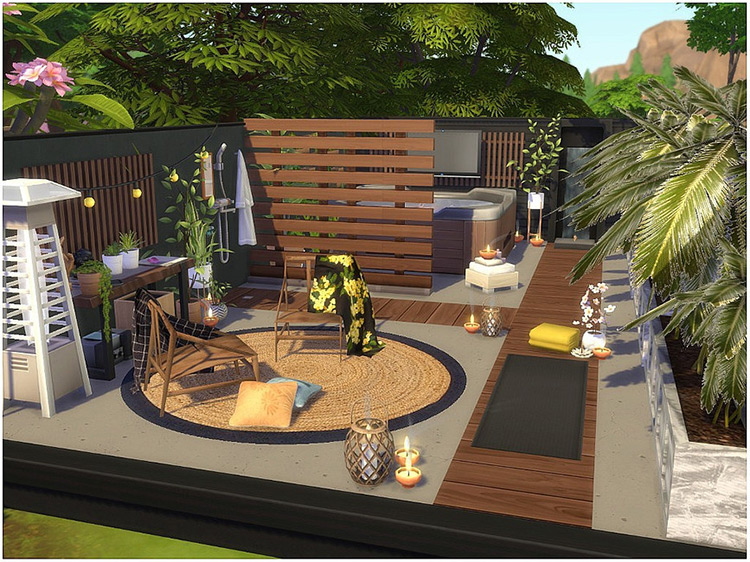 You know you're rich if you don't have to leave the house for a vacation.
If we had the kind of home spa that Lotsbymanal created, you'd never get us to leave. And this custom outdoor relaxation area has two dedicated spaces for R&R:
A hot tub with a wall-mounted television, and an outdoor shower with lounge chairs for sunbathing or taking a nap.
Just be sure to activate the bb.moveobjectson cheat before downloading.
And since the lot does use some CC and varying packs, cross-check the Creator Notes and Required tabs.
9.

Simsung Curved Television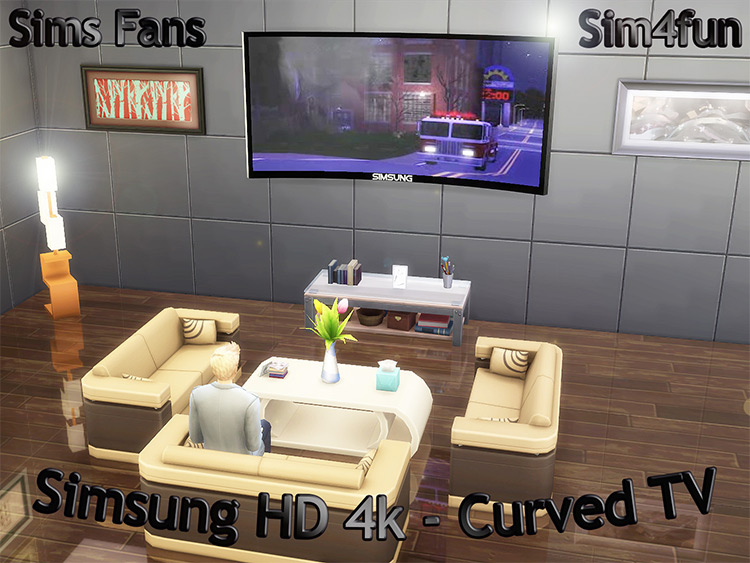 Some of my favorite CC items are those that spoof real-life brands.
And it's safe to say that the Simsung Curved Television is just as popular in the Sim world as Samsung is in ours.
Sim4Fun's television is huge and curved, with crystal-clear reception and the Simsung logo featured prominently at the bottom.
It comes in both black and white, and appears to be placeable on floors and TV stands.
And compared to the other items on this list, we think §8,500 simoleons is pretty reasonable for a brand new TV.
8.

Dreams of Gold Home Gym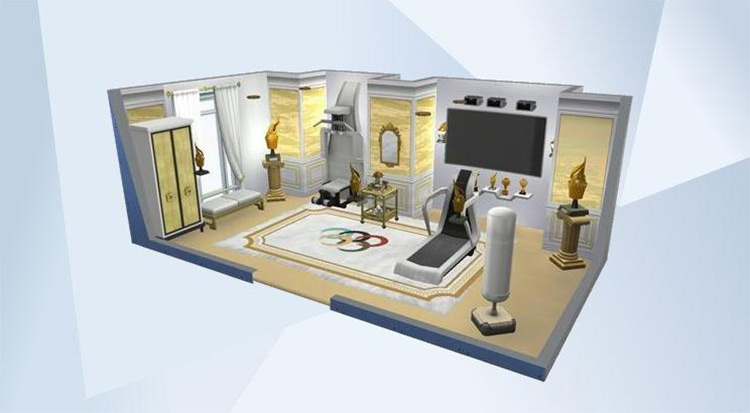 A solid gold gym.
We have two thoughts about this one:
First, it's ridiculous. But second, it's also pretty damn awesome.
The average Sim would likely ask why, while wealthy Sims shrug their shoulders and drop almost §30,000 simoleons on this home gym.
And this 5×8 room by WrathofCath is over-the-top expensive:
Golden walls, statues, and the best workout equipment money can buy.
There's even a super pricey wall-mounted TV so your Sims can browse all thousand channels while on their morning run.
7.

Artz Living Room CC Pack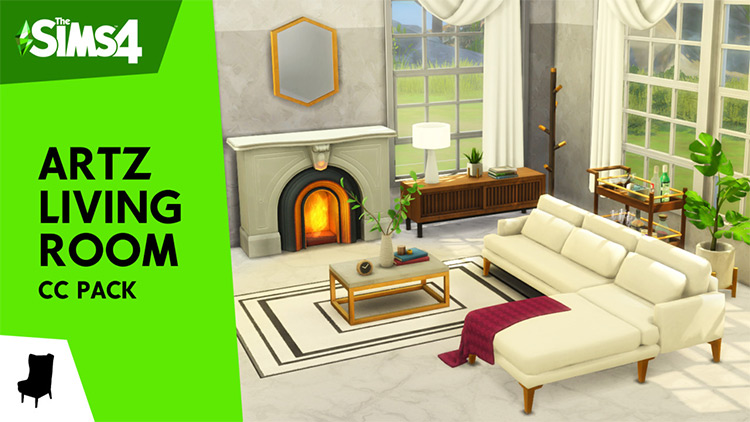 For rich Sims, the living room is the first chance to show other Sims how wealthy they are.
We think this fan-made CC pack offers exactly that.
Creator SixamCC is incredibly talented, and it shows in this 36-item pack:
Chairs, couches, fireplaces, and even a chaise lounge in a variety of colors and styles.
And all of the items look modern and fashionable. Perfect for a wealthy family with a lot of money to burn.
And it's all base game compatible, so yay!
6.

Vestidor "Monik" Bedroom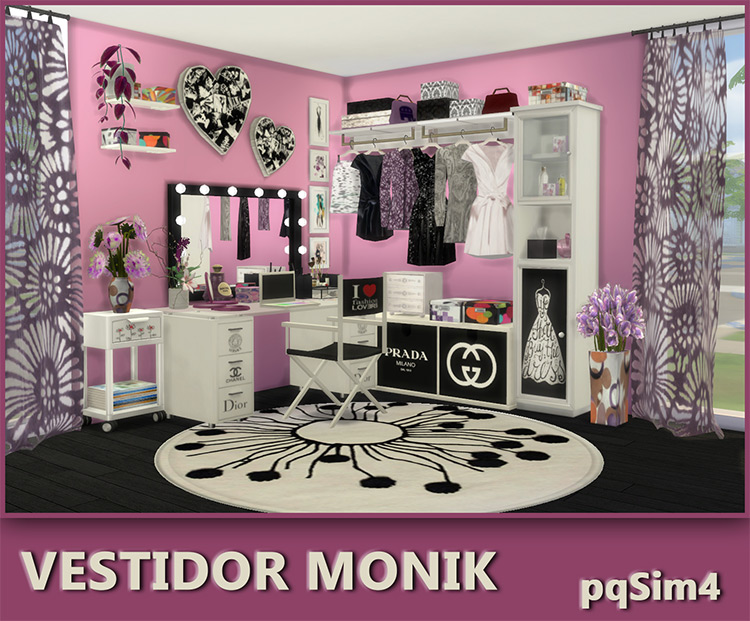 Have a spoiled Teen in need of her very own fashion station?
Then head on over to PQSims4 and download the Monik Bedroom. And this one's an all-purpose set:
Not only does it come with the furniture shown in the photo (vanity, closet, chair, etc.) but the clutter shown is also available for download.
From the high-fashion bags to the expensive makeup collection, your Sim will be a shoe-in for teen queen at their high school.
5.

Terra Patio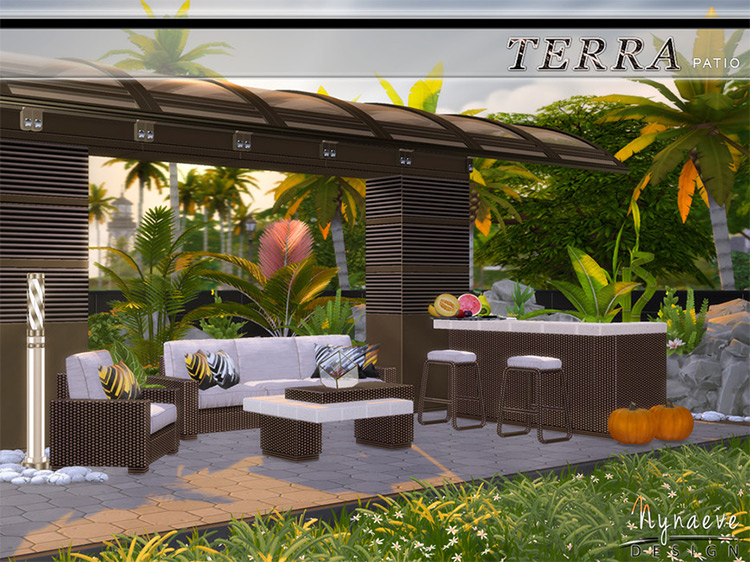 Wealthy Sims need somewhere to kick back and reflect on all the fortune they've amassed.
We think this patio set from NynaeveDesign is a great place to do it.
The set includes everything you need to make a chic outdoor area, including a lounge chair, sofa, a bar, and a really awesome looking awning.
Most items have at least 3 swatches, all meant to match with coordinating colors. And you don't need any extra CC or packs to use this set.
But if you'd rather pick and choose what items you want, download them individually here.
4.

Decorative Arcade Cabinets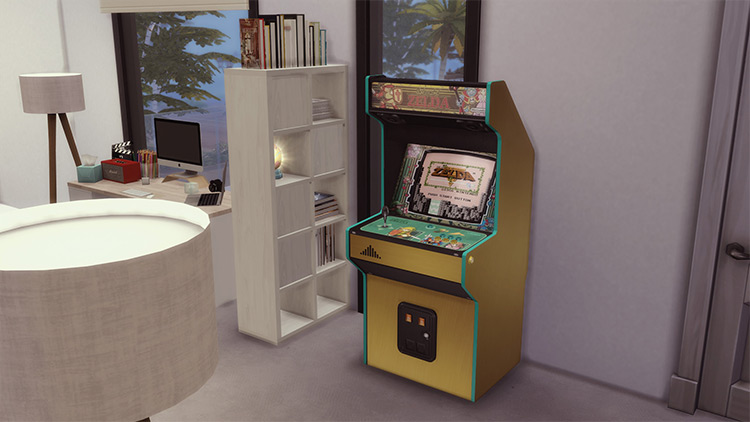 What does a rec room in a wealthy family home look like?
We'd imagine it'd have lots of comfy furniture, high-end electronics, and a dedicated gaming area.
These decorative arcade cabinets from Pumpk1n are conversions from The Sims 2 creator Azaya, now available for The Sims 4.
Choose from old-school classes like Donkey Kong and Pac-Man, or newer titles like Mario Kart or The Legend of Zelda (and more).
And they're definitely the most affordable item on this list at only §205 simoleons.
So with enough saving, even your non-wealthy Sims could buy these!
3.

Bathroom Lusso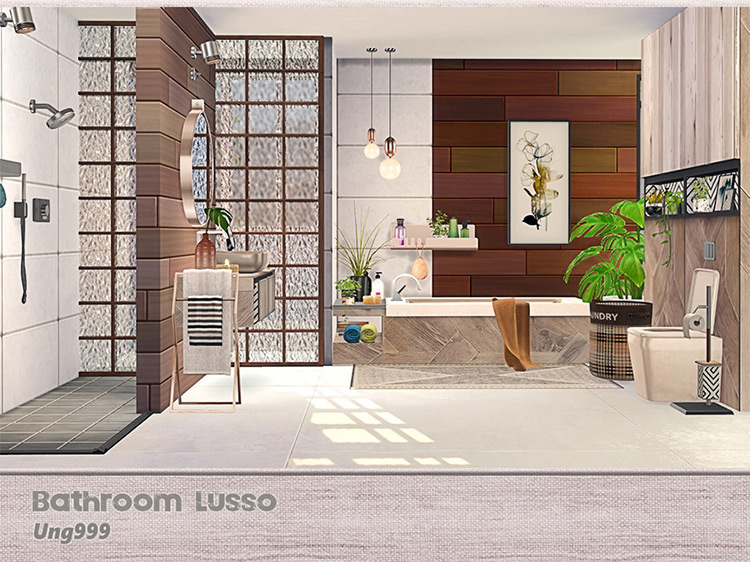 The true mark of a wealthy home for me?
An extravagant bathroom.
If you'd never want to leave, chances are the bathroom is so luxurious that only a wealthy family could afford it.
Well this bathroom set from Ung999 looks exactly like the kind of place your Sims would lounge around in for hours.
I especially love the big soaking tub and fancy step-in shower, and there's six more items for a total of 8.
You can even find the decor used for the photos here. Just in case you want to re-create the same look for yourself.
2.

Kessler Kitchen CC Pack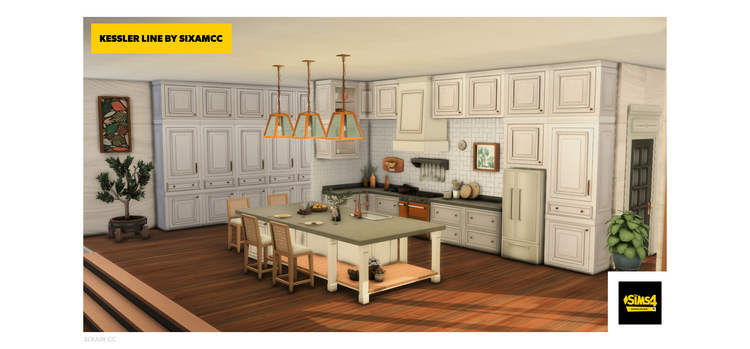 SixamCC's content can't be contained to just one fan-pack.
So we're featuring another one on this list for your wealthy Sim's kitchen needs.
And this is yet another impressive one, with 36-items rounding out this pack. It specifically has lots of cabinets, islands, and kitchen decor.
Plus you only need one pack (Parenthood) to use one item here. Otherwise, it's completely base game compatible.
We love how Maxis-Match friendly SixamCC's packs are, especially since we've featured a lot of HQ items on this list.
1.

Pet House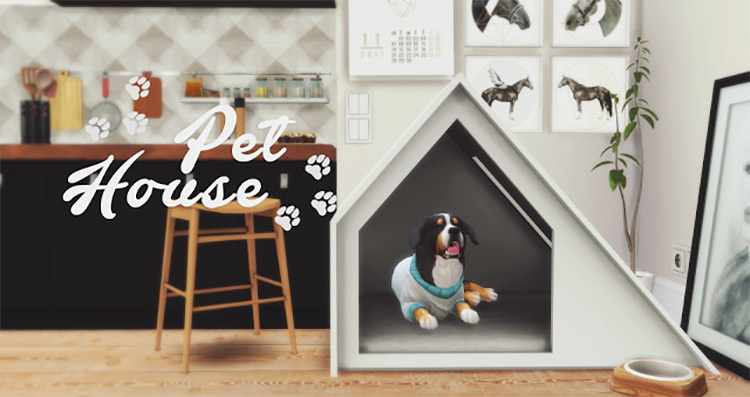 A custom house for your furry pal feels like a necessity. Because everyone in wealthy families are spoiled.
Especially the pets.
Now your canine and feline family members can have their very home within the home, all with PysznyDesign's Pet House CC.
These asymmetrical homes are super cute, and will make your pets feel like the pampered fluffballs of love that they are.
Choose from shades of white, tan, and black. There's also two sizes to pick from: small and large.
Browse:
Lists
The Sims 4
Video Games