Best Sims 4 Wedding Dresses: Free CC & Mods To Download
This post may contain affiliate links. If you buy something we may get a small commission at no extra cost to you. (Learn more).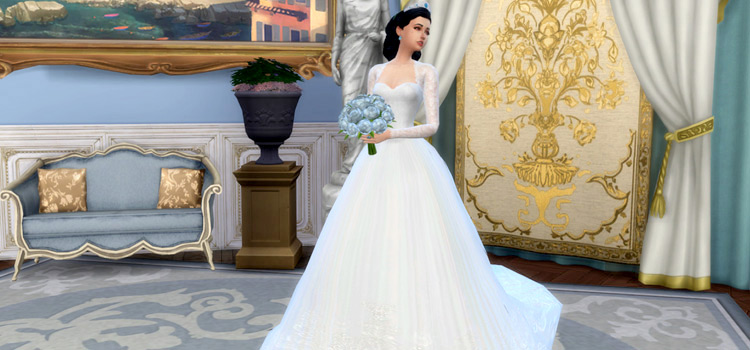 First off, congratulations! The fact you're reading this means you're about to tie the knot with the love of your life. Well, your Sim's love anyway. Isn't that great?
After countless pick-up lines, flirting, and WooHooing in bushes, your Sim has finally popped the question.
And now you're looking for the best wedding dress. Must be that your significant other must've said yes and you didn't die of embarrassment. Really, good job!
All that's left to do is plan the wedding – easy right? Wrong.
I've seen some Simmers going all out on preparations. From downloading dozens of bouquets to building the venue from the ground-up, it's sincerely admirable to see the effort spent to make a perfect wedding.
But if there's anything more time consuming than designing a venue, it's choosing the bride's look.
If you're already set with the hair and makeup then you're 50% done. Now you just have to work on the other 50% – the dress. To help make your fantasy Sim wedding a reality, I've compiled the best custom content dresses to cut you some slack.
Just don't forget to invite me on the big day alright?
15.

Wedding Dress 9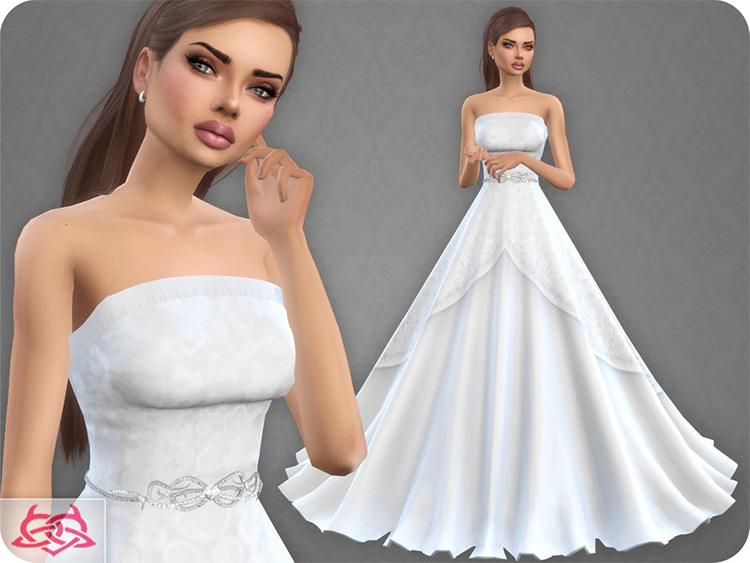 I'm starting this list strong with an entry from popular CC creator, Colores Urbanos.
When starting the search for wedding dress CCs, you'll probably notice that most of the content will be from this real-life designer.
Maybe that's why her creations are so gorgeous?
This back-to-basic wedding dress is the stuff of fairy tales.
A white strapless A-line dress will always be a good bridal style for any wedding theme. It's a safe choice but a classic one. Oh, and this dress is available in 30 colors ranging from kiwi green to hot pink, so go crazy!
14.

Lorena Wedding Collection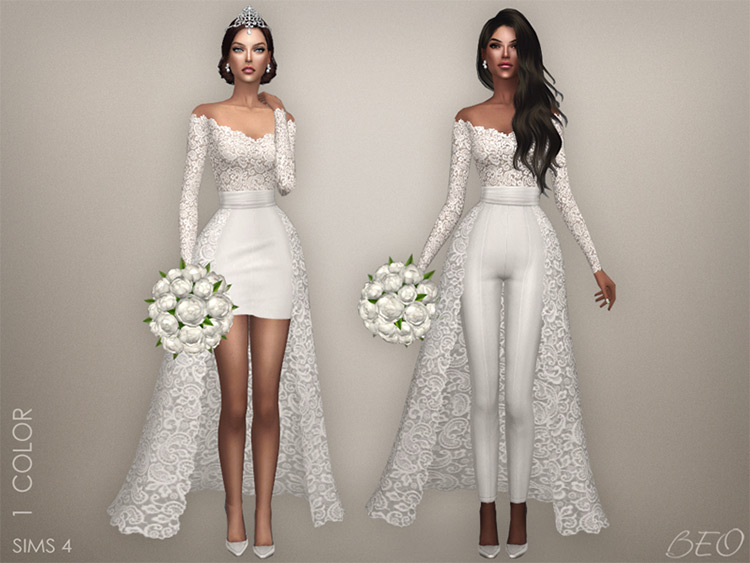 This double-threat collection from Beo greatly contrasts the classic look of the previous dress.
Brides wearing pantsuits instead of gowns is not new.
It's unorthodox, but bold and screams female boss.
But the beauty of this collection is its dual style.
If you don't want to keep the pants on then go for the high low dress. Either way, you have two fierce dresses in one collection!
13.

Natasha Dress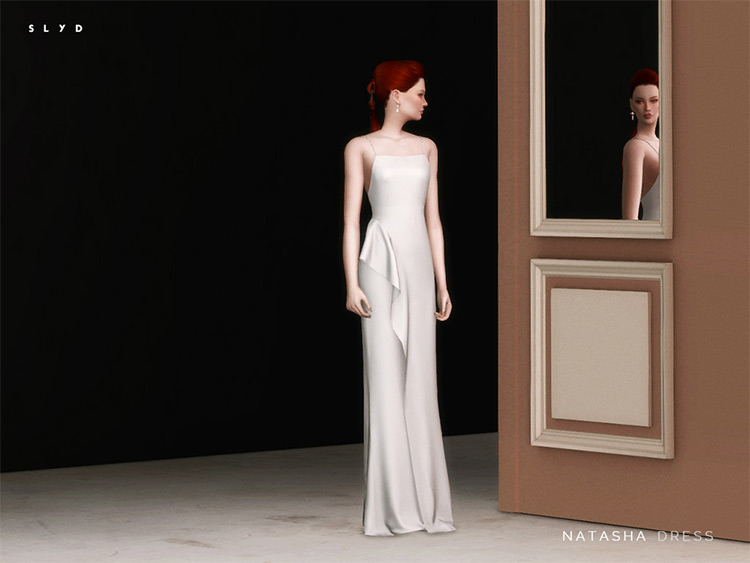 Weddings don't always have to be showy.
A simple ceremony in your friend's backyard can be more charming than an over-the-top church wedding.
In this case, this Natasha Dress from Slyd would be enough to stun flashy Sims.
While it may not have the fluff of ball gowns, you'll definitely have the focus of your groom or bride-to-be.
Why?
Because it's so simple that your Sim's beauty will shine through! Try it on if you don't believe me.
12.

Romantic Wedding Gown
With a dress name like Romantic Wedding Gown, you know this next entry is going to be legit.
It has all the trendy bridal gown essentials: a sweetheart neckline, an A-line silhouette, and lace embellishments.
It displays a by-the-book style too. But that illusion neckline fusing into fitted long-sleeves with the lace reaching up to the back of the hand is soooo pretty.
If this gown has you swooning then make sure to plan a romantic wedding to match.
11.

Lily Dress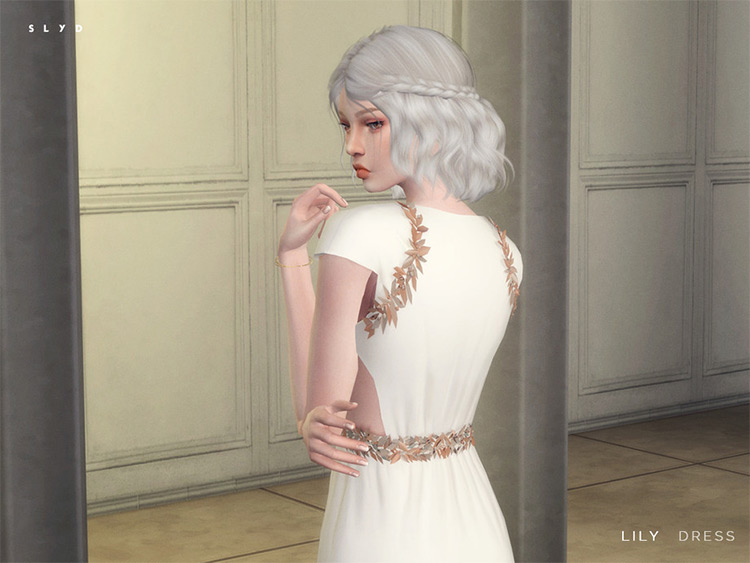 Think Aphrodite, if she became a character and was about to get married in the world of The Sims.
Do you think your Sim can look like her using an in-game wardrobe? Doubt it.
If you want to look like the Greek goddess of love, then get this CC to dress her like one.
Slyd has outdone himself again with this Lily Dress inspired by Lily-Rose Depp's outfit at Cannes 2017.
Trust me, this dress would look better on a Sim than it did on her.
10.

ZM Inspiration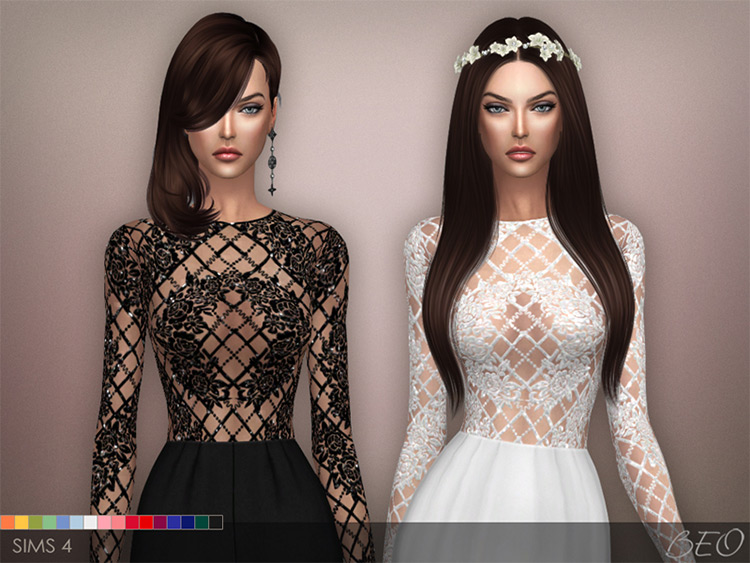 Have I mentioned that CC creator Beo is a genius designer that continues to bless us with god-tier wedding dresses? No?
Well, here he is again with a unique design that got me saying "Oh gosh, I want that."
The sheer top of the gown is a little daring for the usual wedding standards. But not in the world of The Sims.
This dress just exudes sexy elegance. It's the perfect shocker to conservative Sim family members.
9.

Bridal 13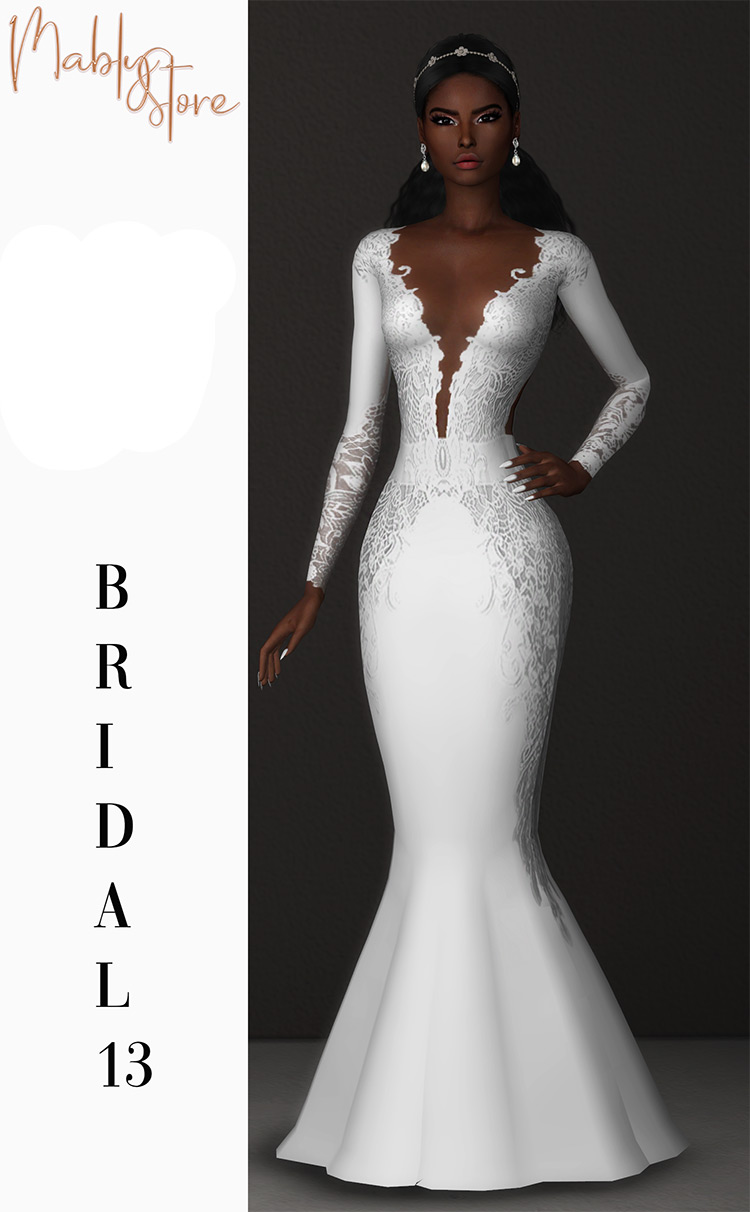 Here's a high fashion bridal gown that'll make you look like a million Simoleons, even without any money cheats!
Wearing a dress with a mermaid silhouette is the best way to show off a body's figure.
If your Sim has curves to brag, then this tummy-plunging ensemble will be the perfect fit.
8.

Katya Wedding Dress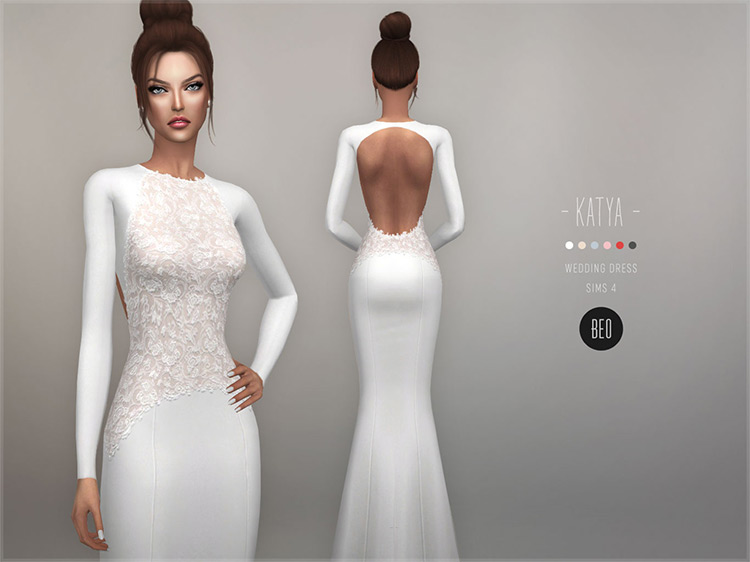 If the dress above has a bold plunge, then this Katya Wedding Dress took the leap.
While the front displays a conservative appearance, the back just proves you're a naughty bride.
The dress is available in six colors from pure-as-an-angel white to hot sauce red.
No matter the dress code you've set for your wedding, make sure you're the hottest one there!
7.

Wedding Dress 12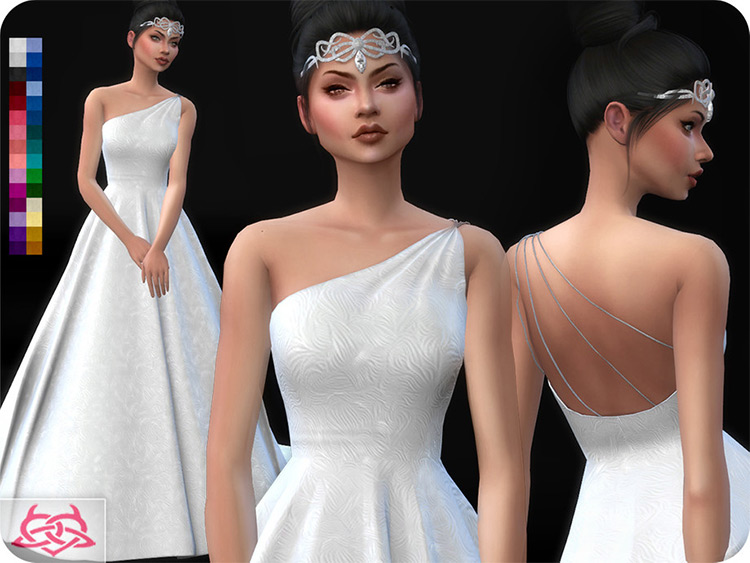 What's better than being a bride?
Looking like a bride and a princess at the same time.
There's a reason why A-line dresses are also called princess-line dresses.
For the few major moments of your Sim's life, a dress like this can only be worn once. Maybe twice if you like playing dress-up.
The one-shoulder neckline and the strappy back finish is a gorgeous touch to the dress' straightforward design.
Since Colores Urbanos created this CC, you can expect 30 variations to choose from. Best wishes!
6.

Fiona Wedding Gown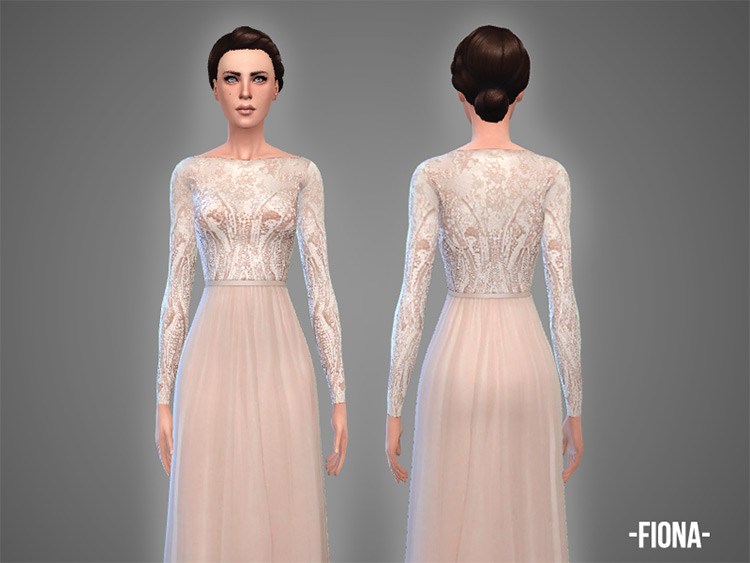 I adore this bridal gown made by April.
It perfectly captures the famous blushing bride expression. If a bride could blush all over, then this pink vision of a dress is the sweetest choice.
Some of you are probably preparing for a romantic garden-themed wedding by now, so this dress will have your Sim blooming on the big day.
5.

Vintage Wedding Dress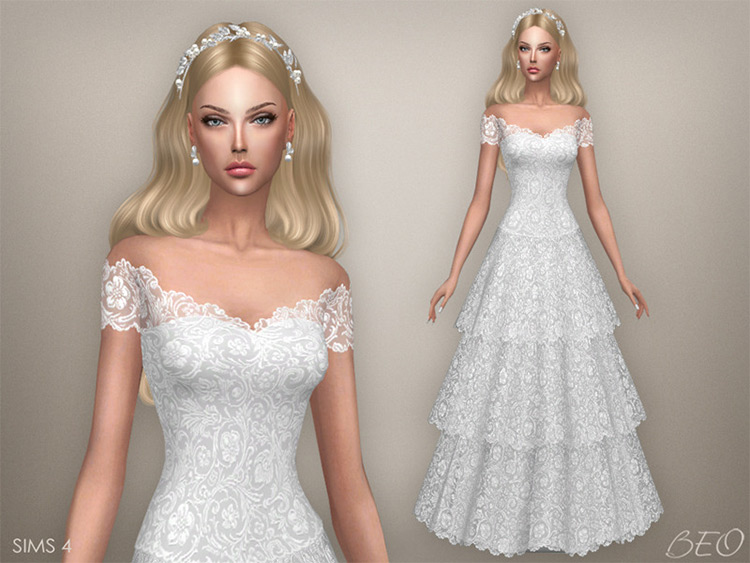 Oh Beo, you never cease to amaze Sim fanatics.
This is definitely one of the most beautiful designs I've ever seen for a wedding dress CC.
Maybe it's the tiered skirt, vintage look, or lacy off-the-shoulder sleeves. Overall, it's a work of art.
There's no doubt that your Sim will look anything less than stunning when she walks down the aisle. Whether it's in a barnyard, mansion, or even in a dining area in your own house.
This dress is versatile enough for any theme you have in mind.
4.

Wedding Dress 18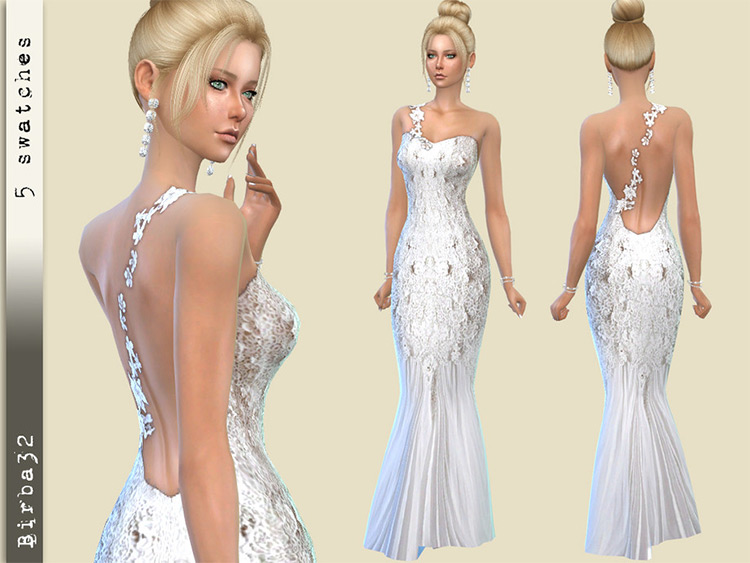 I may have a thing for open-back dresses. And this mermaid gown made me wish I could pull this off.
Although the chances of me marrying a Sim is very slim.
Apart from the lacework, it's the one-shoulder strap made from flowers that defined the look. I'm not suggesting your Sim should wear this at a beach wedding, but that's exactly what I'm suggesting.
3.

Duchess of Cambridge Wedding Dress
When Kate Middleton married Prince William, she wore one of the most iconic wedding dresses of all time.
Naturally, the price tag for the dress was a whopping $434,000. Yikes.
If you ever imagined yourself wearing something close to this royal garb, then your Sim will have better chances.
No price is too steep for an engaged Sim, after all. And this CC is available for free so you're in luck!
If a royal wedding is on the horizon, then your Sim deserves nothing but a queenly look.
2.

Low V-Cut Gown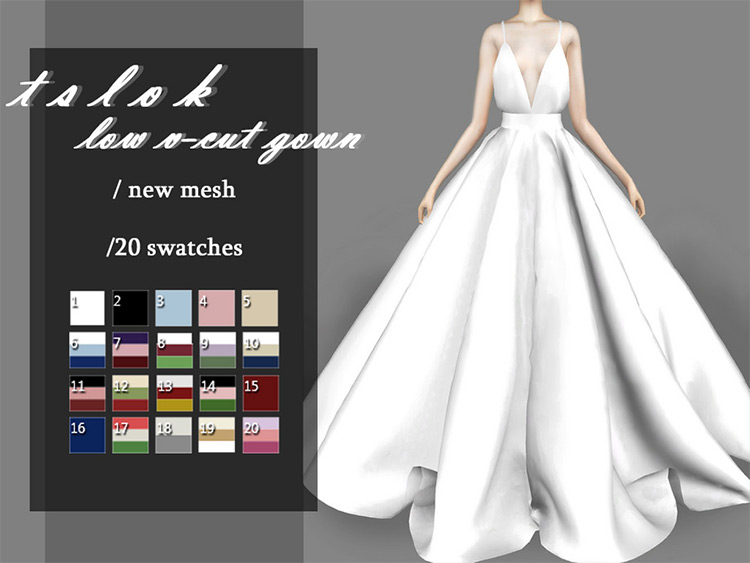 I told myself a puffy skirt wouldn't be able to sway me. But here it is, clocking in at number 2.
It's not explicitly created as a wedding dress but it sure does look like one.
Just add a bouquet and your Sim's ready to be a missus.
It's a revealing dress, sure. But sophisticated and downright dreamy.
With 20 colors to choose from this dress will serve you well for all kinds of occasions. But, best save it for the wedding day at first.
1.

Klaudia Wedding Dress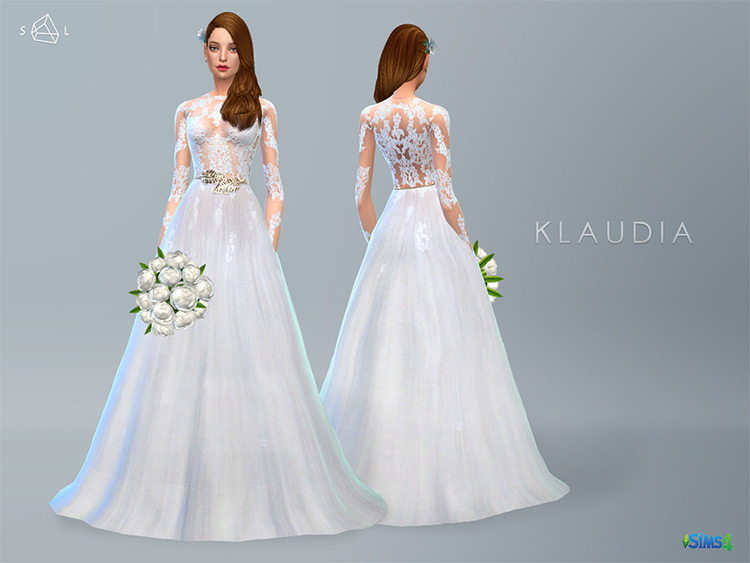 And they lived happily ever after!
Finally I've reached the end of the aisle to give you the best wedding dress CC for TS4.
With a gown like this, who wouldn't want to get married on the spot?
From its lace top to the golden belt and down to the flowy skirt, it has all the necessary features to stun your significant other and say "I do."
Slyd has given Simmers a wedding dress worthy of a Gold Medal.
More than the rewards to be gained, the dress is a prize in itself. May your Sim survive marriage and live a happy life after the big day in this outfit. And congratulations to the happy couple!
Browse:
Lists
The Sims 4
Video Games