Best Sims 4 Wedding Rings CC For Your Big Day
This post may contain affiliate links. If you buy something we may get a small commission at no extra cost to you. (Learn more).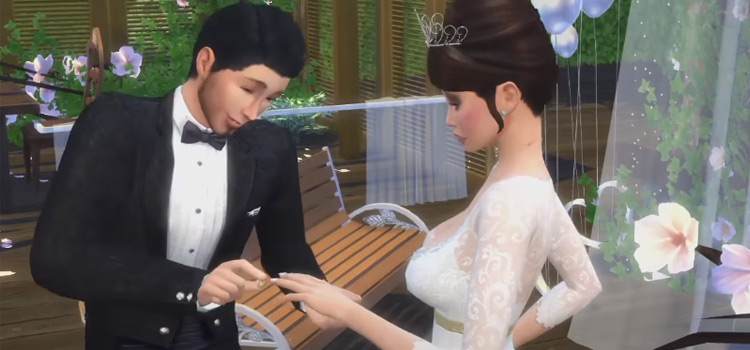 For hopelessly romantic Sims fanatics, there's only one D-day: a Sim's wedding day.
Every aspect of any Sim wedding is chosen with perfection in mind.
Everything from the caterer and the location, to the hundreds of wedding dress options where just one lucky dress will grace a gal's big day.
But ultimately, the spotlight will fall on one feature that seals the deal of everlasting love – a wedding ring.
You might think you've got everything ironed out. But without the right bling, why are you even getting married?
To help walk you down the aisle in style, here are some custom content TS4 wedding rings that'll have you excited to say "I do."
10.

Diamond Ring CC
When it comes to wedding rings, you can never have too many diamonds.
This split-shank Diamond Ring adorned with round brilliant cut diamonds is a scene-stealing piece of jewelry that you can use to flex your newfound bliss.
Whether you choose a timeless gold or silver shank, we've got NataliS to thank for sponsoring our Sim's newest piece of envy.
9.

WM Rings 202006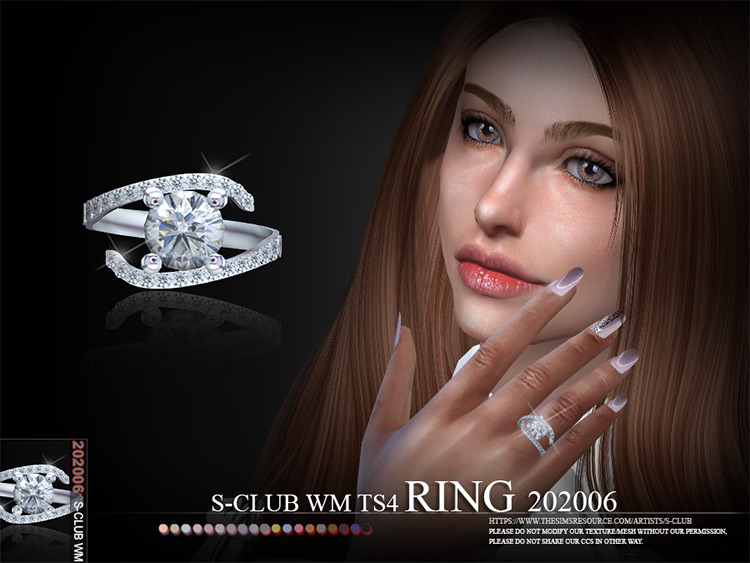 When I first saw the existence of swirl wedding rings, I realized that I was way behind the trend.
And that I couldn't possibly afford this in real life.
Luckily, Sims 4 players never have to worry about parting ways with $10 million just for an engagement or wedding ring.
That's Mariah's problem, not ours.
With more diamonds than I can count, here's something to wrap around your finger at no cost.
8.

Sideways Cross Ring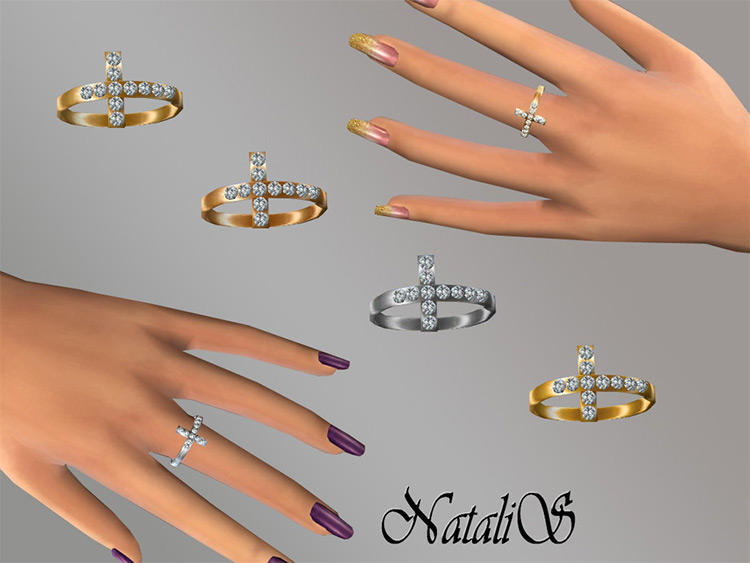 If you're bored out of your lovesick mind with your Sim grandma's hand-me-down ring, then it's time to get showy.
This Sideway Cross Ring is bound to shine in more ways than one.
With its uniquely-shaped band and round brilliant cut diamonds, you can't help but worship its simple beauty.
7.

Three-stone Princess Cut Ring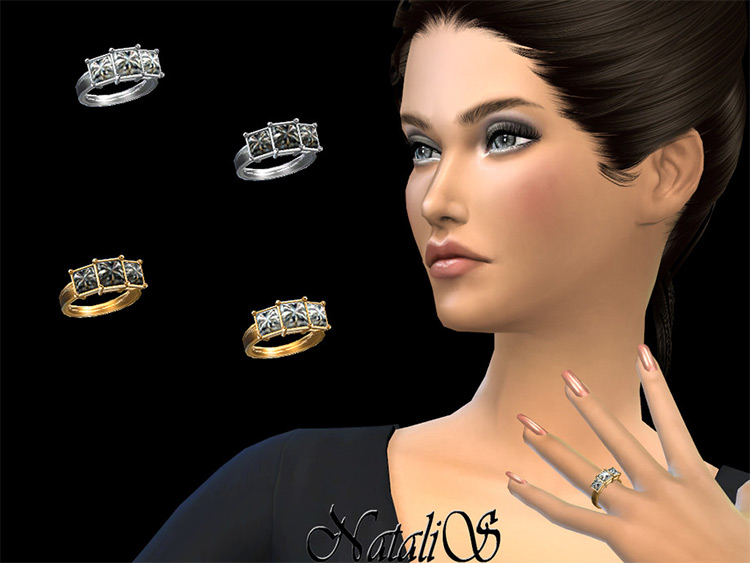 Nothing represents a commitment better than a three-stone wedding ring.
This might not be a Lorraine Schwartz exclusive.
But NataliS did an amazing job embodying the luxurious feeling of being a bride in what seems to be a simple ring.
Or rather, it's simple if you consider three princess cut diamonds the size of a baby's nails as "simple".
6.

Grandma's Ring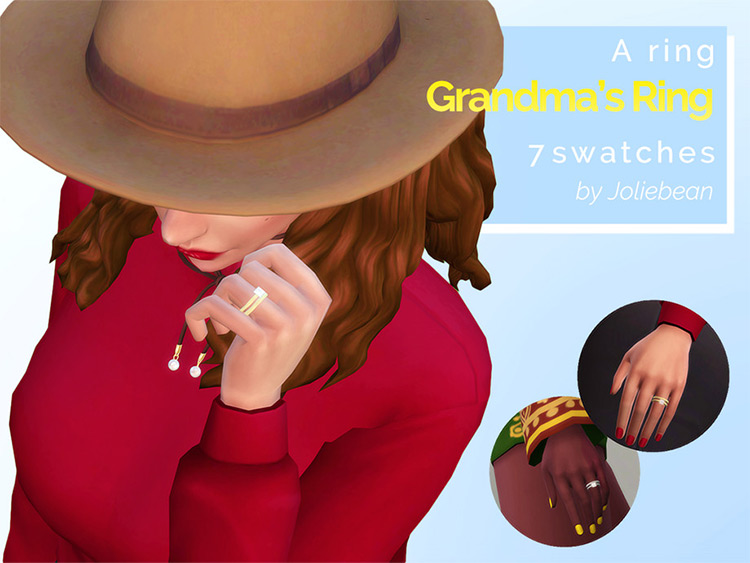 Even though I threw some shade on grandma a few items back, she does have a particular ring that's wedding-worthy.
This solitaire ring style is surely not as sparkling as the night sky.
But when paired with another wedding band, it forms a match made in heaven.
Grandma's Ring might not be at the very top of this list… but I wouldn't mind my Sim tying the knot with this ring right here, right now.
5.

Double Halo Diamond Ring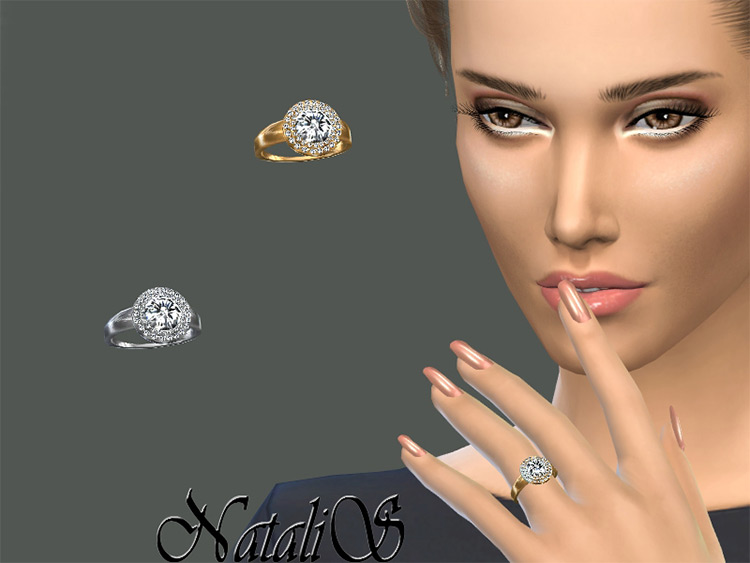 Imagine a ring that already has a big-ass diamond in the center encircled by another layer of diamonds.
My money can't even!
Even if Beyoncé does have a $5 million emerald-cut ring from Jay-Z, she clearly missed out on this halo-style ring.
4.

Crystal Pavé Left Ring
Even with the absence of a jawbreaker-sized rock, this Crystal Pavé Left Ring is studded with enough treasures to last a long, happy marriage (in Sim standards anyway).
A pavé setting involves embedding tiny diamonds or gems into the band, clearly enabling the ring to blind a person next to you.
Fancy stuff!
3.

WM Rings 201901
When it's time to put a ring on it, you best believe it'll be this CC from S-Club.
Wedding ceremonies in the Sims greatly vary, depending on how much time and effort you're willing to shell out.
But whatever theme you come up with, whether it's by the ocean or in your backyard, the bride must always be a cut above the rest.
So do me a favor and give her this ring, will you?
2.

PlayersWonderland Wedding Ring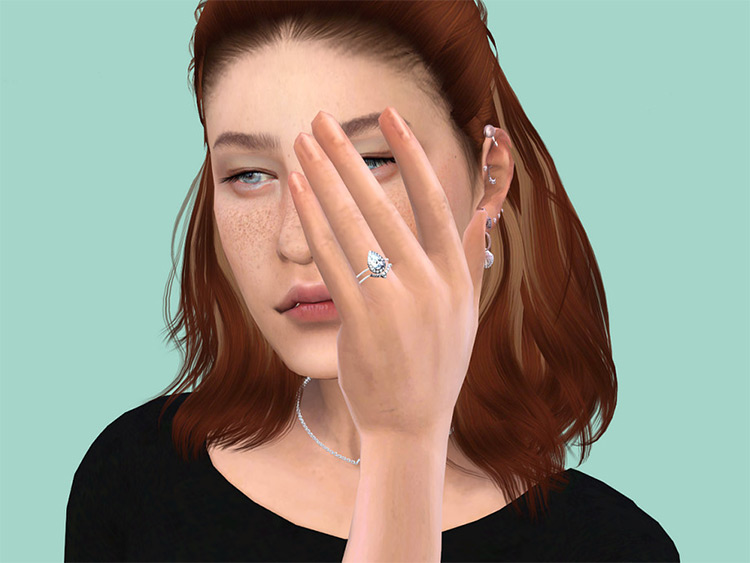 When Edward finally gave Bella her engagement ring, awe wasn't my first reaction.
Because it wasn't all that great (and it looked like an egg to me).
But this pear cut wedding ring CC from PlayersWonderland has me head over heels.
Marriage might be a faraway dream for some, but I'd like to pretend that my Sim will have her happily ever after – starting with this ring.
1.

WM Rings 202005 (6 swatches)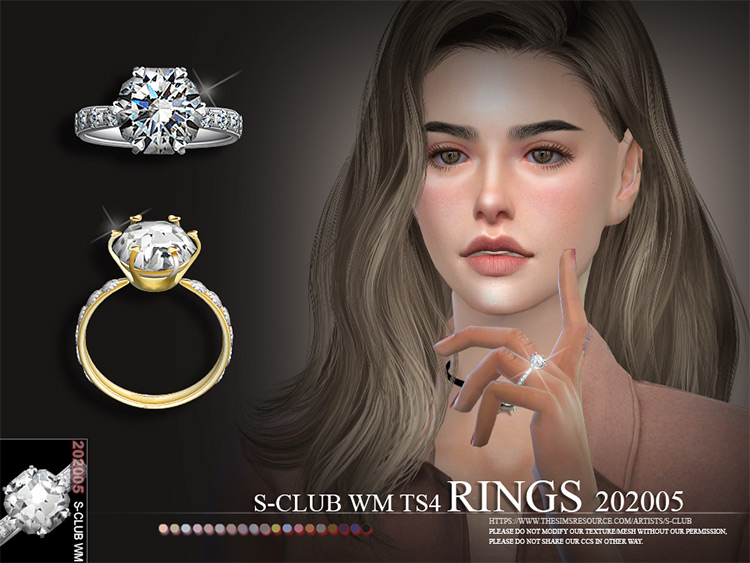 Finding the one – the best wedding ring CC for all of you Sims 4 players – wasn't hard.
Well, not when it's love at first sight.
When slipping that final gift of lifelong devotion onto your partner's left ring finger, there's nothing better than a classic claw and channel setting combo.
And with this ring, I vow to stand by my decision to name this CC the best symbol of love there is… well, in The Sims.
Browse:
Lists
The Sims 4
Video Games