Best Custom Wedding Venue Lots For The Sims 4
This post may contain affiliate links. If you buy something we may get a small commission at no extra cost to you. (Learn more).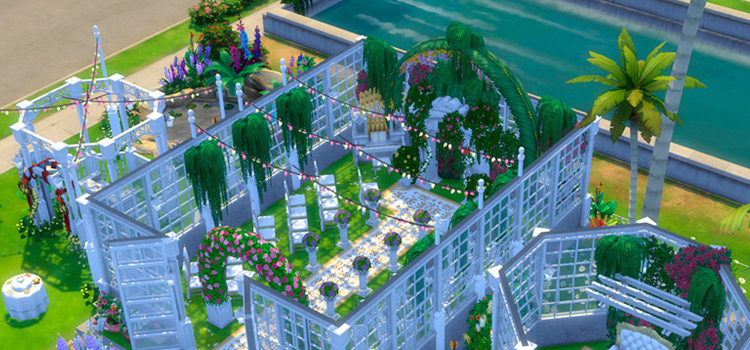 The concept trailer for The Sims 4: My Wedding Stories pack was met with overwhelming enthusiasm.
Sadly, the pack needed a lot of work even after its release.
So while waiting for EA to iron out the kinks, why not look into some hand-made wedding venues for your soon-to-be-hitched couples?
1.

Never Ending Wedding / No CC by nolcanol
Let's start with a classic "white wedding-themed" venue.
Shades of pure white, soft creams, and muted eggshells are complemented with pops of color often equated to romance and love; red, peach, and pale pink.
This Never Ending Wedding venue mixes lux materials with an open-air setup, providing a fresh, natural atmosphere that's perfect for a conventional marriage.
2.

Winter Wedding Venue by Pralinesims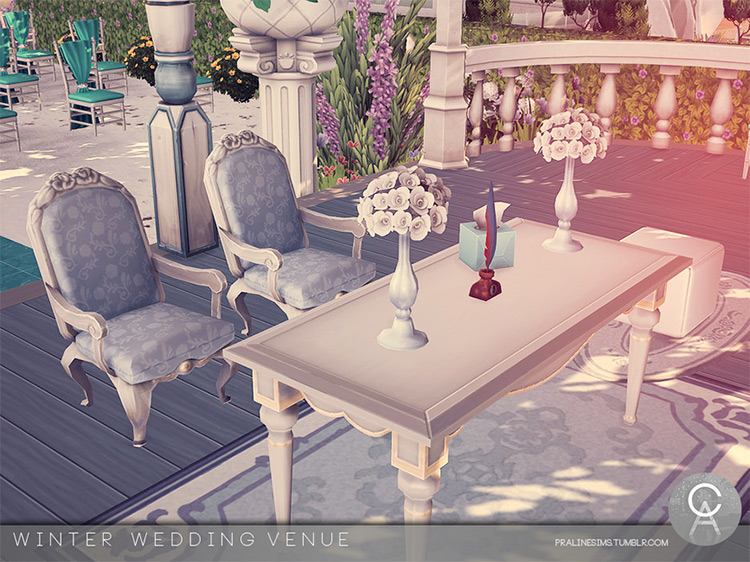 If your Sim wants a crisp, white wedding to commemorate their big day, this Winter Wedding Venue by Pralinesims just might check all their boxes.
White roses, ivory seating, crystalline decors, and snowflakes galore, this location perfectly blends the biting cold of a winter theme with the soft warmth of true love.
Don't forget to check the Creator's Notes to find the packs and download the CC items needed!
3.

Greenhouse Wedding Venue with Boho Botanical Theme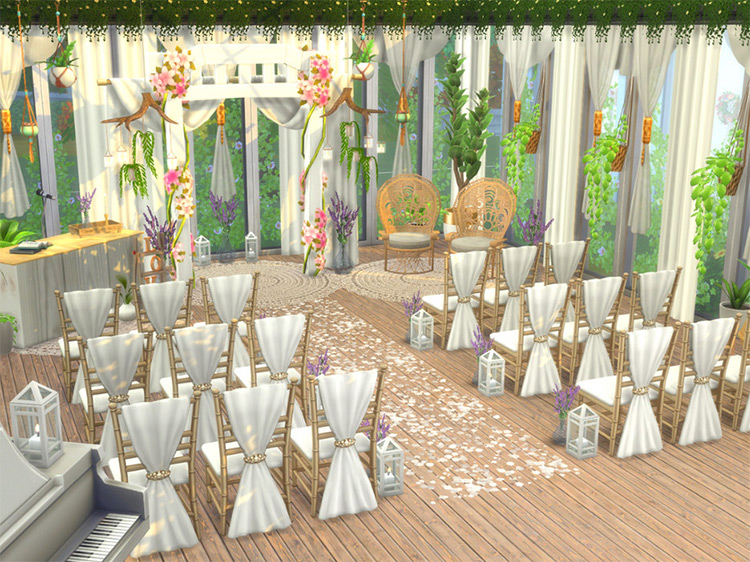 Feel like breaking up the solid white color scheme with bursts of natural, colorful elements?
This wedding venue follows a "boho botanical" theme; plenty of earthy colors, soft blossoms, simple wooden furniture, and small pockets of color dotting the area to make it livelier and more festive.
A good reminder that weddings are celebrations and not duty-driven rituals.
4.

Church Ruin Wedding Venue by A.lenna
There's something oddly poetic about consecrating true love amidst the crumbling ruins of once-sacred ground.
Whether your Sims are religious or not, there's no denying that an abandoned stone church makes for cool and dramatic wedding photos!
5.

Vintage Wedding by Pralinesims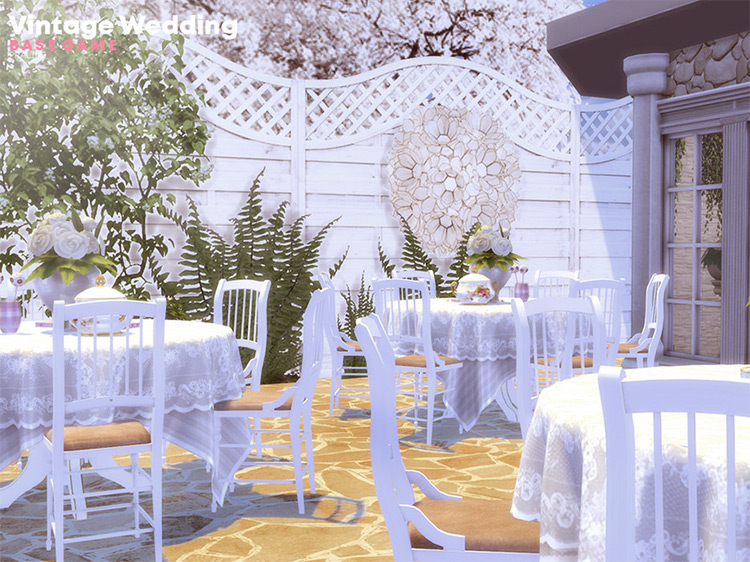 If the vision for your Sims' wedding leans more traditional and classic rather than modern and contemporary, try this custom Vintage Wedding lot on for size.
Simple padded benches, simple shrubs in white porcelain pots, and lacy white tablecloths adorning small, round tables.
This lot utilizes the very best of vintage design.
6.

Wedding Barn – No CC by Sarina_Sims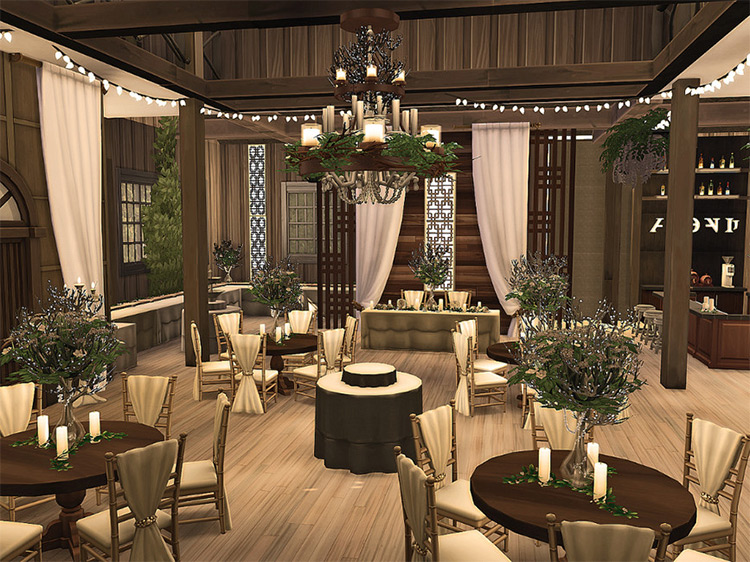 The fact that this lot doesn't have CC blows my mind, honestly.
But I don't explore Build & Buy mode as much as I (probably) should, so that could be why very few of the items in this gorgeous countryside lot look familiar.
If you're all for that rustic romance aesthetic, this custom venue has it in spades.
7.

Rustic Wedding Barn by Mini Simmer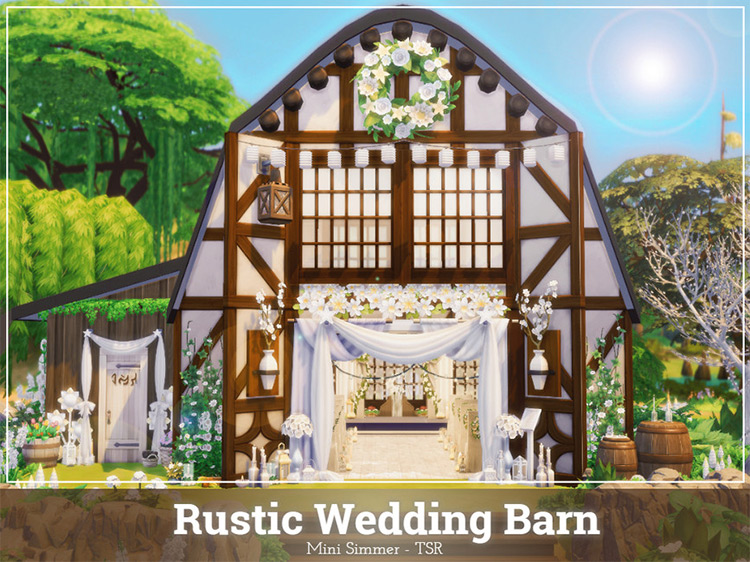 I love how two creators can craft something completely different despite working with the same concept.
Whereas the Wedding Barn by Sarina_Sims had a timeless, elegant, polished feel to it, Mini Simmer's Rustic Wedding Barn setup feels like a fashionable blend of modern and vintage. It feels vibrant, youthful, and trendy.
The lake decorations are especially stunning!
8.

Cherry Wedding by lotsbymanal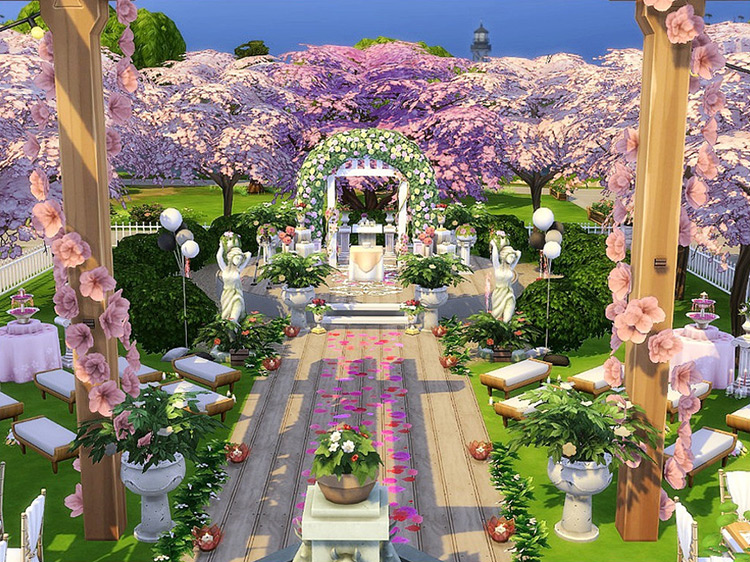 If your Sim feels prettier in pink than they do in ivory white, this could be the custom wedding venue of their dreams.
An elegant mix of wooden textures and cream features coupled with clusters of flowers and pillars wrapped in delicate pink blossoms make this beautiful location one-of-a-kind.
9.

Beach Wedding by Summerr Plays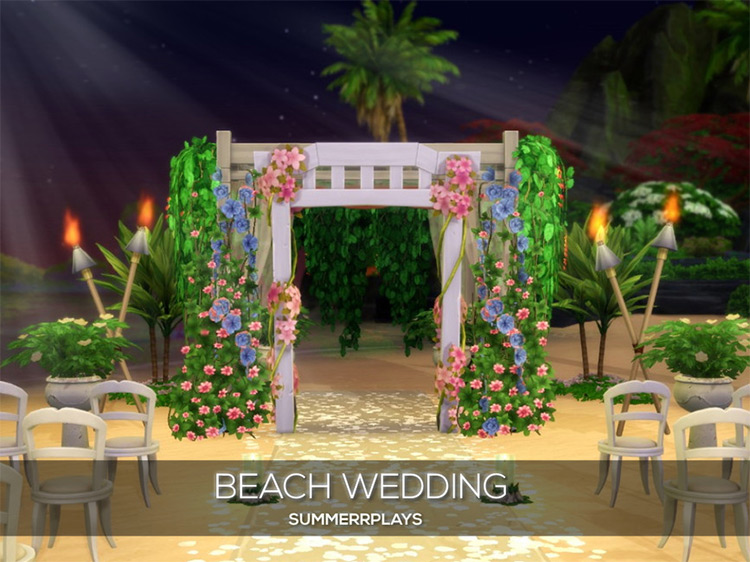 I have always loved the concept of a beach wedding.
Wind in your hair, salt in the air, and the crashing of waves against the shore? Some people find that the epitome of romance.
(Some won't agree but, hey; to each their own).
This venue is simple, minimalist, and fully utilizes natural elements. Highly recommend for Sims that share a passion for the outdoors!
10.

Paradise Wedding Venue by Pralinesims
If your Sim wants all the sunshine-y freshness of a beach wedding without the risk of sand in their shoes and saltwater in their gowns, Pralinesims' Paradise Wedding venue is the perfect location.
Throw a beautiful beachside wedding on a raised wooden platform above sparkling blue waters.
You can bask in nature's visuals from a safe, respectable distance.
11.

Sulani Wedding by nolcanol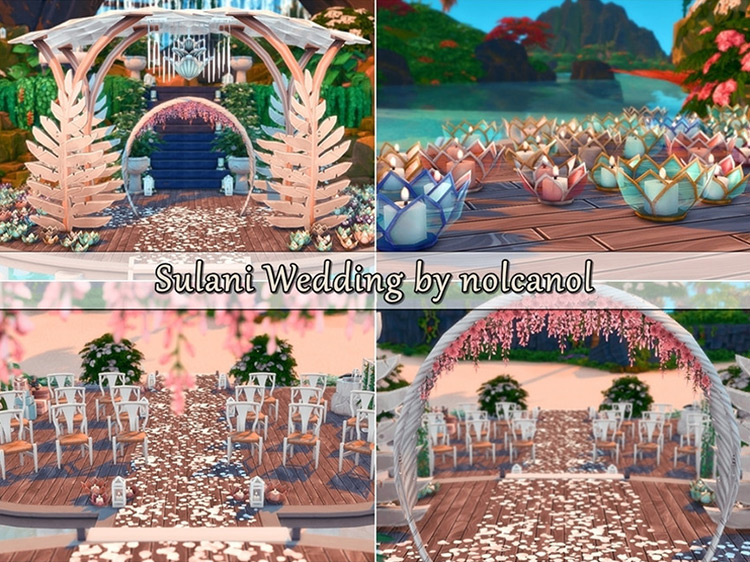 This is hands-down my favorite custom wedding venue.
I say that with full bias.
I love the sea. I love weddings. I'm a hopeless romantic.
This lot, with its warm color scheme, wooden textures, natural elements, and whimsical vibes? It's one-of-a-kind. You'd be hard-pressed to find something as airy and as enchanting. It's the manic pixie girl of wedding venues, and I want it.
12.

Wedding Palace in the Style of a Greek Temple by GenkaiHaretsu
For true romantics who want to tie the knot somewhere memorable, why not opt for a Greek-temple-inspired wedding venue?
Excuse me; palace. It's big, it's fairly opulent, and it's full of marble.
Definitely the kind of lot for Sims who don't do things by halves.
13.

Little Wedding Chapel – No CC by Flubs79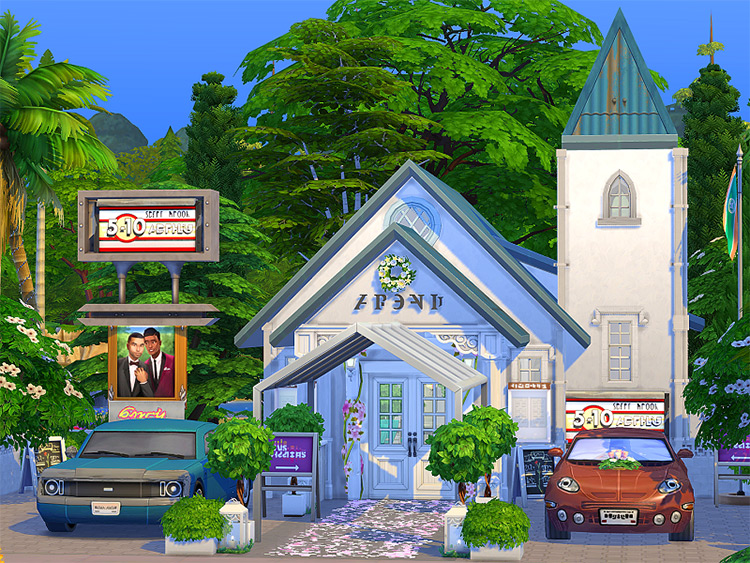 For a venue that's so small and precious, I have plenty to say about it.
The short of it is that I love this lot to death. I am all for quaint, intimate venues that only allow private ceremonies. I think the celebration is made more special when only a select few can see it.
And "a select few" is literally the feasible number of guests you can invite with this lot! I think you could cram about fifteen Sims in here, max, before people start complaining.
14.

Wedding Hall Greenhouse by dambsims
Looks like a regular domed greenhouse? Surprise! It's the perfect venue for a secret garden-themed wedding.
We're talking climbing vines, flowering bushes, and greenery galore.
If you wait for the right moment, you'll get golden sunlight streaming through the windows to cast gorgeous dappled patterns on the corners and floor.
15.

Garden Wedding by CowplantGirl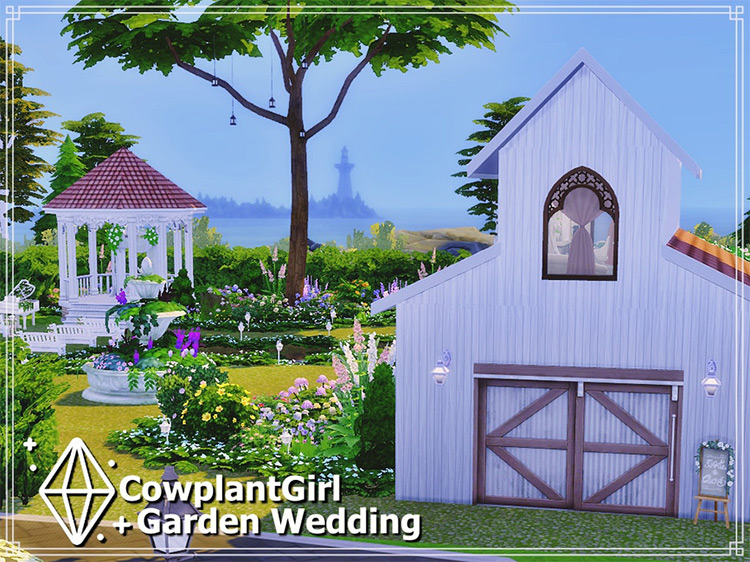 Love the idea of a garden-themed ceremony but want something a little more open air? Try CowplantGirl's venue on for size!
It's got a decent-sized aisle, plenty of green shrubs and fresh flowers, and a classic white wedding arch in the center of a raised, ivory-white gazebo.
The decorations lean a bit on the simpler side, but no one can deny that they're tasteful and timeless.
16.

S4-Wedding Place #02 by TugmeL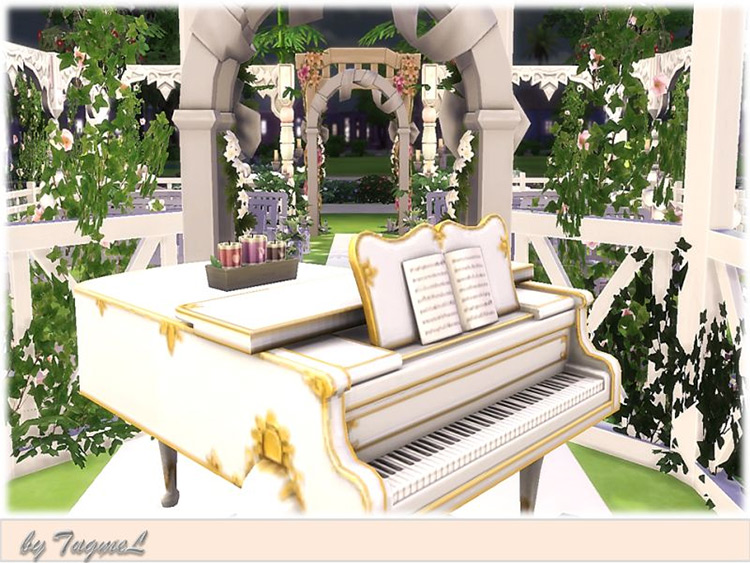 A modern classic. This is the kind of picture-perfect wedding venue you see in the movies. Everything's sparkling, pristine white.
There are wooden pews adorned with pale-pink and white flowers. There's an upright piano on a raised dais in ivory and gold. The aisle is paved and center.
The creator even included the cute "His" "Hers" bikes outside for quirky concept shoots.
If you're after a storybook wedding ceremony? This is the setting you want.
17.

Village Wedding by GenkaiHaretsu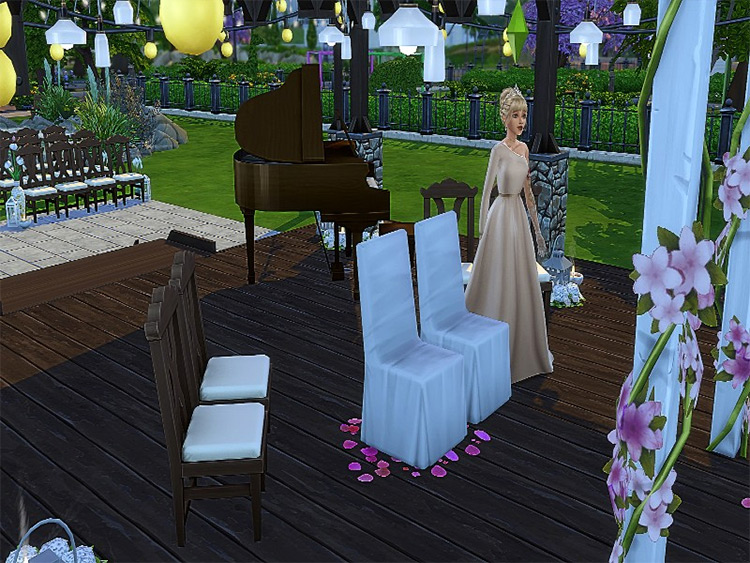 You know the old saying, "it takes a village to raise a child"?
Apparently it also takes a village to marry two of them off.
This quaint custom lot is brimming with quiet village charm. We're talking cobblestones, old, dark wood, plenty of heirlooms … the whole shebang.
If you want to blend cultural practices with traditional wedding vibes? This is the place to do it.
Browse:
The Sims 4
Video Games