Sims 4 Wedges & Wedge Heels (Best CC To Download)
This post may contain affiliate links. If you buy something we may get a small commission at no extra cost to you. (Learn more).
Some of us girls would choose comfort over fashion any day.
And we don't want anything to do with the pain of stilettos and sky-high heels. What's the next best thing to tiny heels, then? Wedge heels, of course!
Dressy and cute, they're the perfect shoes to wear on a casual day. But also great for a night out.
Your Sim's closet should have at least just one pair of wedge heels (even though she's the stiletto heel kind of gal). But to help you find the right pair for your Sim, I have some of the coolest wedge heels available for download for The Sims 4.
Lots of cute CC to go around!
This is the best opportunity for you to hoard all the shoes you could ever want, without maxing your credit card!
10.

Madlen Nora Shoes by Mj95
If there's one thing you never expected to see today, it's a Crocs wedged platform sandal.
But here I am bringing it to you, and look at how unique it is.
Crocs slippers are known for their comfort and breathability. Couple that with wedged heels and you get comfort with some unique style, all combined together.
This is a cool pair to wear in the summer, lounging by the pool or the beach. While everyone else is in their flat lifeless flip-flops, you get to shine in your wedged Crocs Noras.
9.

Wedged Espadrille Sandals by NativesSims4
And another fusion for your consideration: espadrille slippers, but wedged!
This pair by NativesSims4 is pretty. And I'd let my Sim wear this for her everyday outfit.
Comfortable to wear, easy on the soles, but still very fashionable.
Pair these with some shorts and a loose top for a casual stroll around San Myshuno's hotspots with friends.
Or for a cuter ensemble for a date, use this with a simple and short sundress.
8.

Lily Wedge Shoes by Owl-Plumbob
You know what they say: the higher the heels, the better.
They say that, right?
Well Owl-Plumbob's Lily Shoes proves the saying applies not just to stilettos, but to wedge heels as well.
This CC has mostly neutral colors, which mean you can easily match these with any outfit. If you're looking for something more exciting than neutral colors, the pack also includes two fun designs!
7.

Madlen Ariel Shoes by Mj95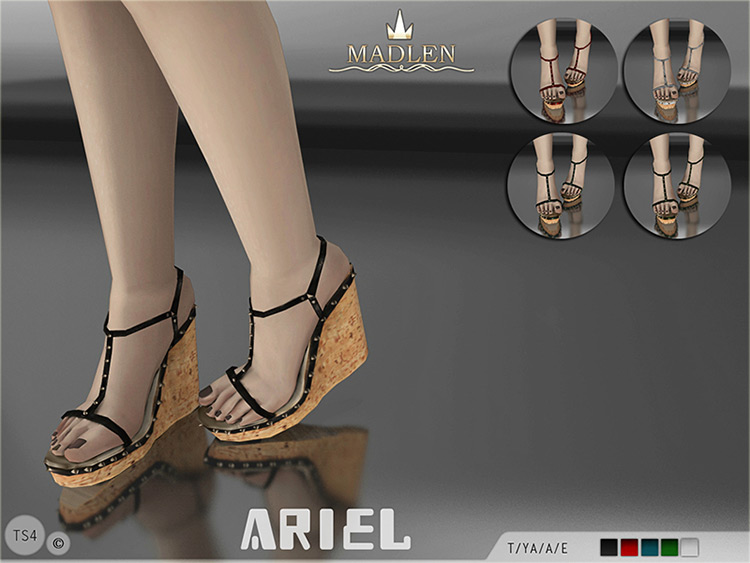 These wedged Madlen Ariel Shoes are definitely made for parties!
They're not too formal, but they give off a fabulous flair with the thin straps and the metallic details, making your Sim instantly ready for any shindig they'll be invited too.
Or even if there are no parties around, these heels would be a fashionable choice for a quiet night out.
6.

Jeffrey Campbell's Snick Wedges by DallasGirl
Every woman needs a decent pair of mules in their closet to wear for smart casual events.
And DallasGirl's Jeffrey Campbell's Snick Wedges are a great pair to have, at least for your Sim!
Mostly because of the neutral colors included in this set, plus the simple but effective design is easily wearable even with just any basic tee and simple denim jeans.
Your lovely Sim girl can prove that casual everyday glamour is a thing.
5.

Wedge Lace Up Boots by ilikemusic640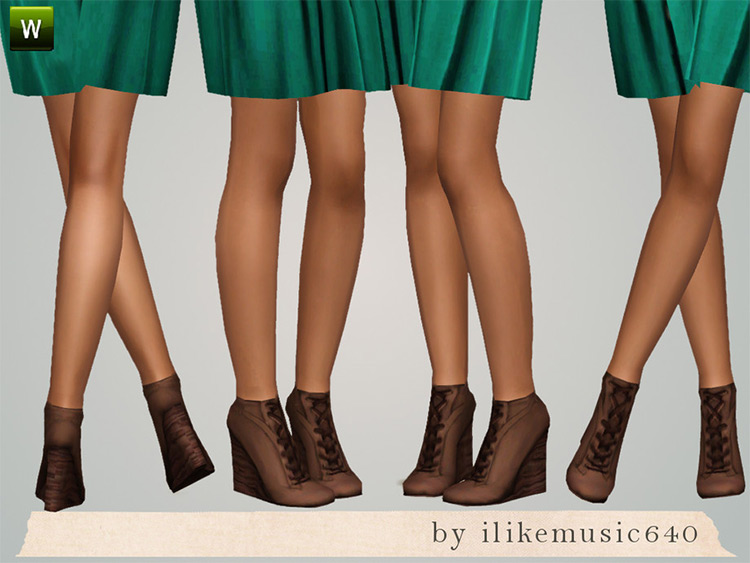 You've seen wedged Crocs and wedged espadrilles… and now I give you some fabulous wedged laced up boots, courtesy of Custom Content maker ilikemusic640.
This particular pair of wedges offers something you can wear out in any weather.
For spring and winter, you can pair these with skinny jeans and a heavy coat.
For summer, a light and loose dress can be matched, while for fall some knee-length socks and maybe a cute skirt will make for a classic ensemble.
All in all, the possibilities are endless with this one!
4.

Madlen Kupina Shoes by Mj95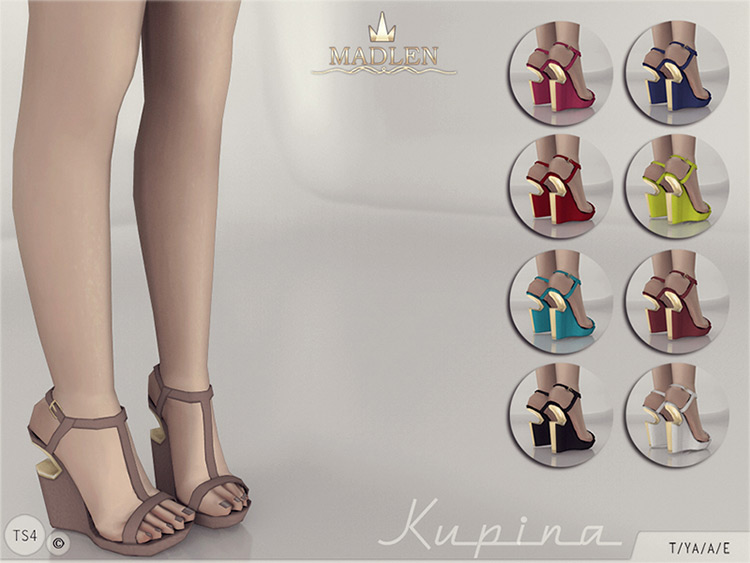 If you want wedges with a unique style, then you're gonna want to check out this one-of-a-kind pair.
Mj95's Kupina wedge heels are nothing you've ever seen in real life.
These probably even defy the laws of physics with the detached heel and straps.
And that's exactly why you should get these shoes for your Sim!
They're going to be the talk of the town, and so are you. The black version of these shoes would look great with any black gown for a formal dinner date at Chez Llama.
3.

Chisami Suede Wedges by RedHeadSims
Back at it with wedge boots, and this time in full-on suede.
Though it looks a bit like the last wedge boots in this list, the Chisami Suede Wedges by RedheadSims has its own charm.
The simple but sweet suede design of these boots give a soft, dainty look. Which you can layer with some stockings and a short knitted dress for a cute fall look.
For winter, look for a long suede coat to match these babies!
2.

Summer Ribbon Wedge Heels
If the calendar says summer is around the corner, then you know it's time to whip out Marigold's Summer Ribbon Wedge Heels.
This CC pack includes 47 cute colors and patterns of stars, stripes, and florals, plus plenty more. So I'm sure you'll find something here to suit your Sim's style.
Pack a pair or two of these when you go to Sulani for your vacation. Since these shoes would look perfect with beach maxi dresses.
And even if you're not in vacation mode, you can match these will some cute high-waisted shorts for that ultimate summer vibe.
1.

Madlen Cirino Wedges by Mj95
Who ever said wedged heels can never look glamorous or couture? I hope nobody, cause they're definitely mistaken.
Mj95's Madlen Cirino CC offers a great choice if you're aiming to dress to impress.
It features bold wedge heels and that'll trump stilettos on any day.
Also the satin straps give these shoes a fancy and sophisticated flair, so your Sim can wear these even out to super formal events.
They'll look great with a dress from the Luxury Party stuff pack, but avoid a super long gown! You'll want to flaunt your girl's legs and ankles in these cuties.
Browse:
Lists
The Sims 4
Video Games