Sims 4 Welcome Mat & Welcome Sign CC (All Free To Download)
This post may contain affiliate links. If you buy something we may get a small commission at no extra cost to you. (Learn more).
Has your Sim recently moved into a new neighborhood?
Maybe they've decided to venture out and start their own business, or just like to let others on the street know that they're friendly and all are welcome at their door.
Regardless of their situation, welcome mats can get the point across that everyone's invited.
These simple decor pieces are staples to dressing up the main entrance to your Sims space, commercial or residential. And they help to add a little something extra to make it feel like home.
We'll be taking a look at CC for welcome mats and welcome signs all made for The Sims 4, so you can dress up your walkway and make every part of your Sim's home as cute as it can be.
10.

Cowboy Welcome Sign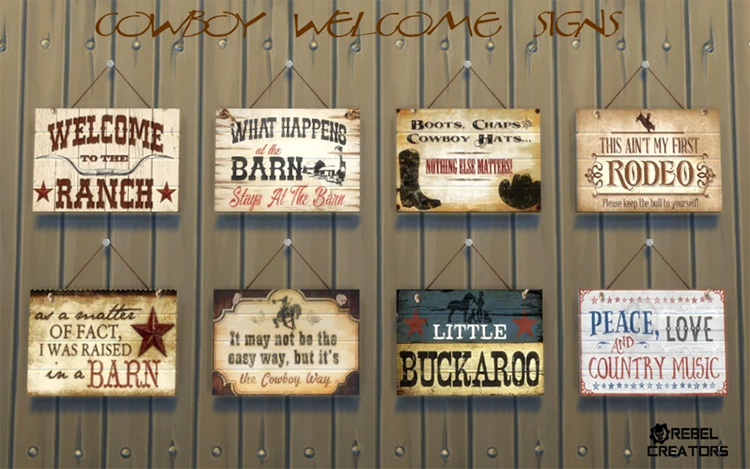 Your Sim doesn't necessarily have to be a cowboy to make use out of this sign. Especially if your Sims house falls into the farmhouse/country aesthetic, using signs like these are staples to the look.
Especially since this design typically involves rustic signs of all sorts.
Speaking of which, in this set, you'll find more than just a welcome sign. For all of you who enjoy living on wide-open land with blue skies that feel unreal, you'll fall in love with this Cowboy Welcome Sign CC.
9.

Doormats "Home Sweet Home"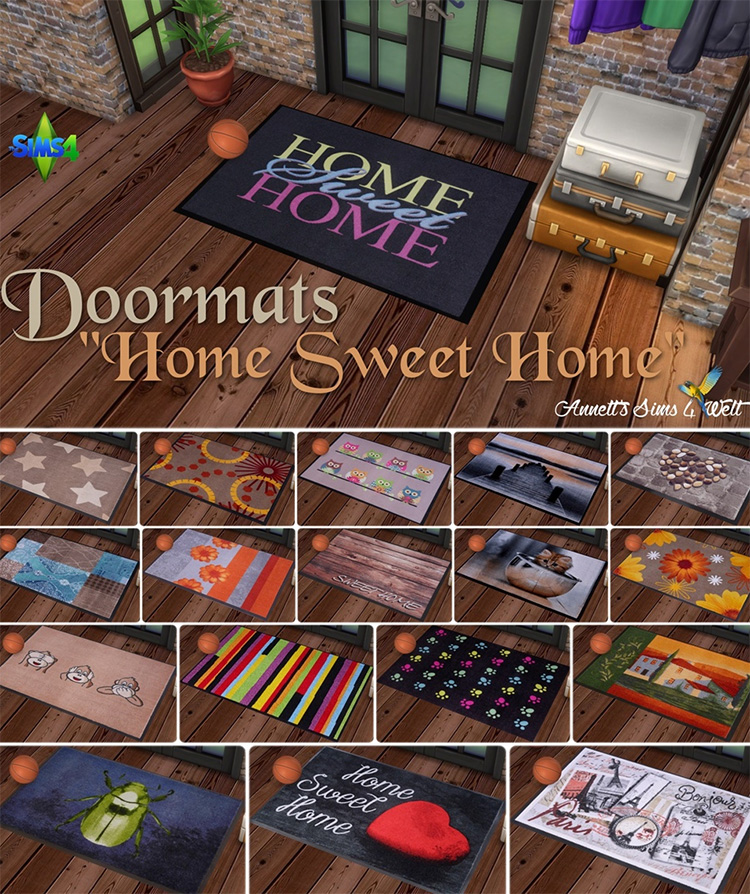 Over the years, welcome mats have evolved from a brown piece of cloth on the floor with the word "welcome" plastered on it, to having designs and phrases that say "Hi, welcome to our home!"… well, without explicitly saying so.
This makes them a lot more flexible, and more appealing to those sick of the traditional decor they've seen used for years.
This collection of doormats is a great example for those who want to have some kind of mat in front of their Sim's door, but they need something with a little extra spice.
And what's not to love about these adorable designs?
From brightly colored flowers to a paw print pattern, and even a beautiful beetle, there's a lot to play around with in this set.
8.

Reikus Doormats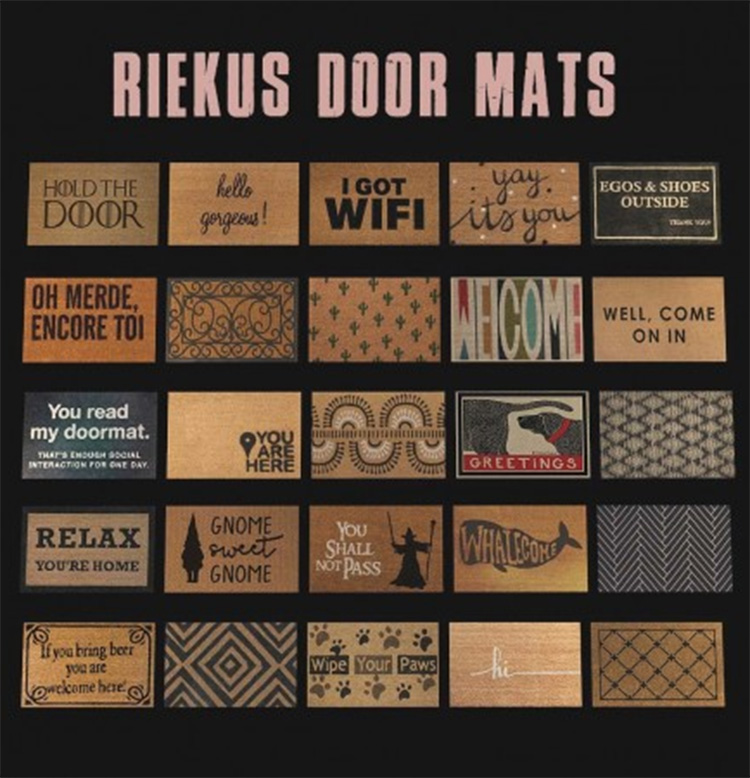 Remember when I said that a lot of people want more than a doormat that just says "Welcome" on it?
That's still the case with Reikus Doormats – except these ones rather than having all over prints on them, they come with cute little sayings and phrases for your guests to chuckle at the next time they pay a visit.
Some of the slogans you'll find in this collection include some of my personal favorites, such as "Egos and shoes outside", "Whalecome", and "Gnome sweet gnome", which I took as a jab at a long-standing inside joke in the Sims world.
Simple, yet effective – a perfect balance for your Sims home!
7.

Welcome Sign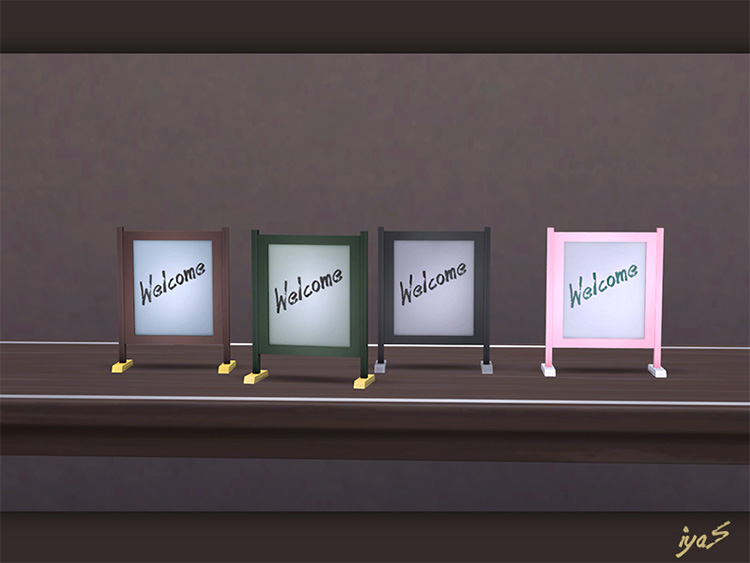 It's not just your Sim's house that might need something that says hello for you, but your Sim's small businesses needs to get that message across too.
Welcome signs are pretty popular for shops, and rightfully so.
Hreeting customers as soon as they come in the door is standard, but your Sim might be a little busy running their business.
That's where this sign comes in.
Restaurants, knitted clothing shops, or a store where you can find a little bit of everything.
By using a simple sign like this CC you'll be able to say hello to your patrons while also making the outside of the building a bit more appealing. It's straight to the point, "Welcome", with 4 colors to choose from.
All you need is some greenery and maybe a light fixture and you're good to go!
6.

Simlish Welcome Mats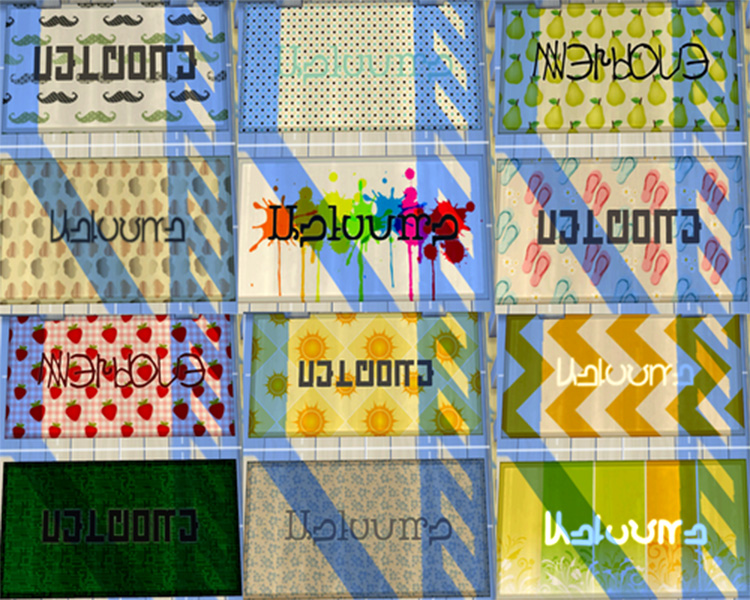 We might not be able to read these, but our Sims can!
I'll be honest: sometimes I forget that The Sims have a native language, even though I've been playing for over a decade at this point. In my defense, I usually play with the sound off, but that's beside the point.
Whether I remember that fact or not doesn't matter. What does matter is that you can get a welcome mat for your Sims house in their own language!
These signs come in 18 swatches, some of those patterns being dragonflies, paint splatters, and even strawberries. There's a mat and a design for just about every person and occasion… so happy decorating!
5.

Store Chalkboard Signs
Cute chalkboard signs are a great way to attract new customers.
Have fun playing around with new designs here as you change your sign for the week to keep the board looking fresh.
A lot of the designs and sayings in this CC seem to be heard towards the restaurant industry, but some are as simple as saying "Welcome, we're open!"
You can use them for just about anything.
4.

Wooden Sign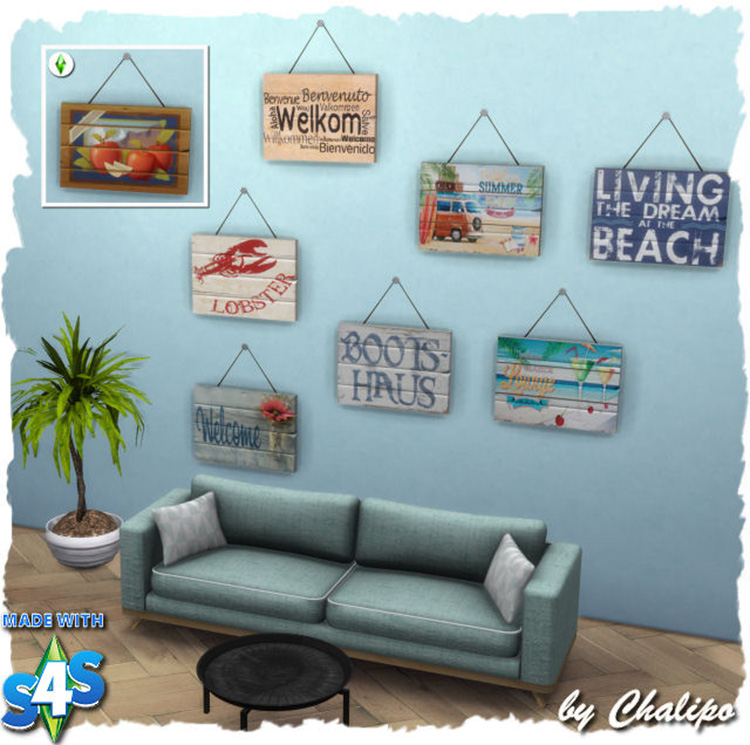 Ah, the classic beach theme.
Great CC for those who dream of laying on the sand with the salty air brushing against their face.
These wooden signs not only come with a couple of options to hang outside to greet your guests, but also come in a variety of other designs so you can place them throughout your house, wherever the theme fits!
3.

Flip Flop Welcome Sign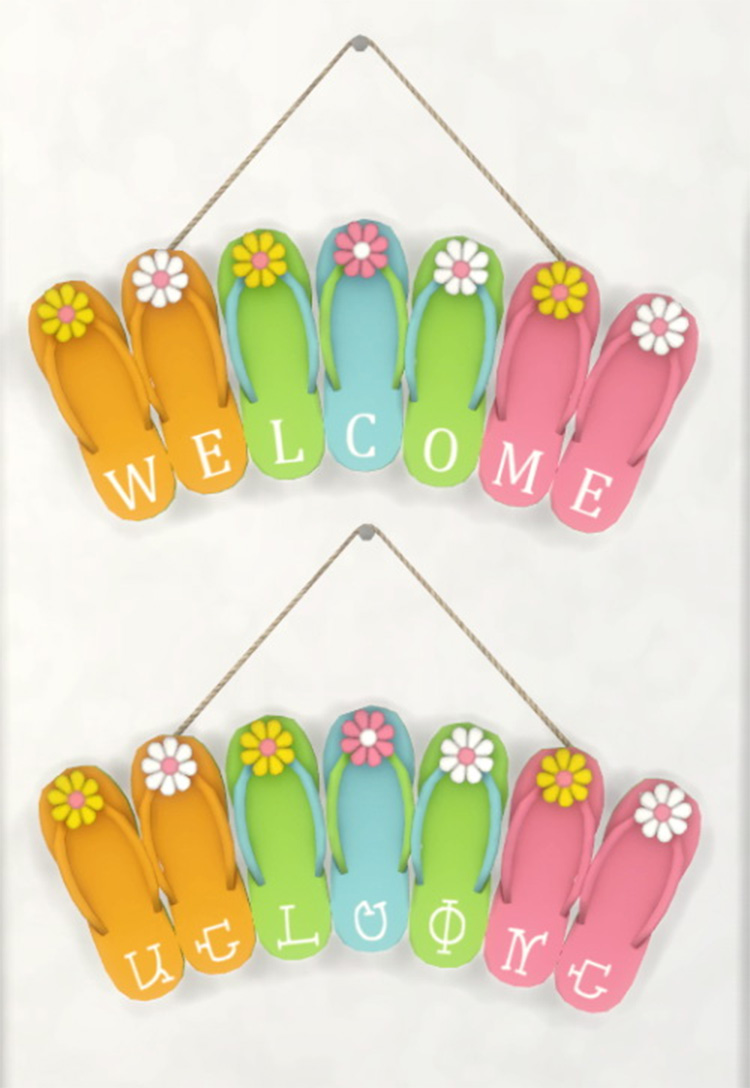 I gotta admit, I saw a lot of these in my hometown over the summer IRL.
Personally, I think it looks like a fun craft to do with your kids while they're out of school. And even though you can't physically make them with your Sim children, you can give the illusion that they did!
The Flip Flop Welcome Sign is quirky and crafty. It's great for the hotter months when you'd like to go out and wear your flip flops… but if it's just way too hot outside then a handmade sign will suffice.
2.

Novelty Door Mats
If you still can't find a doormat that speaks to you and your Sim, then take a look at these Novelty Door Mats by creator DK Sims.
These are simple & chic doormat designs that help to liven things up at your Sims door. But they don't completely steal the show.
Instead they can serve a functional purpose while you let the other decor pieces set the mood.
1.

Outdoor Set 1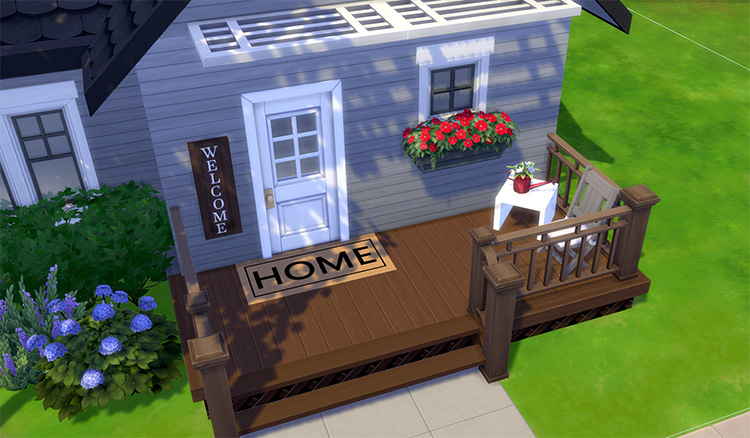 What's great about this Outdoor CC Set is that first off, it comes with both welcome signs and mats. So you have everything you need in one big pack.
Second, the designs are seasonal!
That means you can change up your designs as the weather changes throughout the year, with winter themes, fall themes, and more!
Definitely check this one out.
Browse:
Lists
The Sims 4
Video Games