Sims 4 Wild West & Cowboy CC (All Free To Download)
This post may contain affiliate links. If you buy something we may get a small commission at no extra cost to you. (Learn more).
The Wild West is an iconic amalgamation of many things that cemented American culture.
It was a time of incredible exploration and new discoveries, as well as the inspiration for some pretty cool characters: cowboys.
Okay, so cowboys are more than characters because they still exist today. But their roots began way back in the rootin', tootin' Wild West era of the United States.
Gruff guys with guns, scenery of tumbleweeds and deserts, and valiant horses are just some of the things that made up this awesome part of our history.
And if you want to build some Wild West stuff in your game, here's a bunch of CC to make that happen.
From clothes to decor, you'll find everything here you need to make your Wild West dreams come true in The Sims 4!
1.

Mexican Cowboy Shirts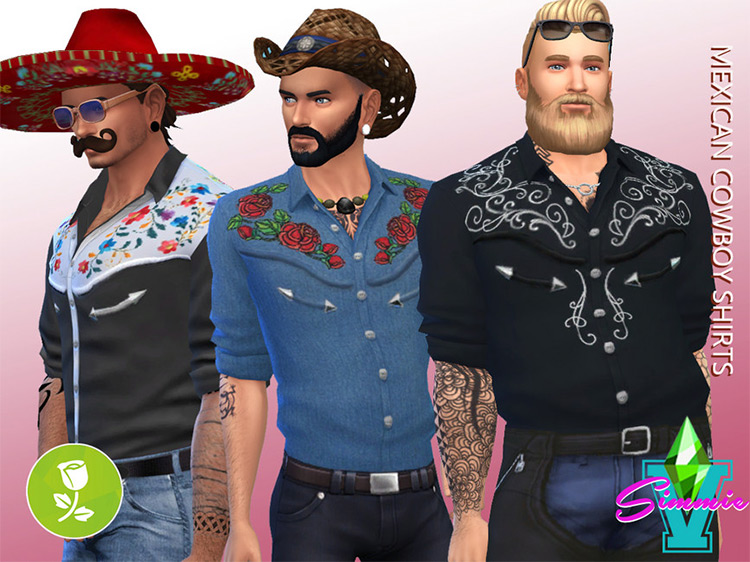 The cowboy way of life has conjured a lot of interesting fashion pieces, many of which are a little bit too far 'out there' to find for your Sims.
But this Mexican shirt, however, is one of the best looks that has endured over the years.
A button-up shirt adorned with bright floral designs against denim or black. It's just a classic look that's a really simple way to add a little Wild West flair to your Sim's wardrobe.
Paired with boots and a cowboy hat, there will be no mistaking what kind of guy your Sim is!
2.

Cowboy Hat for Kids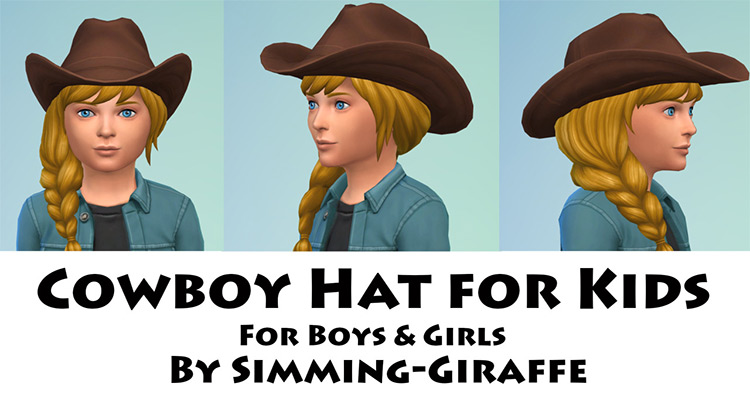 Whether you're living it up in the Wild West, or just partaking in the cowboy lifestyle, your kids are gonna be in on it all too.
I've always been a little saddened that our Sim kids are stuck being city slickers, with almost no country or western attire available to them.
Well I assure you, there's nothing cuter than a little kid in a cowboy hat in boots. And now thanks to simming-giraffe, you'll be halfway there.
They say simple is best, and that rings true here.
This hat is a downsized version of the adult base game cowboy hat. And that's really all you need.
Cowboys – even cowboy kids – don't care too much about frills or needlessly fancy clothes.
3.

Small 'Wild West' Set
As I'm sure you're aware, there's a lot more to being a Westerner than a hat and boots.
This small set of conversions from The Sims 3 will go a long way towards bringing some of that Wild West scenery charm to your game.
The dynamite box is my favorite part. But I think everything here would look best when used together.
I mean, a wagon wheel bench might seem a little out of place by itself in most of the worlds available to us.
But a wagon wheel bench alongside a hay bale coffee table and dynamite box decor? That's a whole ensemble that'll look great anywhere.
4.

Old West Stuff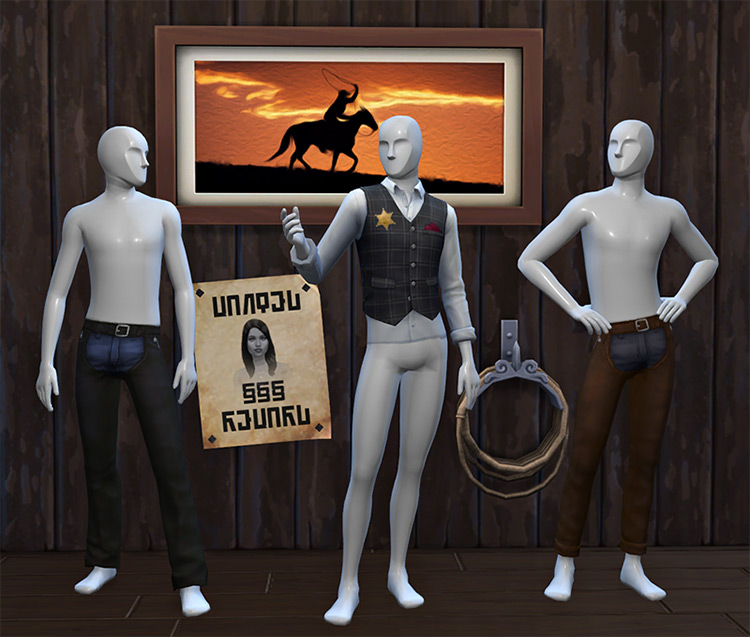 Just when I think I've seen everything when it comes to custom content, WSims went and made chaps.
They're extremely well-made, too.
I have no idea how it was even possible (that's why I'm not a creator) but they definitely have the appearance of being over pants, rather than part of them. Which is perfect.
This little set also includes a dapper Sheriff's vest, as well as some new wall decor.
Images of a cowboy against the sunset are a rather calming way of bringing some home-y charm to a room. And the wanted poster is also a nice touch!
5.

Old West Dress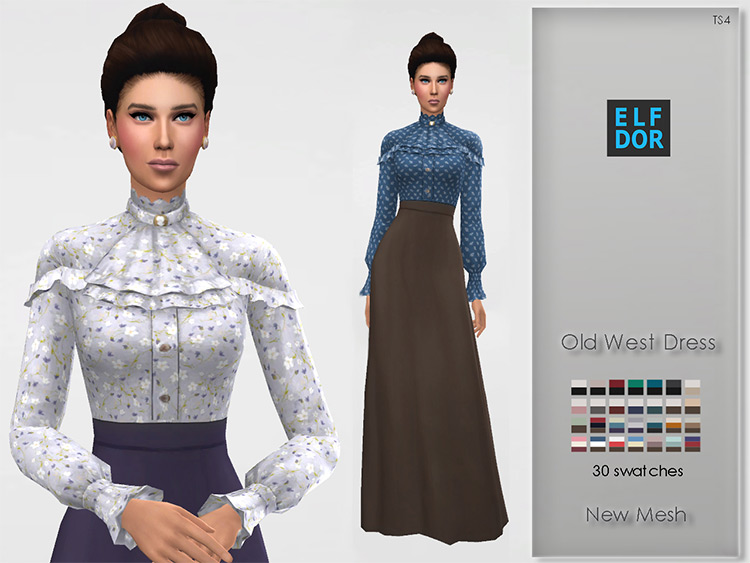 In the days of the Wild Wild West, the gendered confines of fashion were followed pretty rigidly.
Guys usually had some sort of suit, and women had dresses like this.
Incredibly bulky, concealing, and probably uncomfortable, but undeniably gorgeous dresses.
Elfdor has captured that look perfectly with this CC creation.
Each of the thirty swatches for this long-sleeved and long-skirted dress are seriously breathtaking, bringing us new designs unlike anything I've seen.
Beautiful florals and plaids paired with neutral colors always look great, no matter the era.
6.

Lone Star Pictures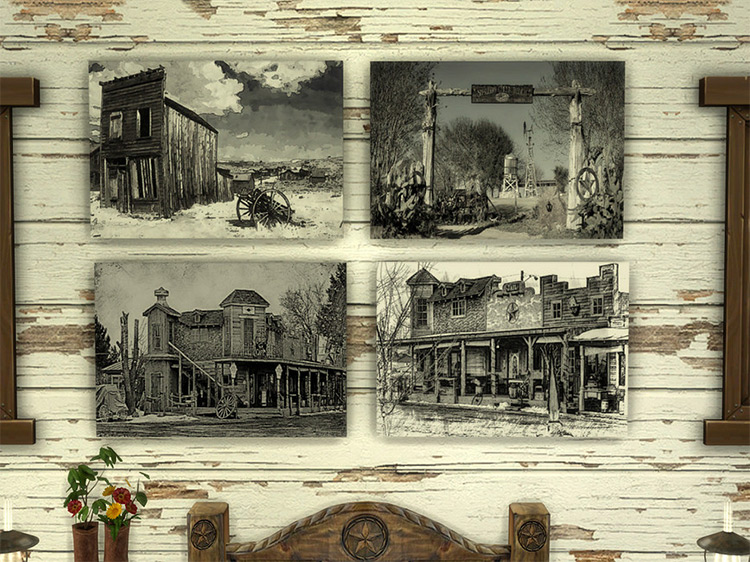 One of the most striking parts of the Wild West has to be the scenery.
Podunk little towns with nothing else around for miles and miles, ranches, plus those little things from the American Frontier like wagons and horses.
Since you can't actually play out that lifestyle in the game, why not hang it on your Sim's walls?
These pictures from spitzmagic capture that time so well.
All four of them feature the buildings and landscapes that Wild West lovers will appreciate.
7.

Horse Riding Stuff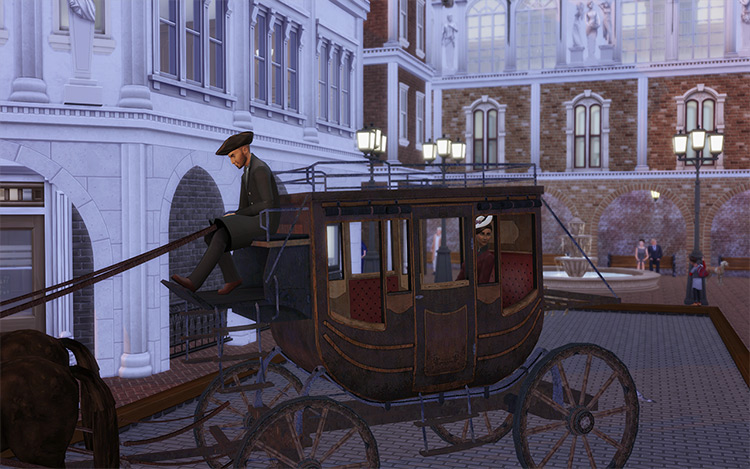 You really can't have a cowboy without a horse.
Actual pet horses have yet to appear in The Sim 4, however, so you've got to improvise.
And between creators BlueRaptor and Severinka, it's pretty easy to do just that.
This awesome little pack includes a lot of what you'll need to flesh out your western build, including horses!
Well, kind of.
BlueRaptor includes some beautiful recolors of Severkina's horse decors here, which are very convincing. At first glance, I thought some really had brought equines to the game.
Of course, if you're gonna have a horse, you'll still need some other things. Such as saddles and stagecoaches.
Well those are part of this pack as well, in awesome detail!
And last but certainly not least, there are three poses you can use to really make your Sims 'use' these items.
8.

Gun Belt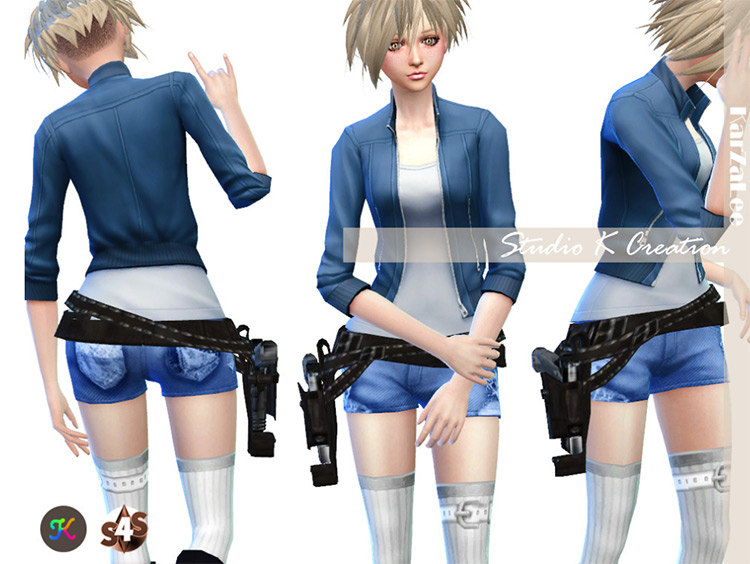 America's long history with guns was really at its height in the Wild West. Everybody had a gun.
They even wore them on their hip. Ya know, for easy accessibility should a guy need to engage in a shootout after walking into the saloon.
A holster is something every cowboy's gotta have, just like a horse.
These gunbelts are available to both men and women, so you can twist reality a little and bring some equality to your TS4 Wild West, if you'd like.
For what it's worth, it's not that there were no female cowboys (cowgirls?).
It's just that there wasn't many, and it was a really crazy notion whenever one popped up.
Okay, okay, enough history!
I think this is a really fun CC object that, even though I've never thought of it before, it seems like a no-brainer now.
The texture is really cool, too. It truly looks like the gun is hanging on your Sims hip, not just an extended belt.
9.

Old West Hoop Dresses (+ Matching Hats & Bows)
Wild West life didn't mean your days were filled exclusively with gunfights and saloons.
Sometimes a gal just wanted to enjoy a sunny day out on the town.
If you want to call a street or two of business a town, that is.
These dress recolors are really stunning, and I assume are pretty period-typical.
It's hard to say since there were no color pictures back then… but these dresses are too nice to pass up.
Best of all, they come with matching hats or bows! I don't know about you, but I'm a sucker for color coordination in my Sim's outfits.
10.

Country Bumpkin Stuff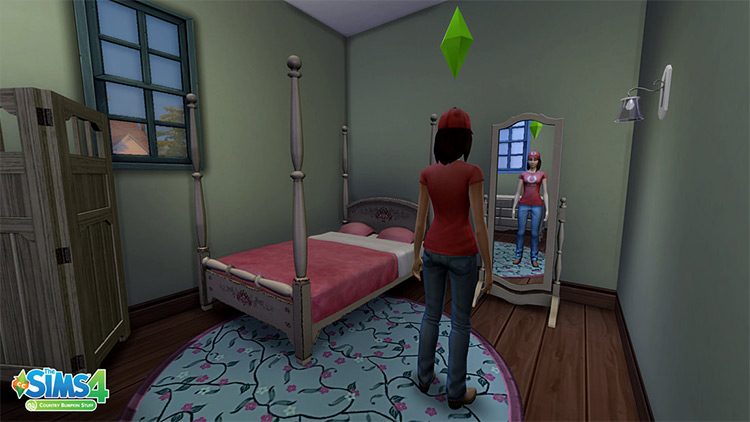 This CC pack contains slightly more modern cowboy stuff, but much of it will work for any era.
Hay is pretty timeless, right?
Just as timeless as wood furniture and denim shirts!
Those are just a few of the things available in this set.
And if you're thinking a lot of this looks familiar – it's actually a conversion of items from The Sims 3.
But everything will fit pretty seamlessly into your TS4 game, and if used the right way, will certainly aid in creating that Wild West image.
Browse:
Lists
The Sims 4
Video Games