Sims 4 Window Blinds CC: The Ultimate Collection
This post may contain affiliate links. If you buy something we may get a small commission at no extra cost to you. (Learn more).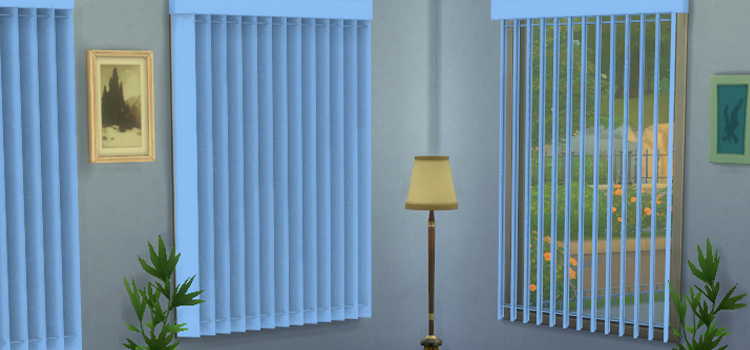 Are you the type that prefers window blinds over curtains?
Totally get it.
They're a lot easier to manage and a lot easier to maintain. Plus, they're a lot better at controlling how much natural light can stream in compared to curtains.
If you feel up to adding some functional décor to your Sim's rooms, these beautiful CC window blinds could be just what you're looking for.
1.

Custom Blind Set Part 4 Short by DOT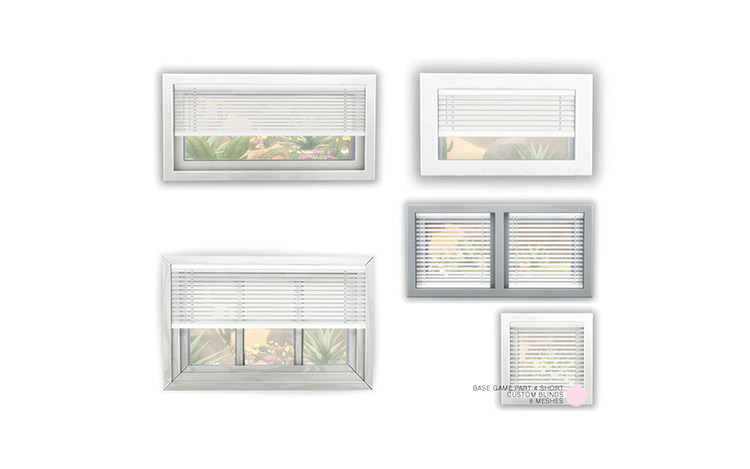 This set contains eight window blinds suited for small windows.
As you can probably guess, this isn't the creator's only custom blinds set. I'm recommending this one because of how hard it is to find window coverings that aren't 1×2 or 1×3.
These contemporary and cordless two-tone blinds fit wide 3-tile windows and modular 1×1 box windows!
2.

Custom Blinds Medium by DOT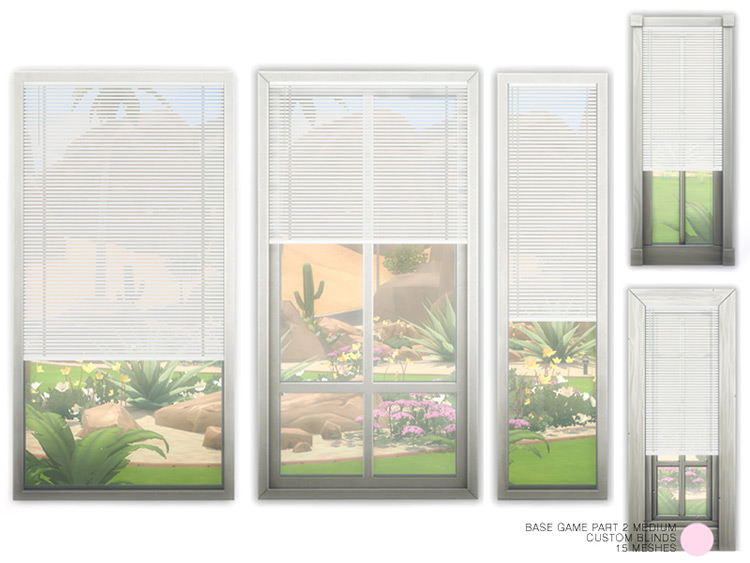 Here's another set by DOT — this time with blinds for the typical 1×2 and 1×3 windows.
I think they could even suit longer models, as if you check all the items in this set, quite a few of the blinds here look taller and skinnier than most.
3.

Lyne Curtains – Blinds V4 by NynaeveDesign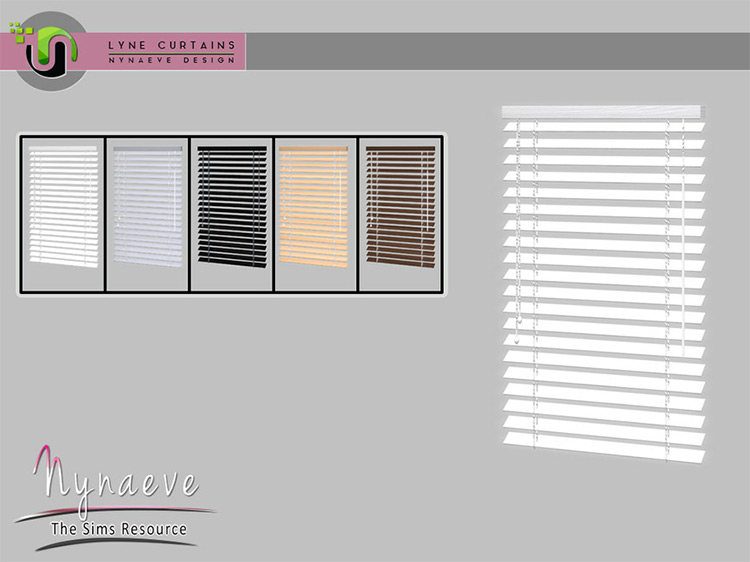 These traditional blinds by NynaeveDesign come in five colors suitable for a contemporary minimalist build. They also happen to be part of a bigger set called Lyne Curtains 1 – Short Walls.
The set itself – which you can check out here – contains seventeen items, all of which are a mix of blinds and curtains.
I'm recommending the V4 version and the V5 version (which is coming up next) because it's the standard size and would therefore fit more default and custom windows.
4.

Lyne Curtains – Blinds V5 by NynaeveDesign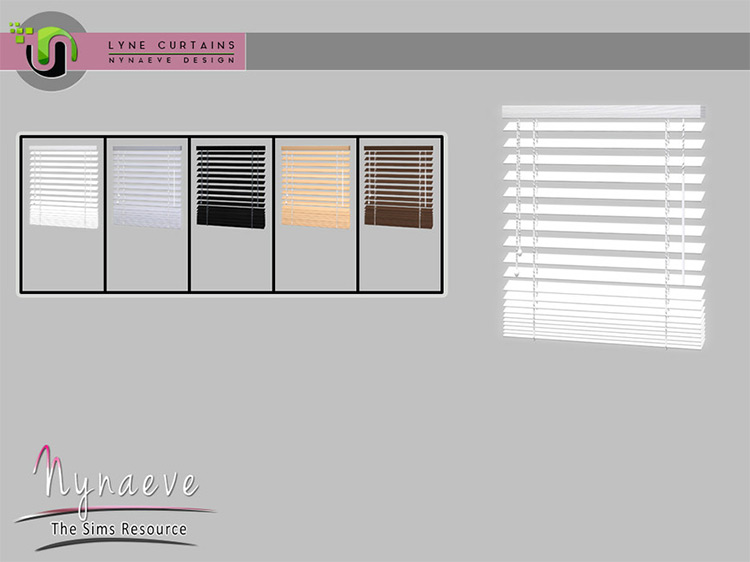 These are basically NynaeveDesign's Blinds V4 curtains, just scrunched up.
It would be cool using both versions in the same build.
It could add a lot of texture to an interior, too. Like, if your Sim pulled up the blinds of two windows to let some sunlight in their room but left the other windows covered to balance it out.
5.

Carla Blinds by PQSIM4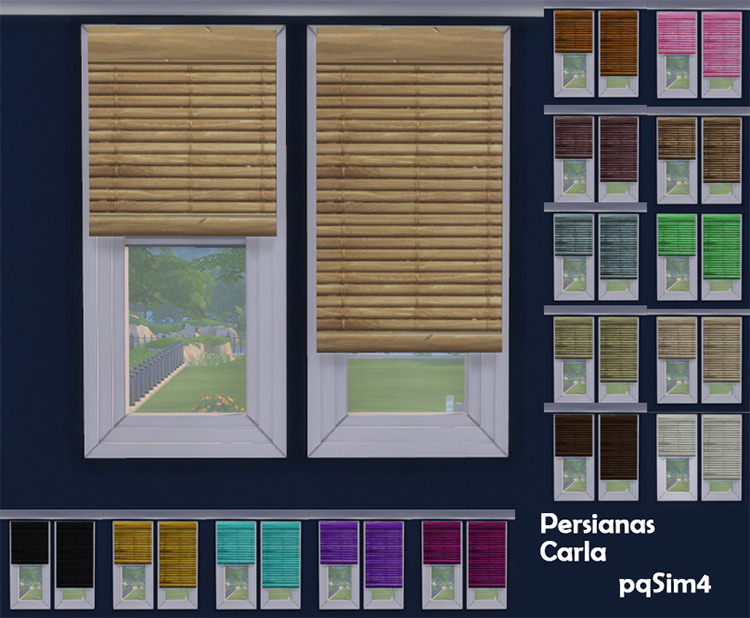 These wooden shutters have a sort of raw, grungy look to them.
They're definitely a little rougher compared to traditional plastic window blinds, but the interesting visuals more than make up for this. I like that there are two versions — partially pulled up & pulled up half-way.
Plus the color palette for these blinds is really cute!
6.

Finding Grace Blinds by SIMcredible!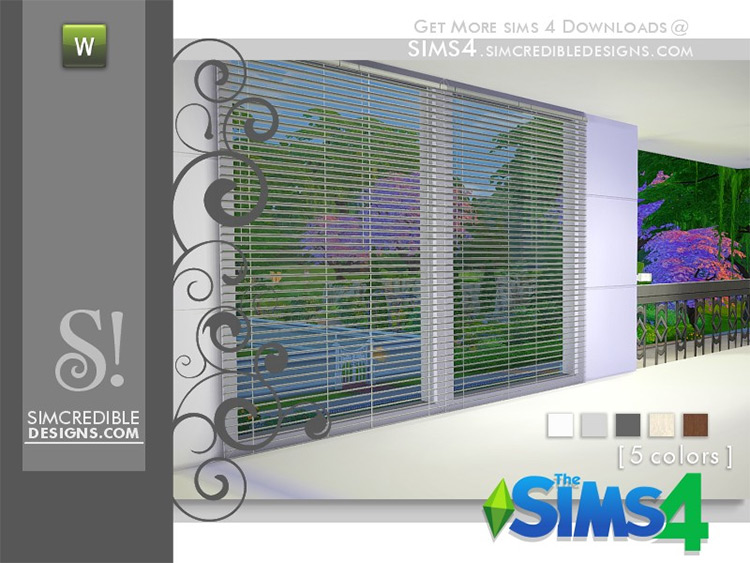 These window shades are a part of SIMcredible!'s Finding Grace Dinette set — an open dining area that mixes modern contemporary features with Scandinavian elements.
The blinds themselves come in four neutral colors and one warm, earthy brown swatch.
Very straightforward and plain, but great if you're aiming for a minimalist or modern minimalist build.
7.

Window Blinds by ZitaRossouw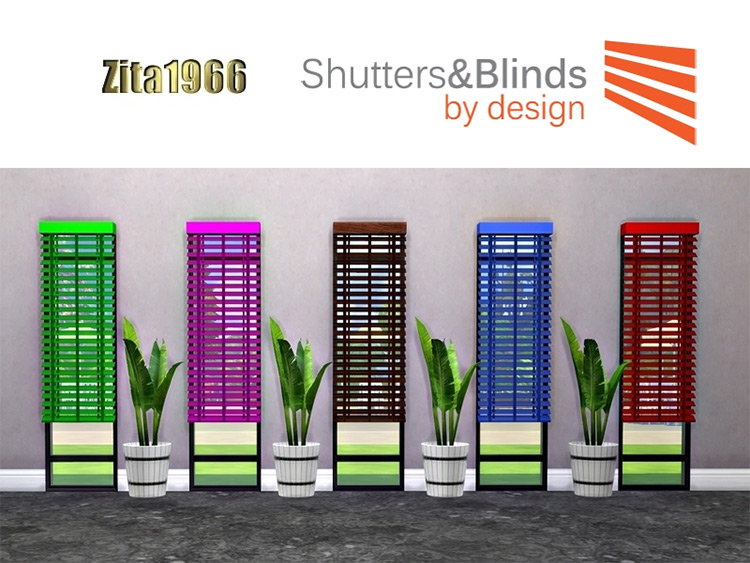 ZitaRossouw's Window Blinds are a recolor of Morse's Window Shades from The Sims 4: Get to Work.
These simple, skinny, 1×2 blinds are characterized with partially-open slats, a solid bar at the top, and a very vivid color palette.
They'll also work fine for windows longer than 1×2, as evidenced by the preview photos!
8.

Morse's Window Shades (Maxis Match) by ss-sims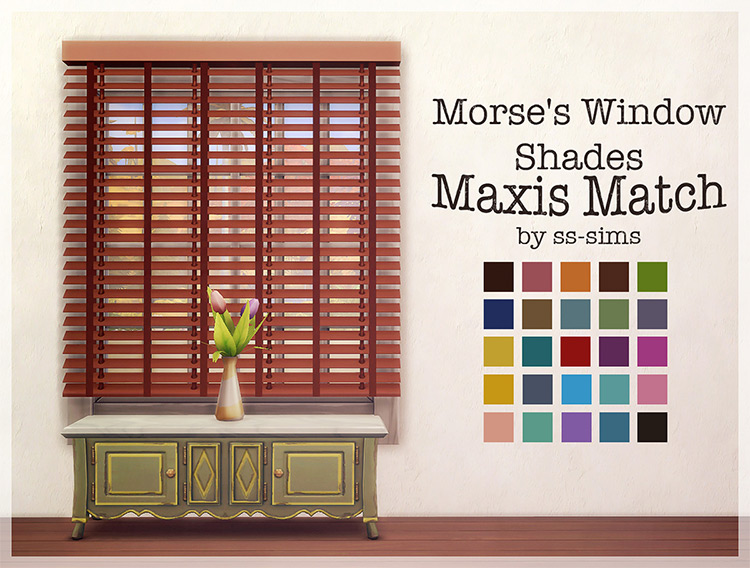 Like ZitaRossouw's Window Blinds, this CC by ss-sims is a recolor of the same window cover décor item (Morse's Window Shades) from The Sims 4: Get to Work.
And like Window Blinds, you'll need that pack for this to show up.
I highly recommend downloading this too as it adds significantly more colors to the original item's limited palette.
9.

Ashmore Vertical Blinds by mutske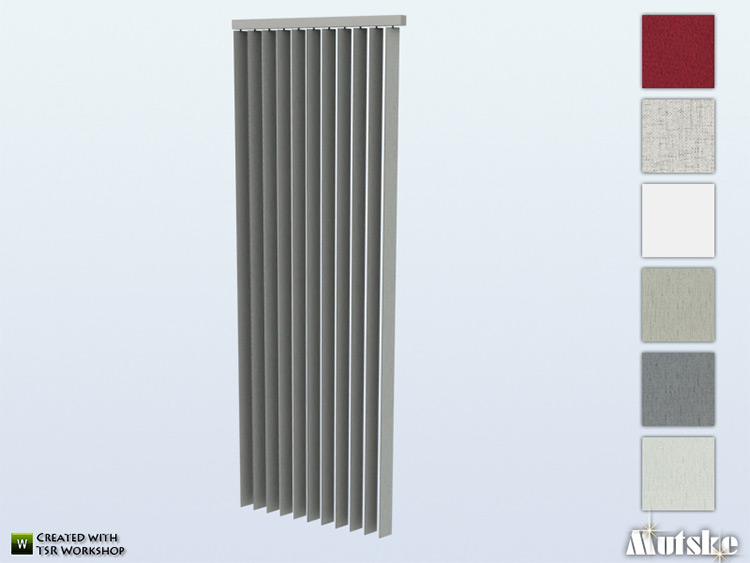 While vertical window blinds aren't necessarily groundbreaking, they aren't very common either!
So if your Sim likes the unconventional – or if vertical blinds just suit their build better – these Ashmore blinds by mutske are a great find. You can also get the diagonal variation here.
10.

Recup Bedroom Broken Blind by jomsims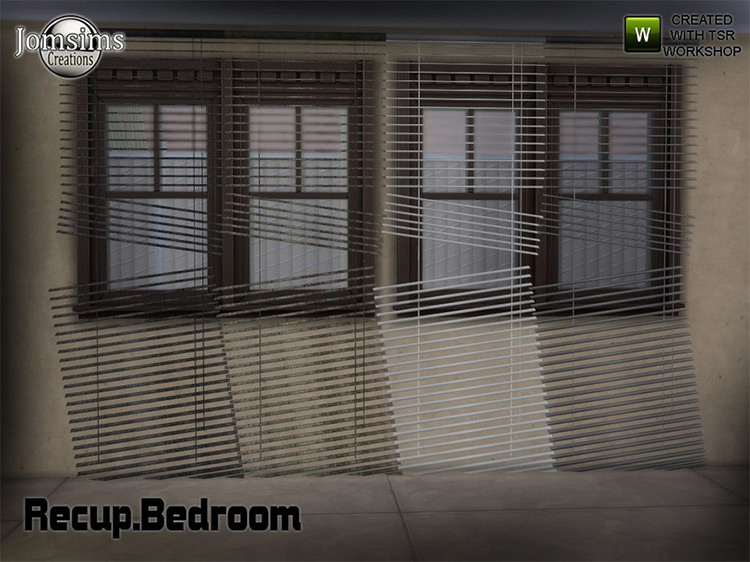 Here's a custom window blind that's part decorative item, part storytelling element.
Why would a perfectly good, perfectly normal build have broken window blinds?
Maybe the owner's simply too lazy to buy replacements? Someone broke in just last night and they're too busy to get new ones? It invites a lot of theories and speculations, which is always fun to have.
These blinds are a part of jomsims' Recup Bedroom set, which is a post-apocalyptic build. That narrative works too!
11.

MM Bamboo RC by budgie2budgie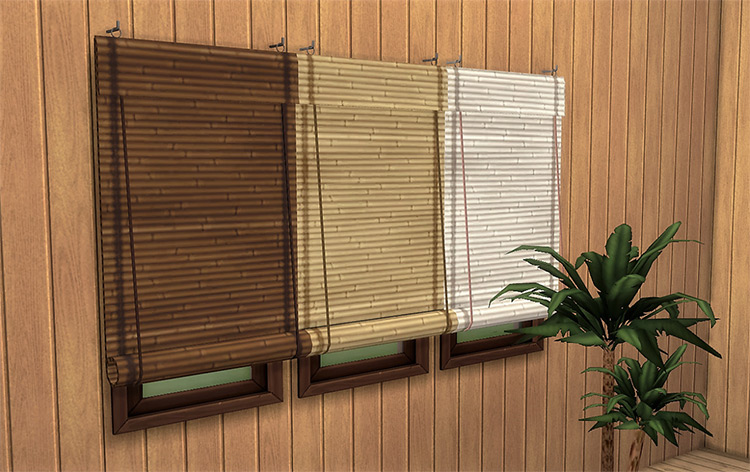 I love how unconventional these blinds are!
You can clearly see that instead of scrunching up like regular blinds, they roll up or out.
The unique mechanism paired with the fetching bamboo texture makes for an overall attractive visual. I can easily see this in a country, oriental, or charming off-the-grid build!
12.

Evening Falls Blinds by SIMcredible!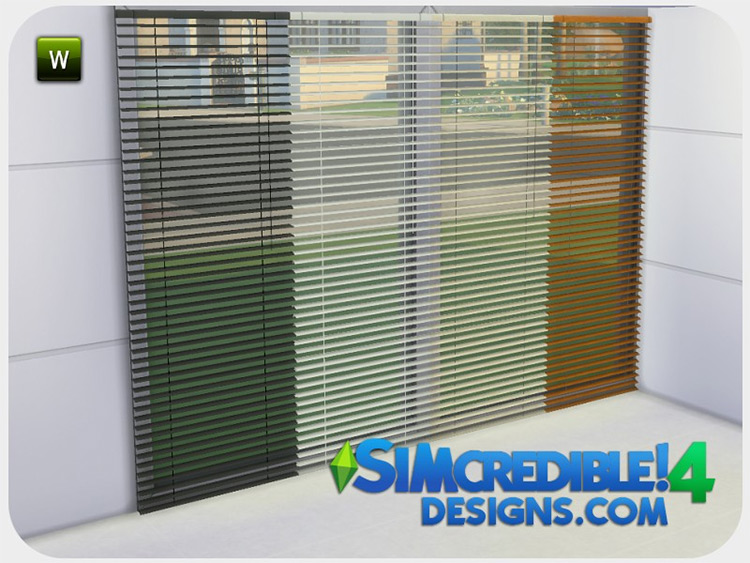 For long, skinny, floor-to-ceiling windows, I recommend SIMcredible!'s blinds from their Evening Falls CC set.
As you can see, these window shades are quite lengthy. They're easily for a 1×3 window.
13.

Statement Collection Pt 1 – Curtains & Blinds by amoebae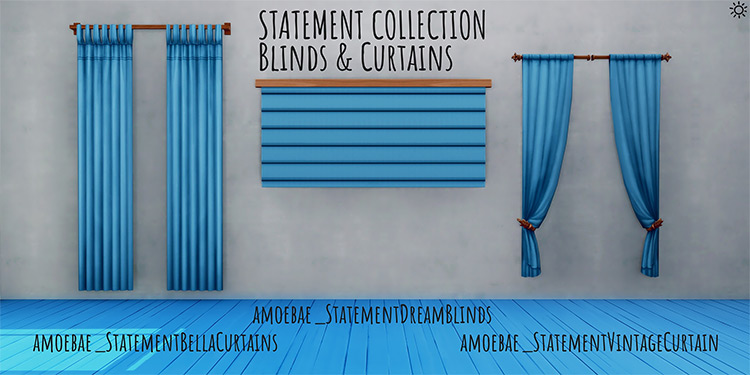 You get both vertical and horizontal blinds in this cute Curtains & Blinds set by amoebae.
They may be solely for 1×2 windows only (with the vertical one managing a 1×3, if so inclined), but that size is pretty much the standard, so. You probably won't have too much difficulty making these blinds fit your build.
I hope they do, because they're really fun to look at!
14.

Blinds ScanLine Outside 1×1 Full Open by BuffSumm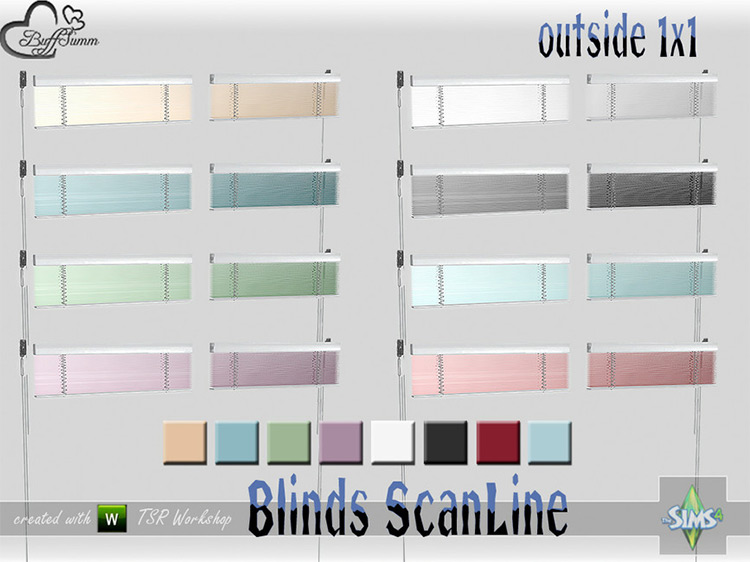 These blinds are part of a fairly meaty set by BuffSumm.
The Blinds ScanLine Outside set contains fourteen different window blinds in various sizes and various positions, such as fully up, partially open, etc.
This iteration of the 1×1 blinds have them completely scrunched up, hence the Full Open in the name. I'm also going to cover the 2×1 Half Closed variation, but you can check out the full set here to see if any other version catches your eye!
15.

Blinds ScanLine Outside 2×1 Half Closed by BuffSumm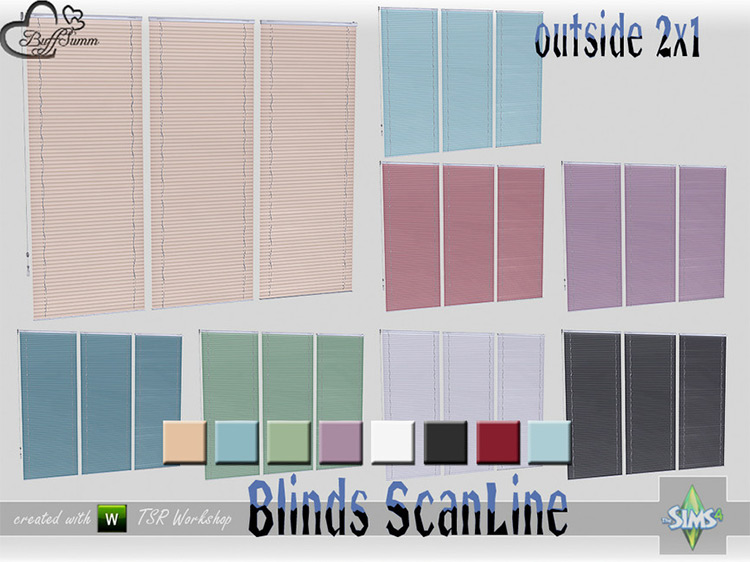 As I mentioned earlier, here's the Outside 2×1 Half Closed blinds from BuffSumm's ScanLine set.
It's for a longer window and it's obviously not as scrunched up.
In fact, looking at the angle of the slats, this window blind is perfect for Sims who value their privacy (or who are allergic to natural light—you never know). The shade is all the way down and it looks like the slats are almost fully closed.
16.

Pilton Vertical Blinds by mutske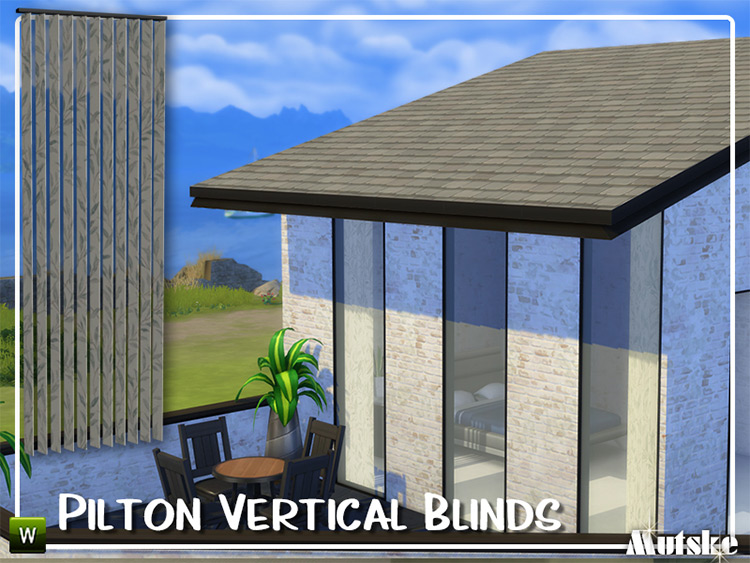 More vertical blinds!
Honestly, the more I stumble across them, the more they grow on me.
This set contains eighteen types of vertical blinds—more than enough to fully furnish any contemporary modern build!
17.

Macau Bamboo Blinds Middle by mutske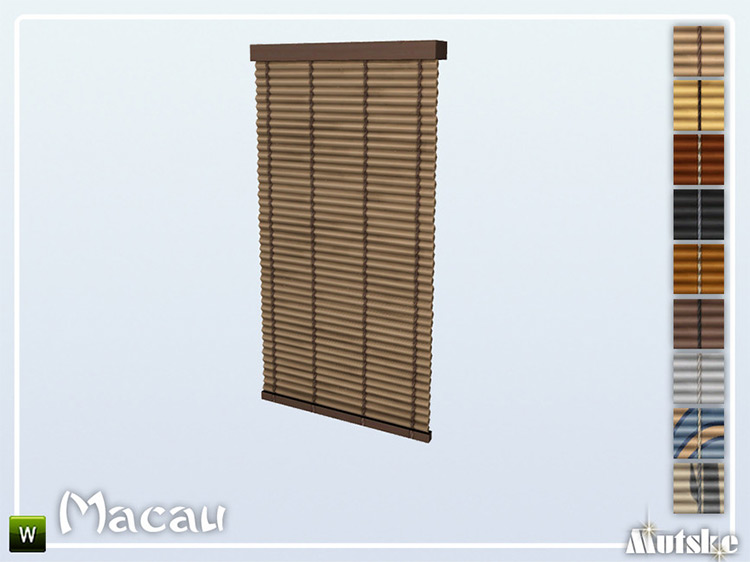 I'm also slowly starting to realize that bamboo – or similar wooden material – is a very fetching texture for window blinds, especially when compared to plastic or vinyl.
This Macau Bamboo blinds are actually one of three custom window blinds by mutske.
You can download the shorter version here and the longer version here!
18.

Horizontal Curtain Blinds by AdonisPluto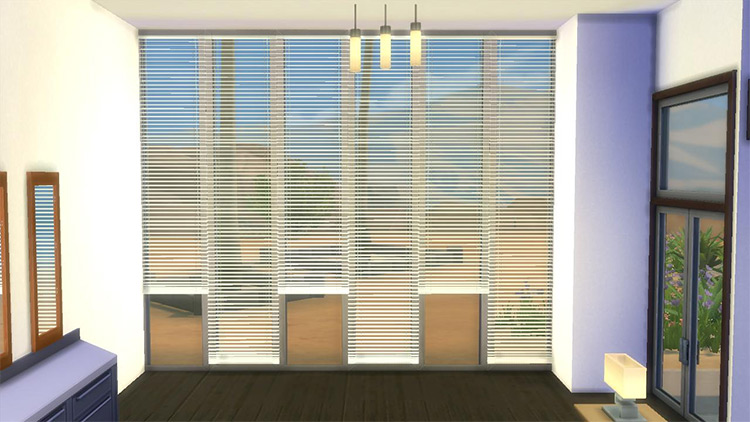 This CC set contains eight window blinds converted from The Sims 3, and they're a good starting point for anyone experimenting with using slatted window shades.
AdonisPoint does a better job of explaining the variations and nuances of each design so I highly recommend reading the description thoroughly.
19.

Mandy Windows and Blinds by Mincsims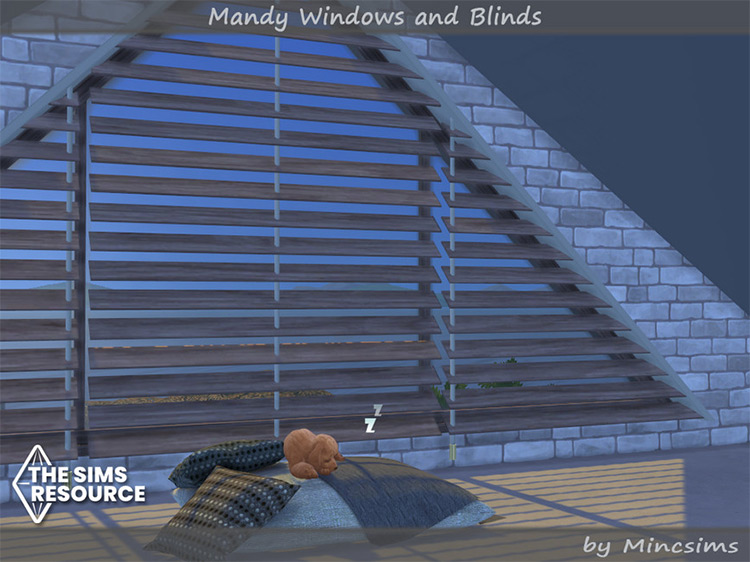 So, as you can probably tell with the name, Mincsims' Mandy set contains both windows and blinds.
Which means that if you use any of the Mandy windows in your build, you're at least assured there's already a matching window blind for it.
Thankfully, the Mandy windows are quite typical in size and shape – save for the triangle-shaped Tri windows maybe – so their corresponding blinds could be used with other windows outside the set.
20.

Flat Roll Blinds by Mincsims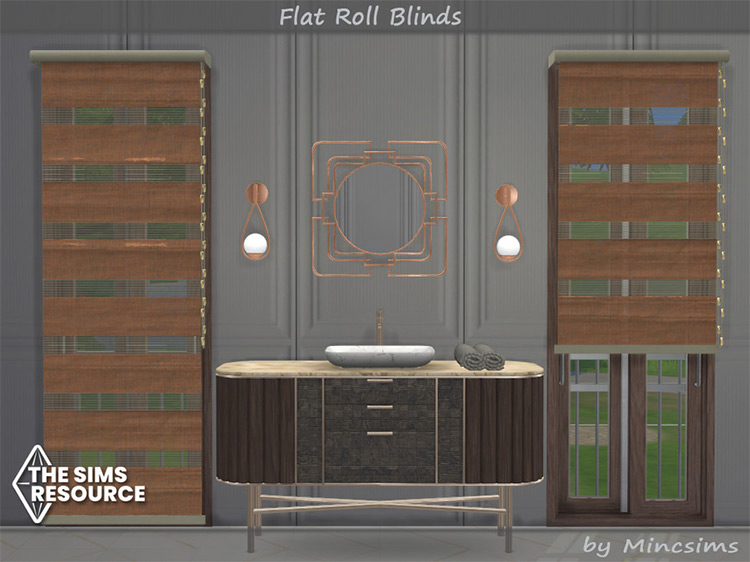 Now these flat rolled window blinds, I have seen IRL.
They have this certain aesthetic that makes them quite interesting to look at—especially when they're textured like this.
This set contains eight rolled window blinds of varying lengths and sizes, and each version comes with ten color swatches.
Browse:
Lists
The Sims 4
Video Games