Best Sims 4 Windows CC & Custom Design Packs (All Free)
This post may contain affiliate links. If you buy something we may get a small commission at no extra cost to you. (Learn more).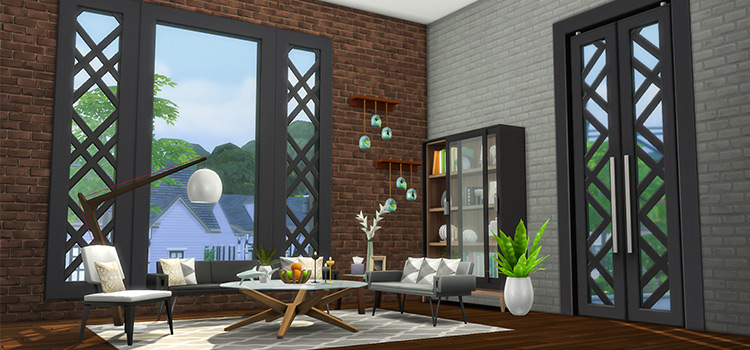 Like all living things, a house has things it can't survive without.
It needs sturdy walls, robust roofing, durable flooring, functional doors, and just the right amount of windows to set it apart from a prison.
With all of these things present, a player can build an ideally balanced house with ease in any lot in The Sims 4.
But it's not the pastel wallpaper or the carpeted flooring that brings out a home's natural beauty.
It's well-placed windows.
If you're a player with great affection for beautiful interior design, then you'll enjoy this list of some incredible (and custom) windows CC sets. Check 'em out!
15.

Faze Build Set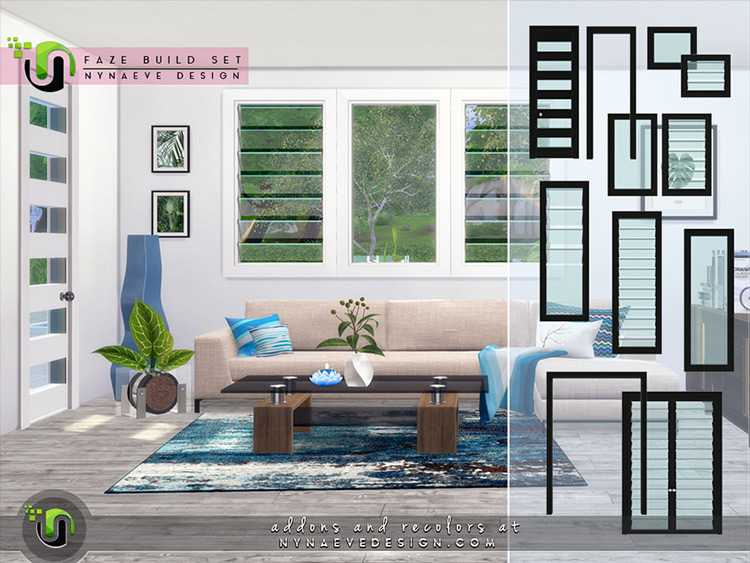 Fun fact: the word "louvre" is not exclusive to the famous Parisian museum as many would believe.
The iconic landmark, ironically, doesn't have louvre-type windows, which features a blind or shutter with horizontal slats angled to welcome fresh air and light.
While the Louvre has no use for this Faze Build Set, your Sim might.
If your Sims have a tropical residence by the beach, then this CC is the perfect window to feel the ocean breeze all day long.
14.

Lyne Build Set II – Medium Walls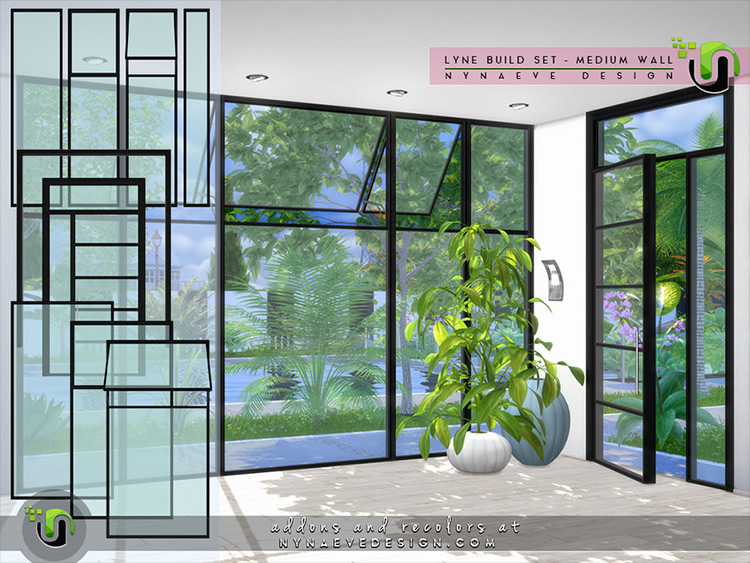 Having clear windows as walls is a millennial homeowner's wet dream.
If only it wasn't a logistical nightmare.
Window walls wouldn't survive catastrophic storms and money-hungry thieves.
But if there's one thing Sims are inherently blessed with, it's the ability to bypass real-life problems and not care about having transparent walls.
Enjoy this Lyne Build Set II by NynaeveDesign with no worries and have 15 items to decorate your Sim's medium-sized walls.
13.

Stained Glass Windows with Rosettes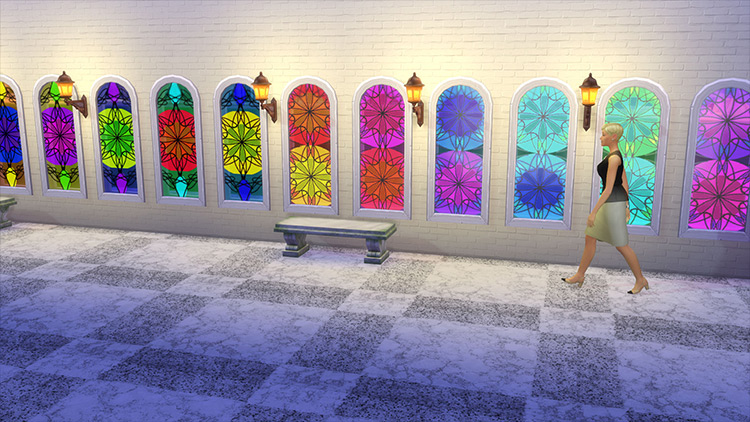 Windows, as its most basic function, exist to bring in Vitamin D and un-obscured views of the world beyond.
But back when gothic churches were as common as McDonald's restaurants, windows also served as channels for heavenly illumination.
Although it's been thousands of years since stained glass windows were considered trendy, no one can deny the ethereal beauty it holds in its patterns and multitude of colors.
12.

Squeaky Clean Windows
The Sims franchise has always had such rich worldbuilding.
Players are given plenty of worlds to settle in like Granite Falls, Glimmerbrook, Del Sol Valley, Sulani, Windenburg, and more.
The lush backdrops and vibrant environment offer a virtual escape from our own lackluster reality.
If only the windows weren't always fogging up and obscuring the view.
Get a clear picture of the places you know and love, and enjoy spotless windows and tinted glass options to see your Sim's world in more ways than one.
11.

Kitchen Window
In any household, the kitchen serves as a gathering place for the insatiable.
It's the source of all things delicious and mouthwatering – anyone would want a piece of what's inside those windows.
Especially when you're facing a pack of starved Sims.
In case they lose their chill over cheese pizzas and chicken nuggets, this kitchen window CC can at least provide a breathing space for everyone.
10.

Altara Modular Window (tile)
Achieving domestic bliss doesn't have to involve a partner or a big house.
It could come from enjoying a cheerful atmosphere brought by enough sunshine.
It could come from seeing the best view there is in TS4 the moment you start playing.
Or it could come from just the right windows to show you what you've been missing all along.
Build your own floor-to-ceiling fantasy with the Altara Modular Window CC from NynaeveDesign that comes in 2 monochromatic colors and one big dreamy set.
9.

Sunny Window
Imagine waking up on a weekend with the sun gently casting its light on your face, warming it, and brightening everything it touches.
Sounds like the purest wake-up call you could get before the world burns from climate change.
Morbid thoughts aside, being greeted by sunshine won't be possible without its best supporter: a window.
So, what if we combine the two?
The result: a pretty sunny window mod versatile enough to be placed wherever the light shines the most.
8.

Wareham Construction Set Part 5
Do you fancy a picturesque view of the ocean, of city lights, or an evergreen forest from the comfort of your Sim's home?
If your answer is "yes, all of the above" then you better be paying attention to this list. Specifically this CC set!
Mutske's Wareham Construction Set (pt 5) has 11 creations that can help capture the beautiful outdoors and bring them into your Sim's home.
The shape of the windows can also enhance the overall visual appeal of the house, complementing steep roofs and uniquely framing the views beyond.
7.

Lanham Slanting Windows
So far, most of the CCs in this list have perfect posture & lines so straight it's hard to imagine them otherwise.
But it's always a good idea to get a new perspective, especially when it comes to windows.
Good thing it's my job to showcase rare CC finds and convince you why the Lanham Slanting Windows are worth the extra memory space on your computer.
Get to see the world through a slanted lens and experience a grander view inside and out with another Mutske-made masterpiece!
6.

City Living Window and Door Add-ons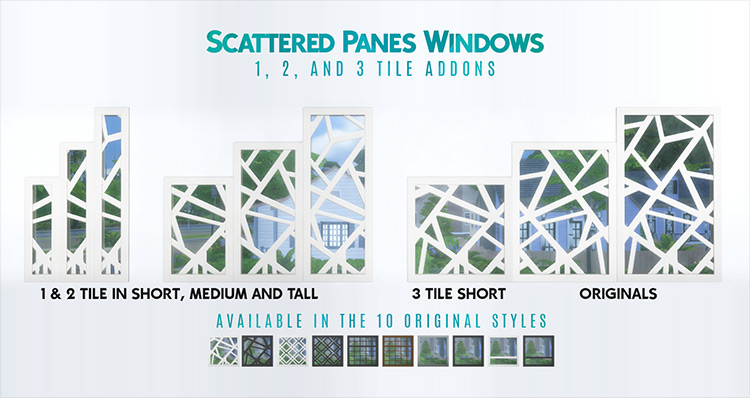 TS4 expansion packs have always been the bane of loyal Sims players.
Some are flops, others seem worth the $40+ bucks (I think) yet all of them are obvious cash grabs (shoutout to EA).
It's frustrating to keep spending money on added stuff and new content. But it can't be helped when the base game is just too… basic.
And no one wants a basic bitch.
This CC will require installing the City Living expansion pack, and it's up to you to decide on whether or not these windows are worth the small monetary sacrifice.
5.

Screened-In Series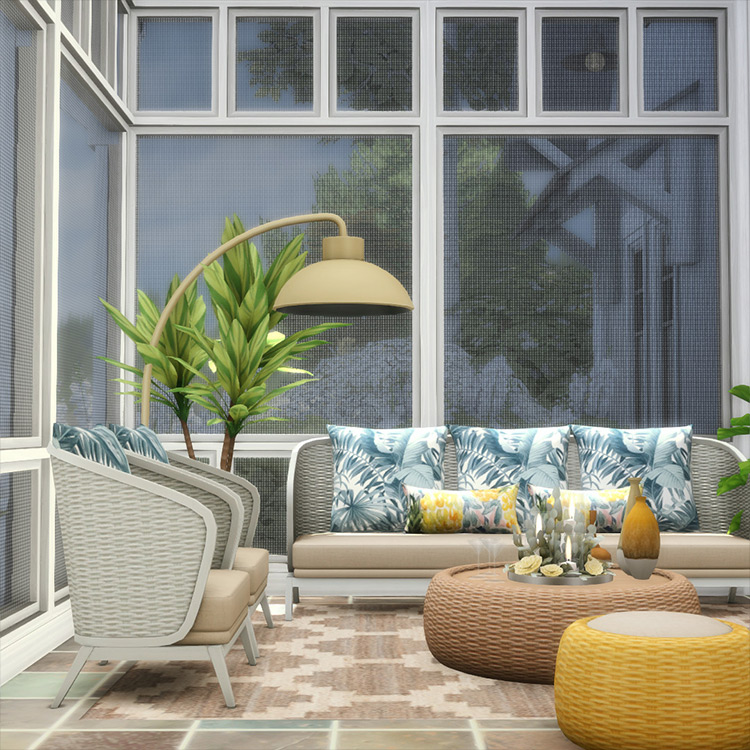 If there's one CC creator who understands the value and charm of windows, it's Peacemaker_ic.
This Screened-In windows CC set features 12 meshes with 20 color/style options befitting island homes you typically see in rom-com movies shot in Hawaii.
This CC lets players create a screened-in porch where Sims can enjoy outdoor living with indoor comforts.
Most importantly, it keeps pesky mosquitos and other creepy-crawlies from sabotaging a perfect day out.
4.

Vaulted Ranch
I swear I'm not a stalker. But CC creator Peacemaker_ic really knows how to make eye-catching window mods deserving of some high spots in this list!
This Vaulted Ranch design is a mid-century build set that contains 34 meshes with 25-60 color/style options.
It features vaulted clerestory windows (a.k.a the volume level windows), clerestory windows (a.k.a the cell phone signal windows), and standard windows (a.k.a reverse cell phone signal windows).
If you're a contemporary design freak, then this CC pack is the perfect collection to play around with.
3.

Pilton Construction Set Part 1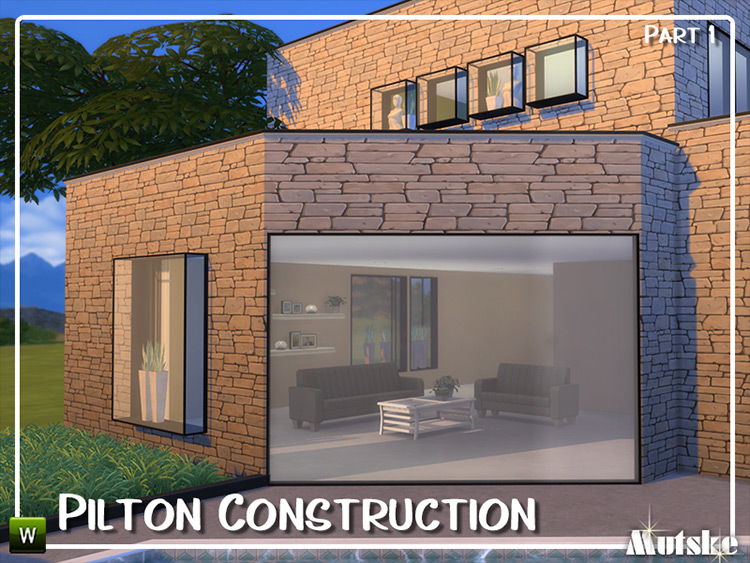 Now if you've watched Bong Joon Ho's Oscar-winning movie Parasite, then you know the real star of the film is the luxurious house of the Park family.
It was a visually stunning residence that oozed extravagance (and the vast difference of classes) around every corner.
But what made it all the more jaw-droppingly beautiful was the ultra-wide living room window that gave an expansive glimpse of how amazing it would be if everyone was just born rich.
This CC from Mutske is not an exact replica of the Park family's excessive taste in windows. But it's close.
And it's big enough to replace an entire wall if that's what you're into!
2.

Oculus Window Set
I've got to get something off my chest: round windows deserve more love and attention.
Aside from the rustic houses of hobbits from The Lord of the Rings, round windows aren't as visible in mainstream media or celebrity cribs.
And it's just a damn shame.
Being an outlier, it would take some time to get used to the peculiar charm of round windows.
But whenever you're ready to try it out, just circle back to Syboubou's Oculus Window Set!
1.

Mini Greenhouse Window Set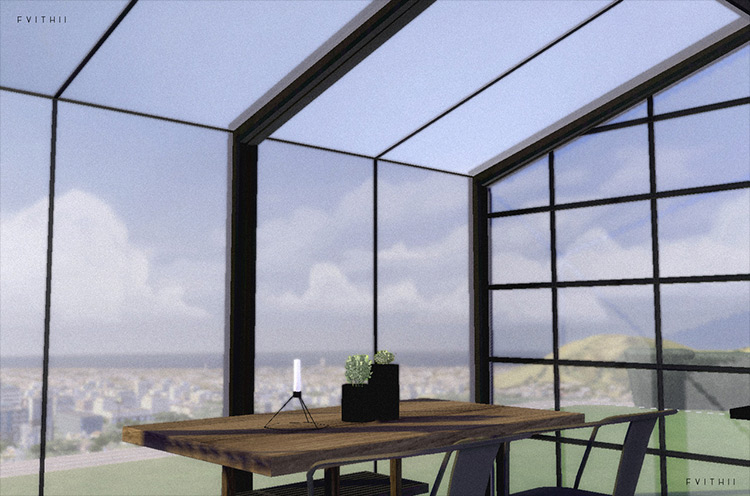 Let's cut to the chase: what sets this CC apart from the rest?
It's a greenhouse made entirely from floor-to-ceiling windows.
Need I say more?
Browse:
Lists
The Sims 4
Video Games