Sims 4 Snowy Winter Pose Packs (All Free)
This post may contain affiliate links. If you buy something we may get a small commission at no extra cost to you. (Learn more).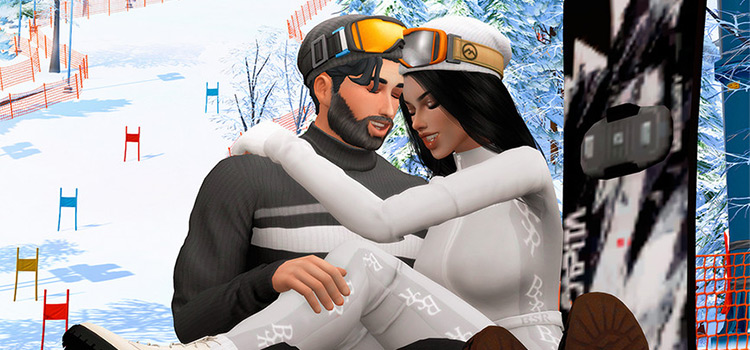 The weather outside may be frightful, but that's certainly never stopped your Sims before.
If you've got The Sims 4: Seasons or The Sims 4: Snowy Escape installed, then you know how beautiful in-game snowscapes can be.
And it seems like a missed opportunity to not grab some cool (no pun intended) snaps of your Sim basking in the crisp, wintry air.
So without further ado, here's some great snow/winter-themed poses for your Sims. Check 'em out!
1.

Snowboard Poses by HoneysSims4
Poses: 12 solo poses
These 12 poses tell the story of a Sim who decided to go snowboarding, was doing great for the first bit, wiped out, but managed to laugh it off regardless.
Yeah, that's basically the concept; casual, lighthearted, and plenty of cool snowboard poses in-between the story ones for some sweet action shots.
This is probably the second or third pose set that I've tried out from this creator, and I'm loving their content so far.
All of these expressions and gestures are a bit exaggerated, but not at all in a bad way.
In fact, I think the uber-expressive quality of their models' faces suits the style of their poses.
They also translate well in-game, regardless if you're using default EA elements (like skin, eyes, etc.) or custom replacements.
2.

Let's Go Skiing Posepack by evielantsov (lantsovsims)
Poses: 2 solo poses + 2 couple poses
As you can probably guess by the name, every pose in this pack will need a ski accessory (included in the download, don't worry).
There aren't really any "story poses" here like there are in HoneysSims4's Snowboard Poses pack, so the poses aren't all that expressive.
I mean, it's basically just Sims looking cool and athletic while they pose with ski stuff.
But, hey; who says custom poses need a narrative, right?
The ski accessories are also well-made. No visible glitches or clipping during the poses, and they honestly look pretty great in-game. See preview photos for reference.
I also love that all the poses are unisex.
There's a slight built-in height difference for the second and fourth pose (aka the couple poses). But other than that, no overtly feminine or masculine gestures.
By the way; make sure your Sim is wearing sunglasses or shades for the third pose. Otherwise they'll just look sort of manic.
3.

Sled + Poses (New Mesh) by simtographies
Poses: 1 couple pose
Okay, so – there's really only one pose is in this pack, so I guess I can't call it a "pack"…
But I'm including it for two reasons.
One; the sled mesh will be used in quite a few other pose packs so you might as well download it now.
Two; the expressions on the Sims's faces are so warm and cozy, I just had to put this in. I'm a sucker for soft expressions, okay? Sue me.
I just think it's a nice, calm, and fairly romantic pack to have on-hand for snowy days. Plus the attention to detail is on-point.
The sled's rope fits right into the front Sim's hand and everything.
4.

Snowing Fun Poses Sets Battle + Random by starlord-sims & Flowerchamber
Poses: 7 solo poses + 3 group poses (max 4 Sims)
This here's a cute wintery collab between two Sims 4 CC creators.
From what I understand, Flowerchamber did the poses and starlord-sims did the snowball accessory (included in the download link).
There's a bit to unpack here, so I'm going to start with the "battle" poses.
It's pretty much exactly what you expect; a harmless (maybe) snowball fight between four Sims.
Who's winning?
Depends on who gets the "defense" poses and who gets the "attack" poses.
There are 6 for each category, and each one gets a custom thumbnail in the pose list, so it's sort of easy to figure out what's going on.
You also don't need to overlap the teleporter statues for the snowball fight.
Unlike other group poses, these Sims's positions as a group aren't set. So you have more or less complete freedom over the distance and angle of each Sim.
As for the "random" poses, it's just 7 poses of a Sim enjoying the snow. Catching snowflakes, dancing through drifts, making a snow angel… it's all very whimsical.
I'd say all the poses here are unisex, but I think some work better for specific frames (i.e., solo poses for a Female Model, defense poses for a Male Model). But that's just my opinion.
5.

Ski Trip Poses by Wasabi Sims
Poses: 4 solo poses + 2 couple poses
For these poses to work, you'll need the skiing accessories from lantsovsims's Let's Go Skiing pose pack (found in the description at the link above).
This is another "pose-for-pictures" pose pack, where the models are very much aware of the camera.
There's quite a few back-and-forth involved with switching the accessories out, especially if you're using the same two or three Sims for the whole pack.
But it's nothing too tedious so I wouldn't worry about it.
My workaround is creating multiple copies of the same Cold Weather outfit, and then just changing the accessories around to match the pose. Trust me; when you're testing out multiple poses, it works a treat.
6.

Couquett's Snow Love by couquett
Poses: 3 couple poses
We've got a couple out and about during winter, very much enjoying the snowfall (and each other's company, of course).
The first two poses are what landed this pack on the list, if I'm being honest.
They've got one of the Sims looking up at the sky in wonder; hands out, palms up. I can't think of any other season or weather event where this sort of action would make sense, so yeah. It's probably snow.
(The other Sim is sort of just nuzzling them as they do this).
Honestly, without those poses, this would just be another romance pack—albeit a very pretty one.
There are a total of 3 poses in total for 2 Sims, and the in-game pose list clearly labels the Male and Female models, so setup is easy.
There also isn't any built-in height difference, but I don't think this pose pack needs it.
7.

First Snow Posepack by mel bennett
Poses: 2 solo poses + 1 group pose (max 3 Sims)
Remember that sled mesh from simtographies's Sled + Poses posepack?
Yup! It'll come into play here.
This one's a fairly simple pack, too. Just three poses; two solo shots for one Sim, one group pose for two Young Adults/Adults and a Toddler.
I'm particularly drawn towards the group pose because of how wholesome it looks.
What's cuter and more storybook picturesque than a family trotting through the snow on a sled?
And it's unisex too, so you can totally mix up the models as you please.
The other poses carry a chill (no pun intended), casual vibe—like someone just enjoying the crisp, cold air and the snowflakes.
You'll need a coffee cup for the first pose to make sense (otherwise your Sim will just be grasping at air), but the clothing items (like the big scarf and the earmuffs) are optional.
8.

Cold Hands, Warm Hearts Poses by Wasabi Sims
Poses: 4 couple poses
This pose pack is probably one of my favorites.
And yes, the name is one of the reasons why.
But cutely creative titles aside, this pack also excels in concept, variety, and execution.
It's all fully unisex thanks to the lack of distinctly masculine and feminine gestures.
It's also a very story-based pose pack in the sense that the poses aren't the kind one would strike for a picture.
Each one is a still or a snapshot of a moment, and I think that's beautiful. I mean, there are other winter pose packs like this, of course.
But I really like how warm and comforting this one is.
Especially the Sims kissing on the sled. It's just cute.
9.

Cold Outside Pose Pack by Guell
Poses: 8 couple poses
If you haven't yet heard Idina Menzel and Michael Bublé's take on Baby, It's Cold Outside, I highly recommend it.
I can't confirm if that's what this pose pack was based on.
But the giddy, romantic vibes are definitely the same.
It's pretty similar to couquett's Snow Love pack in that the theme is simply just two lovers enjoying each other's company during winter.
This one is just has a lot less marveling at the season and a lot more cuddling. It's meant for close-up shots, I would think, as the expressions are incredible.
There's a lot of love and tenderness in the gazes and the gestures. Seriously, the attention to detail does not go unnoticed.
There are eight couple poses to choose from here, and they're all the same level of hopelessly endearing.
And I highly recommend choosing big, floofy winterwear for these poses. They look even cuter when your Sims are all bundled up.
10.

Winter Love (Pose Pack) by Beto_ae0
Poses: 6 couple poses
This is a beautiful set of poses that do require a bit of setup. But nothing too extreme, I promise.
Different poses need different accessories, and they're all listed as pose descriptions in the in-game pose list.
The only bump I encountered was switching the snowboard accessory between the right hand and the left hand.
So before you go through the same trial and error that I did, just know: use the snowboard accessory for the right hand when the two Sims are posing (pose set 2), and use the snowboard accessory for the left hand when the two Sims are snowboarding (3rd and 4th pose set).
Otherwise you're gonna get a couple awkward shots.
That aside, it's a beautiful couples pose pack that has a good mix of photo poses and story poses.
I especially love the fifth pose. Their emotions look so organic, in a good way.
Browse:
Lists
The Sims 4
Video Games