Sims 4 Winter Shoes & Boots CC (Guys + Girls)
This post may contain affiliate links. If you buy something we may get a small commission at no extra cost to you. (Learn more).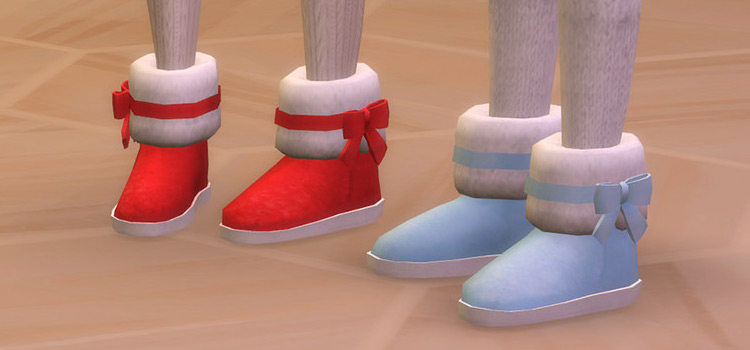 There's something really special about winter. The silence at night after a heavy snowfall then the chaos and joy the next morning when kids go out to play is something to look forward to every year.
Unless you live in Florida like I do, and your winter is about two weeks of fifty-degree weather if you're lucky.
My yearly lack of snow is why my favorite Sims game pack will always be Seasons, and it's why my sims are always out making snow angels and throwing snow balls.
Since my sims always seem to be out and about during the winter, I've curated endless amounts of CC for the cutest pairs of winter shoes.
So I went through my folders and picked out this curated collection to help your Sims to enjoy their winter wonderland. And in return, if it's snowing near your IRL, do me a favor and throw a snowball or two!
1.

Furry Long Boots
These wedge winter boots are everything.
The base texture really looks like suede, and the fur lining and fur pom-pom adorned laced siding is just adorable.
They do so much without being too much, which is hard to find in a winter shoe. They come in 13 different colors including a charming pink and a nice, neutral greyish brown.
2.

Bubbly Snow Boots
Why should kids get to have all the fun?
These fun bubbly snow boots were previously only available for children in the Seasons game pack.
Thanks to Renorasims, your adult and toddler sims can now rock these super sweet snow boots.
These boots look insanely warm and comfortable, and they would be the perfect shoe to wear on a hike up Mount Komorebi. They come in the original 16 color swatches from EA.
3.

Pom Pom Lace Up Boots for Females by Sims 4 Marigold
I love this look, especially with some thigh high socks, but my favorite little detail on these boots is the lace up pom poms.
What is it about winter and poms?
Whatever it is, I hope the tradition continues.
You'll find 28 different colors are available for these lace-up boots, including styles with different colored fur and laces.
4.

Bunny Snow Boots
Oh, my goodness. I think these are the cutest pair of snow shoes I've ever seen.
The bunny ears on the pom poms are almost too much. Almost.
The thick fur lining and fuzzy texture make these desert boots look oh-so-comfy. These absolutely precious shoes come in fourteen colors, each better than the last.
So, hop on out of the door and into a big pile of snow with these cute fuzzy boots and become the talk of your sim's town.
5.

Bri Boots
Snowed in? No problem!
High boots like these will keep your sims from turning to ice just outside their door.
These knee-high boots are most flattering for pear shaped bodies, so your fuller sims should be slaying it in these eye-catching strappy shoes.
Not to mention that there are 47 color swatches to pick from. I think we can all agree that you can never have too many options when it comes to shoes.
6.

ShakeProductions 396 – Ankle Boots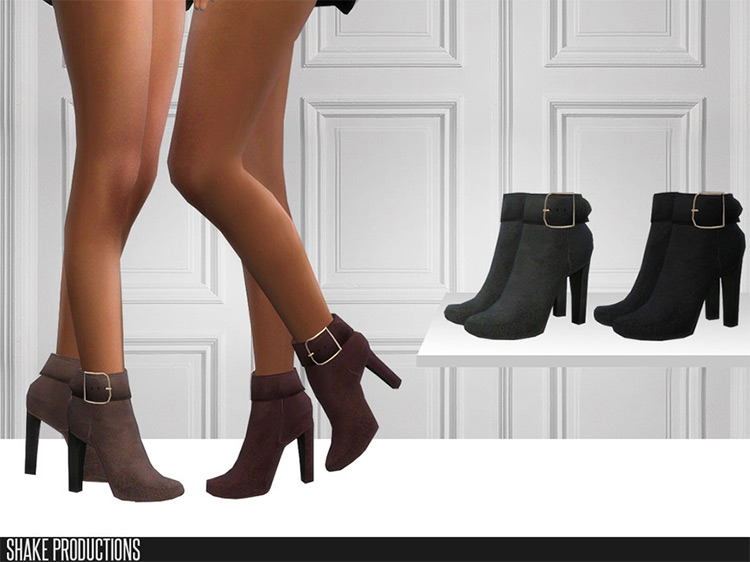 These cute ankle boots are an easy way to get some height while showing off your sims best winter leggings.
Personally, I always love the extra security that a thick ankle strap provides. The buckle at the ankle is also a nice, edgy accent piece to these suede shoes.
Six different color options are available, most of which are warm neutral tones that will stand out in the stark white of the snow.
7.

Short Furry Boots
Speaking of cute ankle boots, these chunky shoes look incredibly soft and sweet. The bow on the side of the ankle reminds me of a Christmas present.
These boots would be ideal to pair with leggings or skinny jeans, or even a short skirt if your sim is comfortable in the cold.
There are 11 colors to choose from, most in soft pastel colors and all totally adorable.
8.

Winter Boots with Bow for Toddlers
Your little toddler sim will be comfy cozy in these precious little ankle booties.
Winter booties like these are few and far between.
The stitching detail at the feather edge of the shoe is the kind of attention to detail I look for in my CC, and the cute sherpa lining accented with a tiny bow is the cherry on top.
These winter booties come in 12 different color swatches and can be found in the everyday, formal, and party categories in CAS.
9.

Furry Boots #22 by Arltos at TSR
Looking for that missing piece to dress your sims up in for their winter holiday soiree?
These mid-calf boots can easily turn a regular old outfit into a festive winter statement. You don't often see platform boots like these, especially not with such a thick fur fringe.
There are 12 color swatches available, including pure white which is an absolute favorite.
10.

Male Boots (ShakeProductions)
Don't even consider going anywhere near Mount Komorebi without first fitting your masculine sims with these hand painted snow boots.
The detail of the laces on these boots is out of this world, not to mention the texture alone is truly a labor of love.
And there are 5 color choices to choose from, so get out there and get hiking in style.
11.

Canyon Boots
While I wouldn't go anywhere near a canyon in these boots, I would definitely go for a night out on the town.
Thigh high suede boots like these are a brilliant solution for showing off your fashionista side while also staying warm on a cold winter day.
You can find these high boots in the everyday, formal, party, and cold weather outfit categories and they come in nine color swatch options.
12.

ShakeProductions 450 – Leather Boots
Were those last high boots not fancy or high enough for you? Well, good news.
ShakeProductions has you covered with these sultry & super thigh high boots.
The height and the more intricate design choices pair beautifully with a short, high fashion dress and some glam makeup.
These leather high heeled boots come in 14 color swatches, including some modish snake skin swatches.
13.

Semller Palladium Pampa Boots
Try saying this name five times fast.
These unisex boots are a testament that not all practical things need to be ugly.
The clunky sole and high-top ankle reinforcement make the boots look high quality and trendy, yet casual enough to simply stroll through a park in.
These army boots come in an astounding 60 different color options, and can be worn by male or female sims.
14.

Lucy's Sweater Dresses & Boots (Set 4)
We can all admit that re-doing an entire wardrobe for a townie is exhausting, but usually necessary.
Why not make life a little easier with some cute boots and matching sweater dresses for your little sim kid's school mates?
There are four dress and knee-high boot designs available to choose from here, all in a timeless monochrome.
15.

Evermore Boots
Boots so iconic they have their own name: Chelsea boots.
I have always had a pair of these in my shoe closet ever since I can remember.
They're so easy to pair with a cute pair of jeans or a fun mini dress. Durability and versatility are two great qualities for a shoe to have, and Chelsea boots have both in spades.
Choose from 12 color swatches with this CC, including 3 unique plaid options by creator Trillyke.
Browse:
Lists
The Sims 4
Video Games