Sims 4 Wolf CC: Outfits, Tattoos & More (All Free)
This post may contain affiliate links. If you buy something we may get a small commission at no extra cost to you. (Learn more).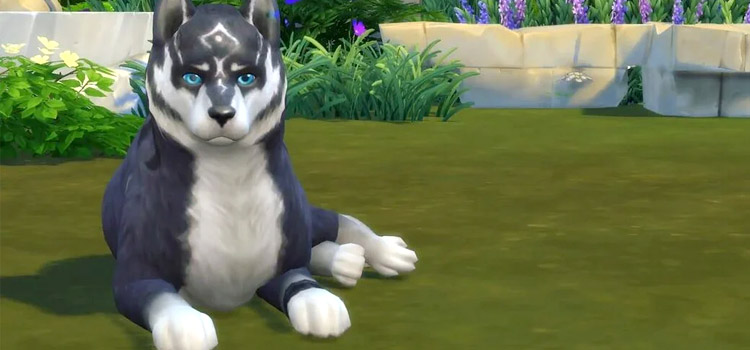 The night howler is one of the most intriguing animals that inhabit our planet.
Long nights, strange obsessions with the moon, and even the mystery behind those man-like creatures we call werewolves.
Today we take all the strange mysteries surrounding these creatures, and we'll be making Jacob from Twilight proud as we delve into the coolest clothes, art, and really any CC about wolves made for The Sims 4.
Let out a big howl and we'll get started.
Wolf Ears CC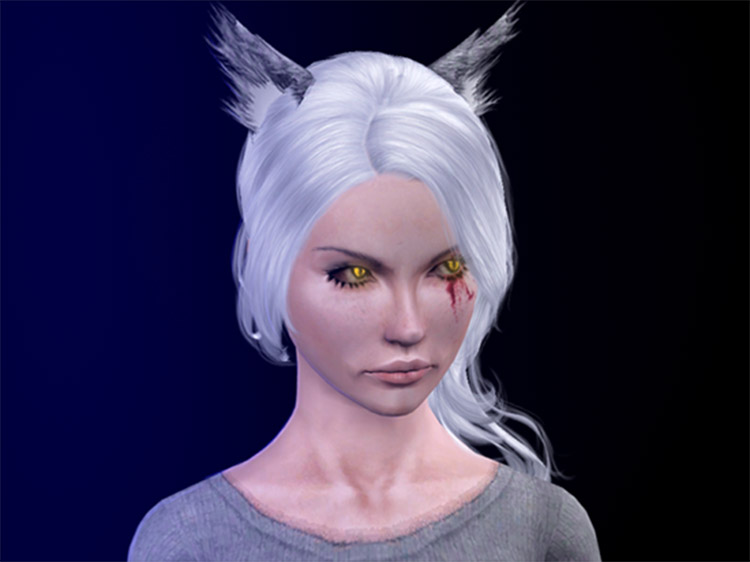 Everyone loves those adorable cat ears.
But have you ever worn wolf ears?
Well now you can, with these awesome wolf ears by golddreamsims.
A cute and fluffy pair of play ears that are both adorable and fierce. What's not to love?
Great for a Halloween costume, or for any Sims just obsessed with wolves in general.
Beacon Hills Shirt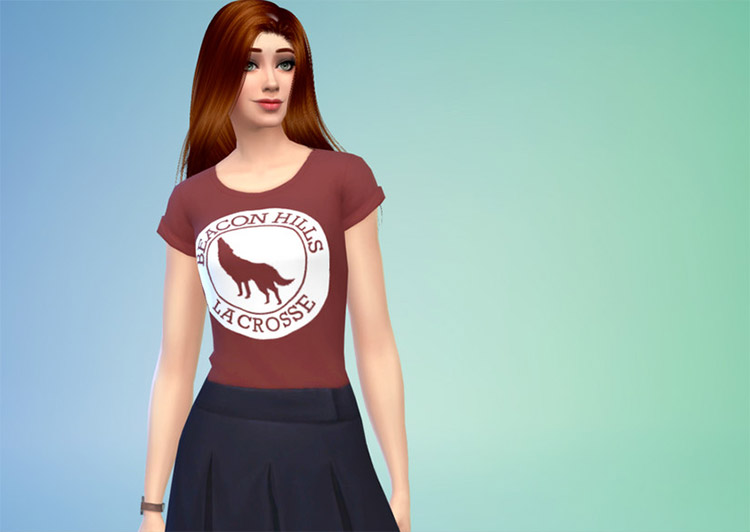 The local school team always needs a mascot.
And in this case, we have the Wolves.
This tee is a great design with a centered white circle featuring a wolf howling in the middle of it.
Whether you're attending or not, this shirt is great for casual wear when moseying around the house.
Werewolf Pose Pack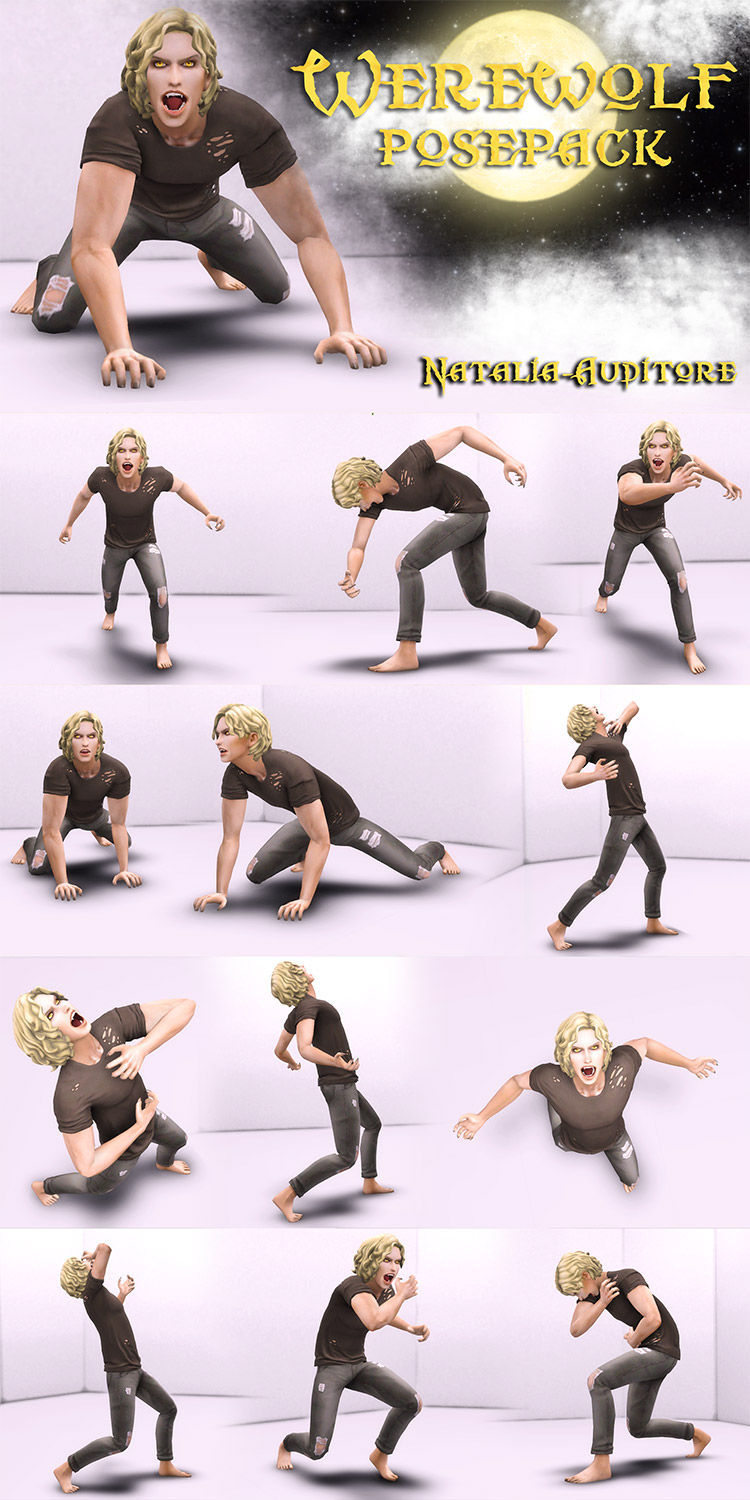 Now here's something you don't see every day:
A TS4 pose pack that features different werewolf poses. Seriously.
Claws out, growls, and just a scary look overall help really give off the werewolf vibe for any of your Sims.
A whopping 12 poses are included in this set, and I have no idea how they thought of 12 total poses. But they all look fantastic.
Sim vampires might want to watch out.
Goth Style Wolf Dress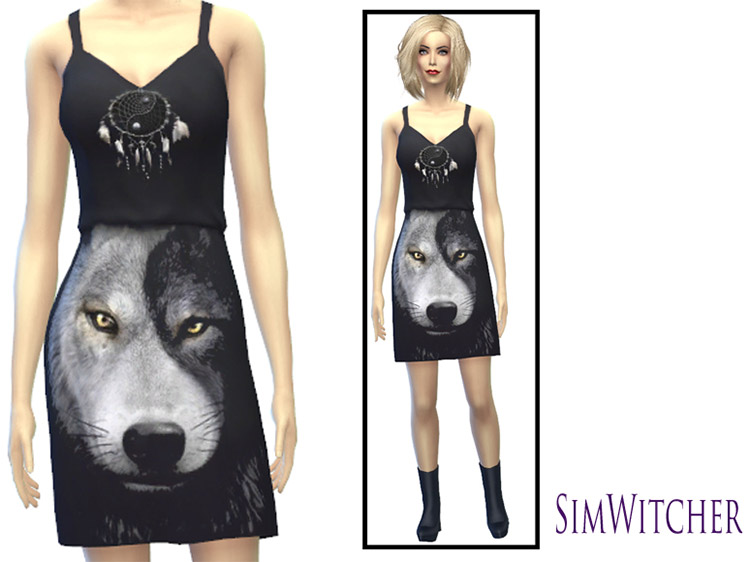 Creator Witchbadger provides us with a unique wolf-inspired clothing piece with this incredible custom dress.
Dark in colors and style gives this a gothic vibe. But a large print photo of a wolf on the skirt really stands out the most.
This dress is definitely for Sims that both love wolves, and have a grungy punk side to them.
For some reason, those things kind of go hand in hand.
Leaping Wolf Men's T Shirt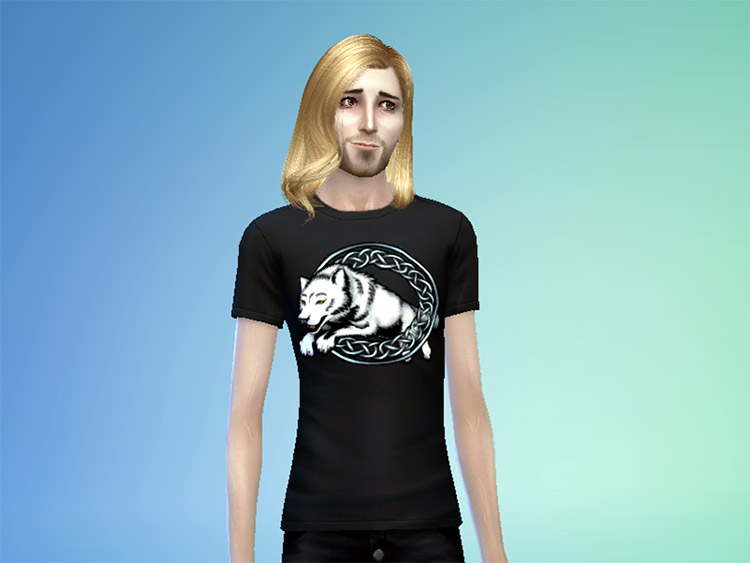 Now this next t shirt is definitely one of my favorites on the list, featuring a wolf jumping through a ring.
It offers a great design that really lets your love for these canines shine.
It's designed primarily for men, but there might be another one designed solely for women (last I checked I didn't see one at a glance, but check the creator's profile!)
So this is just a bold black tee that really lets the white shine through on the wolf itself.
Wolf Painting
Next up we have this gorgeous painting by Miewx.
If your walls are feeling a bit barren, why not wolf 'em up?
This painting features a beautiful array of chrome clouds centered by, you guessed it, a howling wolf. A great piece of art in general, regardless of your feeling on wolves.
But this would certainly be a nice piece for a grey or darker area of your Sim's household.
Wolf Tattoo CC
Want to really let out the inner wolf in you?
There's no better way than by getting a full-fledged tattoo.
And since you might not like needles IRL, I say we ink up your Sim.
This tattoo mod essentially takes up two-thirds of your Sim's arm, and comes in two swatches.
One in classic black ink, the other in an ice blue color that really lets the tattoo stand out.
Getting this ink is quite the commitment to being a true wolf lover.
Werewolf Costume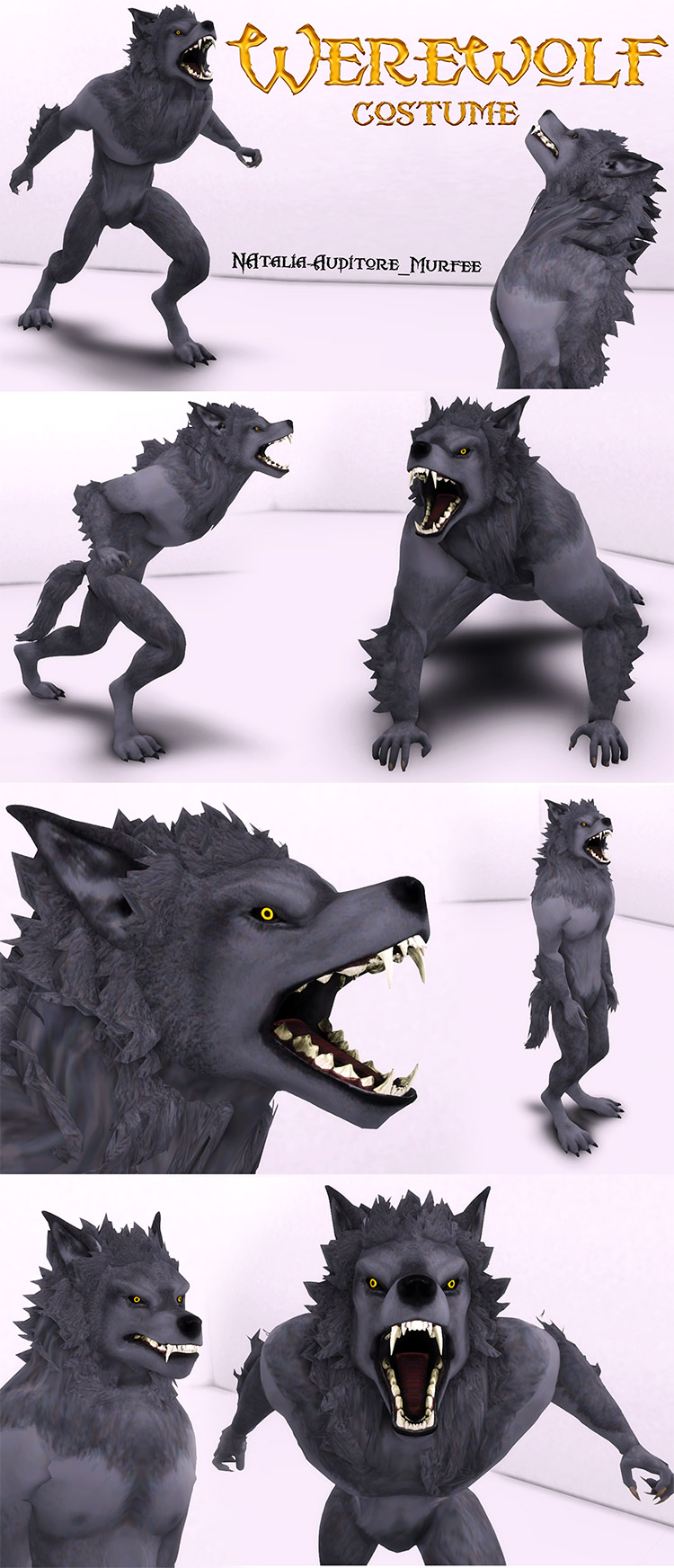 We revealed the werewolf poses earlier, and now you've got the whole outfit to really let out your inner werewolf.
This CC features a full body suit with piercing yellow eyes and an all dark grey costume.
Halloween or not, this thing is crazy.
The teeth on this suit are especially sharp. So beware if you see any werewolves creeping around town.
There are also 7 other recolors to this suit, if you want to switch up your werewolf swag over time.
This CC actually reminds me of the wolf costume in The Wolf Among Us, for any Telltale fans out there.
Wolf Rug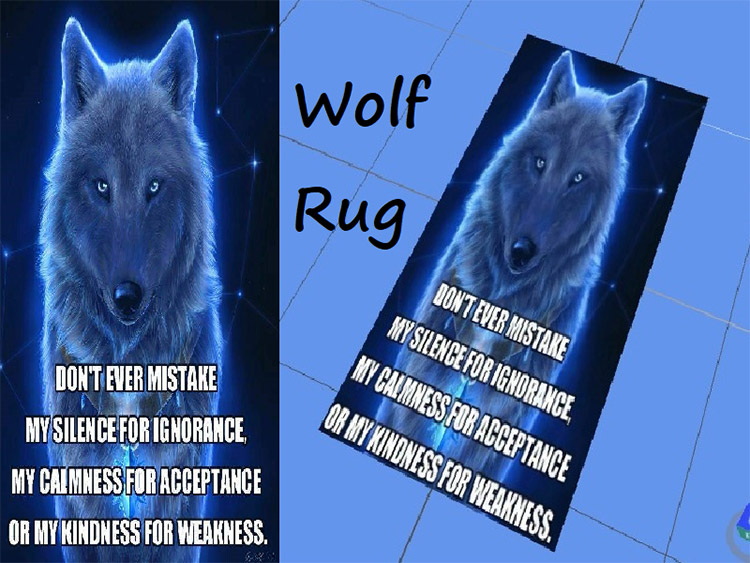 Here's another art-based piece, this time for the floor of your home.
We've already covered quite a few custom rugs, but nothing like this.
You get a slick-looking wolf with a little quote attached to it. And it looks fantastic.
This rug is perfect to place on the entrance way of a manor, or really any kind of entryway to your Sim's home.
Or even if you have a pet inspired room, this rug would be great to lay down there as well.
Just remember: don't take the wolf's kindness for weakness.
Grey Wolf Pet Mod
What screams "wolf" more than an actual wolf?
Thanks to creator Arisuka, we can add a wolf as a pet in The Sims 4. No fooling.
Grizzled with grey skin and certainly standing out from your other pets, it'll be tough raising one of these bad boys.
But if you can pull it off, you'll definitely have the coolest pet in town.
And with this mod you can really get your Sim to become a wolf master.
Browse:
Lists
The Sims 4
Video Games