The Sims 4: Best Wrap Dress CC (All Free)
This post may contain affiliate links. If you buy something we may get a small commission at no extra cost to you. (Learn more).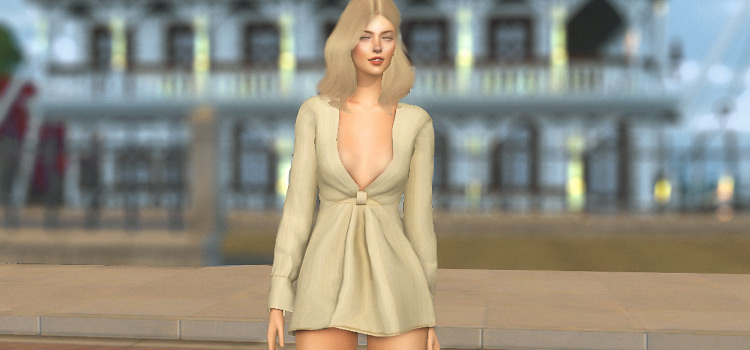 A dress with a built-in accessory? Yep, it's called a wrap dress.
And we love them.
The belts, bows, and the curvy silhouette they have are amazing.
They flatter every figure and body type out there without even trying. And it's true that Island Living and the Caribbean Content patch added a few wrap dresses.
But we're always on the lookout for more, and we're sharing our haul with you!
Calypso Wrap Dress
The Calypso dress from Viiavi is appropriately named.
Because we're getting spicy island vibes from this one.
Long, puffy sleeves and a big wrapped bow at the waist makes this dress look almost innocent. And them bam – there's a huge cutout in the back for a little bit of heat.
Choose from 25 solid swatches and 5 patterned for a total of 30. And it's base game compatible, too.
Wrapped Dress (Exclusive CC)
Keeping with the island theme is CandySims4's wrapped dress CC.
Asymmetrical, short-sleeved, and wrapped with a sash at the waist makes this a great fashion choice for all body types.
Since it literally looks like the Sims in the photo are in Sulani, we think it's safe to suggest this outfit for a quick getaway.
Find this 32-swatch dress in the full body/short dress category. And nearly the whole family (Teens to Elders) can wear it.
Morgana Wrap Dress
Was this dress named after the fabulous and woefully underrated Morgana Wolfe? Sims 3 players will remember the beautiful woman for having great taste and a less than stellar husband.
Well as far as the name goes, we're not sure. But we are hoping Morgana gave Thorton the boot and is now strutting her stuff in dresses like this.
Sentate's ball gown-like dress is wrapped at the waist, with a plunging V-neck and some leg showing. It also has billowing sleeves for a little bit of added flair and drama.
Plus you'll find 9 colors available, including red and black.
Bella Wrap Dress
Okay, now we know the last entry was named after Morgana.
It's no coincidence that yet another Sentate dress is named after a Sims icon – Bella Goth.
The model wearing this long-sleeved, wrapped and belted dress is a dead ringer for Willow Creek's very own.
Thankfully this time, the creator does confirm it's inspired by Bella. Mystery solved!
Find this dress in 8 colors, including the iconic shade of red, and even some lighter hues like pink and orange.
Kylie Wrapped Dress
There are so many fashion inspirations for all the dresses on our list. From Morgana to Bella, and now Kylie Jenner.
Never would have thought they'd be in the same sentence. But we're digging it!
We also really like Volatile-Sim's wrapped dress.
It's a fresher, younger take on some of the dresses we've shown so far. This one has a very open bust line (get the double sided tape ready!) and a very short hem.
It's very HQ and has 8 swatches, so Alpha simmers will definitely love it. And it could fit great with other Kardashian CC.
Grace Wrapped Dress
From modern to mid-century, the wrap dress will never go out of style.
And creator HezzaSims proves it with their Grace wrapped dress CC.
This dress is a little different from others, largely due to the fashionable collar. According to the creator, it's inspired by the Diane Von Furstenberg line of dresses with '70's patterns.
We personally think the starry yellow dress looks straight out of the '50's.
But with 25 patterned swatches (and 25 solid), there's bound to be some that cover a variety of decades.
Stevie Wrap Dress
Okay, there's no denying the '70's influence on this dress.
Ridgeport's Stevie wrap dress was named after the '70's fashion icon and musician herself, Stevie Nicks.
And this dress looks so comfortable. It's loosely wrapped with openings at the sleeves for maximum air flow.
We also love the just right length around the knee and calf area. You'll get 30 swatches in total, including the beautiful white and blue floral pattern featured in the photo.
And you only need the base game to download & use it.
It's a Wrap (Dress)
We love CC that features full-figured Sims.
Too often, most clothing items (CC and EA made) don't fit quite right on larger Sims, often suffering from distortions.
We're so happy to report that DeetronSims' wrap dress looks absolutely perfect on curvaceous Sims!
This dress has mid-length sleeves, a really cute sash, and a slightly longer than mid-thigh length to show off those gams.
It comes in 30 swatches of solid color and 12 of colorblocked, for a total of 42.
But best of all?
It's for all genders, Teen through Elder.
Draped Wrap Dress
The title for formal wrap dress has to go to this creation by EsyraM.
With embroidered lace accents at the neck and a thin strappy belt that gives the wrapped look, we could see Sims wearing this at a wedding (as the bridesmaid or bride!)
This CC creator suggests it for romantic outings, or possibly for cocktail events too.
Wear it in light blue, white, and pink. And it's available for teens, adults, and elders.
Greek Wrap Dress
Oh my Grecian Goddess!
There are almost no words to describe this amazing dress by Dissia, but we'll do our best.
Loose and flowing, but also form fitting, this dress is just incredible.
It could actually fit in with some of our suggested Ancient Greek CC! But obviously this can work well for any modern occasion, too.
Check it out and see what you think – you won't be disappointed.
Browse:
Lists
The Sims 4
Video Games