Sims 4 CC: Wrist Watches For Guys & Girls
This post may contain affiliate links. If you buy something we may get a small commission at no extra cost to you. (Learn more).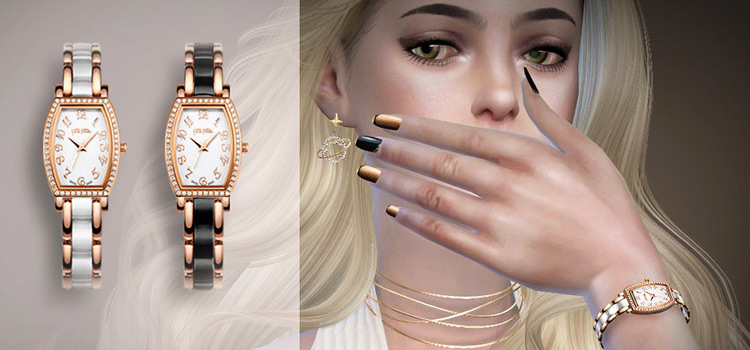 Tik-Tok on the clock!
Break out your Rolexes and Apple Watches, because today we look at the flashiest custom watches you can add into The Sims 4.
Doesn't matter if you're looking for the time or just trying to look cool. Either way, these watches help your Sims accomplish both.
Time's ticking, so let's get to it.
Eternia Watch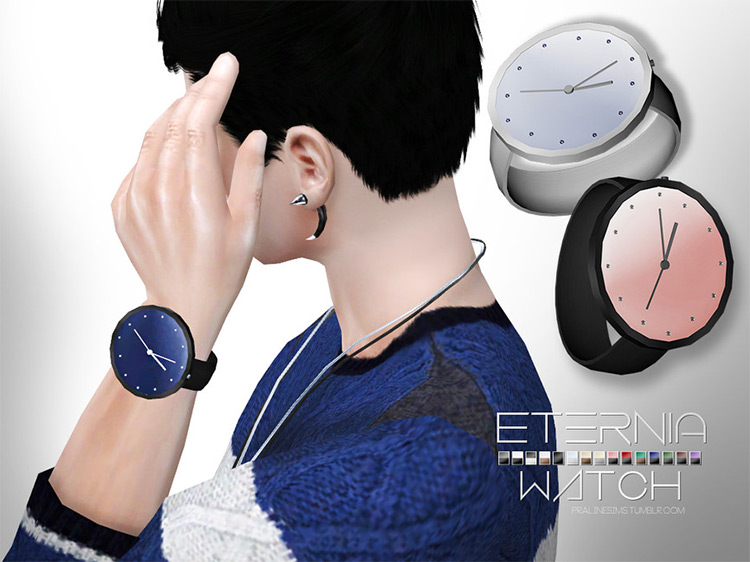 Our first watch comes from Pralinesims, and features a large round watch big enough to stand out to all your Sim friends.
The size and reflective nature of this CC makes it clearly noticeable, not to mention the whopping 15 different color selections to choose from.
If you want something big and bold, the Eternia Watch is the way to go.
Wood Style Watch
Here's the first of many CC made by creator S-Club on this list.
It comes with this unique wooden watch design, specifically made for the ladies.
It's got a cute brittle wood finish, and a simple look that goes with a lot of darker clothing.
You'll find 3 swatches included here. Not a ton, but definitely a simple take with a unique concept.
Like, who do you know that has a wooden watch?
Exactly.
Nations Watch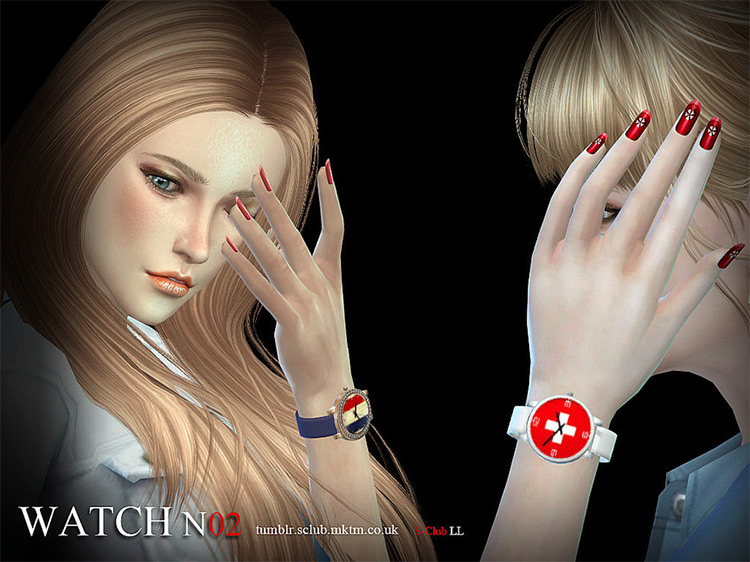 Want to represent your country in style?
Look no further than this Nations watch CC.
It offers a glimmering finish with a bracelet color that matches the country you choose, making this watch really pop out.
And the center is filled with a background design of whatever country to like (well, from the available set of them).
There's 7 different country options available including Canada, United States, England, and France, Switzerland, China, and Japan.
Emerald Watch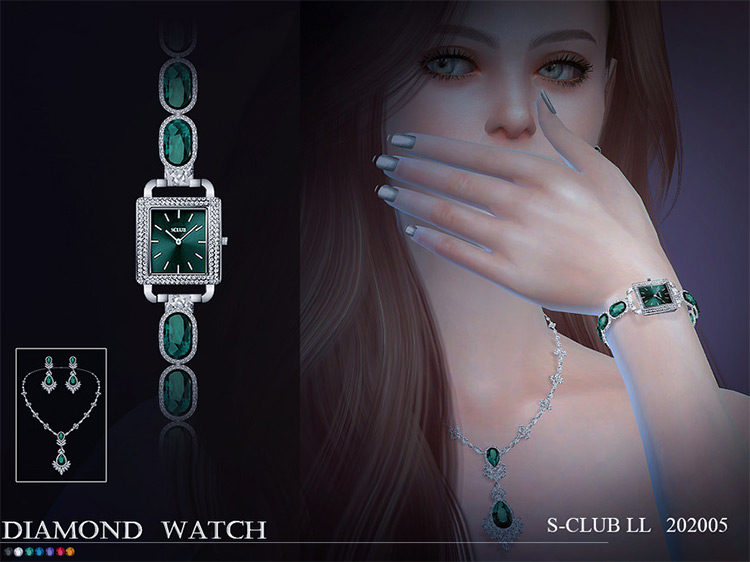 Three in a row here from S-Club who brings us this beautiful Emerald Watch CC.
Not only is the watch center made totally of emerald, but the surrounding bracelet features emerald pieces to really unify the style.
It stands out as a luxury piece, taking the best parts of necklaces and applying them to a watch.
I'd argue this is both creative and luxurious as the same time.
Square Design Watch
Sometimes you just need a modern classic.
And this watch does the trick.
You'll notice this comes with a strap pattern acting as the brace, and this watch component is designed into a small square.
Great for everyday wear.
This is certainly not too shiny or too large to be the main attraction. But it's still subtly gorgeous to go with a lot of in-game outfits.
Petal Watch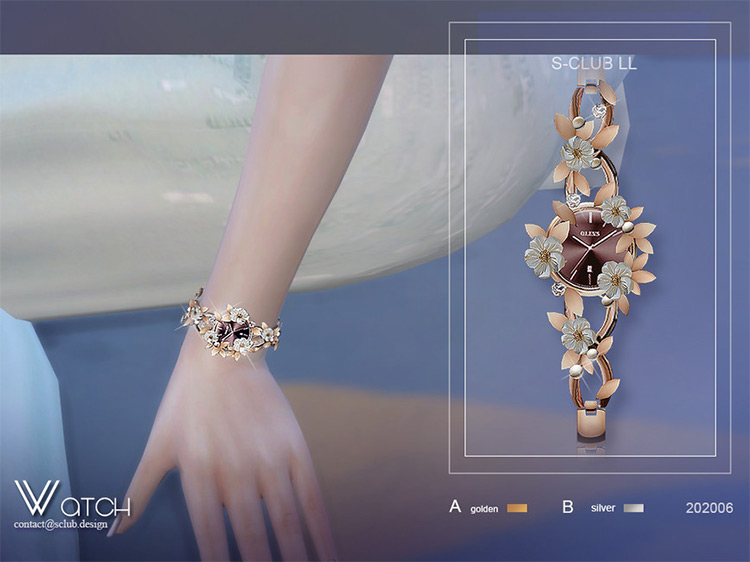 This next watch CC is glimmering with shine.
It sports a rose gold floral design acting as the bracelet, topped with a polished darker rose gold finish on the watch itself.
Truly top-of-the-line luxurious, not to mention it's an absolutely unique design with flower petals running across the brace line.
Having your Sim wear this to the fanciest parties will definitely turn a few heads.
Bunny Watch for Kids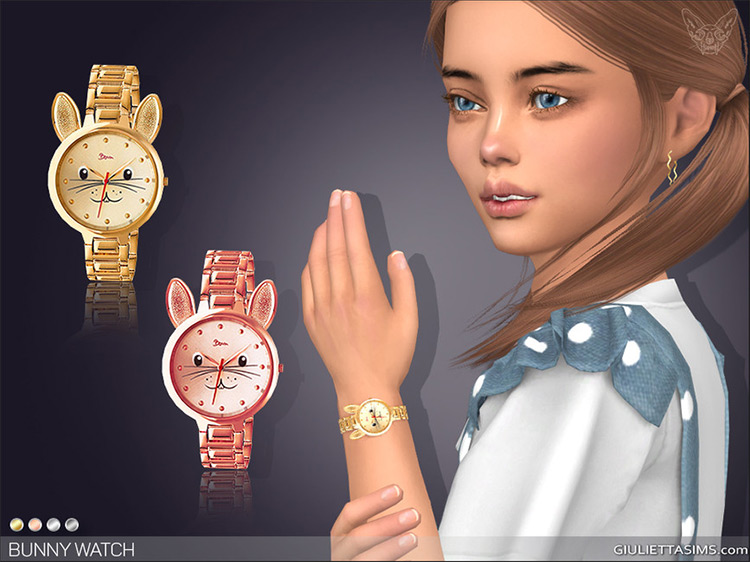 Now here's something for the kids to put on their wrist:
A cute bunny watch CC by creator feyona.
It comes with a pretty basic design featuring a bunny face on the watch face, and little ears at the sides to complete the little hare's look.
You'll get 4 unique swatches here including a candy pink and pure gold.
Creator Feyona also includes a toddler version too, for those Sims trying to add a watch onto their little crawlers.
IIX Watch
S-Club's final appearance on this list is a good one.
With this CC you'll get a gorgeous black leather strap watch, finished with a triangle design in the center.
The triangle finish is by far the most unique watch finish on this list, and would be a great buy even in the real world.
If you want your Sim to come off looking like a high-end business person, this watch will definitely help sell that look.
Apple Nike Sports Watch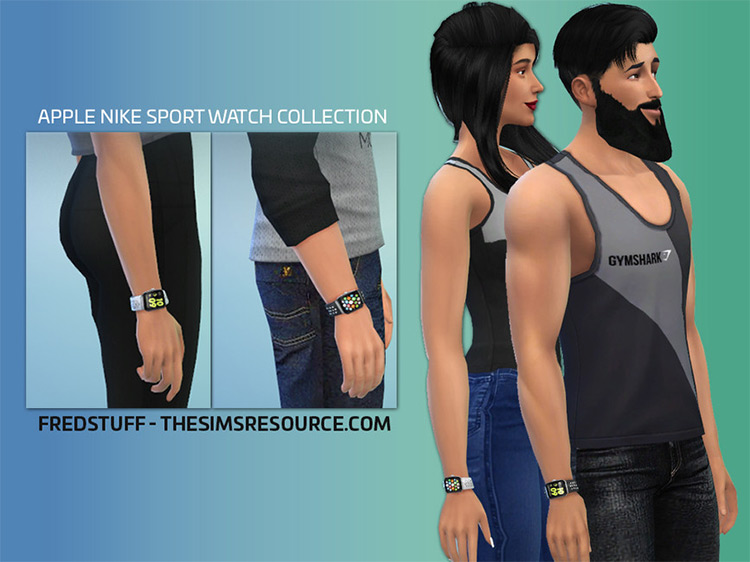 Everyone loves some realism in their Sims world.
And now we can connect our Sims' smartphones to these smart watches.
Coming in colors such as grey, white, and black; this watch is modelled around the real-life Apple Watch. And it looks incredible.
Take your calls, track your fitness, and look cool doing it with this in-game version of the Apple Watch. How could any Sim pass this up?
Linda Diamond Watch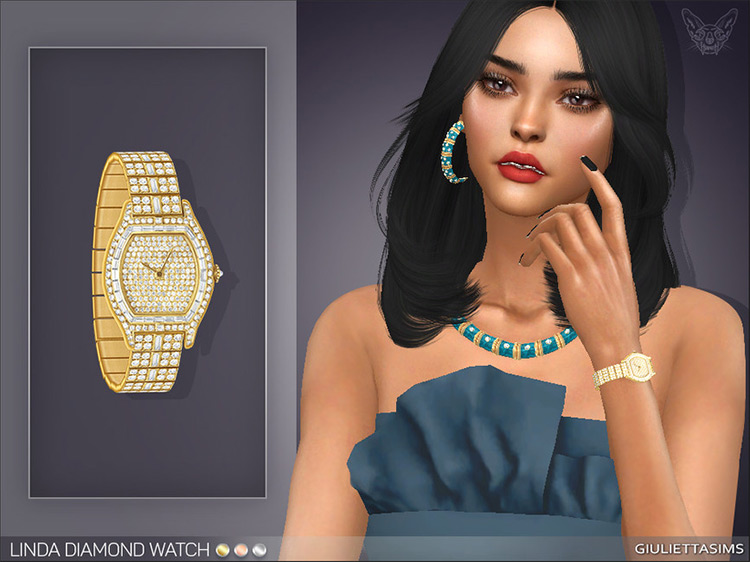 Talk about bling-bling.
CC Creator feyona hits it out of the park with this over-the-top decked-out watch.
It's totally drowned in diamonds, making it pretty eye-catching and masterfully beautiful. And probably a watch really made for girls (it is a female CAS CC, after all).
But this could make a stunning gift for your male Sim to snag for his anniversary.
Or if you're feeling spoiled, maybe even have your lady pick this up for herself.
This watch is truly the definition of having a house on your wrist.
You'll find 3 swatches included, but the original gold design is definitely the most stunning.
Browse:
Lists
The Sims 4
Video Games