Best Sims 4 Yoga Pants CC: The Ultimate List
This post may contain affiliate links. If you buy something we may get a small commission at no extra cost to you. (Learn more).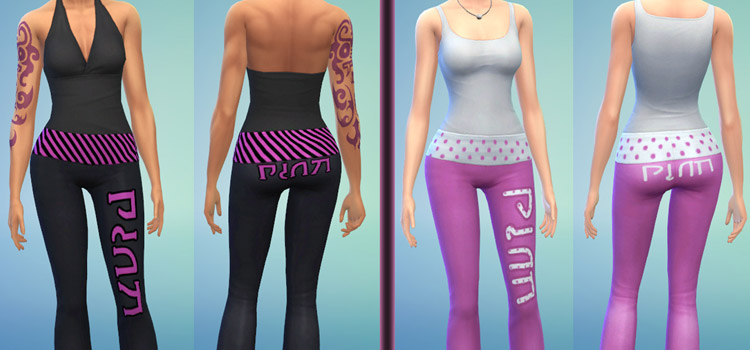 Everyone loves a good pair of yoga pants.
They have to be one of the best modern inventions.
Forget electricity and plumbing, the real marvel of humanity is form-fitting pants that you can use with an endless amount of outfits and activities.
Even jeans, as much a beloved wardrobe stable as they are, can be a bit oppressive at times.
But you really never have to worry about yoga pants ripping, sagging, or restricting your movement. Not to mention they're a much more comfortable alternative.
And your Sims will surely thank you for adding a few more yoga pants options to their dresser, so check out this CC list and see what you can find.
1.

MP Yoga Pants
It's always good to start off with something new and unique.
And these pants from MartyP definitely hit the mark for both.
The bright multi-colored stripes will give your Sim's lower half an almost psychedelic effect. And honestly I think that's beautiful.
The bright shades of pink, yellow, green, and white fit well against the black shade. It creates a unique contrasting appearance.
2.

Layerable Yoga Pants
W-Sims has made it so that at long last, we can layer yoga pants under other bottoms.
People do this all of the time in real life.
So it's a mystery why our Sims are so limited.
Yoga pants under shorts is a quick-fix if you're worried about modesty or warmth, or simply want to be a little extra stylish.
The coolest part of all is that these are available to both male and female Sims, so nobody has to miss out.
3.

Athletic Pants Collection
A lot of things have been said about Simmers.
Our expectations are too high, or we're picky.
And there's always that lingering rumor that a lot of players have a sadistic side and are a little too involved with how their Sims die…
But if there's anything that'll never be said, it's that our Sims don't look darn good.
I'd say it's no exaggeration that most of us spend at least half of our playing hours in CAS. So of course you want to have good options for clothes, and lots of them.
If you relate to that, then this collection of athletic pants from Pinkzombiecupcakes is a must-have.
There are twenty different swatches here of the latest and greatest styles from Nike, in a variety of awesome patterns and colors.
4.

Yoga Leggings
What is it about black pants with a white stripe that just look so darn good?
So basic, yet so classic.
There are other swatches available for this CC in nice bright colors if you want something with a little more flair. Plus one completely black option as well.
Like most of the popular yoga pants today, these are form-fitting and have a slightly cropped leg.
I don't know who decided we look better with a little bit of ankle exposed, but I'm glad they did.
Somehow it always makes you look a little more put together than baggy pants.
5.

White VS Yoga Pants
At first glance, I couldn't get over how familiar these looked. And I was wondering if it was a conversation from another game.
Then it hit me that the "VS" stands for Victoria's Secret, and that's where I've seen them before.
As one of the most beloved and sought-after brands in the world, girls everywhere have been looking for Victoria's Secret clothes. Especially from their PINK line.
Any sensible clothing manufacturer nowadays offers athleisure options. So it's no wonder VS always manages to bring people the best of everything: comfort, style, and individualism.
Well, maybe it's not quite individualism, if so many people have the same exact thing… but hey, that only means that it's worthy of the hype.
6.

Base Game Yoga Pants Recolors
How great would it be if you could just have 35 pairs of your favorite pants in different colors?
I guess theoretically you can, if you want to spend a whole lot of money on essentially the same thing.
Sims have no such woes.
You can change the swatch of their pants in the blink of an eye. And with such a beautiful array of options available here, you might decide to have more than one yoga pants based outfit.
There are shades of yellow, green, blue, purple, pink, and red, that all range from light to dark shades with everything in between.
7.

Elastic Yoga Pants
If I was personally going to wear any of the pants on this list, I'd probably go with these.
They simply look comfortable.
High-waisted yoga pants are the perfect thing to wear throughout the day, whether you're going for a jog, lounging around the house, or doing a bit of both.
Now my Sims have a much more diverse style. I force them to.
It's not like they have to worry about staining their clothes or ripping them.
So whether you pick one of the beautiful swatches for your Sim's everyday or athletic outfits, I'm sure they won't be disappointed.
8.

Simsational Yoga Sweatpants
Lastly, we have an option for your guy Sims – we don't want them to feel left out!
These sweatpants are exactly what I'd picture a laid back yoga-loving man to wear.
That might be stereotyping a little bit, but hey, they look good.
I've never seen someone dressed like a slob while doing yoga. I think that would be kind of an oxymoron or something…
How can you find your inner peace if your clothes are a mess?
But these yoga sweatpants also have a very practical appearance. No worries about getting hung up on the legs either, since they're cropped just below the knee.
They're snug around the hips as well, with the drawstrings tied in a little bow. Plus with 20 total swatches, you can't go wrong.
Browse:
Lists
The Sims 4
Video Games