Sims 4 Zen Garden & Sand Garden CC
This post may contain affiliate links. If you buy something we may get a small commission at no extra cost to you. (Learn more).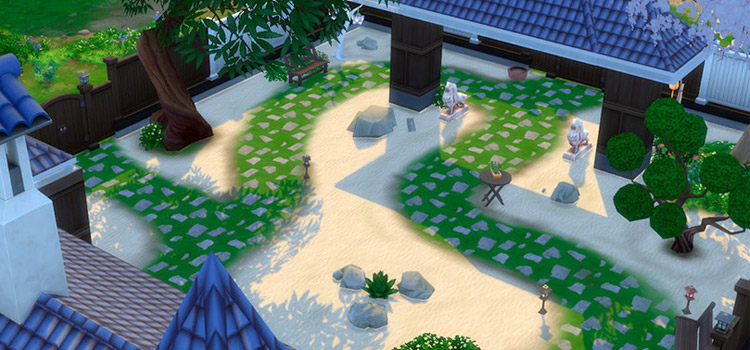 I think it's safe to say The Sims can be quite stressful at times, for both the Sims themselves as well as for us players.
Pretty much every day is a grind, just trying to make enough money to pay the bills while struggling to get enough food, sleep, and relaxation.
That certainly hits close to home, right?
Thankfully, creating a calming and peaceful space in The Sims is much easier than it is in real life.
With all of the wonderful CC out there, your Sims will have ample supplies for a zen garden – inside or out!
1.

Zen Garden Sand Floor Tile
If you'd like to build your Sims their own interactive zen garden (either on their lot or in a park), this CC is really the first step.
Sure, there are some sand terrain paints in the game. But none quite like this.
These floor tiles come pre-raked, so right off the bat the ground will be neat and satisfying.
It's in a five tile size too – perfect for any backyard.
2.

Japanese Rock Garden
The "rules" surrounding these rock gardens are pretty broad.
At their most basic, it seems all you really need is water, rocks, and sand.
But there are still many ways to expand upon those concepts, as evidenced by this lot from SimValera.
This creator clearly took a lot of inspiration from the zen garden's country of origin.
This wonderful little park even features some Japanese architecture and decor. Even the trees are a nod to the country's beautiful nature.
The stone statues, water fountains, and sandy paths are the perfect way to make peace and tranquility available to all.
3.

TS2 to TS4 Zen Garden as Dollhouse
Kids need tranquility too, right?
It would probably at least help out their parents.
This CC conversion from The Sims 2 makes it so that children in The Sims 4 can have a little zen garden of their own.
It functions as a doll house, so they can even play in it. That's pretty fitting, if you ask me.
Most kids probably won't be interested in raking sand or decorating a patch of it. But playing in it? Heck yeah!
Basically, this is the sandbox all of us family players have been wanting for years, with a nice zen twist.
4.

Sand (Floor Set)
Here we have some more ways to customize your Sim's sandy spaces.
This CC set contains six different swatches of sand floor terrains in all different colors and textures.
From the white sands like you see on Atlantic beaches, to the dark sand of lakes, there are plenty of options available here.
They even come in varying degrees of flat or rippled styles.
It's up to you whether you want an undisturbed look, or sand that looks like it has seen some action.
5.

Decorative Zen Garden
If it's less of a project you want, and more of a decorative indoor piece, then this little item from CC maker kardofe is just the thing for you.
It's a small tabletop zen garden complete with a rake, rocks, and candles.
Your Sims are sure to appreciate this in their living room, bedroom, office – heck, maybe even the laundry room.
The whole house can benefit from some peace and calm, right?
6.

Functional Water Pump & Jangdoks
I know zen gardens are traditionally from Japanese culture. But the beauty of The Sims is that you can melt things together a little bit.
It's even necessary sometimes, to get the appropriate look.
And these items from OhMySims will fit right into your garden.
Everyone knows how relaxing water is. So what better way to incorporate that into The Sims than with a functional water pump?
After a day of tending their beautiful plants and sand, your Sims will never have to leave the sanctity of the outdoors to wash their hands.
Also included here are some jangdoks – outdoor crocks, basically. There are several sizes here, and one even contains some lilypads on water, like the world's most adorable miniature pond.
7.

Bird Bath + Bird Effects
Some people may disagree, but to me nothing is more relaxing than appreciating wildlife.
And you don't have to go to a zoo to do that (not that you can in The Sims…yet).
Your Sims can finally appreciate the beauty of nature right from their backyard with a custom bird bath.
And now that object is no longer a statue that'll never see a single feathered friend.
Thanks to Bakie, it's now animated!
Once placed on your lot, a Blue Jay and American Goldfinch will appear perched on the back, pecking at the water.
8.

Edith Garden Clutter
Once your sand garden is all decked out in decor, plants, and terrain, your Sims will need somewhere to sit and enjoy it.
There are already some benches in the game, sure. But it's always nice to have some items that don't also appear in the public park.
The hanging chair included here is a dream for any outdoorsy zen Sim.
Place beneath any tree to really get them into nature.
This CC set also includes some more decorative clutter items, enabling you to even have a 'work in progress' zen garden if you wish. The compost sacks definitely say there's some work left to do!
9.

Tree Bench
This bench is another lovely way to make seating a part of the garden itself.
It's just a circular seat that wraps around a tree, so your Sims can be surrounded by nature from every angle.
Once again, this is an item converted from The Sims 2. People were clearly a lot more zen in 2004.
These lovely worn wood swatches will fit right into any rugged outdoor space, while the painted options will make for a look that's a little more polished.
10.

Llama Fountain
With the everlasting llama love in this franchise, it just wouldn't make sense to not have a llama fountain.
I think this is a perfect way to maintain the game's lighthearted style, as well as include some history.
For three installments now, these creatures have become beloved figures again and again.
This large fountain will be a great addition to your zen or sand garden, whether it's on land or water. That's right, it will work on both!
So feel free to go crazy with outdoor plants and ponds, with this CC as the centerpiece.
Browse:
Lists
The Sims 4
Video Games