Sims 4 Zodiac-Themed CC: Clothes, Tattoos & More
This post may contain affiliate links. If you buy something we may get a small commission at no extra cost to you. (Learn more).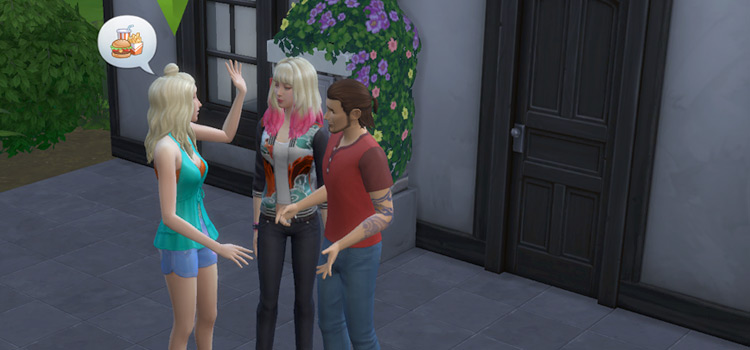 Whether you believe in them or not, you can't deny how popular the zodiac is in our culture.
Horoscopes, star and moon signs, friend and relationship compatibility charts… For some people, the zodiac plays a huge part in their lives.
And it's even been in The Sims franchise before, found in Sims 2 and Sims 3.
For some reason, it's absent in The Sims 4 unless you have mods.
So we're super glad to share these awesome zodiac-themed items to add more astrology to your game.
12.

Zodiac Signs Tattoos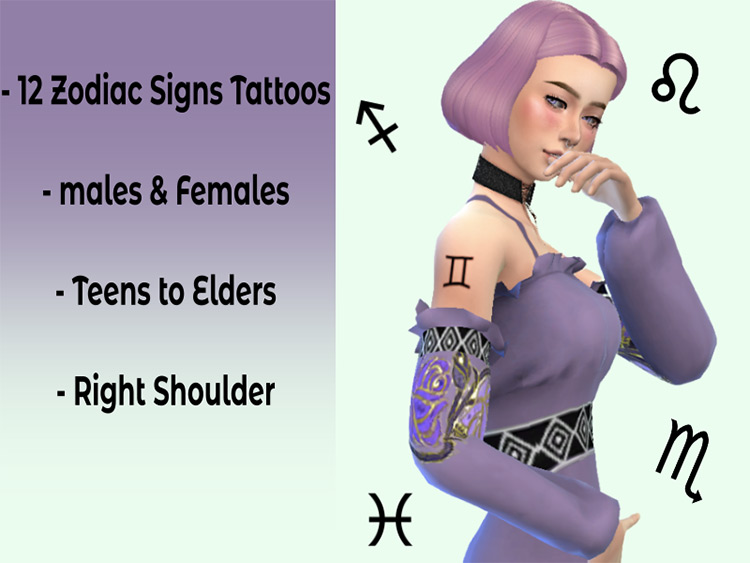 Show off your Sim's astrological sign with these cute zodiac tattoos from Razbies.
It includes all 12 zodiac signs so no one's left out. These are simple, but bold and all black, so it'll show up on all skin tones and sizes.
All genders and Teens through Elders can wear these as well.
Equip them on the right shoulder in the tattoo section of CAS.
11.

Bathroom Pisces Décor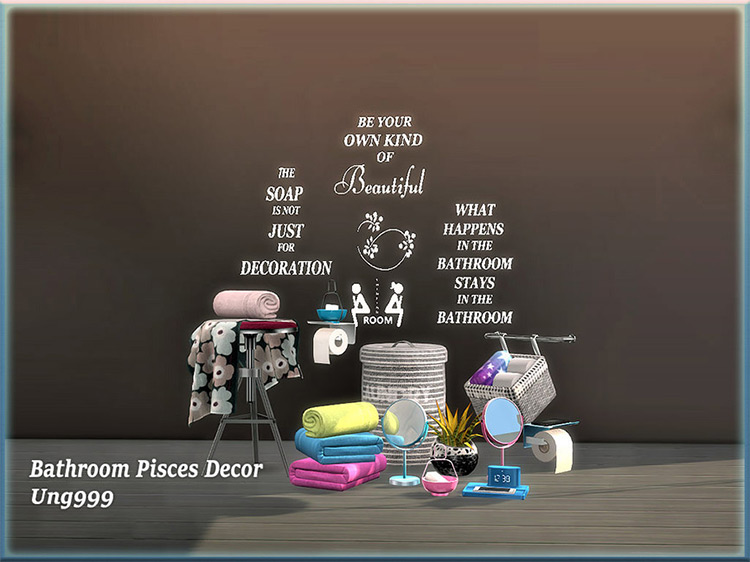 Pisces are known for daydreaming, loving comfort, and relaxation.
They're also a water sign, so naturally they'd be drawn to calming water like an ocean, lake or bath.
Ung999's bathroom Pisces décor set takes all of that into mind, providing the aesthetic every Pisces needs to be swept away.
There are 14 items in this CC set, including towels, wall decals and some super cute potted plants.
You'll need an updated base game to use this set, but that's all.
10.

Gemini Birthmarks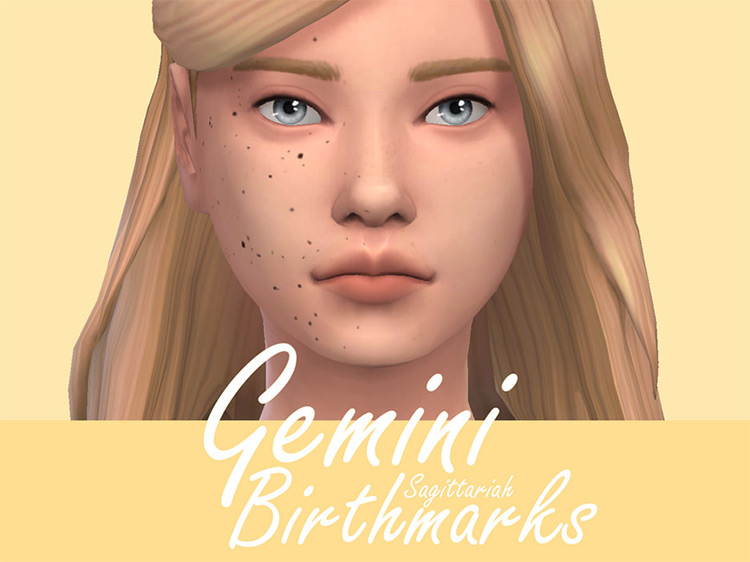 We all have two sides, but the zodiac sign most known for dual traits has to be Gemini.
And this custom birthmark overlay from CC maker Sattigariah is a unique take on the sign's reputation for having two unique personalities.
A full half of beautiful freckles dot one side of the face, while the other is completely bare.
Gemini or not, your Sim will stand out with this skin detail. There's only one swatch here, which is fully base game compatible.
9.

Astrology Posters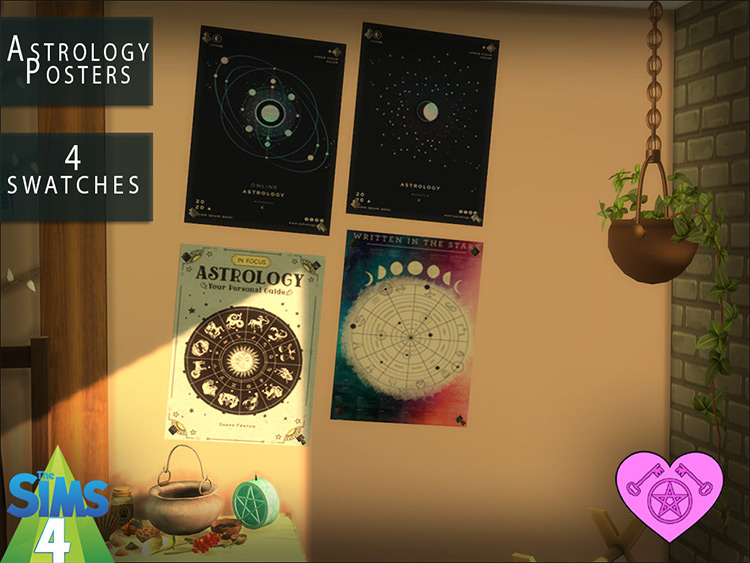 Zodiac tattoos might be a bit too much for your Sim.
How about something a little less permanent, like wall art?
If this sounds good to you, check out this set of custom astrological wall posters. There's plenty to love here, including the custom natal chart and moon phase poster.
Definitely serves as a conversation starter for new friends and acquaintances for your Sims.
8.

Zodiac Sign Leo T-Shirt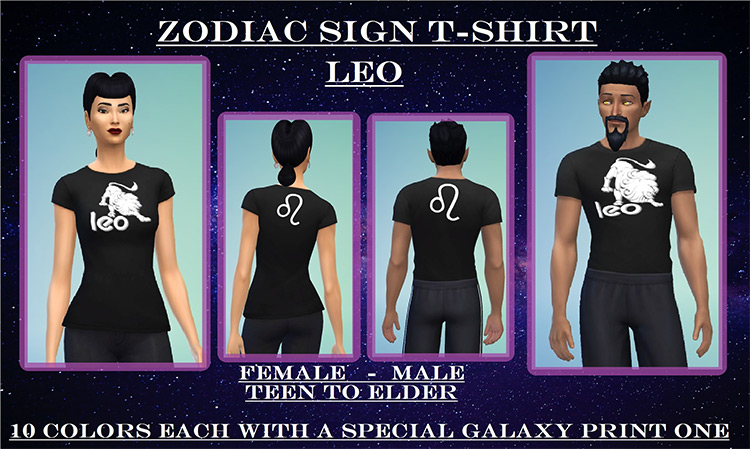 Is your Sim self-confident and ambitious?
Chances are that they're a Leo.
With arguably the coolest animal representation of all the zodiac signs, this shirt from OmegaSims prominently features a lion on the front and the Leo symbol on the back.
And it's not just the black and white swatch shown in the photo:
This shirt comes in a total of 10 colors, for male and female Sims that are aged Teen and up.
7.

Zodiac Cancer Lipstick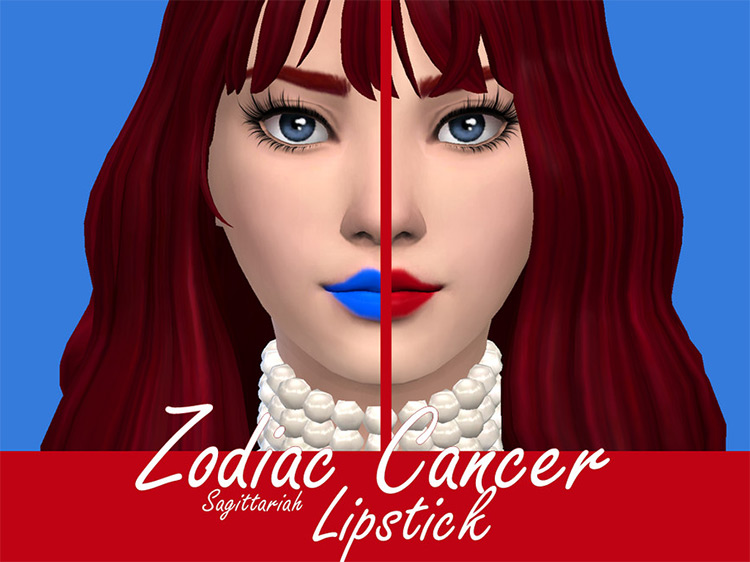 Cancers are known as sweet & loving souls with a kind disposition.
They're also known for having a keen fashion sense.
If this sounds like your Sim, then this zodiac Cancer lipstick will suit them perfectly. We're not sure if this second creation from Sagittariah is one solid color or split down the middle, but it looks really cool either way.
And one thing's for sure:
The blue and red colors are bold and really stand out. Plus there are 5 other swatches to choose from.
6.

Sagittarius Eyeshadow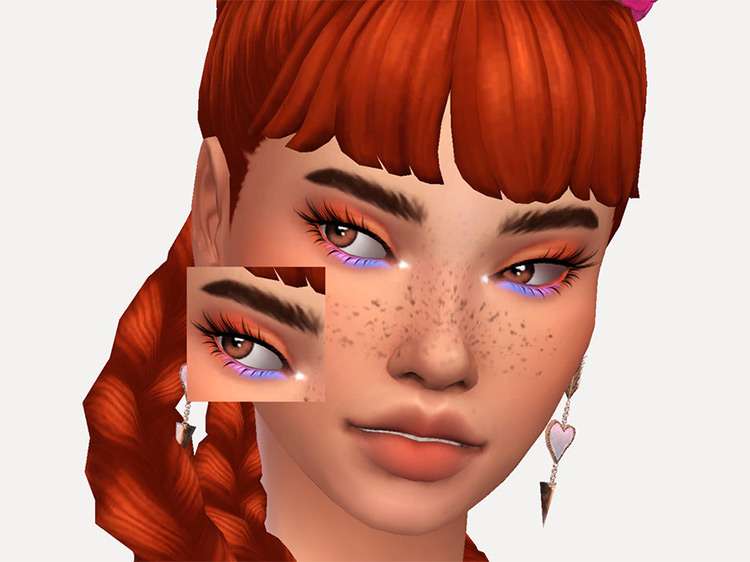 If Sagittarius Sims have the kind of eye for makeup like this eyeshadow, then we can definitely be friends.
This is the last Sagittariah creation on our list – but it's just as awesome as the first.
This eyeshadow covers above and below the lid, fading into a colorful gradient that reminds us of the rainbow.
It's also base game compatible, with 20 swatches total, and also disallowed for random sims.
5.

Zodiac Necklaces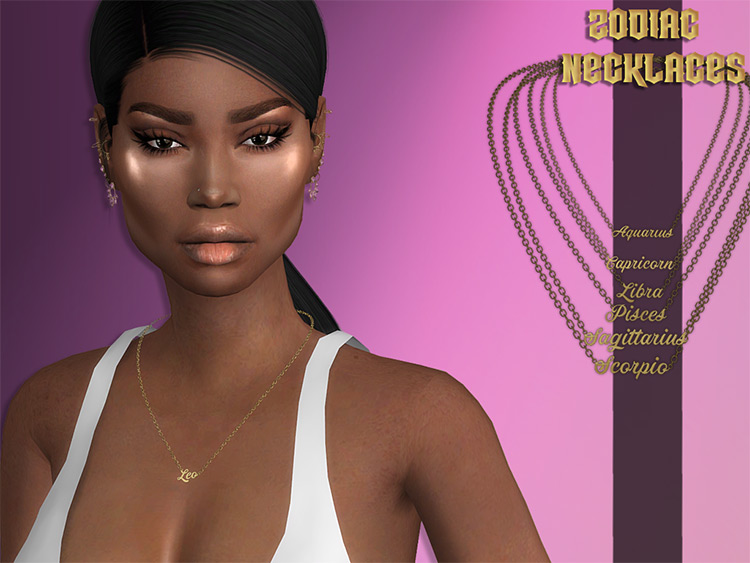 It's not uncommon for some zodiac signs to be left out of lists like these.
Since we cater to all, rest assured that your sign is included in this zodiac necklace set.
Vittler's zodiac necklaces CC pack all come with a gold chain and a plated name with each zodiac sign. We love how realistic it looks, since we've all seen something like it in jewelry and fashion stores.
These are high poly HQ necklaces that come in five different colors each.
4.

Zodiac Mini Skirt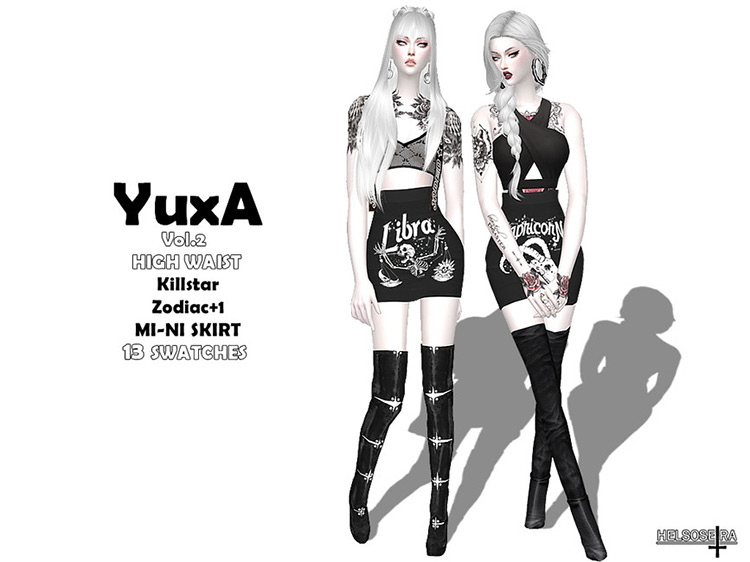 Here's yet another item that has the whole zodiac covered!
Helsoseira's mini skirt CC looks to be a black jean skirt with 13 swatches:
One for each zodiac sign, and one style without any signs.
It's definitely an edgy look. Especially if paired with items like what's shown in the photo.
And you can choose from 13 swatches here, plus it works for Teens through Elders that can wear these skirts pretty much whenever: everyday outfits, formal attire, party nights, whatever works.
3.

Killstar Zodiac Loose Tee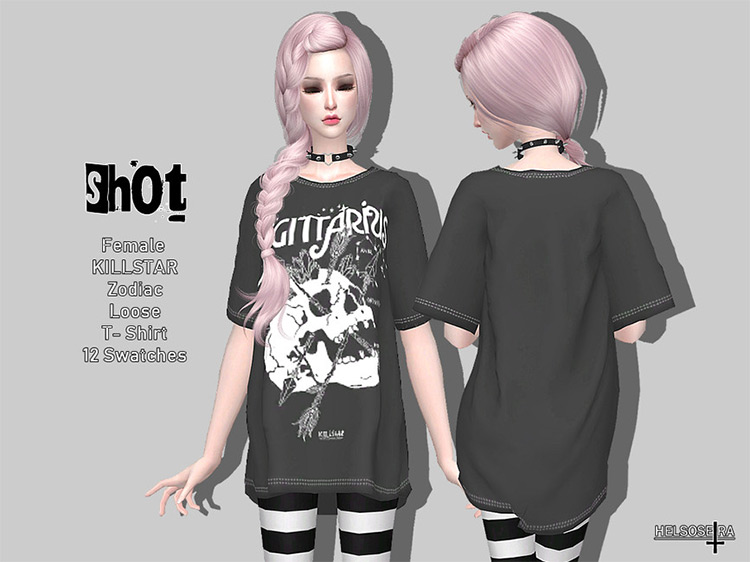 It's only right to have a matching tee for zodiac fans.
The same CC creator from our last entry has a companion zodiac shirt for all your Sim's astrology outfits.
It's got the same black and white color scheme as the skirt, with different depictions of skulls on each one.
Spooky!
The same info applies here with age and outfit categories, too. And both of these CCs are base-game compatible, if you were wondering.
2.

Aries Layered Tattoo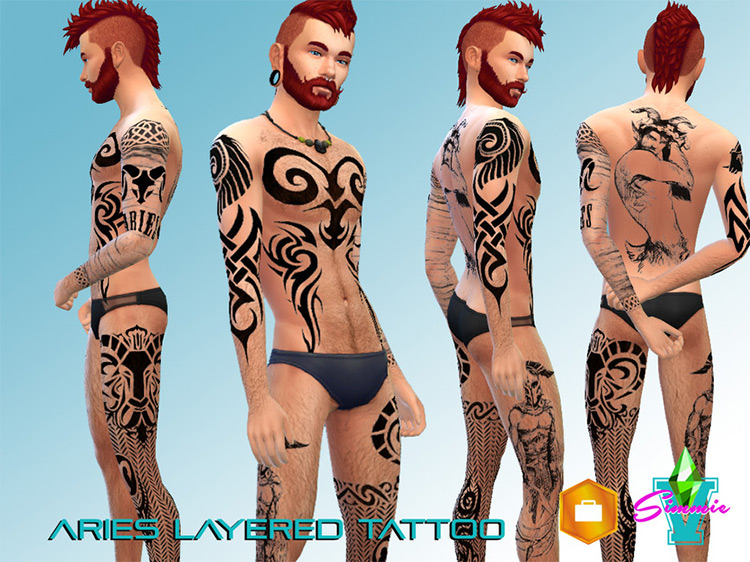 Have an Aries guy Sim that needs a full body zodiac tattoo?
SimmieV had him in mind while creating this – and now your Sim can rock it.
This tattoo is so detailed that we're having a hard time wrapping our heads around it:
There are individual pieces for the full body, chest, back, full torso, arms, legs, and back that layer to create one big Aries-tastic tattoo.
It only comes in one color (black) and you'll need to own Get to Work too, since this uses a tattoo mesh from that pack. But it's worth the effort.
1.

Zodiac Trait Pack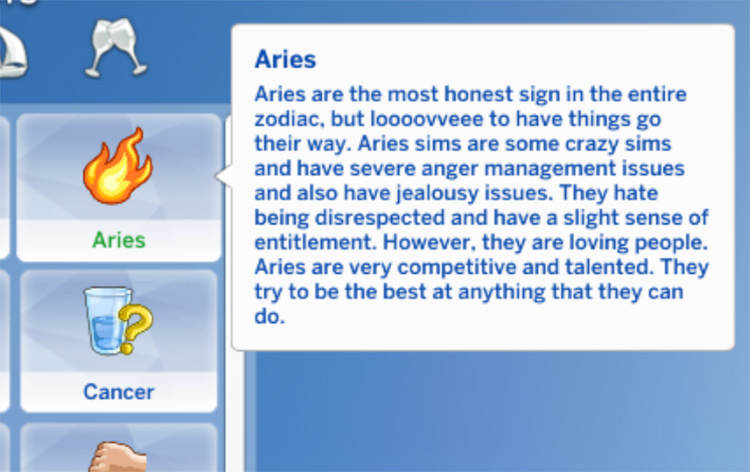 No amount of tattoos, clothes, or décor can really make a Sim behave like one particular zodiac.
But traits can.
SkillfulSimmer's Zodiac Trait pack has every single zodiac sign's trait all included in this one mod.
Each trait comes with custom whims and even unique relationship/stat changes. For example, Scorpios love love, so many of their whims involve WooHoo.
But they're also creative, so they gain that skill faster than the average Sim.
There are pros and cons to all signs (just like real life!), so have fun exploring all the traits to see how they can affect your gameplay.
Browse:
Lists
The Sims 4
Video Games