Top 30 Best Mods For Skater XL (All Free)
This post may contain affiliate links. If you buy something we may get a small commission at no extra cost to you. (Learn more).
A lot of skating games have been released over the years. But few innovated the genre as much as Skater XL, right up there with the THPS series.
With its unique control scheme that maps the skater's feet to the two analog sticks, there's a lot to love about this title.
And while the console games may not fit everyone's idea of fun, things are very different on PC.
With a lively modding community offering lots of new features, there's weeks (if not moths) of fun to be had here. So let's dive into some of the best ones to get your hands on.
30.

MusicMod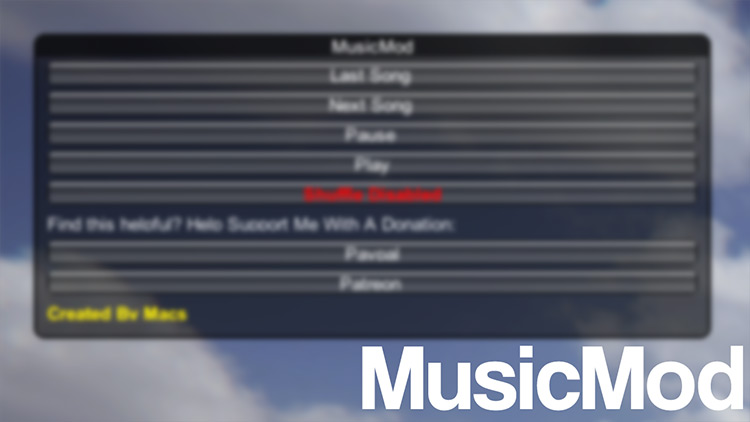 There's nothing like being able to perform all your favorite tricks in your favorite skatepark, all while listening to your favorite track. On endless repeat.
MusicMod gives you better control of the Skater XL BGM music by adding shuffle, pause, and play options. These are surprisingly not present in the game's vanilla settings.
The ability to add your own music is still far off in the future, sadly. So this will have to do for now, as far as in-game musical changes go.
29.

Grizzly Griptape Pack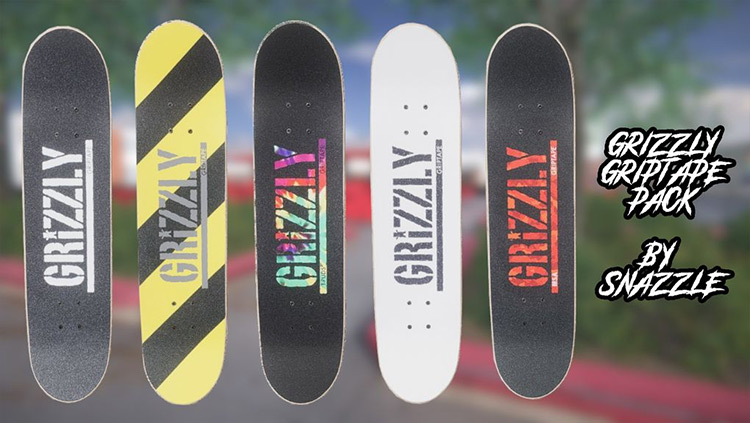 Time to make your board roar with each and every grind!
While the Grizzly Griptape Pack will sadly not let you do so in any capacity, it will still make you a much more stylish skater by giving you access to 12 new grip tapes for your board.
I personally like the yellow and black one: it really screams danger, doesn't it?
28.

Nike Gradient Shorts Pack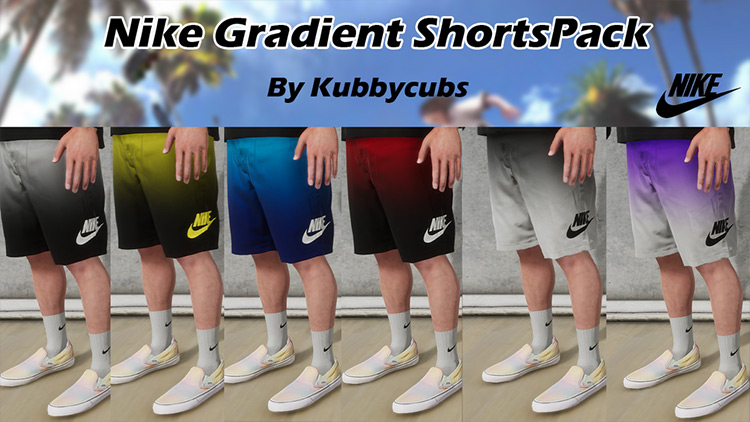 You see that rail over there just asking for a grind?
Just do it!
And what better way than wearing some nice Nike shorts? This Nike Gradient Shorts Pack introduces 6 different shorts that look fantastic. Perfect for that hot summer skating weather.
27.

Primitive Clothing Pack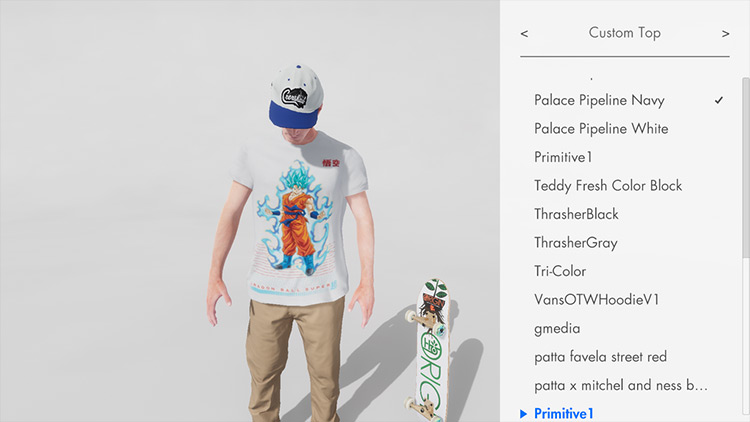 In Skater XL, as in life, there's no such thing as looking too cool.
Always take things to the next level.
This Primitive Clothing Pack is another set of custom clothes. So you can look cooler than ever with new shirts, hats, and hoodies that can be used to customize your character.
They won't make you a better skater in any way, though. So you'd better keep practicing: don't want to be seen as a poser, do you?
26.

Nike Air Force 1-3 White
Few shoes scream "skater" like the Nike Air Force designs.
And the time has come to let them scream Skater XL!
This mod introduces the iconic shoes into the game, complete with an extremely faithful design that will make you the talk of the virtual skatepark.
25.

Skate Dice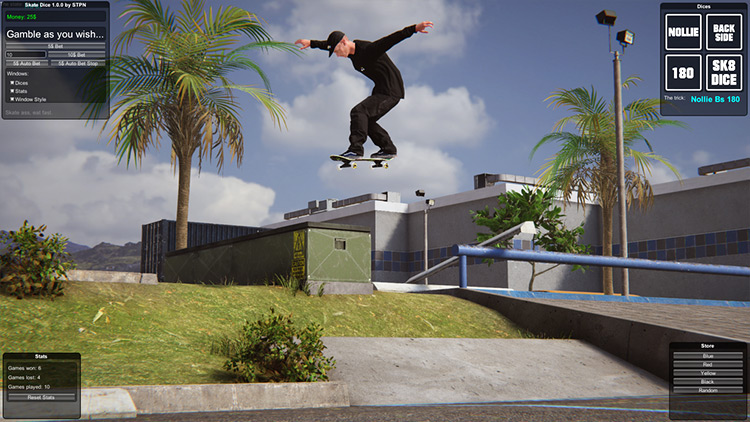 Gambling is bad, folks. You can never know when your good luck will turn bad.
Well the Skate Dice mod, while still in beta, adds some very interesting twists to the game.
It's basically challenging you to complete tricks picked at random, and gamble any amount of money on your success. Things are still a little buggy here, so some of your tricks may not get recognized.
But the thrills you get while playing with this installed will be more than worth the testing time.
24.

Macs' Camera Utils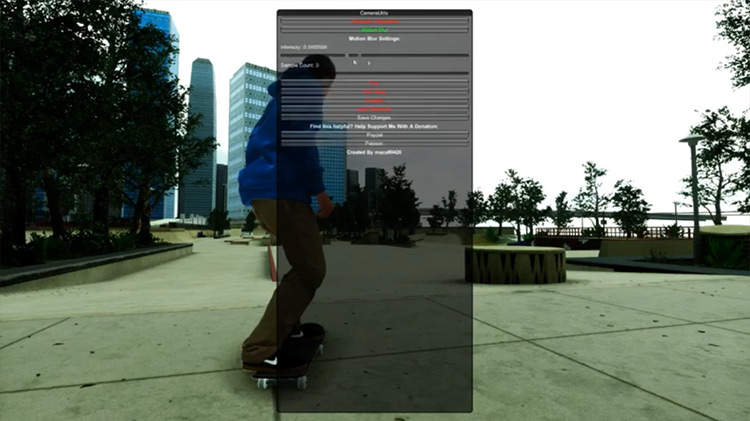 A playable photo mode? Where do I sign up for that?
Macs' Camera Utils mod gives you full control of the in-game camera.
This way you can activate a variety of options and effects like Chromatic Aberration, Film Grain, Lens Distortion, Fog, and many others.
The downside is that you may get some performance drops. So experiment with the mod to find the right balance, and make Skater XL get a style it never has before!
23.

Rainset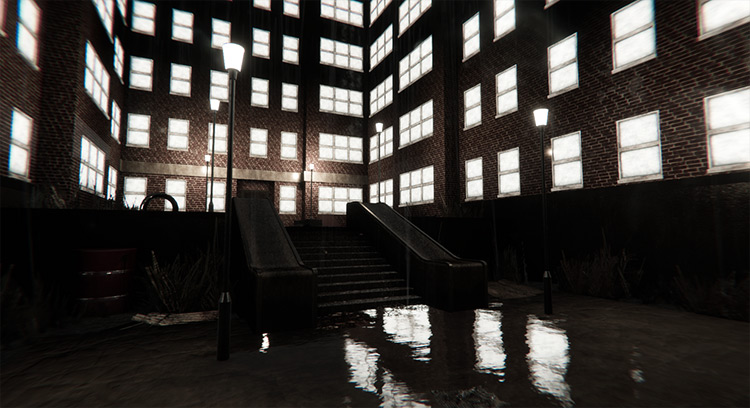 Remember the good old Skater XL beta days?
You definitely will, with this mod installed.
Those keen-eyed reading this who supported the game since its early days will surely recognize the RainSet, an extremely small but beautiful place that's based upon the original SnowSet… but with 100% less snow, 100% more rain and danger. Slippery when wet.
22.

Schoolyard Day
Schoolyards make for excellent skating spots.
And they make it easy to separate the wheat from the chaff: those who cannot dodge a few schoolgirls have no right to call themselves skaters.
The Schoolyard Day skate park is an excellent custom skate park map filled with tons of elements that'll let you express your creativity without having to worry about injuring anyone but yourself.
21.

XXL Skin Pack
Skater XL has now evolved one step further, becoming Skater XXL!
This XXL Skin Pack is a massive skin pack that adds tons of customization options for your character.
These include new facial overlays, tattoo overlays, better eyes, and even some scary-looking contacts that will have every skater in the park looking up to you, even before you start skating. Effective.
20.

Controller Rumble Mod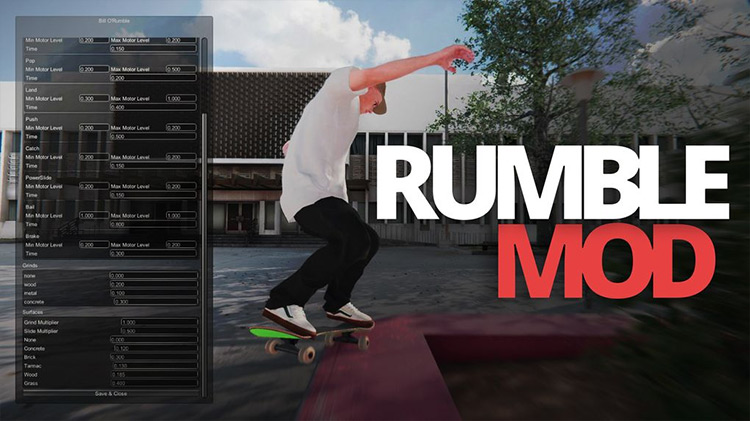 Let's get ready to rumble!
I mean with modding, of course.
Controller Rumble is among the most straightforward Skater XL mods developed so far.
Install it using the Unity Mod Manager, press F9 while in-game, and tweak your controller's rumbling to your heart's content.
19.

Skate's Cyber Spot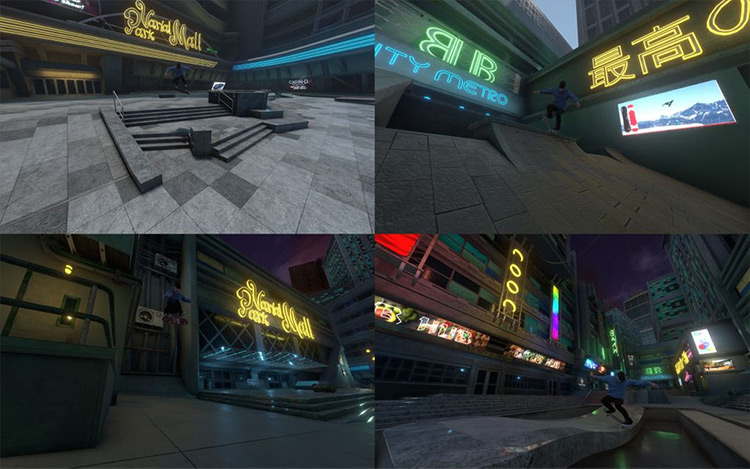 A skatepark with a solid art direction?
That's exactly what Skater XL needed.
Skate's Cyber Spot sports an amazing atmosphere that almost feels cyberpunkish. It has tons of neon lights, electronic billboards, and many other objects that you can use to perform the most amazing tricks this side of Compton.
The level of detail is so surreal that all the other skate parks will feel like beta versions, trust me.
18.

The Open Road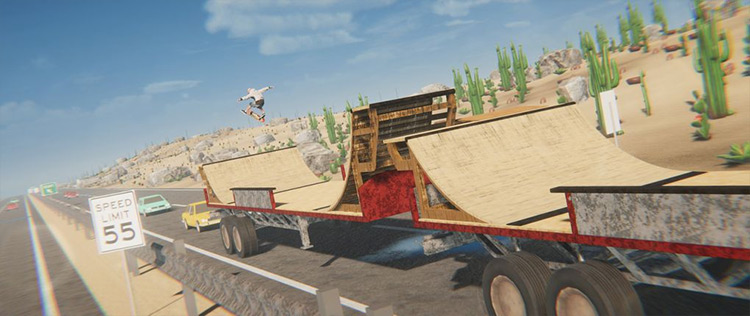 Skate parks have changed a lot since the very first skating video games.
Who would have thought that a park set on a highway would have been so cool back in the day?
This Open Road skatepark is an amazing-looking and fun-to-play custom park set on a big highway.
It features everything you would want from a good park like decks, rails, and pipes. Thank the skating gods for trucks: they really make the impossible happen.
17.

Industrial Zone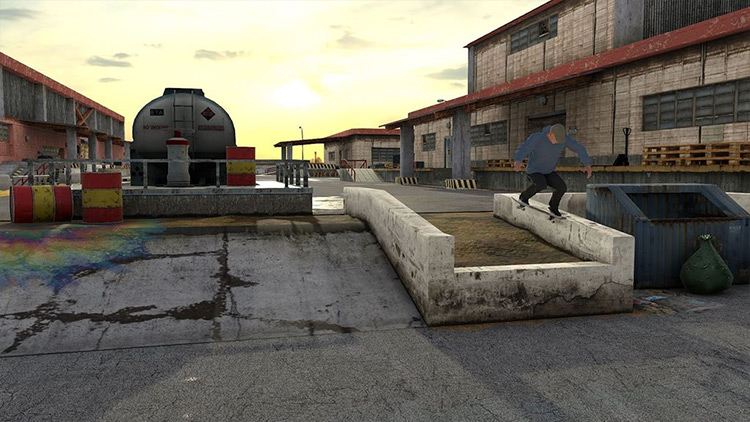 A classic among classics, inspired by yet another classic.
Industrial Zone may not feel particularly innovative, since it's only the 10,000th skatepark set in an abandoned industrial zone.
But if you're a skate game fanatic, you will love it nonetheless.
Not just for the tricks you'll be able to pull off here, but also because it's heavily inspired by the classic Skate games by EA.
Is that a tear streaming down your face? Must be the nostalgia.
16.

Park Compilation – Revamped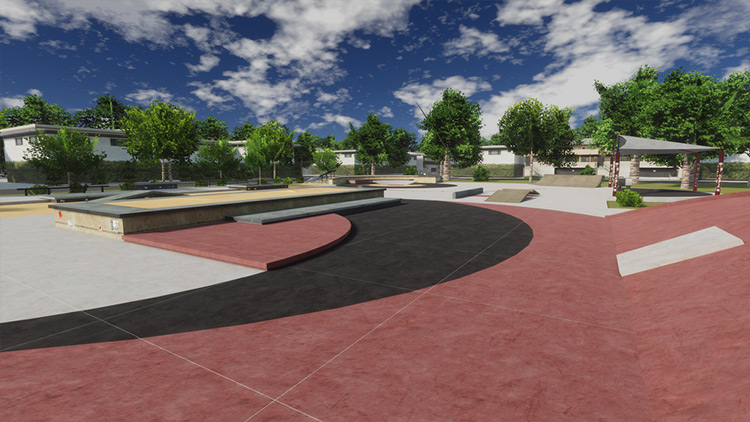 Not one. Not two. Not three.
But four custom skate parks, for the price of none!
The Park Compilation includes four different skate parks: two ripped straight from the Skater mobile app, a completely new one designed from scratch, and another ripped from True Skate.
These parks don't try to do anything truly revolutionary here. But their solid design will keep you busy for days.
15.

ChromaFix and MotionBlur Fix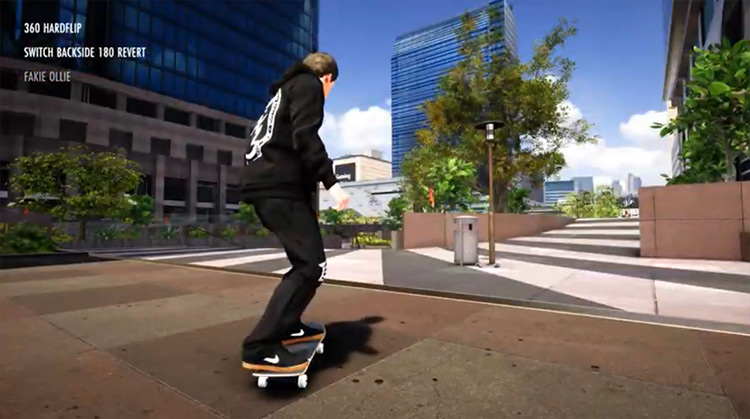 Chromatic aberration is pretty common in modern games.
And most titles nowadays come right out of the box with an option to turn it off. Skater XL does not, sadly.
In truth, there's nothing to be sad about. As the ChromaFix and MotionBlurFix not only lets you turn off chromatic aberration, but also motion blur.
I personally cannot stand motion blur at all, so developer M4cs will have my undying gratitude from now until the end of time.
14.

Gear Utils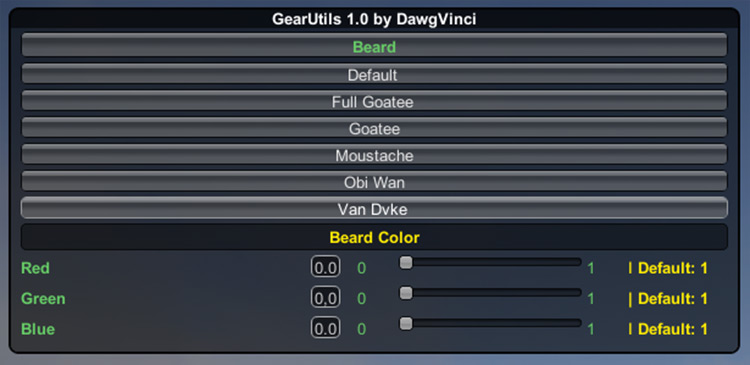 You don't know the meaning of true customization until you download the Gear Utils mod.
This mod, which works with the latest version of the game, gives you far more control over your character's features.
You can change their beard and hair, alter their color choices, and add a ton of different gear to your character.
Among the available options are Obi Wan and Van Dyke, which I won't tell you what they do here. Download it and give it a try to see what this baby can do.
13.

The Sanctuary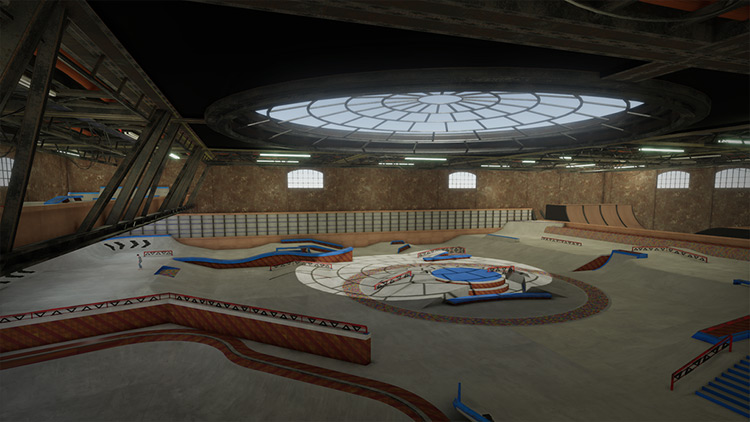 The holy grounds of skaters worldwide is right here, just one click away.
Sanctuary is among the best custom parks created for Skater XL.
Inspired by the Skate series and a few other skating games, the Sanctuary features more bowls, pipes, and rails than you can shake your board at.
And they flow incredibly well with one another, allowing some amazing combos or lines that will rightly propel you into skating stardom.
12.

Hollywood High
Skate parks do not always need to be complicated to be good.
Just like Hollywood High.
This custom map is extremely small. But what it lacks in size, it makes up for it with style, as it features amazing lighting and the famous Hollywood High stair.
It may not keep you busy as long, but there's just so much to do here. And who wouldn't wanna skate in LA?
11.

Big City Remake
Massive. That's the name of the game for the Big City Remake map.
There are so many things that make this skate park one of the best ever made for Skater XL.
Well for one, it's big. It's also filled with objects.
It has great textures, detailed models, great lighting… but most of all, it's big. Sorry, did I say that it's big?
Give it a try and see for yourself.
10.

Stats Menu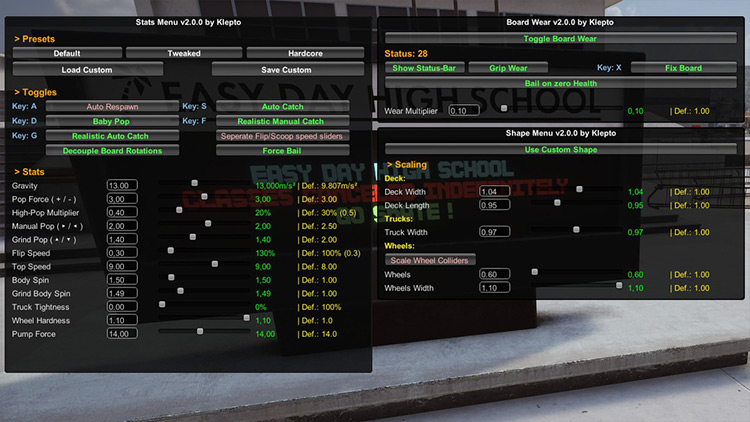 Visual customization is all well and good.
But what about customizing actual stats? No worries, modders have us covered once again.
Stats Menu puts some real customization power in your hands, allowing you to change pretty much all of your skater's stats with some easy-to-use sliders.
This makes the game much easier, or more difficult, depending on your preferences.
As if the physics-based gameplay wasn't hardcore enough, right? Some people just really want a challenge…
9.

XXL Map Editor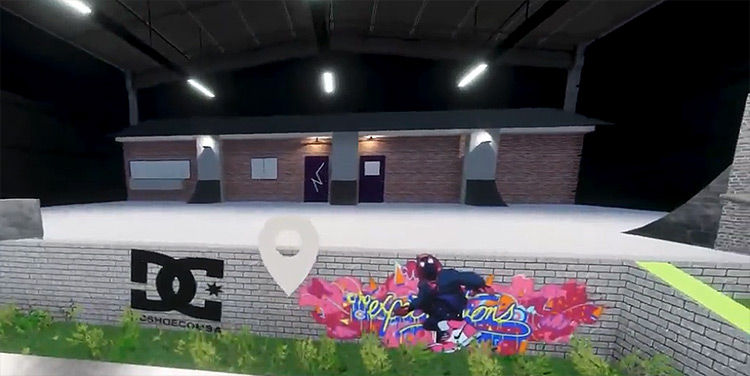 Ever wanted to be in total control of your skating destiny & have the chance to show off your map creation skills?
Well here you go my friend. The XXL Map Editor for Skater XL is a straightforward and easy map editor mod.
It allows you to spawn all kind of objects inside any map, giving you the chance to create the best custom map to share online for the adulation of thousands of skaters all over the world. Just make sure to be patient here: the editor takes some time to load all the available objects. And going too fast will result in disaster.
Or rather, things not working properly. Or crashing.
8.

XL Menu Mod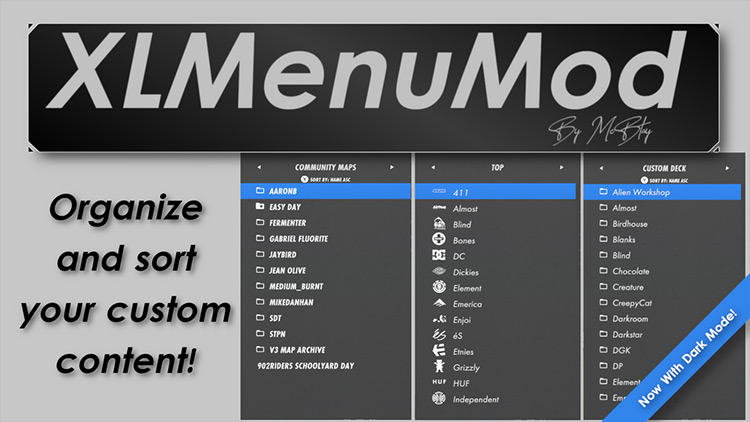 This Skater XL Menu mod is the quality of life add-on that every player should download right away.
This tweaks the maps menu, introducing better sorting for custom maps and even displaying a preview image, if available.
This also has an improved gear menu and tons of new options that let you hide all official gear from the character menu, giving you quicker access to modded gear.
And you can even turn on Dark Mode for all menus. A godsend for your tired eyes at 2AM.
7.

Quebec Skate Plaza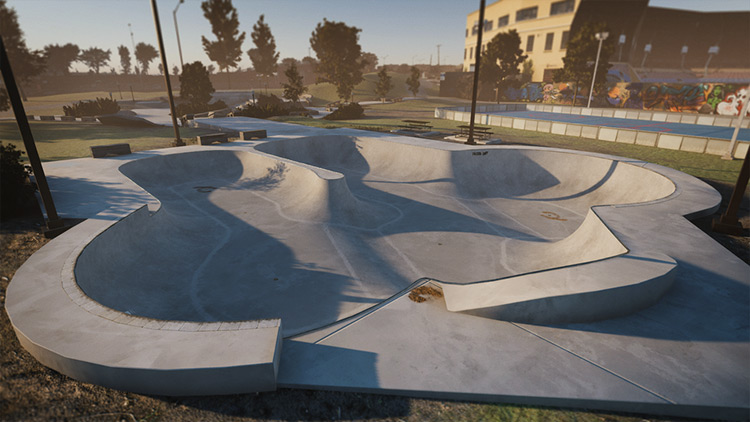 Skating games are great. But sometimes they just cannot compare to the real thing.
Sometimes, however, they definitely do.
Quebec Skate Plaza is an almost perfect recreation of the real Quebec Skate Plaza in Quebec City, Canada. It features all the objects found in the real-life version of the skate park, and even an almost perfect reproduction of its surroundings.
So, still think this game can't compare to real life?
6.

Board Utilities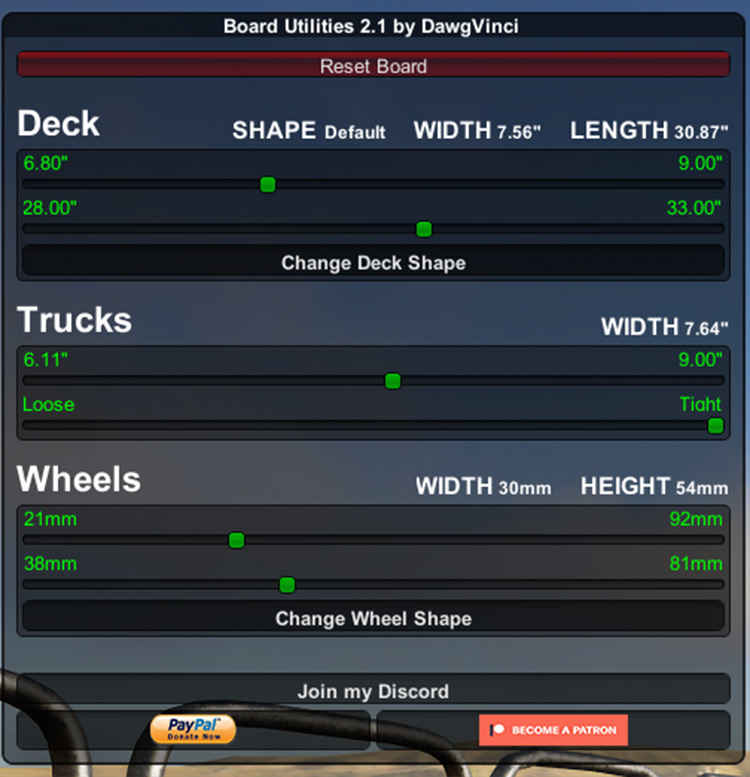 In Skater XL you can customize pretty much anything to your liking.
If you install the right mods, that is.
Board Utilities gives you total control on your board. Just like in real life, eh?
This lets you change length and width of your deck, plus its shape, and setup of your trucks. And your wheels too, of course.
Time to make the board of your dreams a (virtual) reality.
5.

XL Graphics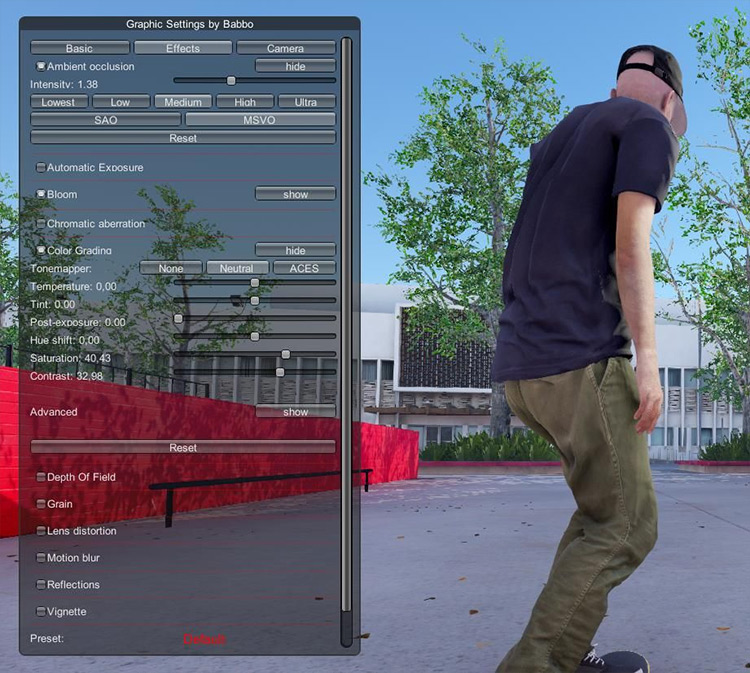 XL Graphics should have been called XXL Graphics, for the sheer amount of options it provides.
This is the mod to download if you have a very powerful PC and want Skater XL to take advantage of it.
Inside you'll find tons of different graphics options, as well as camera tweaks that will let you make the game look its best at all times.
And you can turn on and off several effects which are not everyone's cup of tea. Stuff like lens distortion, vignette, or motion blur.
4.

Berlin XL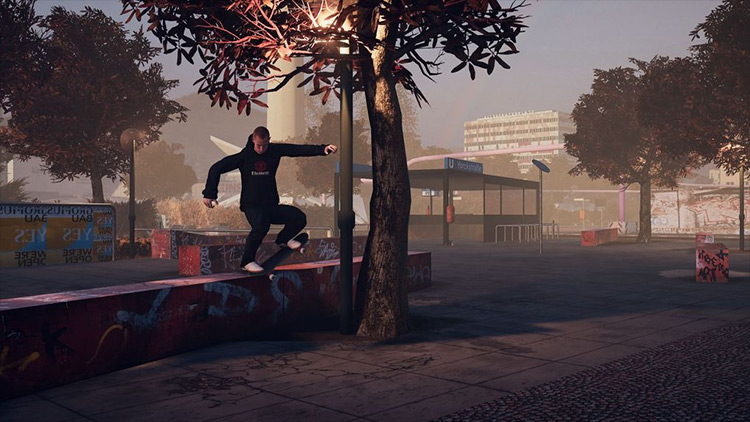 When a skate park is too small for a custom map, the only thing to do is to recreate an entire city.
Berlin XL is definitely among the most ambitious custom map ever made for the game.
It aims to make Berlin's street spots and parks playable in Skater XL. As true-to-life as possible, too.
The map is extremely varied since it allows multiple skating styles, so download away if the game is starting to feel a little stale for you.
3.

Applewood Park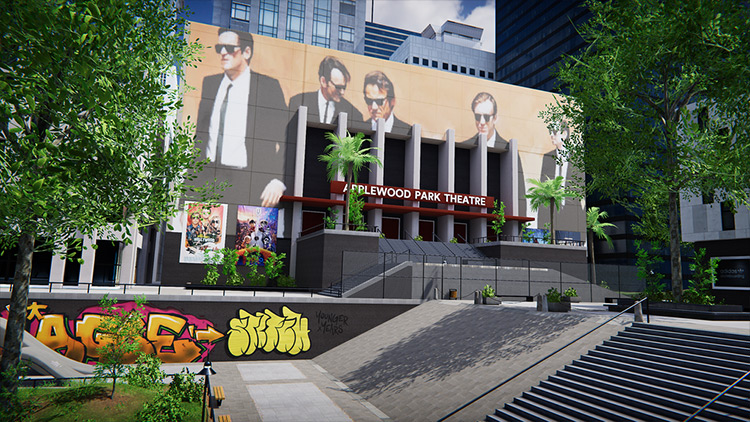 This Applewood Park map, like the Berlin XL map, is yet another one that all Skater XL players should try out.
While the Berlin XL map prides itself for being massive in size, the Applewood Park map is a little smaller. But it still comes with a very tight design that will put your skating skills to the test.
If you master the map and all the skate tricks you can handle, then you can rightly say you have become a Master XL. This is a must-try map in my opinion.
2.

XL Multiplayer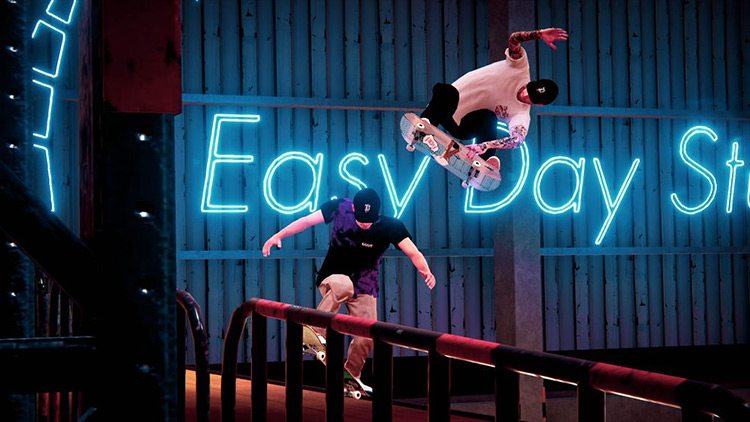 With this XL Multiplayer mod, Skater XL becomes one of the definitive skating video game experiences… and it's easy to understand why.
After install, you'll be able to join any of the available public servers and play with other players all over the world.
Better yet, the mod also features replay and replay-saving support. And even 1:1 animation, meaning that all your custom tricks will be shown to other players, even if they do not have the same mods installed.
A feature for the true show-offs out there. But also a great way to skate with friends, virtually I mean.
1.

XXL Mod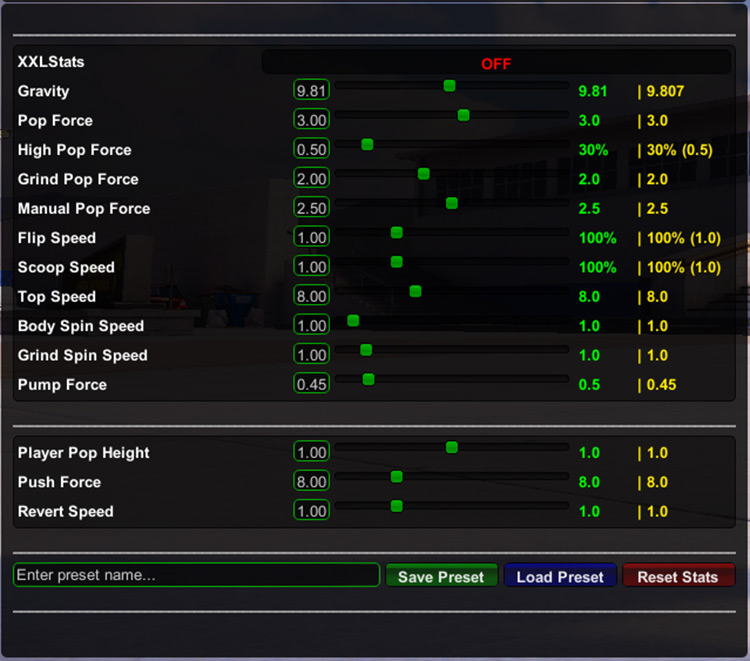 The only way to satisfy your hunger for custom tricks is to install the XXL Mod.
While this also includes some features found in others on this list, like the ability to customize stats, what sets the XXL Mod apart from all the others is the ability to land pressure flips, one foot grabs, one foot manuals, and some other tricks that are not available in the vanilla game.
New ground tricks are always welcome.
You can even customize how your legs move while performing some of these tricks, showing an unprecedented attention to detail.
A definite must-have to get more tricks in the bag for your next session.
Browse:
Lists
Sports Gaming
Video Games