12 Best Skyrim Mods For Custom Towns, Cities & Buildings
This post may contain affiliate links. If you buy something we may get a small commission at no extra cost to you. (Learn more).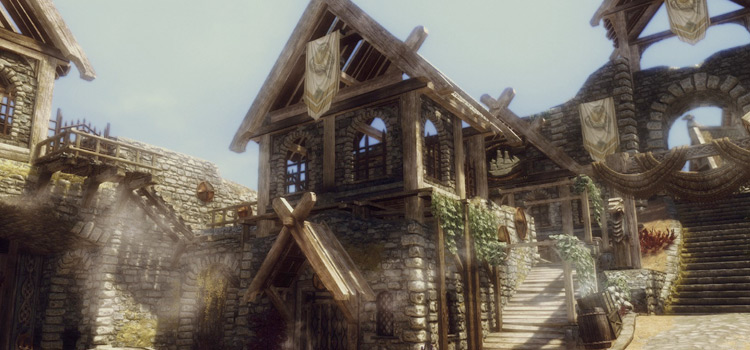 City improvements, new towns, fantastic buildings.
These are not only the things that your governor has promised and failed to deliver. They are also additions for Skyrim to improve the urban landscape of the game.
I've scoured the web and tested quite a bit to put together this list of freebies, offering you a refreshed look with new city zones and buildings to explore.
If you're stuck in vanilla and just not thrilled with the look, or if you simply wish to have new locations in your Skyrim experience, well you've come to the right corner of the Internet my friend.
12.

Build Your Own City Alpha
This mod, also known as "Becoming a Lord", allows you to claim a piece of land in Skyrim and start building your own city.
As the creator of the mod suggests, you shouldn't expect too much with Build Your City. As of this writing its in Alpha stages.
However, he doesn't seem to be working on tons of new updates so I've included on my list on its current state.
The mod does allow you to place a bunch of new buildings and seems to be working quite well, even for an "alpha" build. I haven't encountered any game-breaking bugs so far!
The only issues I've seen are clipping issues, but that's to be expected in a game where construction is not meant to be a vanilla option.
11.

Elvenwood
Elvenwood makes me wonder why Bethesda didn't decide to include a forest settlement in Skyrim.
Thankfully, modders like the creator of Elvenwood exist. Who have great ideas and the know-how to execute them properly.
Elvenwood is a large settlement located in the forest near Falkreath.
Hanging bridges, a beautiful design, and some very interesting NPCs make the majority of what's to be found in this amazing town.
According to the legends, the town was created by the Bosmer who visited Skyrim many decades ago!
10.

Northern Bathhouses
In a region as cold as Skyrim, it would make sense for Bathhouses to exist so people can all clean themselves in a relatively hotter environment.
Bathhouses were actually pretty common back in the days of Ancient Greece and the Roman Empire, which also resemble the age upon which The Elder Scrolls seems to be based around.
All of the bathhouses added with this mod are as lore-friendly as possible, as they've been incorporated into most of the major cities in Northern Skyrim.
Check it out and see what you think!
9.

Ebonvale Settlement
The Ebonvale Settlement is my favorite "new town" mod that I've come across in the Nexus community.
It adds an entirely new town with a rich backstory that reinforces the concept of the Civil War that rages over the lands of Skyrim.
This settlement is mostly a small town that manages to thrive under the influence of ebony trade.
Merchants from all over Skyrim come to the Ebonvale settlement to do their business with the town's jarl.
One day, when the Civil War ends, Ebonvale might return to be under the influence of Whiterun. Like it was in the good old days.
8.

Skyrim Radioactive
Skyrim Radioactive is a massive project that aims to reshape key aspects of the game like the interiors of houses, some of the game's most important dungeons, and even the way some NPCs look.
The mod's name is Skyrim Radioactive, but there isn't anything nuclear or non-lore friendly about this project.
A bit puzzling, but still a really cool add-on nonetheless.
Installing this mod will let you rediscover many areas which you were already familiar with, giving you a plethora of new things to learn about Skyrim!
7.

Immersive Settlements
Immersive Settlements is an entire rework of the most important settlements and inhabited regions of the game.
It aims to expand all of the game's cities, towns, and even small villages by adding new buildings and "immersive" additions to each of them.
You'll find new buildings, more than 30 new NPCs, and hundreds of new items.
It'll be worth it to explore some of the game's cities all over again with fresh eyes.
6.

Holds The City Overhaul
I know the name of this mod looks a bit weird. My grammar's not off – that's just the way it's named. Don't shoot the messenger here since it's actually a really cool mod.
"Holds" has one clear objective: making each settlement feel completely unique from the rest.
As such, you will find exclusive clothing added to some of the game's towns. Along with exclusive NPCs and even books relevant to the people of each region of Skyrim can also be found.
It might not be as much of an overhaul as other mods on this list. But sometimes life is about the little things.
This mod takes care of adding them perfectly while still feeling lore-friendly.
5.

Dawn of Skyrim
BluePianoTwo is one of the better-known names in the Skyrim community.
He has been creating some of the best city overhauls that exist to date, most of which are called "Dawn of [Enter City Name Here]".
Dawn of Skyrim, however, is a compilation of all of his creations packed into a single file for your downloading comfort.
Th ismod makes most of the cities in the game look way better than they do in the base game. This is both a re-styling and an expansion of those cities by adding lots of new goodies too.
The best thing about this mod is that it doesn't take much of a toll on your computer's performance, something that most other city mods fail to be concerned over.
4.

Sexy Villages and Towns
All towns and villages in Skyrim have always had the same feel to them; it's easy to tell just how similar they all look if you've played Skyrim for more than 20 minutes in your life.
This mod aims to give all town buildings and villages new textures so they feel truly unique.
It affects all of the small towns and villages in Skyrim, so you'll have plenty of exploring to do once you've installed it.
Plus it's easy to uninstall if you ever want to go back to vanilla.
3.

JK's Skyrim
If you're looking to install this bad boy, I would suggest not to touch any of the overhauls that I've mentioned on this list so far.
This one reworks all of the major cities and improves them massively. So it's not exactly compatible with any other mod that deals with city shape or design (or it may be, test at your own risk).
JK's Skyrim is one of the best city overhauls for the game.
And I fully recommend that you check it out if you're looking for a Skyrim experience that feels truly fresh.
2.

Expanded Towns and Cities
I have to admit that picking a single city overhaul as the winner was a difficult task, but Expanded Towns and Cities does it well.
This overhaul adds improvements that range from subtle to highly noticeable, adding a fresh look to Skyrim that surpasses that of basically every other mod on this list.
Try them all out and you be the judge.
1.

Open Cities Skyrim
Yes, this mod does exactly what you think.
Open Cities Skyrim makes all of the cities part of the game-world, which means that you won't have to deal with annoying loading screens while playing.
I never thought I'd see the day.
With this installed you'll be able to ride your horse around the cities in base-game Skyrim. What a life!
Browse:
Lists
Skyrim
Video Games