Where Do You Get Hawk Feathers in Skyrim?
This post may contain affiliate links. If you buy something we may get a small commission at no extra cost to you. (Learn more).
The fastest way to get Hawk Feathers is to loot them from hawks that can be seen flying around Skyrim.
These hawks will drop 3 Feathers and 1 Hawk Beak when killed.
The most efficient area to get Hawk Feathers is outside the East Empire Company Warehouse in the Solitude Docks, southeast of the city.
This area has the greatest number of Hawks flying around at the same time.
You can either shoot them with spells like Fireball, or shoot them with arrows from a bow.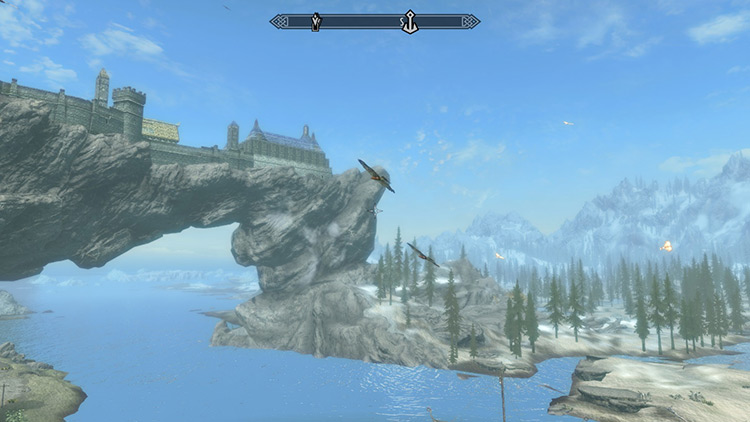 Another area with lots of Hawks flying around is inside Solitude, specifically around Castle Dour.
In this area make sure to shoot them while they're flying inside Solitude.
The reason is because their bodies can drop outside the walls, and if that happens you can't loot them.
Alternatively, Hawk Feathers can be purchased at alchemy shops such as Arcadia's Cauldron in Whiterun, or Angeline's Aromatics in Solitude.
Each merchant has a 15% chance of carrying 1-5 Hawk Feathers in their inventories.
You can also find Hawk Feathers carried by the members of the Silver Hand in Gallows Rock, Driftshade Refuge, and Dustman's Cairn.
But just note that that these members can only be found in Dustman's Cairn during the quest "Proving Honor". So if you're planning to farm with that method, consider Gallows Rock or Driftshade instead.
Overall though, your best spot for farming lots of these features is likely around Solitude Docks.
For in-game uses, hawk feathers can be used in alchemy. They contain the effects of Cure Disease, Fortify Light Armor, Fortify One-Handed, and Fortify Sneak.
Browse:
Skyrim
Video Games