25 Best Player House Mods in Skyrim
This post may contain affiliate links. If you buy something we may get a small commission at no extra cost to you. (Learn more).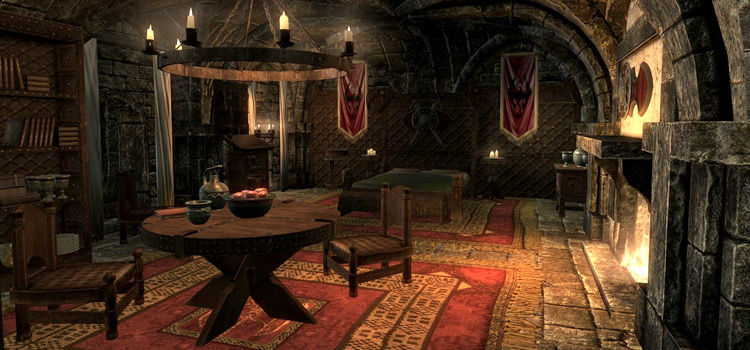 Skyrim has its fair share of astounding houses to inhabit. You will find remarkable places to live in the various locations of Northern Tamriel.
However, if you have already spent several hours in the game, you may be tired of seeing the same locations on repeat.
A solution to this problem includes installing any of the DLC's released for the game, but even those will get old quickly, especially if you spend a good chunk of your time roaming the realms of the Dragonborn and Dawnguard DLC's.
Enter player house mods.
The following player houses can be added to the game by downloading and installing them locally. I'm here to rank my favorites totaling 25 player house mods, all totally free to download and use.
25.

Radun Castle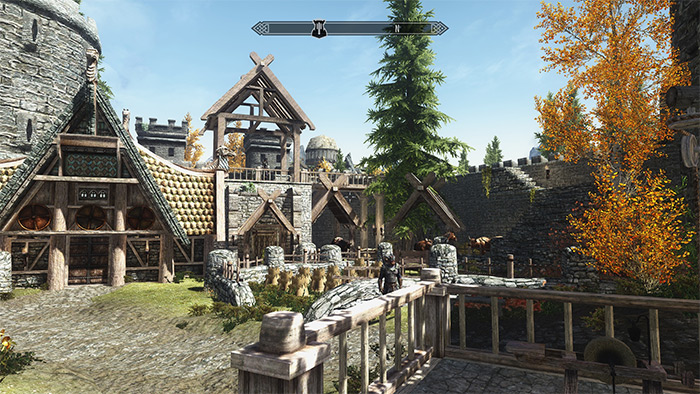 Radun is a magnificent castle offering more than a pretty place to live. The house and buildings of this castle are custom-made and extend a unique look you will not be able find elsewhere.
There are dozens boxes and chests for player storage, as well as a feeling of valor only a castle such as Radun can make you feel.
This castle prepares you for war, as its draw bridge and 16 guards (custom-made by the modder) help you defend the castle walls against any invader who dares breach its gates.
24.

Castle Gonduin
Castle Gonduin is a beautiful castle located on a hill. It resembles the vanilla castles introduced in the base game Skyrim.
However it seems much larger and makes you feel further immersed thanks to the fact you need to complete a quest if you wish to obtain ownership of this mighty stronghold.
You will certainly feel like you are in your own little town if you receive this awesome fortress; be sure to complete the ownership quest as soon as you download the mod!
23.

Castle Argol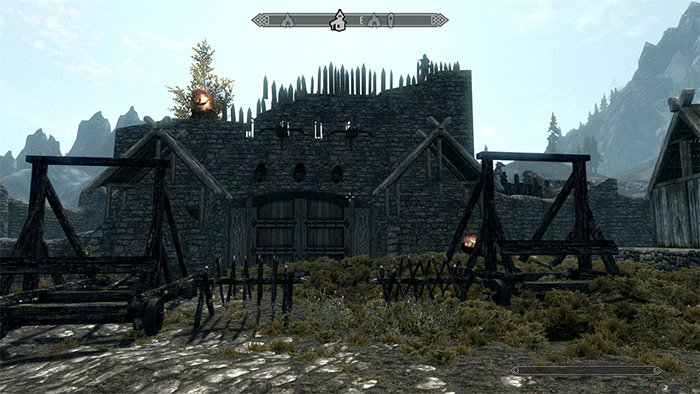 Even though the Argol cannot be obtained with a quest, you are able to purchase the land on which it is erected.
You can then slowly build this fortress from the ground up by purchasing the various parts and keys with money from your own purse.
This massive castle includes several shops, such as a jewelry store, a butcher, blacksmith, and a personal inn for you to drink away your days to hearts content.
It's big.
The castle also comes with several guards who will serve at your command. Be sure to put them to good use!
22.

Castle Riverwood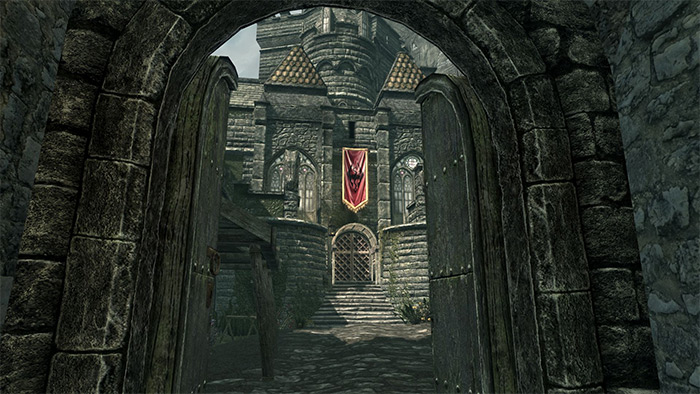 As the name of this player house suggests, Castle Riverwood adds a massive fortress adjacent to Riverwood.
The castle is taller than it is broad, nonetheless, it is one of the best player houses in the Nexus community.
It has a traditional castle look, which evokes memories of many games you have most likely played as a child, and it fits into the lore of Skyrim.
21.

Dragons Keep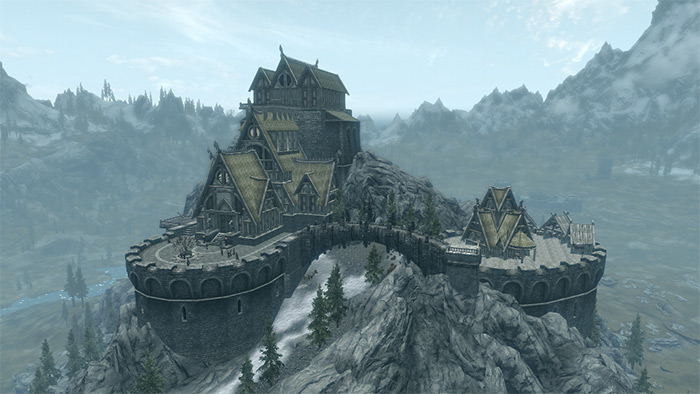 Dragons Keep might remind you of Solitude, the capital of Skyrim. The castle looks to be lying on top of two rocks, giving the illusion of a floating castle.
Dragons Keep is a unique house; it serves as a boarding school to the many children who are orphaned across Skyrim.
This massive place allows up to 12 children to be placed under the care of tutors!
20.

Dova Strunmah Hall
If you are unhappy with a regular player house, the Dova Strunmah Hall is what you are after.
This massive residence lies on top of the Throat of the World, making it one of the most elevated player houses on the list.
The Hall adds a unique type of architecture into your routine, with countless rooms and massive halls to walk while you admire its structure.
This Hall also adds various types of armor and allows you access to mannequins, all of which permits you to display the mighty honors you have earned during your journeys throughout the cold region of Tamriel.
19.

Suncrest Hall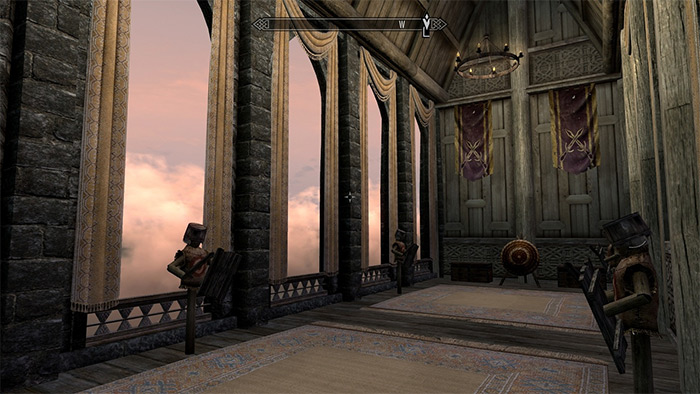 If you are a fan of looking over at the sky and admiring its might, the Suncrest Hall is going to absolutely fascinate you.
The house provides a spot to look at the vast heavens almost everywhere you go—including your own room.
This house is incredibly well decorated and is one of the most stunning homes on this list.
Furthermore, you will be able to admire the various constellations of the realm from the comfort of your own room, as well as through the halls of this massive mansion.
There is not much to dislike about the aesthetically pleasing Suncrest Hall.
18.

Castle Mendoza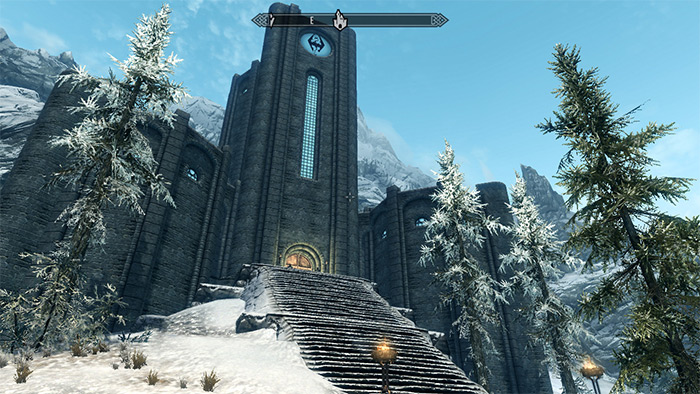 Castle Mendoza is already a complete castle; you may not need to leave this home unless you are going on a quest.
The castle comes equipped with various weapon racks and plates where you can go questing. It is also incredibly huge.
If you are fan of owning a large home, kinda like the ones in the Dawnguard DLC, you will absolutely love Mendoza. Bet on it!
17.

Dragonsmount
Although the size of this manor is smaller than others, Dragonsmount is one house which resembles Solitude in design.
The design takes the cake and earns it a place above other castles on this list, however. It has a stunning view of the region and allows you to sit on its huge balcony to enjoy a meal with your partner and children.
The house is a perfect combination of spacey and quaint. This means you will be able to find most things quickly, and companions will not elude you when roaming the halls of this splendid manor.
16.

Dragon Lord Castle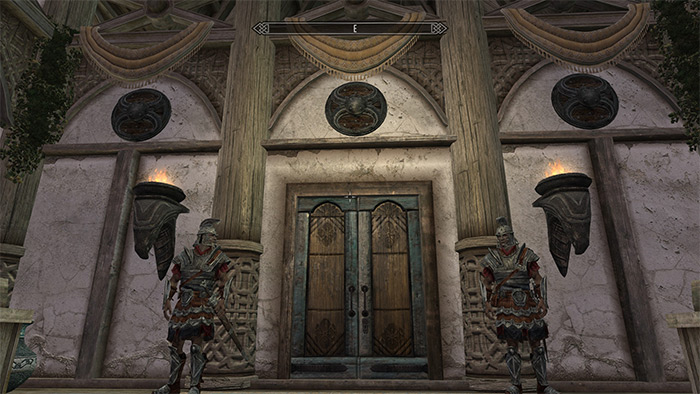 Most base-game castles do not suit the Dragonborn and their might. Some players feel as if they deserve a larger castle to live in after having killed Alduin and several other dragons across the game.
Complete with indoor waterfalls and weapon racks, the Dragon Lord Castle makes it truly worthy of being the player home of the Dovahkiin.
The home comes with 4 merchants who sell various goods, as well as rooms for you to practice spell craft and smithing to your hearts content.
There is also a massive treasure room for you to sell your goods!
15.

Lake Ilinalta Estate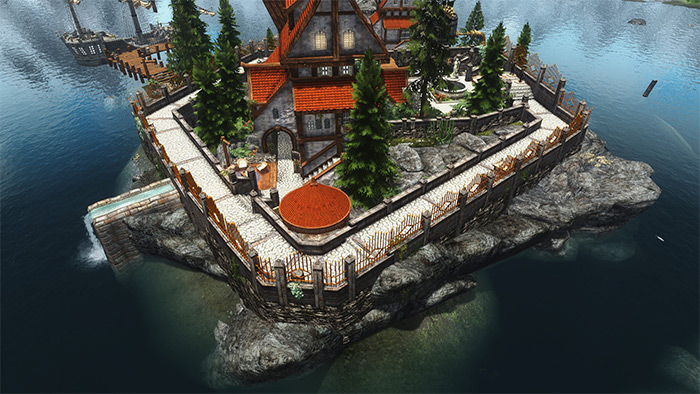 Lake Ilinalta Estate is one of the most unique player homes you can wish for. It is a rather small home in comparison to others on this list.
However, its beauty is so authentic, and its design is undeniably unique. You will love this home regardless of the playstyle you are after.
The house is located floating on top of Lake Ilinalta, close to Riverwood.
With dozens of unique meshes, and a design that sets it apart from the rest of the houses on this list, Lake Ilinalta Estate is a beautiful home many Nexus visitors keep close to their hearts.
14.

Castle Valdmire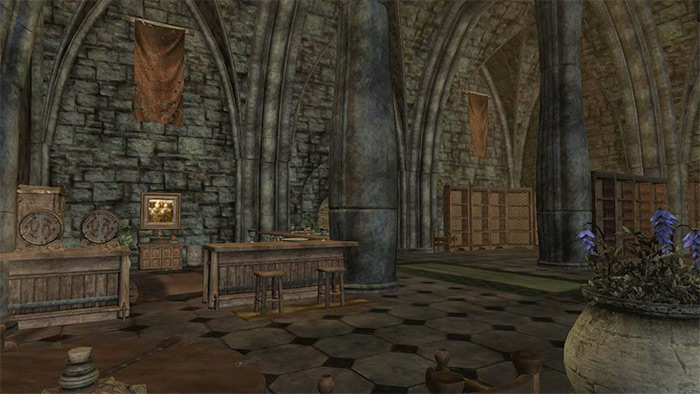 Looking for a castle to inhabit fitting of your vampiric lore?
The Valdmire castle is one of the best modded additions in the game if you are a vampire. With a dark design and a rather eerie feeling, it will suit the darkest lord of the night.
The house is adoption friendly and has room for storage, as well as decorations, such as flowers and weapon racks.
The design is suitable for those who want to roleplay as a vampire, with candles being the only emitted light source.
13.

Castle Orlok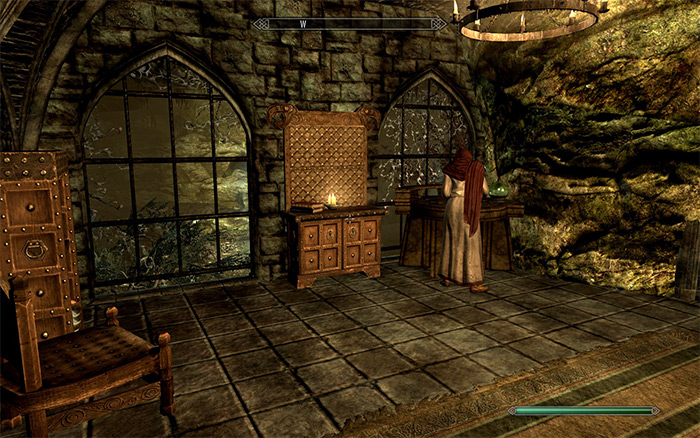 Do you love huge homes but hate a lack of ornate detail?
Castle Orlok is yours for the taking.
This castle is massive. But the creator of this mod has considered many details, making the huge halls of this Castle full and ornate.
With a dark theme, the castle has gardens on the inside and a ton of storage room for you to enjoy.
It also comes with a quest, which teaches the lore of the Castle and brings awareness of what was happening before your arrival to Orlok.
12.

Vortai – Home in the Sky
Vortai is not only an amazing home, it is also a hub where you can travel to all of the big cities in the game without having to visit them first.
As its name suggests, it is located in the sky. You can overlook most of Skyrim by standing on any of its edges. Sounds great, right?
"There must be a catch!" You are wondering.
Well, there is. Vortai does not come free.
In order to make this house your home, you will need to access a portal near Riften and face the foe that lies on the other side.
You will need to beat one of the strongest warriors who grace Sovngarde, but if you do so, this home and all of its goods will be yours for taking.
11.

Castle Volkihar Rebuild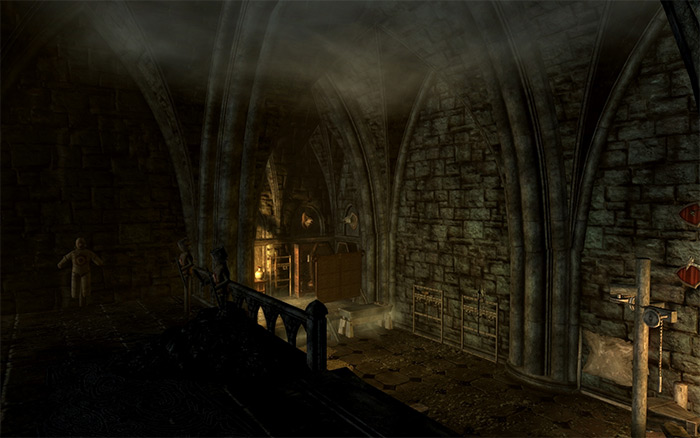 Castle Volkihar may already be in the game, but its current state is underwhelming. It does not serve the good purpose of a player home.
As such, this mod allows you to clean everything left behind in the Volkihar Castle and properly set it up as a home.
The North Tower of the castle will become a fully functional player home, after the debris is cleared. The castle itself will be yours to roam around.
10.

Wyvern Rock Castle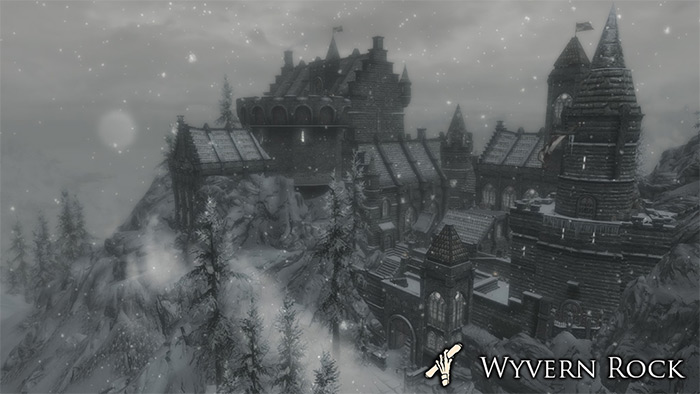 The Wyvern Rock Castle lies on top of a mountain. Inside it, many secrets are hidden.
The walls of the Wyvern Rock Castle are filled with secret rooms, waiting to be found with massive amounts of treasure inside them.
There are various shops and vendors alongside the castle, making it feel like a small, booming town more than a normal home for the player.
9.

Castle Draco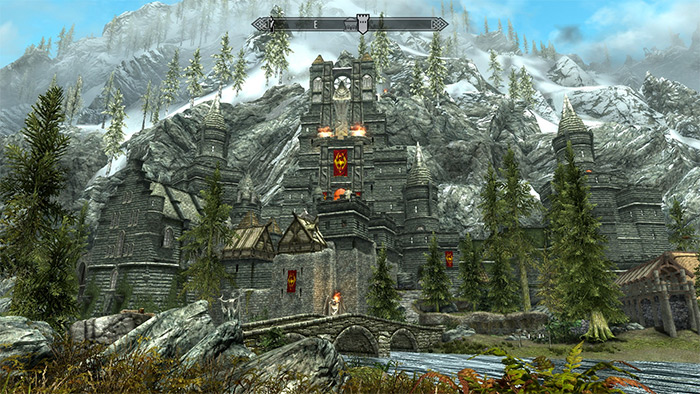 Now that you have come this far down our list, you will begin finding some of the best castles we have come across in the Nexus.
Many vendors in Castle Draco sell expensive goods difficult to find elsewhere in the game. You will need to go to Riverwood and find the history book of the castle.
Upon reading this book, you will have a chance to speak to Mal'com, who will grant you the ownership of the land!
8.

Castle Strunmah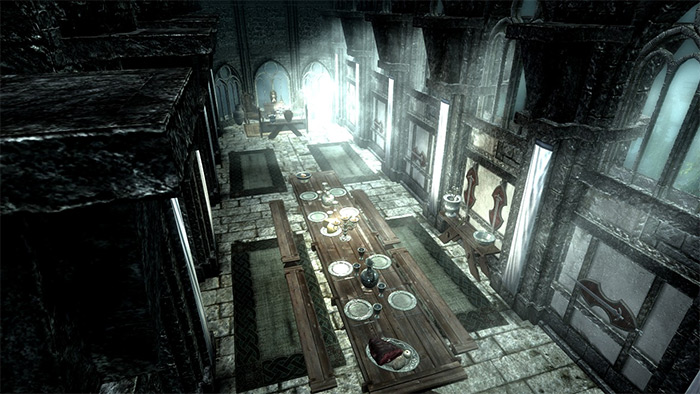 Castle Strunmah can be obtained for free by visiting the Dragon Bridge Mountain, as the home lies on its peak.
The beautiful castle has many windows, allowing you to enjoy the stunning views of Skyrim from the comfort of your new fortress.
It is also compatible with most mods and allows you to keep your companions safe in the many rooms available here.
With its amazing design, this place resembles the Renaissance with countless halls, huge tables, dark environments, and a masterfully crafted main room with dozens of display cases available.
7.

The Evil Mansion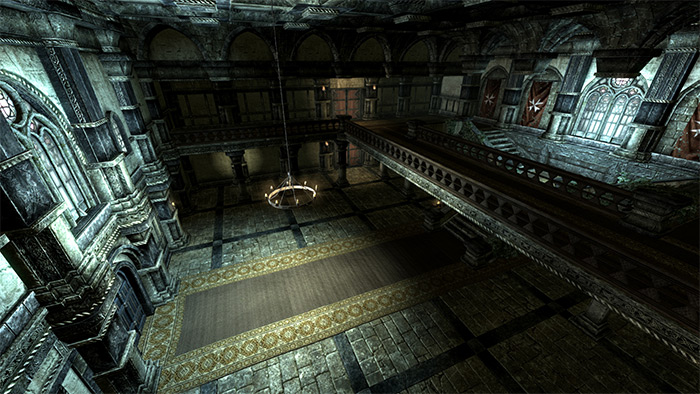 Based on the Resident Evil mansion, this Evil Mansion is plagued with enemies in every room.
Weird but kind of a cool detail, right? An honor to a classic series.
You can live here as long as you kill all the dark entities who roam the house. Do not expect the eerie feeling to go away—it most definitely will not.
In any case, though the mansion is not as detailed as others, it is still one of the best on our list and a great node that every Resident Evil fan will surely appreciate!
6.

Azura's Dawn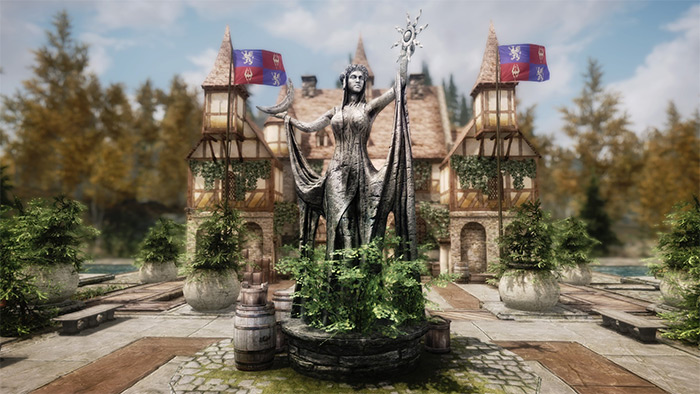 Based on the Goddess, Azura, Azura's Dawn is a striking mansion with custom-made furniture and exteriors, placing it amongst the top 2 best houses in the modding community, excluding castles.
The downside, however, is that it does not come with guards.
You may need to search around for extra mods if you wish to have guards here.
Other than that, this house is one of the best player houses in which you can relax peacefully without worries.
5.

Castle Grey
Castle Grey is one of the largest castles to make it on this list, and is certainly one that most resembles a medieval castle.
The mountain where it is located lies near the Dragonbridge.
It has many containers for storage of goods, as well as spectacular views that serve to calm you after a long, stressful days of bloodshed and adventures.
4.

Raven Castle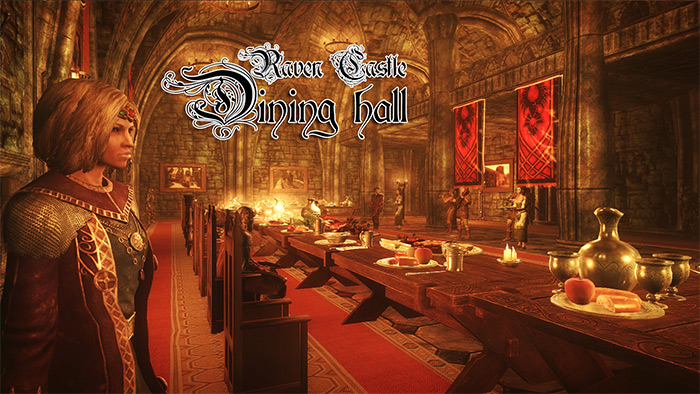 Raven Castle is very detailed, something most players will appreciate.
This is reflected in the fact that it is one of the most downloaded mods in the Nexus website. And you can enjoy it with just Dragonborn and Dawnguard installed!
It has events and a ballroom, as well as special feasts you can enjoy at any point in the game.
A brilliant castle for almost any player.
3.

Dovahkiin's Warehouse and Bedroom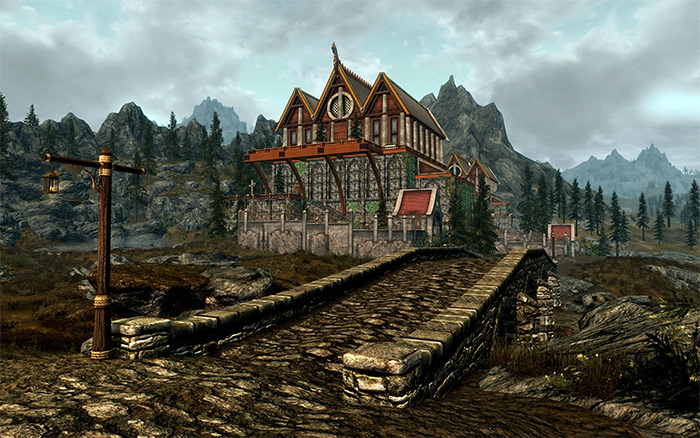 This giant, custom house is fitting to serve as the personal residence of the Dragonborn, slayer of dragons and savior of the land.
This beautiful mansion combines styles from various types of architectures and serves as one of the most majestic places on this list.
It has a hall perfect for displaying all your hard-earned armors, as well as a place to feast after a battle. You will also find various displays of dragon heads and other animals, showing the might of all the creatures you have killed during your adventures.
It is fully compatible with base-game Skyrim, as well as all the DLC's that have been released to date!
2.

Overlook Tower
This centric tower is connected to all major locations in the game.
It serves as a player home with personal storage, as well as a bed and access to everything you need in your adventures.
This tower includes a smithing station, an alchemy lab, an enchanting station, and a huge kitchen.
1.

Caranthr Tower Reborn
Caranthr has the first spot on our list due to its awesome lore, incredibly detailed features, and the amount of work put into this mod.
Located near Winterhold, this is the best wizard town ever created by modders for any Elder Scrolls game. It provides the choice to build it as you would like, thanks to the Hearthfire system it incorporates.
Every mage in Skyrim would love to reside in a place like this.
Be sure to download it if you are level 20 or higher and give it a try!
Browse:
Lists
Skyrim
Video Games