15 Best Skyrim Star Wars Mods (All Free)
This post may contain affiliate links. If you buy something we may get a small commission at no extra cost to you. (Learn more).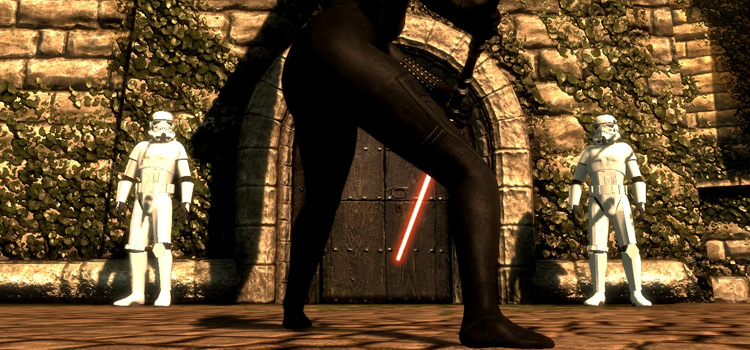 Perhaps the weirdest fandom merger you could ever imagine is here on a silver platter.
I've compiled a list of some amazing (and free) mods that will turn your Skyrim save into something out of the old Jedi Sacred Texts.
Most of these mods don't adapt to the Skyrim or the TES canon, but boy do they make the game so much fun to play if you're a fan of the Star Wars franchise.
Why wield a huge axe when you can turn on your practical lightsaber?
Why use any custom shouts when you could just channel The Force?
Find anything & everything you'll ever need with mods that combine the classical world of Skyrim with the futuristic world of Star Wars.
15.

Wookie Sounds for Bears
OK you can probably tell this is a goof mod, but I'm adding it to the list simply because of hilarity.
You need to try and hear how it looks to be mauled down by a bear screaming like a Wookie – it's a truly enlightening experience.
And even though this mod is as far from the Skyrim canon as you can get, it's also one of my favorites.
But I'm not ranking it any higher because it's not particularly great or valuable… but boy does it come out as a shock when you first hear a bear going full Chewie on you!
14.

Bleakcoast Cave (Lore-Friendly)
The Bleakcoast Cave already comes with base game Skyrim, and it actually contains a Star Wars easter egg on its own – the skeleton hanging from the ceiling is actually a reference to The Empire Strikes Back.
But this mod overhauls the cave to make it look more like that one you see when Luke gets trapped in Episode V.
It also adds an amazing blade that you can get by killing the troll, which is called Starblade.
It fits the Skyrim canon and simply adds one more reference to the Star Wars Universe for you to enjoy.
13.

Star Wars Dwaids (Semi Lore-Friendly)
This mod rewrites history to retroactively add some new content into Skyrim.
Specifically you'll learn that the ancient Dwarven civilization in Skyrim have created Dwaids, which are basically Star Wars droids built with Dwarven tech.
The textures actually look quite nice and they do seem to fit the lore a bit. But hey, it wouldn't be realistic for me to tell you that such designs would be the ones chosen by the ancient Dwarven scientists to create such creatures.
In any case, it does add quite a lot of Star Wars droids to the game – and they look pretty cool for sure.
12.

Galactic Credit Retexture
You won't really feel like you're in the Star Wars universe until you start paying with Imperial credits rather than with septims or gold coins.
Sure, this mod might not add all the variant types of currency that you see in The Mandalorian or other Star Wars sources.
But you still get to pay using the traditional Imperial credits and this applies to everything: shops, loot, you name it.
It's not truly a massive overhaul since it's really a simple update. Yet I still think it does add one more layer of depth to the Star Wars feeling that you probably want to have in your game, considering you're even reading this article.
11.

Star Wars Planets for Skyrim – Moon Replacers
Now this is one of those little additions that you need alongside the Imperial credit mod.
This one replaces the moon and night textures of the game with Star Wars planets and moons, which makes you feel as if you were inside the Star Wars universe by just looking up at the sky.
Much like other mods on this list, it doesn't feel like it does much until you actually have in installed.
It's a pretty cool addition and one that you'll appreciate if you combine it with other mods, but on its own this is just a neat little reference.
10.

Ashoka Tano Follower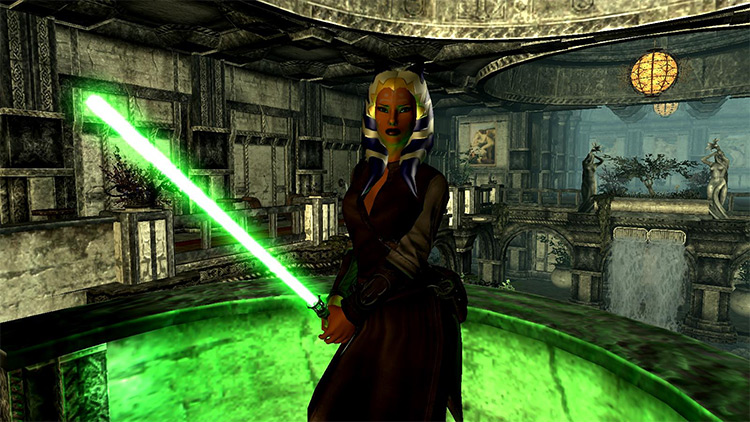 Ashoka Tano, Anakin's apprentice, can now be used as your companion in Skyrim to aid you through the many quests that await in your adventures.
This follower is not fully developed to talk and act like Tano herself. And you can actually substitute the character with any other pre-existing texture in the game.
However she does come with the ability to use lighting magic (not too fitting for a Jedi, I'll admit) and prefers to use one-handed weapons.
Her design does seem to fit the general style of Skyrim, though, which is great to help this mod blend into the Skyrim universe.
9.

Twilek Race Mod
Twileks are far away from their homeland in Ryloth now that they've made their way to Tamriel.
But they do so to introduce one of everyone's favorite Star Wars races to the world of Skyrim. These creatures are known to be humanoid aliens that made their appearances in the original trilogy as well as in the second set of movies released in the 2000s.
You will be able to play as a Twilek yourself with the addition of this mod, and you might even turn them into Jedi if you install other mods on this list!
8.

Magicka Sabers + Star Wars Lightsaber Sounds
Here we've got two mods for you to enjoy, both based on one another but created by different people.
The Magicka Sabers mod adds lightsabers to the world of Skyrim, and it does so in a semi lore-friendly way so you don't have to feel too guilty about slashing your enemies with what amounts to laser sticks.
You'll be able to use sabers from all colors and styles with ease. But one thing remains: detailed sound effects.
That's where the lightsaber sounds mod complements it quite well by enhancing the sound effects of lightsabers in the game.
Both are totally free(of course) and pretty easy to install without any risk of glitches or bugs between them.
7.

College of Winterhold to Star Wars Sith Academy
This mod turns the entire College of Winterhold into what you would expect a Sith Academy to look like.
It's a visual mod more than anything and it certainly doesn't fit the theme of Skyrim at all.
But hey, the College itself is pretty grim – why not turn it into something that looks a bit better?
6.

College of Winterhold to Star Wars Jedi Temple
Much like the mod right above this one, except now we're looking towards the light side.
This mod turns the College of Winterhold into a Jedi Academy instead of a Sith one.
It works the same way as the Sith mod and it serves as one of the best Star Wars visual mods that have been made for Skyrim.
I would not recommend installing both so if you activate one and want to switch I'd recommend deleting the files first, then installing the new mod. Always best to play it safe.
5.

The Skyrim Falcon (Lore-Friendly)
Finally, a lore-friendly Star Wars mod for this list!
Now this mod is by far the most lore-friendly ones that I'm sharing with you today, as it doesn't really add anything that doesn't fit with TES Skyrim's theme.
You might say that the Skyrim Falcon is a bit too big for anything that the base game would have, and maybe that's true. But at least it's a ship and not a crazy shuttle.
The Falcon is a player home, but this mod adds much more than that into your game.
With this mod you also get some new characters, quests, and other cool goodies. It's by far one of the best Star Wars mods and I absolutely highly recommend it.
4.

Star Wars Force Abilities Mod
This mod simply adds spells that act as if they were Force abilities.
It allows the Dragonborn to cast them to their will, and in combination with other mods they allow you to feel like a true master of the Force itself.
I really like the simplicity here and it's definitely worth a try if you're just messing around. The effects are certainly noticeable.
For sure it's a cool little feature that does a great job at keeping the Star Wars feel alive when playing Skyrim, but it's not the best Force mod out there. That title goes to our number 1 pick so keep reading if you want even more features.
3.

Star Wars Jedi Robes and Outfits
You'll never end up feeling like a true Jedi Master until you start dressing up as one.
The level of effort put into this mod is downright crazy. It's shown in the detail of the clothes even at a glance, which makes this by far the best outfit mod for Skyrim(well, related to Star Wars).
With this installed you can dress your character as a Jedi in different robe styles, all so you can make enemies feel the way of the Force and the power of your lightsaber without using medieval armor.
It's a truly exciting experience, A++, highly recommend it.
2.

The Star Wars Mod Collection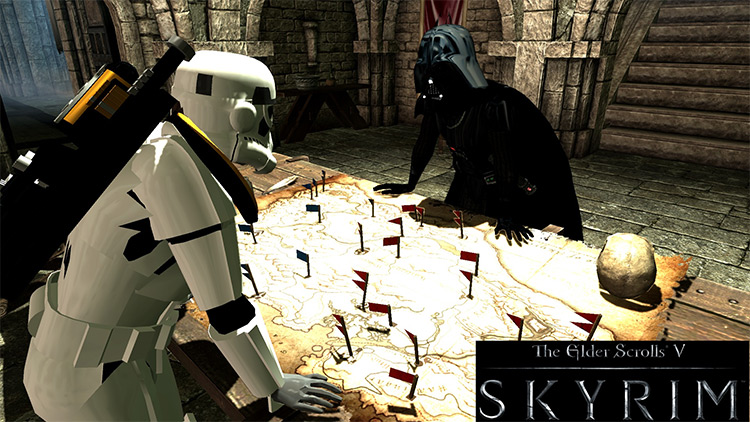 This mod collection changes the way many characters look in Skyrim to make them appear like Star Wars characters.
But it also adds the Magicka sabers and many other mods that I've listed in this article, all pre-packaged ready to install into the game.
It's a cool collection that is sure to save you a lot of trouble downloading each of them individually. However it can be limiting if you only want to try 1 or 2 things because this packages tons of features together.
You might need to start a new save if you want this pack to work correctly too, so it won't work in all situations. However it is the largest compilation of Star Wars-themed Skyrim mods available in one download.
1.

The Way Of The Force
The Way of the Force is by far the best Star Wars mod in Skyrim.
It introduces a new questline that makes using the Force canon in the game(how cool!).
And together with the Magicka Lightsabers mod, this is the single best way for you to introduce Star Wars features into the game without losing the feel of the natural canon that many players really prefer to keep.
Experience one of the coolest fan-made Star Wars quests and enjoy it all in Skyrim. If you're a true-blue Star Wars fan then this is 100% worth your time.
Browse:
Lists
Skyrim
Star Wars
Video Games