Stardew Valley: Best Anime Mods To Install (All Free)
This post may contain affiliate links. If you buy something we may get a small commission at no extra cost to you. (Learn more).
Let's not kid ourselves:
Everything is better with a little bit of anime spice, whether it's a gory action game or a relaxing simulation game.
And with Stardew Valley being such a mod-friendly game, you shouldn't be surprised to see some anime inspired mods that will make your adventure feel like it came straight from Japan.
And it doesn't matter if you're looking to turn your character into an anime protagonist, or if you're just looking to decorate your house with anime dolls.
We have everything you're looking for in one handy list.
8.

Custom NPC Roronoa Zoro
One Piece fans who are also huge Stardew Valley lovers, this mod is for you.
Roronoa Zoro may not be the main character in One Piece. But he's just as popular as Monkey D. Luffy is, with his unique three swords fighting style, gruff behavior, and tendency to get lost at the worst possible times.
And with this mod, you'll be able to bring all this (and more) into Stardew Valley!
7.

Cardcaptor Sakura Staff
I don't know anyone who would refuse to wield a mysterious magic staff.
But the Cardcaptor Sakura staff? C'mon, everyone loves it.
This mod is a very simple add-on that replaces the Lava Katana and Galaxy Sword with the staff taken from the iconic anime show.
Sadly, all of its magical properties did not make the jump. But hey, sometimes appearances are more than enough.
6.

Totoro Ghibli Anime Water Obelisk
I don't think I really need to tell you who Tororo is. We all know Ghibli, right?
Grumpy jokes aside, this Totoro Ghibli Anime Water Obelisk mod is an essential to download for all true anime fans out there.
It exchanges the game's vanilla water obelisk with a perfectly designed statue of Totoro. The pixel art here is incredible.
The character's design seems to have been lifted straight from the Studio Ghibli movie, so every fan should be pretty darn pleased.
5.

Abigail Catgirl Anime Portrait
Catgirls are a staple in anime.
Every show needs to have at least one to be considered a fave… well, that or a bunny girl. But I digress.
If you have a fascination with anime catgirls, then you really need to download the Abigail Catgirl Anime Portrait to turn any Stardew Valley character into the anime girl of your dreams.
Maybe even into a waifu? But let's not get ahead of ourselves now.
4.

SVE – Anime Girls
Time to turn the anime factor up to one thousand in Stardew Valley with this SVE – Anime Girls mod.
This is a simple modification that introduces new portraits and sprites that turn all of the game's characters into anime characters.
There are also a few other surprises in this mod that I'm not going to spoil here. Let's just say you do not want the surprise to get ruined, trust me.
3.

Magical Anime Collection
To show you're a true anime fan, you need to decorate your house properly.
Turning yourself into an anime character is not enough, I'm afraid.
This Magical Anime Collection introduces 34 new items inspired by Sailor Moon, Cardcaptor Sakura, Kiki's Delivery Service, and Princess Mononoke. They'll decorate your house with memorabilia inspired by these shows, placeable in every nook and cranny.
Have you ever heard of an otaku that doesn't own at least a dozen action figures? Of course not.
2.

Seasonal Anime Portraits II
Seasonal Anime Portraits II goes the extra mile to provide a true Stardew Valley anime experience, in player portraits of course.
This mod doesn't just introduce anime portraits for most of the main characters, but also new seasonal variations that will change depending on the season.
It's just thorough work that these portraits feel like they belong in the vanilla game!
1.

Talkohlooeye's Portraits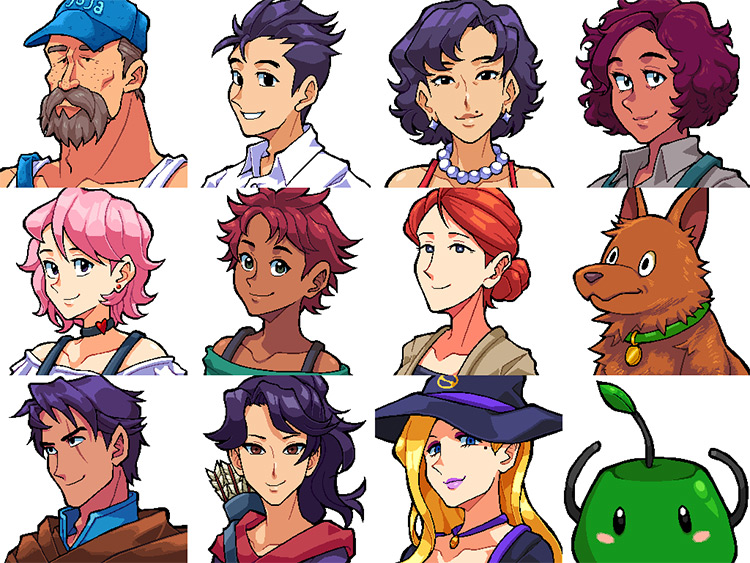 If you're looking for true, proper anime portraits for all Stardew Valley characters, then Talkohlooeye's Portraits is the modpack to get.
This pack introduces a high-resolution portrait set for all vanilla NPCs that turns Stardew Valley into an almost proper anime game.
Sure, we still don't get the high pitched girl screams, the energy attacks, or the ludicrous situations.
But hey, this should get us close enough.
Browse:
Lists
Stardew Valley
Video Games