Stardew Valley Bathroom & Hot Spring Mods (All Free)
This post may contain affiliate links. If you buy something we may get a small commission at no extra cost to you. (Learn more).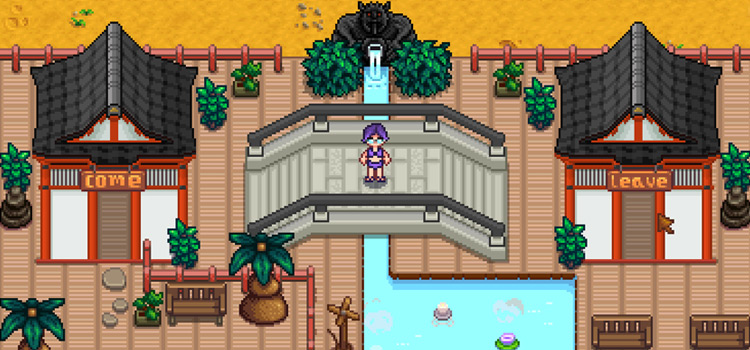 There's something I've always found really funny about the concept of energy in Stardew Valley.
Eating food to refill your energy bar after a full day of chopping wood, watering crops, or slaying monsters makes sense.
But lazing around in a hot spring? I don't know about you, but I always find hot tubs make me feel more tired than anything.
To each their own, though.
And if you want some minor tweaks to your bathing experience in-game, here are some free mods for your Stardew Hot Springs and Bathrooms.
6.

Bathroom After Second House Upgrade
Robin might be a talented craftswoman, but what she is not is forward thinking.
I'm all for the rustic appeal of a farmhouse out in the middle of nowhere… but a bathroom needs to be part of the deal, okay?
This mod makes it so that your house comes equipped with a bathroom after you've built an upgrade for the second time.
The new room includes a bathtub that effectively does the same thing as the hot springs, and so it refills your energy bar. Which is pretty handy.
Seriously, though, it is so weird that vanilla Stardew lets you put in an entire basement for fermenting wine – but no bathroom. Unreal.
5.

Bath House Hot Spring Mod
If the greys of the vanilla bathhouse don't appeal to you, here's an option!
This mod replaces the building with a more inviting looking bathhouse.
There's waterfalls, a spring, and still a men's and women's section so you don't accidentally go creeping on anyone.
One thing I do wish they would do is have the villagers more frequently use the springs as well.
It's not like there's much of anything to do in Pelican Town (as seen by how much time Sebastian spends just standing in random places smoking).
You'd think the local youth would be more inclined to go float around… maybe in a future update.
4.

Hot Spring Farm Cave
You've been asked before: "mushrooms or fruits?"
And you probably chosen mushrooms, since they're generally harder to find.
Well this mod gives you a third option for that cave on your farm, which can now be filled with a tucked away hot spring.
It's perfect for those who want to go hard with the farming, especially early game.
Because it takes a while to get to the mountain bathhouse. So having one on the farm will save you a lot of time in the long run, since the hot springs are the cheapest way to refill your energy bar.
Plant some stuff, go for a soak, then go plant some more!
3.

Hot Spring Behind Joja Market
Why do this?
I don't know.
But this mod adds a hot spring – just a small one – behind Joja Market.
I suppose it's nice to have if you do a lot of fishing in that area and need to refill your energy, or if you're spending a lot of time in the quarry.
Maybe the idea here is to help fill space?
Regardless, more hot springs is never a bad thing.
2.

Fairy 2Cute Farmcave
So this is another mod that adds a hot springs to your farm cave, but this one is a bit different.
According to the creator, it's "Zelda-like", and perfect for those that love fairycore.
There's even a hidden library in the basement!
It definitely is a nice space, with floating lilies and colorful flowers aboud.
1.

Fippsie's Big & Small Japanese Onsen
This list wouldn't be complete without an onsen mod.
I'm sure there's some Internet law out there that says something like "if it exists, there's an anime fan that's made a Japanese version of it".
And hot springs are such an easy tweak to fit that rule.
This mod replaces & revamps the outside of the bathhouse, as well as the inside, giving it a very classic Japanese look with the reds and whites and tiled roofs.
It looks a little out of place at the train station.
But if you can ignore that, it's a pretty cool retexture honestly.
Browse:
Lists
Stardew Valley
Video Games