The Best Stardew Valley Farmhouse & Building Mods
This post may contain affiliate links. If you buy something we may get a small commission at no extra cost to you. (Learn more).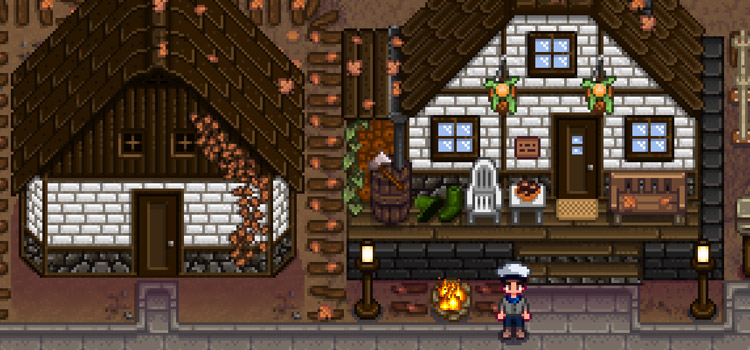 Stardew Valley has a lot of buildings.
Barns, coops, mills, and of course, the player's farmhouse.
It's nice that they're at least a little customizable in the unmodded vanilla version of the game. But what if you wanted to take things a step further?
Here's some of our favorite mods to totally change the farmhouse, as well as other buildings in your Pelican Town.
10.

Ali's Overgrown Fairy Buildings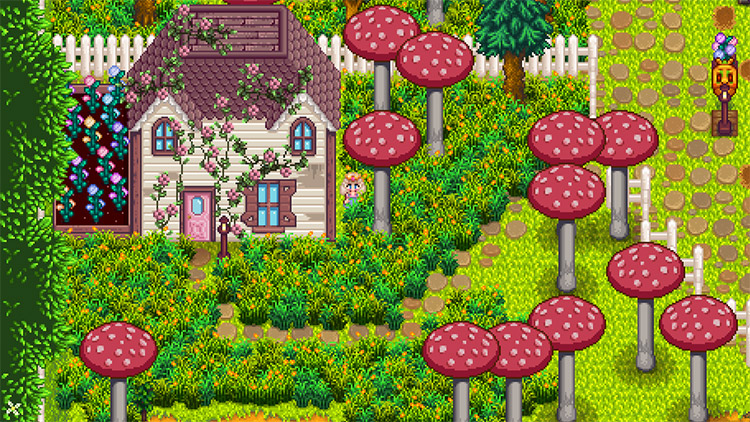 The magic! The adventure!
These are some of the best parts of Stardew Valley, and yet despite a literal wizard living just outside town and a ridiculously deep cavern stretching underneath utterly teeming with all sorts of monsters, the lack of options to bring magic into the open is just… odd.
Enter this fairycore mod.
Now your buildings can look like something from a quaint little fairy village.
Much better!
9.

Seasonal Japanese Buildings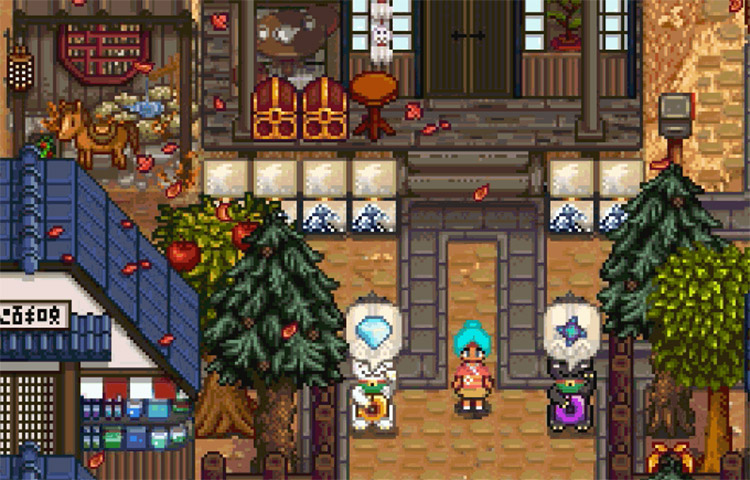 Stardew doesn't really touch on where exactly Pelican Town is, geographically.
But it does give off small town Canada or America vibes.
And you can feel free to ignore that completely by downloading these seasonal Japanese buildings!
Now everything from your greenhouse to your stables can look like something from rural Japan, and even better, they change with the seasons!
Enjoy snowcapped roofs in winter, and pretty flying sakura blossoms in spring.
8.

Seasonal Witchy Gothic Buildings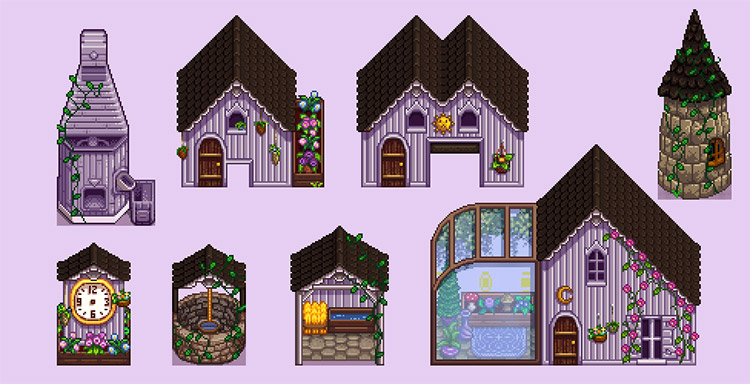 Abigail stans, we see you.
If you're all for the spooky, witchy vibes, this is the mod for you.
Transform Grandpa's old farm into the purple lunar hotspot of your dreams.
And this mod, similar to the last one, changes with the seasons.
Little planter pots out front will fill with snow, mushrooms, or flowers depending on what's in season. Pretty cool, right?
This would be the perfect place to farm slimes, that's for sure!
I wonder if the witch will appear more often with this mod? Only one way to find out…
7.

Hudson Valley Buildings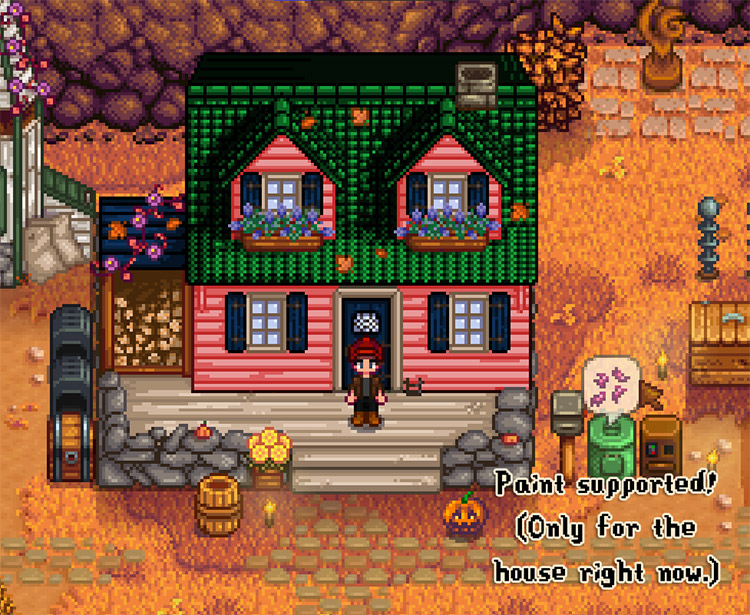 If you don't want anything themed, but still want a change of pace in your game, definitely give this mod a try.
This one offers several different options for building designs that look weathered, old, and fit right into Pelican Town without being, you know, standard Pelican Town.
I particularly adore the pinky greys of the second set!
With vines trailing from doors and walls, it's a great way to bring a cozy cottagecore vibe to your farm.
6.

House & Building Customization Mod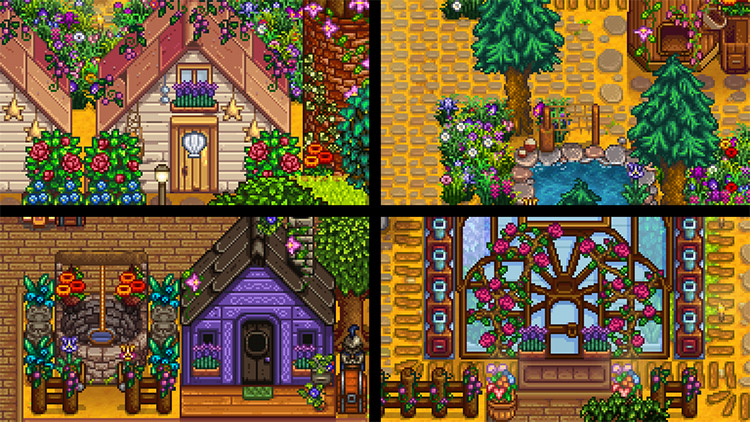 Here's another one that doesn't follow a set theme, but overhauls the general customization of the buildings.
With features such as a little hollowed out tree for your friendly Junimos, it's an adorable addition to anybody's game.
Other things it changes are the well, shed, and it totally changes the glass design on the
greenhouse to a pretty art nouveau style.
Fences can be covered in flowers, too. Which is totally adorable!
5.

Stable & Tractor Garage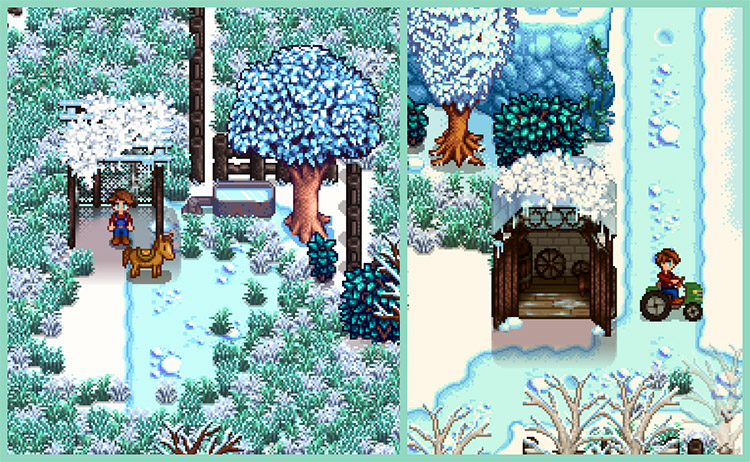 By late game, the horse is one of the most useful things you can get yourself.
Your player just moves so slow, no matter how much coffee you force feed them!
This mod comes with three new designs for the stables, and can come with or without a covering of flowers… although the flowers are so pretty, you'll never want to go without them!
The exterior does change with the seasons too, with pretty icicles forming during the winter months. Brr, just keep the horse warm, okay?
4.

Cute Valley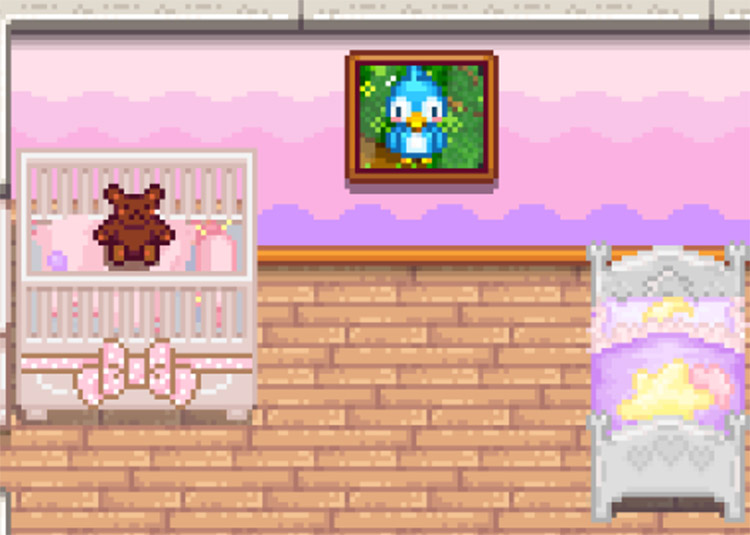 This absolutely adorable mod transforms charming Pelican Town into either a blue or pink wonderland – and you get to choose!
There are two download files here, although only one can be used at a time.
The entire town will look like a village of dollhouses regardless of which option you choose, inside and out.
It's still very rural looking with the wood paneling and roofs, just pink and blue instead of red.
Sounds good to me!
3.

Spanish Revival Buildings
The Stardew community is so creative.
I mean, this player turned their Pelican Town into a little Spanish-inspired village with the gorgeous overgrown buildings in classic stucco and tiled roofs.
It's currently a work in progress, but at the moment this has the player's house, barn, cabins, and coops fully customized – with more to come!
The sprawling flowers and hanging lights are really lovely touches to the buildings, and would look great on a bustling farm.
Oh, to be a tomato farmer in a little Spanish port town! That would be the life.
2.

Natural-Toned Birch Buildings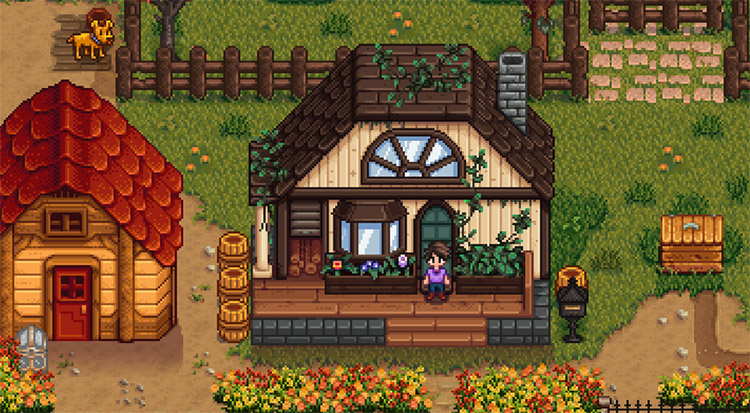 If you don't really like wild crazy changes, but do want to try something other than the standard farmhouse, maybe take a look at these natural-toned birch buildings.
Transform your farmhouse into this crafter's masterpiece with climbing ivy, a bright bay window, and pretty flower boxes.
It's a gorgeous way to change things up without totally disrupting the general vibe of the farm.
1.

Wizard Style House & Greenhouse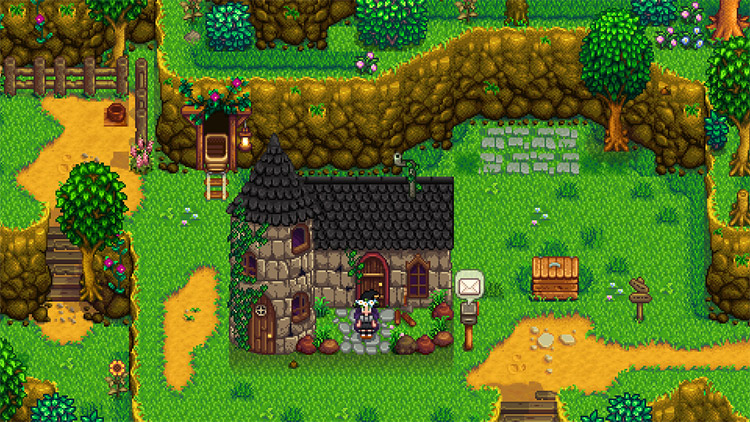 Rasmodeus, we're coming for your brand with this one.
This mod replicates the wizard Rasmodeus' house as a replacement for the farmhouse, and also updates the greenhouse in a similar style – with designs for both before and after it's built.
It's perfect for those who want to roleplay a spookier game, or just those that want a splash of something kinda fun.
The greenhouse is especially adorable here, with the little summoning circle, candles, and various alchemical products.
Browse:
Lists
Stardew Valley
Video Games