Best Stardew Valley Cat Mods (All Free)
This post may contain affiliate links. If you buy something we may get a small commission at no extra cost to you. (Learn more).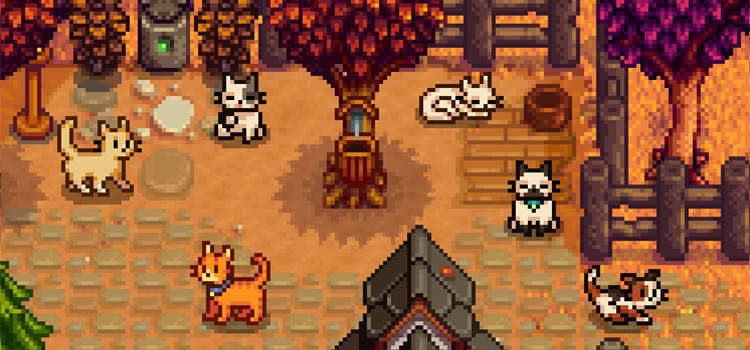 Pets are a fun detail on Grandpa's Farm in Pelican Town.
If you're a person of exquisite taste like me, you chose the cat as your pet (and if your taste is even more refined, you got the orange one!)
And I bet you didn't have an ounce of regret.
That said, life is short. So let's change things up!
Here's our picks for some of the best kitty-cat mods that can add some variety to your feline friends in Stardew.
10.

Smoking Badass Kitty
Listen, I'm not here to condone smoking.
As an asthmatic, I think we really need to crack down on it even more.
However, maybe you married Sebastian and he taught your cat a few new tricks.
And by a "few" new tricks, I mean how to look like a complete Chad while having a puff.
This mod comes with a smoking animation, and also your cat has sunglasses and a leather jacket. Enjoy.
9.

Pusheen the Cat
While I am undeniably a sucker for the orange cat option, I'm also a giant sucker for Pusheen.
I love the expression on his lil cat cheeks.
And this mod is pretty self-explanatory: it turns your cat into the Pusheen to roam around your farm.
The sitting sprite is especially cute and squishy!
8.

Togepi Cat
Here's a custom pet mod just for all you Pokémon fans out there!
If realistic gameplay isn't your thing (if you can even call Stardew realistic- looking at you, monster mines!) then you can totally choose a Pokémon as your pet. I mean, why not?
And with this mod installed, it turns your cat into Togepi, Misty's favorite fairy-type Pokémon.
Somehow it actually looks decently natural in the game, not forced in at all.
It's really cute too. If you could enjoy a Togepi around your farm then definitely give this a try.
7.

Umbreon Cat
Similar to the last entry, this mod replaces your cat with an Umbreon!
And hey, Umbreon at least looks a little like a cat, kind of sort of?
It's cute either way, and definitely worth considering if you are a big Pokémon fan.
Maybe your farmer is a giant nerd that struck a deal with Rasmodius to bring Pokémon into the real world? I'm sure Abigail would approve, TBH.
6.

Cat Gifts
One of my favorite things about cats in real life is how they'll bring you presents.
And no, I don't really want dead mice or birds. But you know what they say: it's the thought that counts!
With this mod, your kitties will occasionally catch and leave you gifts – just about anything!
They can leave common things like seeds, or sometimes these crafty cats will show up with items as rare and valuable as gems.
They have to earn their keep, after all.
And the mod is actually pretty deep. It takes into account your friendship level with your cat, as well as the rarity of the items to determine your chances of getting a gift – so you'd best get to petting and filling up water bowls!
5.

Elle's Cat Replacements
As a veteran Stardew player, I remember the days when you didn't actually get a choice in breed of animal.
It was just two choices: cat, or if you weren't cool, dog.
Players now have a few choices in breeds, but they aren't exactly comprehensive.
Elle's Cat Replacements now gives you a whopping 51 different textures to choose exactly the breed you want.
They're sorted, too!
There's shorthairs and longhairs, and loads of specific breeds, so you'll definitely find something you like. Well, assuming you like cats, anyway.
4.

Ragdoll Cat Bundle
If you're a sucker for cute ragdoll cats, this is a good mod to download.
The mesh is modeled after the creator's own IRL cat, so you know it's a labor of love.
And there's several color and coat pattern options to look through, so you have lots of choices even within the one breed.
3.

Black White Tuxedo Cat Recolours
So this mod does exactly what it says: it recolors the vanilla tuxedo cat.
Now there's the choice of a black one, a white one, and a kitty with both colors!
There's also eye color options too, since tuxedo cats do tend to have more amber eyes than other breeds do – which isn't reflected in the vanilla game.
Thank goodness for modding.
2.

Slime Kitty Retexture
If one cat isn't enough (and I'm here to tell you it's not!), now you can turn all of your Slimes from the Slime Hutch into cute little cat slimes!
This mod turns them all into chibi kitties that function exactly like the vanilla slimes, just looking much cuter.
There are plenty of colors available here too – just like with the base game slimes.
1.

Unlimited Cats and Dogs
If you don't want to go the slime cat option for unlimited cats, enter this mod: unlimited pets.
Now you can adopt literally as many animals as you want.
Be the crazy cat lady you were born to be and fill your entire farm with kitties (and dogs, I guess).
Just make sure you remember to refill the water bowl frequently.
But enjoy all the love and cuddles, and watch out for any drinking glasses left on open tables.
Browse:
Lists
Stardew Valley
Video Games