15 Best Clothing Mods For Stardew Valley
This post may contain affiliate links. If you buy something we may get a small commission at no extra cost to you. (Learn more).
Stardew Valley is a game that lets you do a lot of things.
But allowing you to dress up with a variety of clothes isn't among them.
Probably because there aren't a whole lot of reasons to change clothes while working on your farm. Something comfortable is all you really need.
If, however, you really want to change your clothes in Stardew Valley, there's plenty of mods for that. So let's have a look at some of the best ones worth installing.
We are what we wear, after all.
15.

Suits and Tuxedos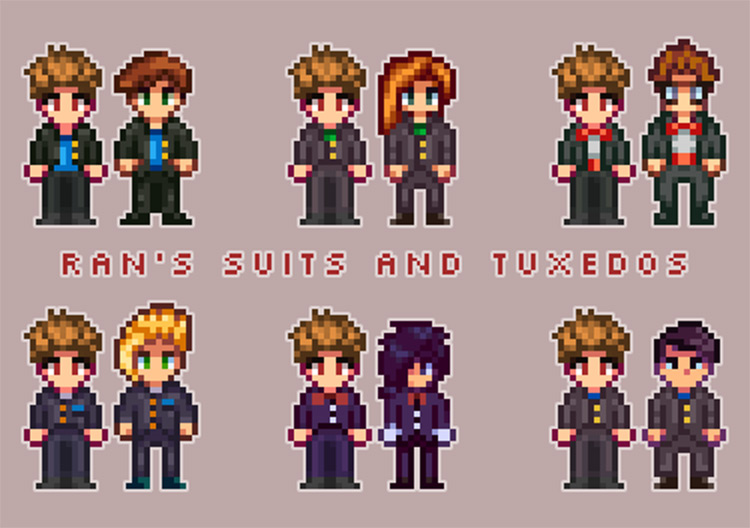 I honestly have no idea why you would ever want to wear a suit in Stardew Valley. But who am I to judge?
The Suits and Texudos mod by Ran features 16 new tuxes to always look your best. Even when working in the dirt.
Better yet, none of these new costumes replace existing ones. So you will not be forced to choose. How considerate of our modder.
14.

I'm a Hoodie Guy Myself
I'm definitely not a suit guy… but I'm definitely a hoodie guy!
This Stardew Valley mod is for all those diehard hoodie lovers like myself, as it changes shirt number 2 and the Good Ol' Cap into a cool hoodie that alters its style depending on the season and weather.
Did you really think we would let you suffer in Summer making you wear your winter hoodie? Nah, nothing like that.
13.

Scarecrow and Hats Mod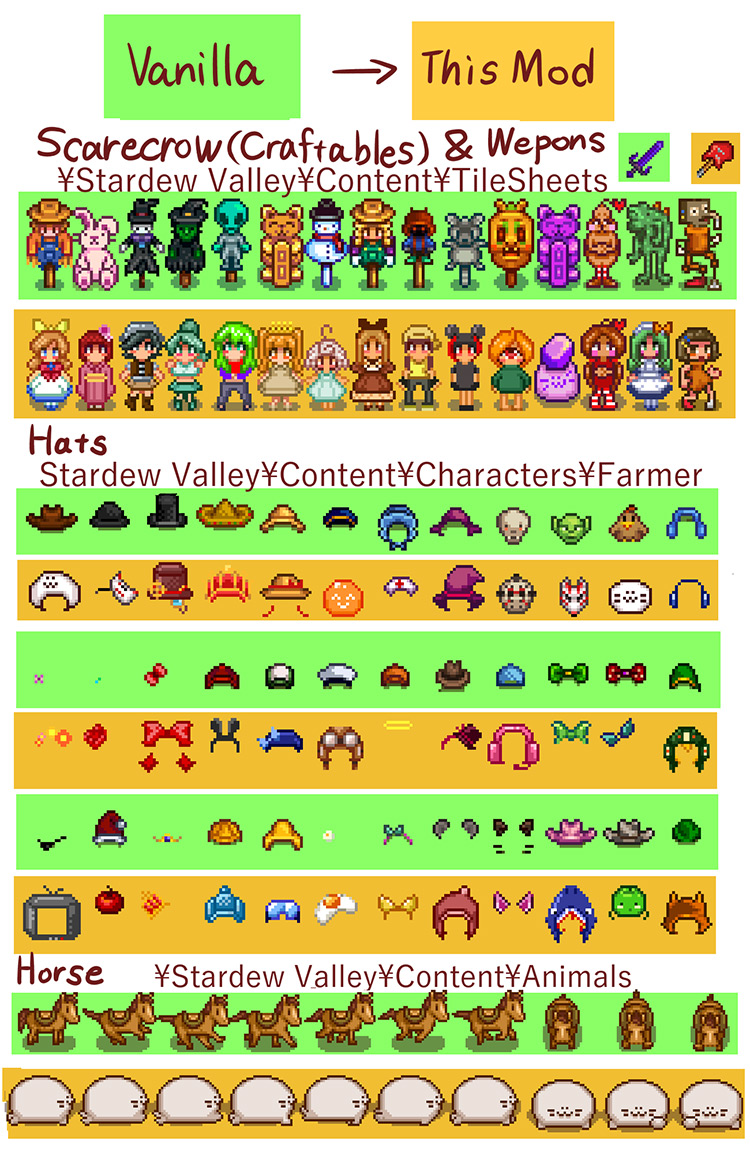 Stardew Valley mods come in all shapes and forms.
So you shouldn't be surprised to see one that adds more scarecrow options!
While the new scarecrows look very cool, they aren't the only neat addition included in this mod. As it also features tons of neat costumes and uniforms, as well as a brand new horse sprite.
A mod perfect for all seasons, truly.
12.

Female Farmer Clothing Overhaul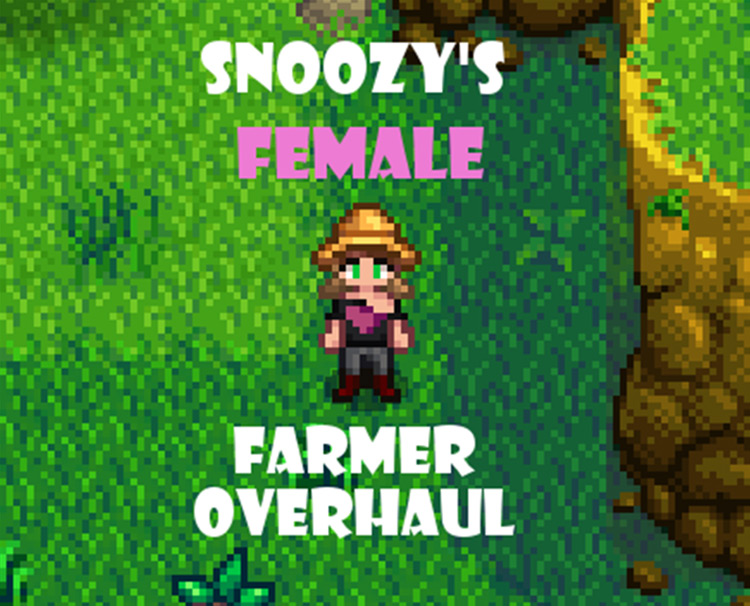 Who ever said that farmers can't look cool?
This Female Farmer Clothing Overhaul mod adds some new female clothing options that look great.
Stuff like new tank tops and jackets, most inspired by designer clothes. Great looking and comfortable, what else could you ever ask for?
11.

Space Boots To Steel-Toed Boots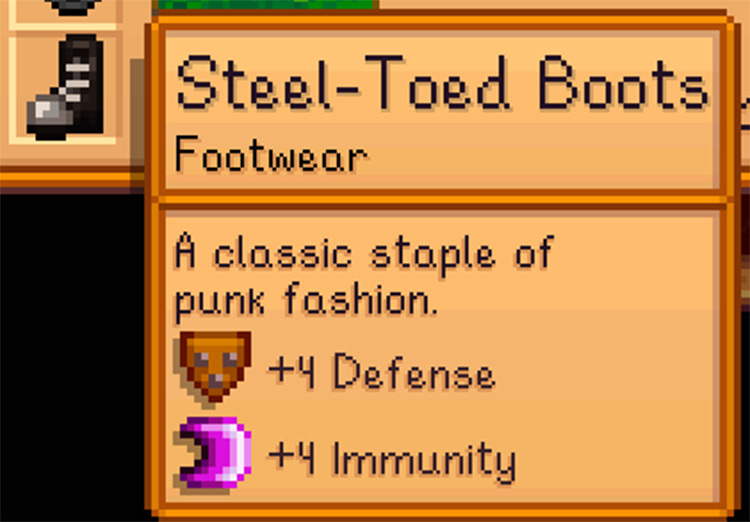 Safety always comes first, right?
So how come there are no steel-toed boots in Stardew Valley?
With this mod you can finally get what every farmer needs to work properly, by changing the frankly weird-looking space boots into steel-toed boots.
And they're surely as comfortable as they look. And if you feel like it, you can even customize all of the game's boots by using the .png files included in the archive.
10.

Rainy Day Clothing
Work on your farm can never stop.
And these clothes will make sure that not even pouring rain can stop you and your burning farming spirit.
This mod adds a raincoat and gumboots that look quite nice, and are just perfect for your typical rainy day. They won't make you a better farmer, but they do help. Probably.
9.

Ragnarok Hats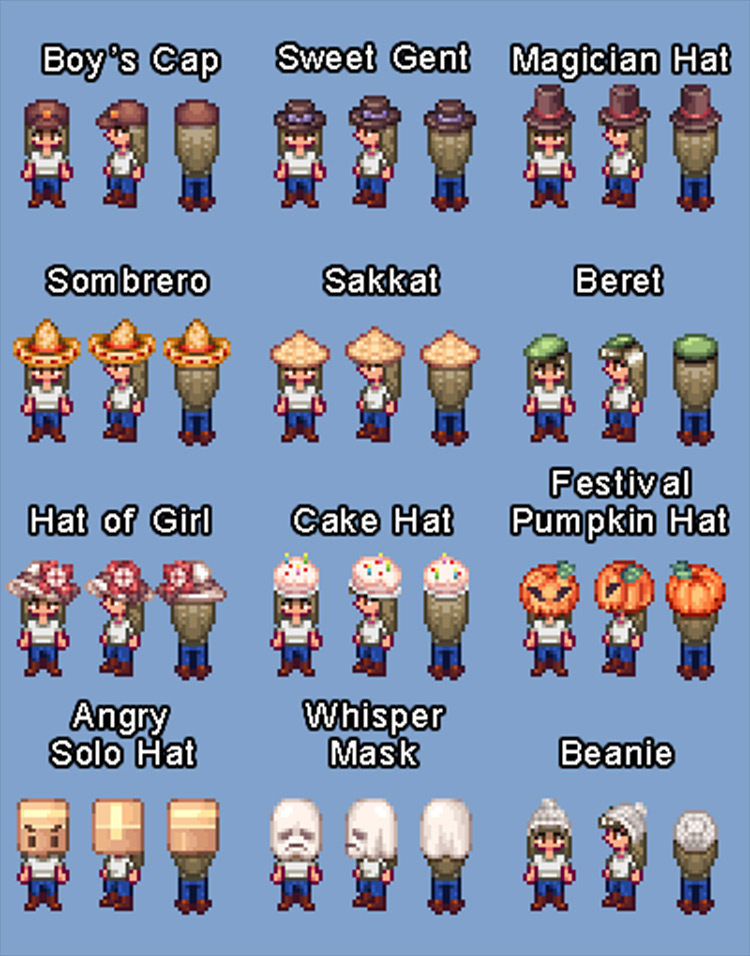 Hats are great, no matter how you look at them.
They let you send a message without talking, showing others who you really are and what you are aiming to achieve.
I'm not really sure you want someone to see you wearing the hats included in the Ragnarok Hats pack, though. Unless they're fans of the popular MMO by the same name. I mean, going around wearing a Whisper Mask, Cake Hat, or Festival Pumpkin Cat for no reason is sure to send the wrong message.
A very wrong and odd message.
8.

Witch Hats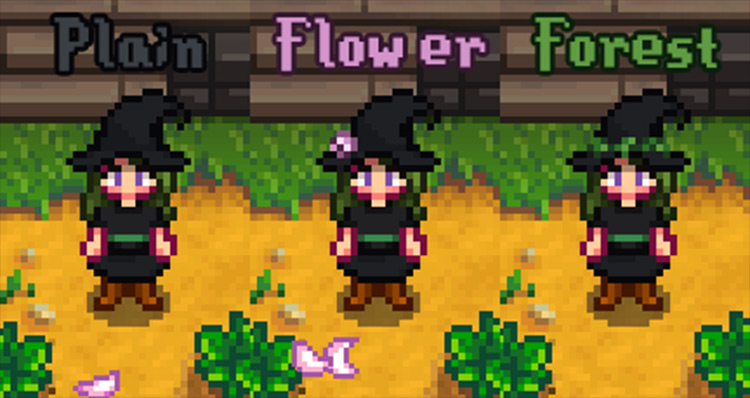 Time to work some farming magic with the help of these witch hats!
The Witch Hats pack includes three different hats: a plain, old fashioned witch hat, a flower witch hat for when you want to look cute while throwing hexes around, and a forest witch hat.
The latter for those witches who prefer the company of animals instead of other people.
Which is probably good for the other villagers too, considering witches can be very mean!
7.

Seasonal Hats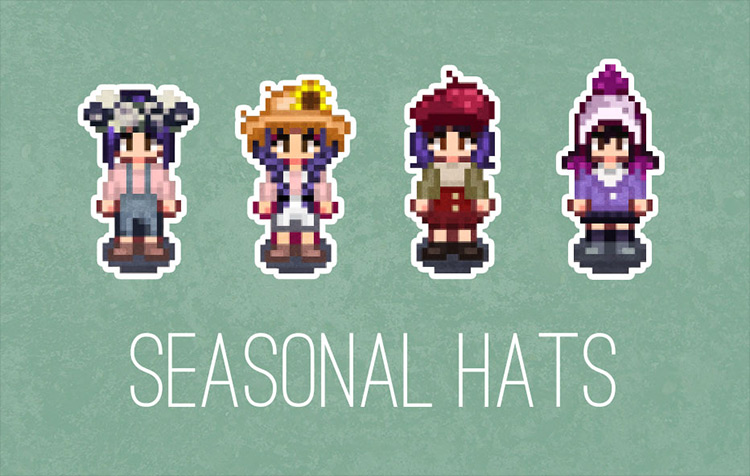 A hat for every season.
Or rather, many hats for every season.
Our beloved Seasonal Hats pack includes a wide selection of hats for all the four seasons.
The modder must love Spring the most, as the pack includes 11 spring hats. Although the hats for the other seasons, while fewer, still look fantastic.
No complaining here, fellow Winter lovers!
6.

Sailor Moon Hairstyles, Clothing, and Kimono
In the name of the Moon, I'll punish you. I am the Pretty Guardian who fights for love and Justice!
To be honest, there isn't a whole lot of fighting in Stardew Valley. But this didn't prevent someone from making a Sailor Moon-themed clothing mod.
With over 150 new clothing and customization options, you'll be sure to harness the power of the Moon to make your farm the best ever seen this side of the Milky Way!
5.

Basic Shirts Pack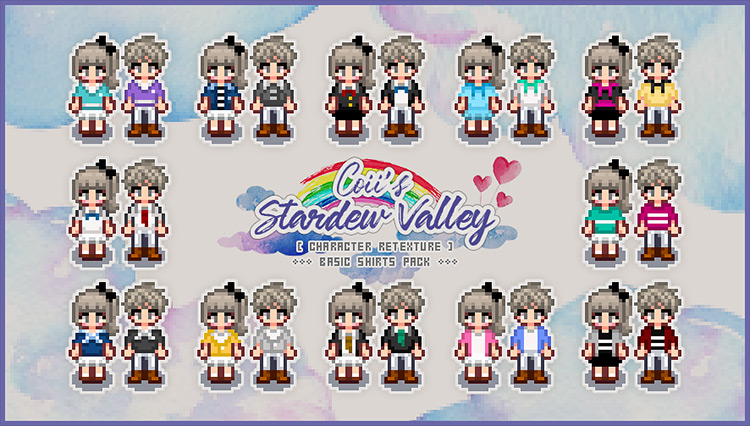 When you go basic, you can never truly go wrong.
With so many Stardew Valley clothing mods featuring ludicrous options, it's almost refreshing to see a mod that adds regular clothes to the game.
Being plain can be a blessing, in a world dominated by oddities.
4.

New Shirts and 2 New Skirts
If you're looking to renew the wardrobe of your female character, you definitely found the right mod.
"New Shirts 2 New Skirts" is pretty clear based on its name. This adds over 40 new shirts, as well as two new skirts to the game.
While these new additions don't really stand out in Stardew, I'd say having more options is never a bad thing.
3.

All Hats Pack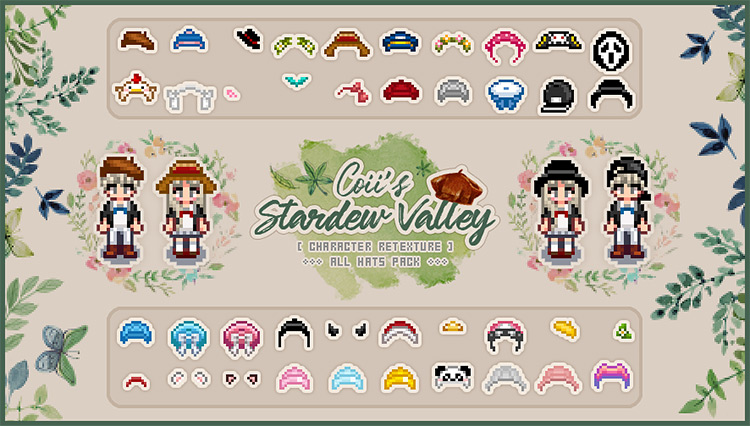 Hat collecting can become an addiction.
So, how do you feel about getting all of them?
While the All Hats pack doesn't really include all the custom hats ever made for Stardew Valley, it features a very large selection for both male and female characters, sporting some very unique designs that'll turn you into the farming superstar you always wanted to be.
So don your hats and get to work.
2.

Girls Sets Pack
This Girls Sets Pack mod is what happens when brand new clothes is no longer enough.
Alongside new clothing options that look quite clean, modder Coii added new hairstyles for the female farmer, finally showing the world how it's not true that farming leaves no free time for taking care of yourself.
As the saying goes: treat yo' self!
1.

Hats Won't Mess Up Hair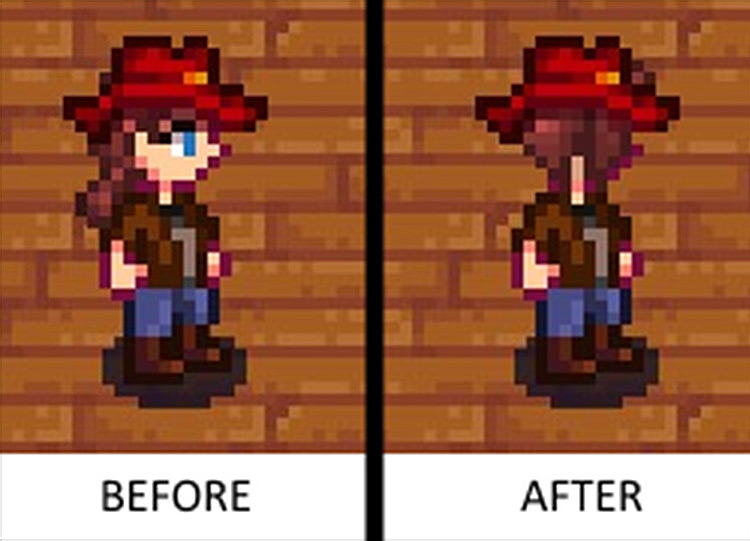 Stardew Valley is no-messy-hair territory.
Equip a hat, and the game will make sure you always have the right hairstyle.
If you really do not like Stardew forcing choices onto you, then you can simply install the Hats Won't Mess Up Hair.
It'll prevent the game from changing your hairstyle automatically when wearing a hat. Simple, but noticeable.
Some of the combinations do not look particularly good. But just remember that you're the designer here.
Browse:
Lists
Stardew Valley
Video Games