The Best Cottagecore Stardew Valley Mods (All Free)
This post may contain affiliate links. If you buy something we may get a small commission at no extra cost to you. (Learn more).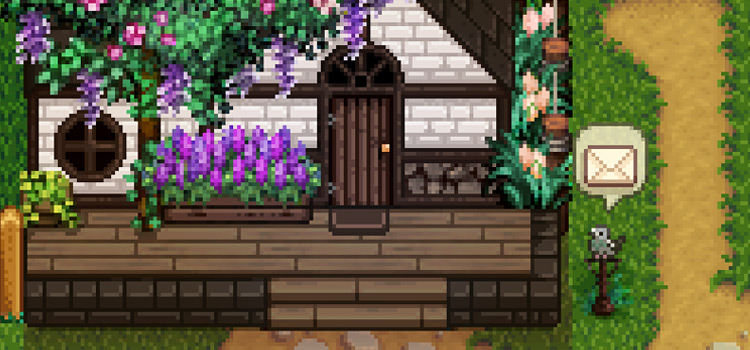 One of the best things about Stardew Valley aside from the fun gameplay and lovable characters is the setting.
Pelican Town is a charming little village with lots to offer in terms of aesthetic- often being quoted as 'cottagecore', however this's not quite right.
Say it with me: not all rural settings are automatically cottagecore. It's farmcore, buddy.
That said, cottagecore is popular for a reason. And with the Internet, there's plenty of mods to tip that rural scale to the cottagey sides of things.
Without further ado, here's a bunch of mods to cutesy up your game!
10.

Cottagecore Fences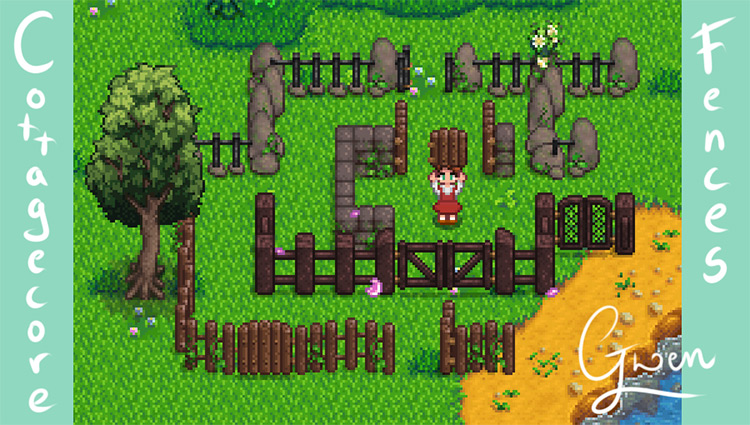 Vanilla game fences are boring. There, I said it.
The stone one is okay, I guess.
But the wooden one especially looks so plain on my pretty lil farm.
This mod introduces all new fences and gates that use a combination of stones and wood to look like your farmer put a little more effort into their layout.
They're super cute, and match the cottagecore vibe well – with some having flowers vining around them, for example.
9.

Coii's Girls Sets Pack
Speaking of boring vanilla game content, what's with the clothing options, Concerned Ape?
The villagers get to walk around in cool outfits (or whatever it is Elliot's doing), but I'm stuck in jeans and a tshirt?
No. Nuh uh.
I'm playing video games to disengage from reality, bestie, so catch me single handedly carrying the economy in some cute dresses.
This mod adds a set of frankly adorable outfits.
There's dresses and overalls, and comfy looking sweaters – just check it out, trust me.
8.

Overgrown Fairy Buildings
Fairycore and cottagecore have a lot of overlap, so I'm going to let this guy on the list.
This mod changes your farm buildings to have pink doors, more neutral walls and roofs, and (the best part) pink flowers growing all over the place.
Seriously, vines and flowers slap.
7.

Pigeon Mailbox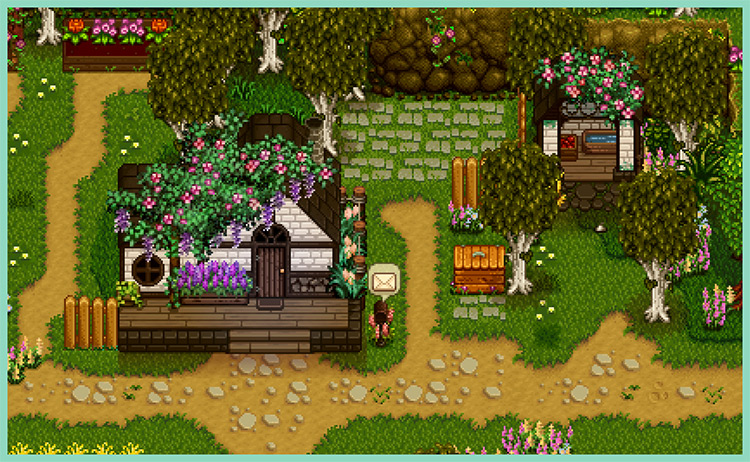 This is a silly yet cute mod that changes your standard issue mailbox into a pigeon.
Birds and animals are something I wish we had more of on the farm, so this is a great fix.
Plus it's totally cottagecore!
It'll be especially funny when you get gifts from the villagers that a bird couldn't carry, such as when Robin sends you fifty pieces of wood.
6.

Flowery Straw Hat
The straw hat is a staple piece for any farmer worth their salt, but hear me out:
Flowery straw hat.
This mod makes a pretty simple but pretty cute change to the standard issue chapeau, and the flower even changes based on the season, the day, and with any festivals!
Pair this with the clothing mod and you'll be the cottagecore icon of Pelican Town.
5.

Eden's Cottagecore Crystalariums
Does the futuristic, techy looking crystalarium get you down?
I find they always look so out of place, but I don't want to skip them since they're such a nice way to have a steady supply of gifts for the townfolk.
Worry no more, for there's a fix!
This mod changes the crystalarium into an unassuming planter, so that it blends in seamlessly with your cottagecore farm.
There's a glowing crystal on top too, so that you don't mix it up with the regular mushroom box.
Plus, you know… glowing crystals are fun.
4.

Eden's Mini-Obelisk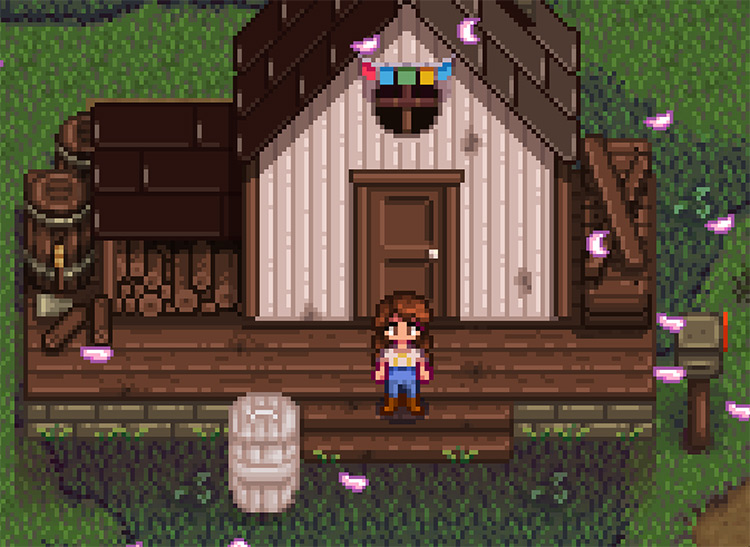 Same schtick as the last entry, different item.
This mod (by the same creator) changes the farm obelisk into a barrel.
It's a little less whimsical than an obelisk, if you ask me. But a barrel probably blends in better.
Retexture mods like this are so cool – because where else can you find a teleportation barrel?
It's an expensive one, though. Because the mod doesn't change the price or anything.
Half a million dollars for a convenient magic barrel isn't crazy, right? Right?
3.

More Grass
Flowers everywhere is the most dominant theme of the cottagecore aesthetic, besides maybe baking enough to feed a moderate army.
But there really just aren't that many flowers in vanilla Stardew.
No worries – there's a mod for that.
And the "More Grass" mod does exactly what you think it does: it adds more grass.
And when grass matures, it flowers. Easy. Done.
Overgrown flowers and gardens look way better and more natural than neat rows of flowers, which has been my personal approach thus far.
Move it, tulips!
2.

Rustic Country Walls and Floors
Is it just me, or are vanilla walls and floors kind of lacking?
There's a few decent wallpapers that I don't mind, but then I reuse them so much it gets boring.
This nifty little mod adds a slew of new wallpapers and flooring for your house that all look much more in place than whatever that horrid bright purple thing you can put on your walls is.
These are quaint, charming, and actually look like they belong on a cottagecore farm – or any farm, for that matter. We stan.
1.

Janas Flower Crowns
This is a cottagecore list. So you knew there had to be a flower crown entry coming, right?
As a staple of the cottagecore wardrobe, flower crowns are a humble contender for cutest headwear ever.
Because of how iconic they are, they're the number one cottagecore mod for your game.
This mod has plenty of options too, from roses to sunflowers, and just about everything in between.
There's a color to match any outfit you've put together as well – so go ahead and choose your favorite! Go live the cottagecore life of your dreams!
Or at least, enjoy it in game.
Browse:
Lists
Stardew Valley
Video Games