Best Stardew Valley Dog Mods (All Free)
This post may contain affiliate links. If you buy something we may get a small commission at no extra cost to you. (Learn more).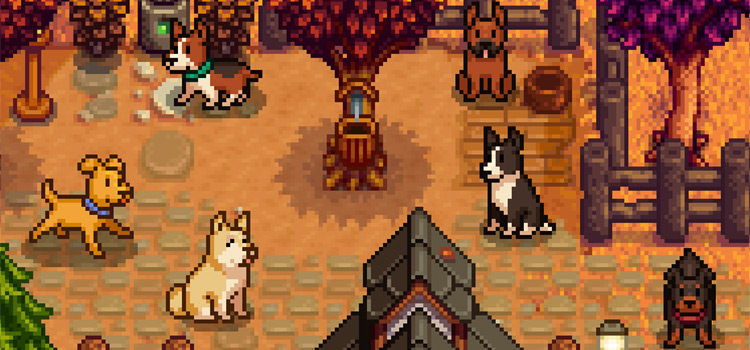 Listen, cats are better than dogs and I will die on this hill – but all animals are good.
And seeing as how you're reading this article, I'm going to go ahead and assume you're a dog person. I disagree, but I'll respect that.
Stardew Valley gives you the option to bring a dog to your farm in Pelican Town.
But there's not many options in the vanilla game for breeds. So what's a farmer to do?
Here's a collection of some awesome mods for dogs and dog lovers.
10.

Shiba Inu/Shepherd/Husky Mod
This mod completely replaces the original vanilla dog options with a shiba inu, a shepherd, and a husky.
It's a retexturing mod, and it does its job well.
If you like these breeds then this is probably a great one to try out.
The Shiba is especially adorable – it's a very happy looking doggo.
9.

Yet Another Dog Mod
There's definitely a glut of dog retexturing mods out there. But that's not a bad thing!
Variety is the spice of life, after all.
And the Internet is great for giving us a ton of options.
This mod adds lots of new dog breeds for you to choose from, and I'll say this much:
The sprites are adorable.
They're a little more cartoony and cuter than a lot of the other ones I've seen, but they're very sweet. You'll go barking mad for them!
8.

Red's Dog Reskins
Here's another retexture mod for dogs, which now allows you to have your own pit bulls, labs, and retrievers, all with multiple color options.
They're super cute (of course) with really nice colorings, and small tweaks to the original dog sprites.
If you have a spooky farm, or even just really like witchcore, there's even the option to have a Grim – which is a foreboding omen, or a cute semi-transparent puppy.
All depending on your perspective, I guess!
7.

Cats and Dogs
It's honestly so unfortunate that you have to choose one or the other when it comes to pets in Stardew.
There's plenty of space on the farm, after all – I mean, I've got dozens of cows named after stupid puns (think Beefcake and Coward).
So why can't I have dozens of cats and dogs?
This mod makes it so that you can get more than just the one cat or dog, and you can even mix and match between them.
Now you can run a pet sanctuary, or just have the crazy cat lady playthrough.
Who needs any of the bachelors when you have cats and The Bachelor?
6.

Krypto the Super Dog Replacement
This one's for you DC fans out there.
And like the name implies, this is a pretty simple one.
It replaces the standard dog option (think like, pre-update vanilla game dog) with Krypto, Superman's dog.
If dogs in costumes are your kryptonite, I have good news for you:
Krypto comes fully equipped with a swanky little cape and can-do attitude.
He won't do anything the vanilla dogs won't – but he's guaranteed to look ten times more heroic and ten times cuter, and that's a fact.
5.

Zero from the Nightmare Before Christmas
Here's another pop culture replacement mod for all you Jack Skellington fans.
This one replaces your dog with Zero, Jack's ghosty dog from A Nightmare Before Christmas.
He's pretty cute in the Stardew artstyle, and instantly recognizable.
Plus he looks especially in place during the winter season, with all of that snow and cold backdrop, it's all really very festive.
If you're a Disney fan or into spooky stuff, you should definitely consider adding this mod to your game.
4.

Dog Bandana
You know what's unfair?
You can pop a hat on a horse, but there are no accessories for the pets.
I would love to stick a straw hat on my orange cat, Ser Pounce, but nooo.
Well this mod starts to help remedy that situation by giving us bandanas for dogs.
It's a humble fix, but a helpful one.
Yes it's a simple change – but it's super cute, and gives your vanilla dogs just a little pop of color to help them stand out on the farm.
3.

A More Happy Dog House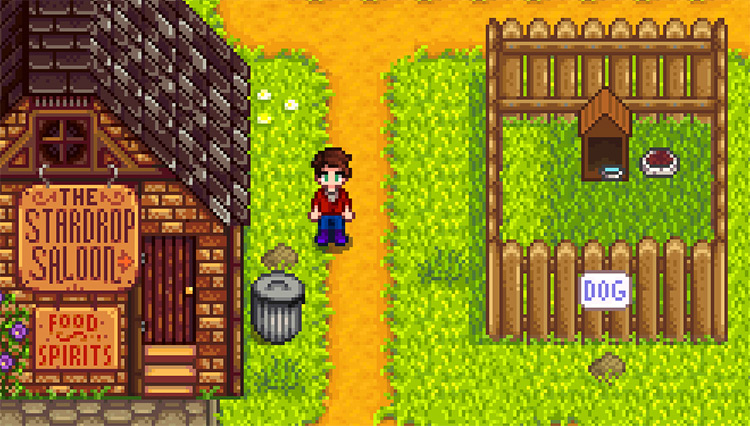 OK I'll admit, this mod isn't for your dog, it's for the sad little dog in town.
Have you ever noticed how run down and sad Dusty's pen is?
Alex is the only one who gives the poor guy attention. And when he's busy, he's stuck in a little enclosure (for presumably NO reason) without so much as a toy to play with.
This mod fixes things up by making the doghouse a little more inviting, and giving him a food and water bowl.
It doesn't change much gameplay-wise, but it makes me feel better, at least.
Empathy can be a super weird thing, huh?
2.

Froststar11's Canine Collection
This collection of dog breed replacements by Froststar11 is seriously impressive.
There's quite a selection, and you're even given the choice to change up the breed you have every single time you play the game – not just when you start a new save.
And this mod combines content from other creators, so it's a really great catch-all if you're only going to download one dog-altering game mod.
This is especially true because you don't have to worry about any other mods conflicting with each other!
1.

Elle's Dog Replacements
You could say this replacement mod is sort of the gold standard of replacement mods.
Elle also completed a mod for cats that does the exact same thing, and there are so many options here.
You're given a really nice menu of dogs to choose from, and they're sorted into breeds and colors to keep things organized.
Many complete overhaul mods take this one into consideration for the programming, so it's one of the least likely to conflict with anything!
If you like dogs and want more in your Stardew game, you're all set with this massive collection of custom breeds, sprite replacements, and other upgrades.
Happy gaming!
Browse:
Lists
Stardew Valley
Video Games