Best Stardew Valley Custom Furniture Mods (All Free)
This post may contain affiliate links. If you buy something we may get a small commission at no extra cost to you. (Learn more).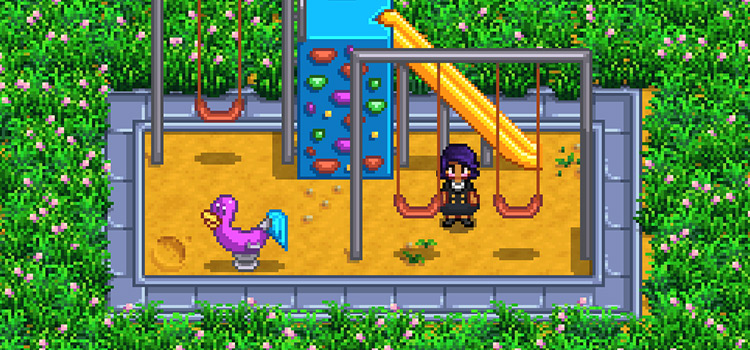 Stardew Valley offers a lot of different customization features for a lot of mechanics.
But it also lacks a few that make the game feel limiting in certain regards, like farmhouse customization.
But with modding, this can be a problem of the past. If you're looking for different furniture sets to make your house look both unique and amazing, you've come to the right corner of the web.
Express your creativity and redesign that drab ol' house of yours.
15.

House Plants
If there's anything your farmhouse sorely needs, it's more plants.
This mod introduces different houseplants like the Monstera Deliciosa, Pothos, Spider Plant, and Baby's Tears in pastel planters. All free to add into your abode.
And I'm certain they'll make your house in Stardew Valley feel like a real home. Have you ever seen a house without any plant life at all? Especially a farm!
14.

Magical Anime Collection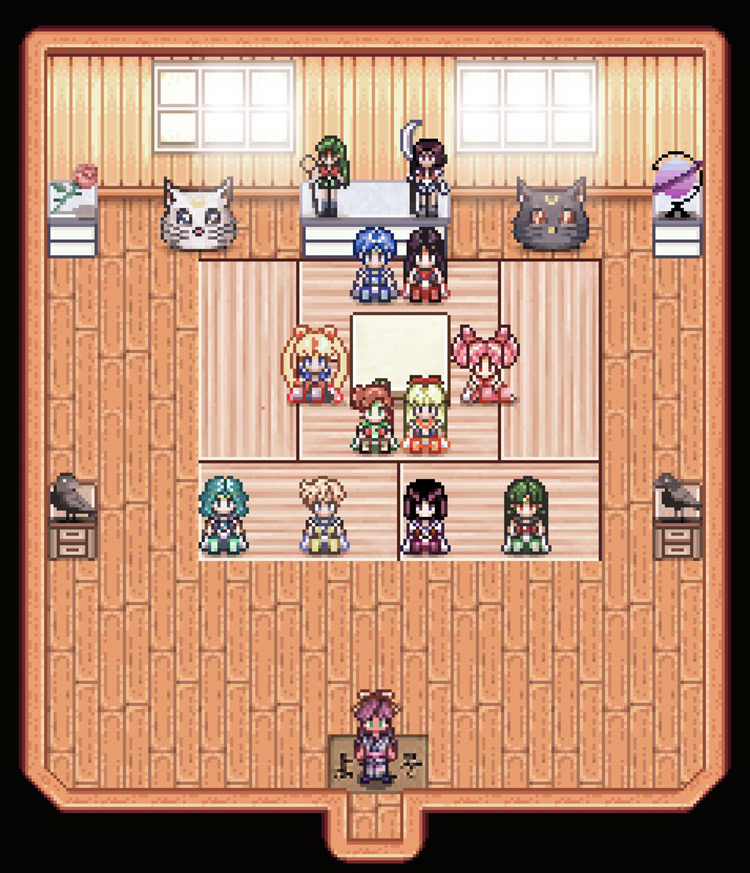 I always wanted to have one of those rooms with shelves filled with action figures, but never managed to achieve my big collection dream.
Yet thanks to the Magical Anime Collection mod, I can finally have one of these rooms in my Stardew Valley house.
The mod includes dolls, action figures, and plushies inspired by multiple anime series like Sailor Moon and Card Captor Sakura.
Add these into your room to show the world your burning otaku spirit.
13.

Living Room
Your farmhouse will become the talk of the town once you're done setting up your living room.
This mod includes furniture that can be used to create the living room of your dreams, including a matching rug, entertainment stand featuring a Blu-Ray player and surround sound system, plus other details you're sure to love.
It almost looks like my own living room. If I had lots of money to spare, that is.
12.

Redwood Furniture
Now if you're looking for new furniture that looks truly classy, you've found your virtual Ikea.
The Redwood Furniture pack includes 25 new items all done in redwood and black, which look incredibly stylish.
There's at least one of each type of furniture here, so you'll be able to renovate without having anything that looks out of place.
11.

Blacksmith Furniture
Farming is the past. Blacksmithing is the future.
Blacksmith Furniture offers a pack of new furniture items, as well as an animated furnace that can turn any of your rooms in a proper smithy.
Now, if we only could make some sword and armor, that would be great!
10.

Witch Furniture
You think neon skull furniture is only good for Halloween? Well think again!
This Witch Furniture pack is the custom furniture set you'll want to get if you're thinking about holding a sabbath in your house.
While most of the new furniture has been ripped from the witch's hut, it has been recolored here to create a more cohesive style. Oh, and did I mention it also includes neon skulls?
9.

Kids Furniture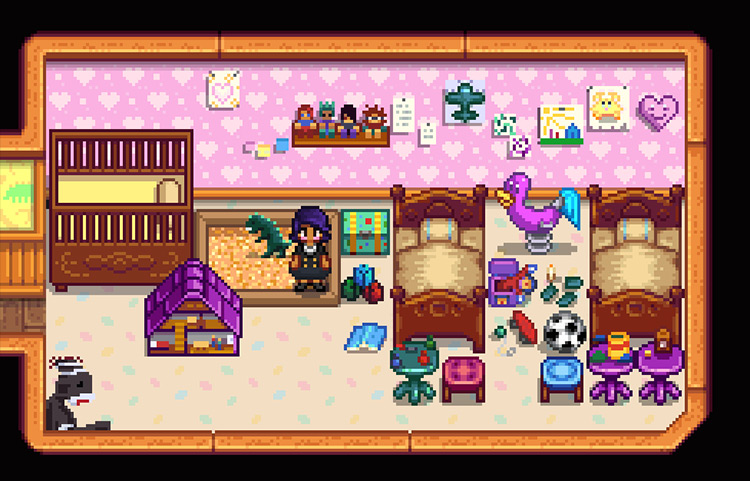 It's time to play, Stardew fans.
This Kids Furniture pack is everything you'll want for a happy home life.
It includes 31 new kid-themed furniture items like toys, books, drawings, and even a toy house. While most of these items have been taken from other in-game locations, there are a few new additions that'll make you forget that you're essentially stealing items from others.
8.

Seaside Interior
If you long for the sea and the lulling sound of its waves, we have something for you. But more of an "indoors away from the sea" kinda feeling.
This custom furniture pack includes lots of new items that would look great in any seaside house, including a toy boat, rope, and decorative helm.
With this décor you can daydream of soaring the seven seas in search of adventure, all from your quaint village life. Just don't neglect your animals!
7.

Animated Furniture and Stuff
Decorating your house in Stardew Valley will never feel the same again, once you install the Animated Furniture mod.
While the mod doesn't add much new furniture to the game, it animates most of the already existing pieces. As well as animating museum rewards and other items, bringing new life to the entire game.
Better yet, the mod is fully configurable. So you can turn any animation off if there's a few you're just not too fond of.
6.

Modern Gothic Interior
There's an abundance of darkness in the Modern Gothic Interior pack. I wonder why…
Since we're talking about gothic-styled furniture, of course there's plenty of black in this mod pack.
Just what I would need if my farmhouse was located in a spooky forest in the middle of nowhere. Or to recreate that iconic painting in Stardew world.
5.

Rustic Country Walls and Floors
If you want a proper, credible farmhouse, you'd better go all-in with this mod.
Rustic Country Walls and Floors adds new walls and floor options. Obvious, right?
But there's a lot here! It'll make your house's interior look like what you'd expect to find on a real farm.
These new options also look great with pretty much any furniture available in the base game. So you don't have to worry about things looking out of place.
4.

Industrial Furniture Set
When I think of an industrial furniture set, grey items come to mind.
And it can still be pretty stylish.
The beautifully stylish items of modder Hesper are well worth checking out.
The set includes a lot of furniture along with a cozy fireplace, which will make all your winter nights quite special.
3.

Dark Wood and Cream Furniture Conversions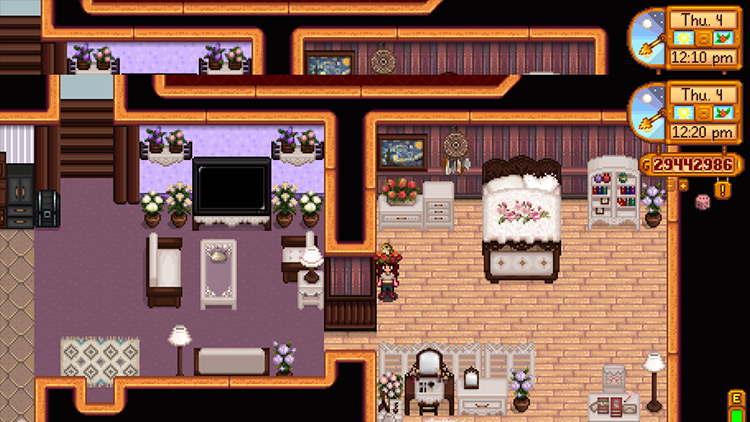 You really haven't seen anything until you've seen the new items included in the Dark Wood and Cream Furniture Conversions set.
This costume furniture pack includes some really nice looking items with a black and cream coloring scheme.
Not your typical design style, eh?
But this can make your house feel unlike anything ever seen in the game. Also note this pack is not a standalone mod, so make sure to install the Custom Furniture mod first.
2.

Walls and Floors
Changing your walls and flooring is not something you want to do often in real life.
But we're in Stardew Valley. And we can do whatever we want with no repercussions, right?
This free mod pack requires the Content Patcher, but installation is pretty simple.
It add plenty of new wall/foor options that just don't look as saturated as the vanilla ones. Not to mention these new styles look great with any type of furniture.
The sky and clouds wall design is my personal favorite: it truly makes me feel at peace with the world. Kinda like a simple farm life, right?
1.

Custom Furniture
If you're into adding a whole lot of new furniture to Stardew Valley, you really cannot skip over the Custom Furniture mod.
This mod is incredibly simple to use, and extremely powerful. Pretty much a must-have.
It allows you to add any furniture via JSON and a .png file to Robin's shop, and the Furniture Catalogue.
This means you can create your own custom furniture or rip it straight from the myriad of other 2D games. Think about all the GBA pixel art just waiting to get added into your next farm build.
With modding, anything's possible.
Browse:
Lists
Stardew Valley
Video Games