Best Hair Mods For Stardew Valley (All Free)
This post may contain affiliate links. If you buy something we may get a small commission at no extra cost to you. (Learn more).
Over the years, the Stardew Valley devs has added quite a few different hairstyles to the game.
However there are some styles out there that players may want – but still can't get.
Well thanks to these mods you'll be able to style your character just the way you want! I've even included an option for your character's children as well, just for good measure.
1.

Ace's Hairstyles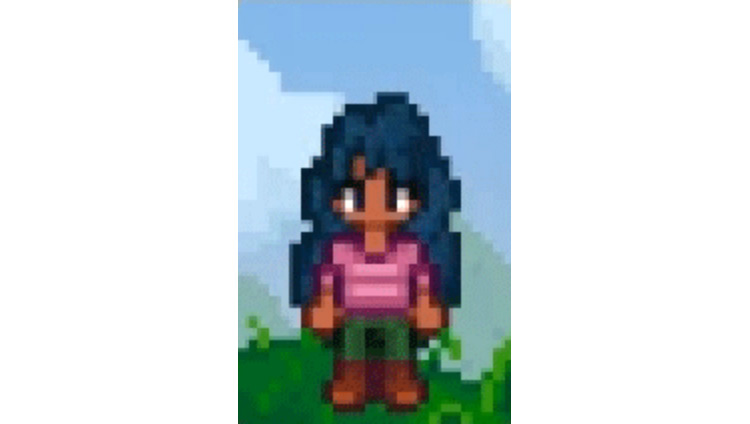 If you've grown bored of the original Stardew hairstyles, this mod is sure to liven things up!
With 144 brand new hairstyles, there's a good chance you'll be able to find a new design that you'll absolutely love.
This mod includes hairstyles for male players, female players, and everyone in between.
If there's any potential downfall here, it's that most of the hairstyles do appear to be on the feminine side. But if that's the aesthetic you love then go for it!
2.

Crabbit's New Hair
If you're someone who would prefer to have some high-quality hairstyles to choose from, then this might just be the way to go.
In the Crabbit's New Hair mod, you'll be able to choose from eight hairstyles like hime, kotori, big wave, and cutie.
These are all feminine hairstyles, so they work well for players who enjoy making their characters as beautiful and elegant as possible.
Although there aren't a ton of different hairstyles to choose from, the ones in this mod offer depth and detail that you won't get from vanilla Stardew.
3.

Dangan Ronpa Trigger Happy Havoc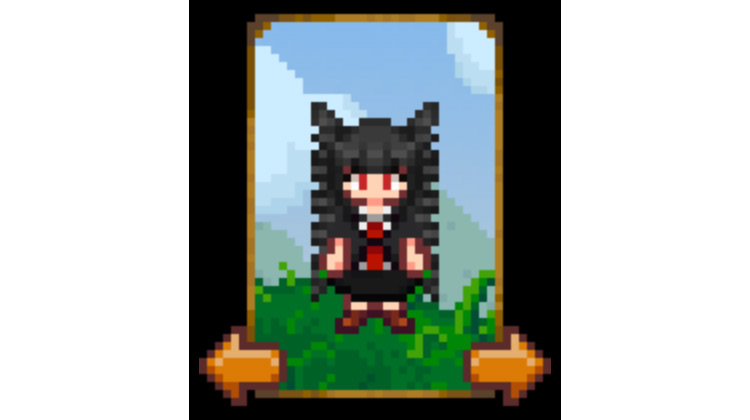 Are you a diehard fan of the Danganronpa series?
Well this mod allows you to change the fate of your favorite Danganronpa character by playing as them!
With 24 hairstyles based on popular Danganronpa characters – along with matching shirts – you can play as one of a variety of different female characters.
That includes fan favorites like Chihiro, Junko, Akane, Sakura, and more!
Just keep in mind that this mod does appear to only have options for the female Danganronpa characters… but that doesn't mean you can't use them on a male player character too!
4.

Karina's Long Hair
Another simple one here, aimed at adding more dynamic hair options for Stardew players.
Once you install this you'll find 96 new hairstyles for both masculine and feminine characters.
Many of these styles add some length to the hairstyles, but not all of them are incredibly long.
That said, those who enjoy playing characters with long flowing locks are sure to find some styles that'll liven up the gameplay.
Some of these styles are more modernized, while others even resemble designs from Sailor Moon (for all you anime fans out there!)
5.

Cardcaptor Sakura Collection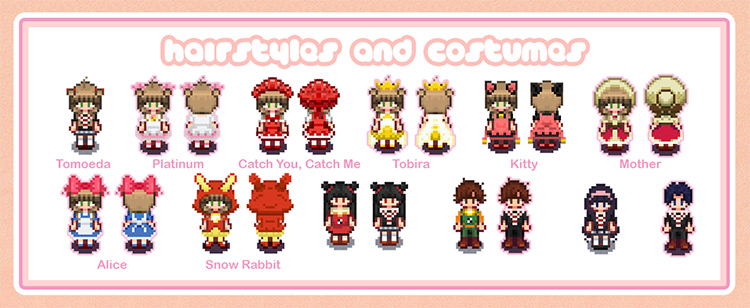 You don't have to be a fan of Cardcaptor Sakura to enjoy this mod, but it can help!
Once it's set up, this mod will give you access to 24 new hairstyles – as well as some new clothing items to help spruce up your wardrobe.
The outfits and hairstyles are absolutely adorable, which makes this pack a fantastic choice for Stardew players looking to be the cutest character in Pelican Town.
6.

Improved And New Hairstyles

Improved And New Hairstyles doesn't just add some new hairstyles into the mix, oh no.
It also fixes some of the standard ones too!
Try this out if you're finding existing hairstyles that almost suit your needs, but still feel a little off.
But even if that isn't the case, there are still 16 new hairstyles introduced with this mod as well.
And unlike with some other mods, these hairstyles are designed to fit right in alongside the other characters in the game.
You'll look fresh, but you won't have to worry about your character looking like they're from a different game!
7.

Yuriyuri's Hairstyles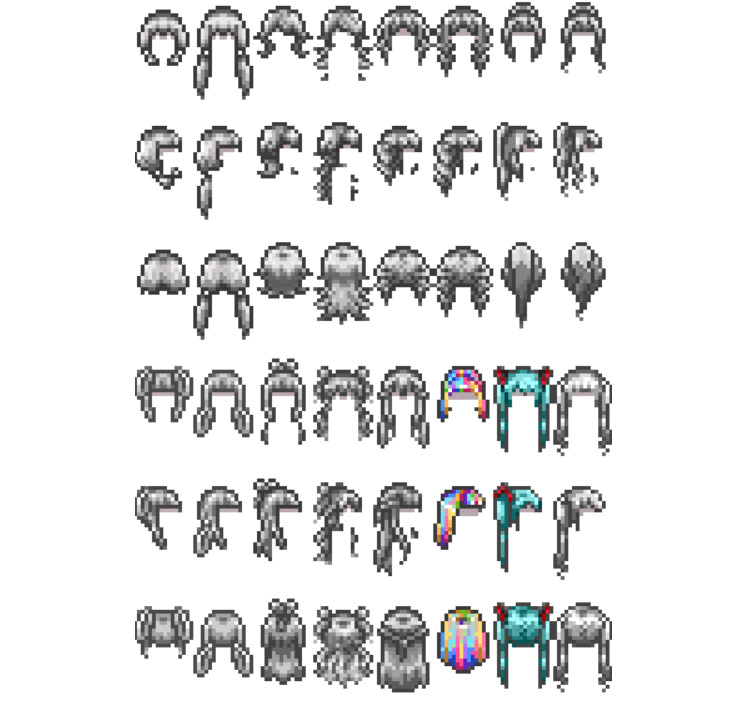 With this installed, you'll gain access to 32 new feminine hairstyles.
That's sure to keep you busy for a while.
Some of these designs are completely unique, while others are based on popular icons like Hatsune Miku.
Either way, these hairstyles are definitely going to help your character to stand out & look amazing among the townsfolk.
There's even a rainbow-colored hairstyle here – you know, for those who really want to brighten up their farm.
8.

Coii's Hair Set Pack
Coii's Hair Set feels like it was made for those who want a simpler hairstyle with more quality – or perhaps just something more modern!
This pack provides new hairstyles for both masculine and feminine characters. More specifically, there are 24 hairstyles overall, including 12 shorter hairstyles and 12 longer ones.
You'll also find that each style has a couple of different versions, so you can pick the one that fits your character best.
9.

More Hairstyles Mod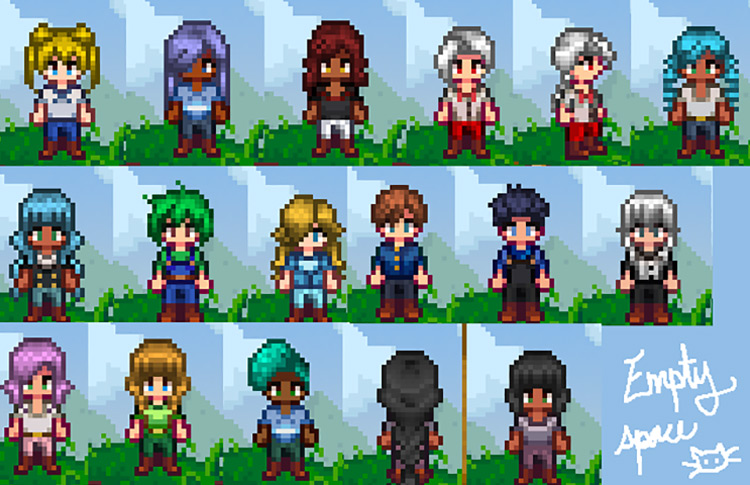 A simple name for a simple mod.
But what does it do?
Simple! This gives players exactly what you're here for – more hair options.
And it's not just newer hairstyles being added, because you'll also find some of the vanilla hairstyles get brightened so that they look a bit nicer.
There are both long and short hairstyles to choose from, so really there's probably something here for everyone.
10.

Babies Take After Spouse Mod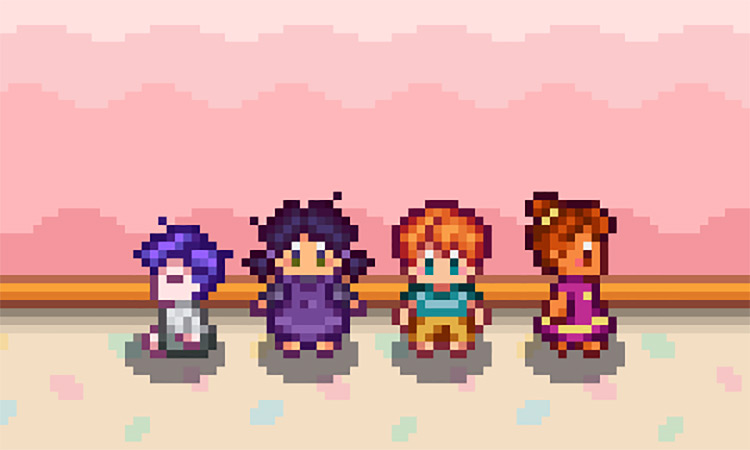 Unlike the other mods in this list, here's one that affects the children you have in the game (if you choose to).
If you're anything like me, you're a little bit tired of your babies and children looking plain, and not really taking after you (or your spouse) in some cases.
Not only does this mod adjust the aesthetic by making children look more like your spouse, but it also allows you to change up their overall appearance with only a few clicks.
Custom-designed children in Stardew?
Sign me up.
Browse:
Lists
Stardew Valley
Video Games