Halloween-Themed Stardew Valley Mods (All Free)
This post may contain affiliate links. If you buy something we may get a small commission at no extra cost to you. (Learn more).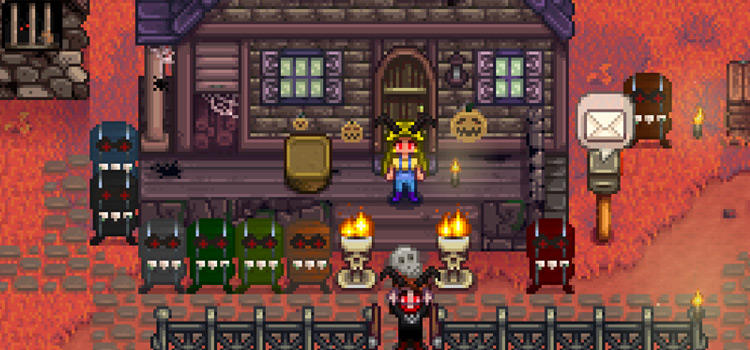 Everyone loves spooky season.
And Halloween is so much fun: candy, costumes, and scaring your friends and family.
What's not to like?
The Halloween event in Stardew Valley is also lots of fun. The Golden Pumpkin is a great item, since it's a universally loved gift, and easy enough to find if you know the tricks for the maze.
But here's a handful of Stardew mods to push your game even further into the spooky style!
7.

Halloween Feelings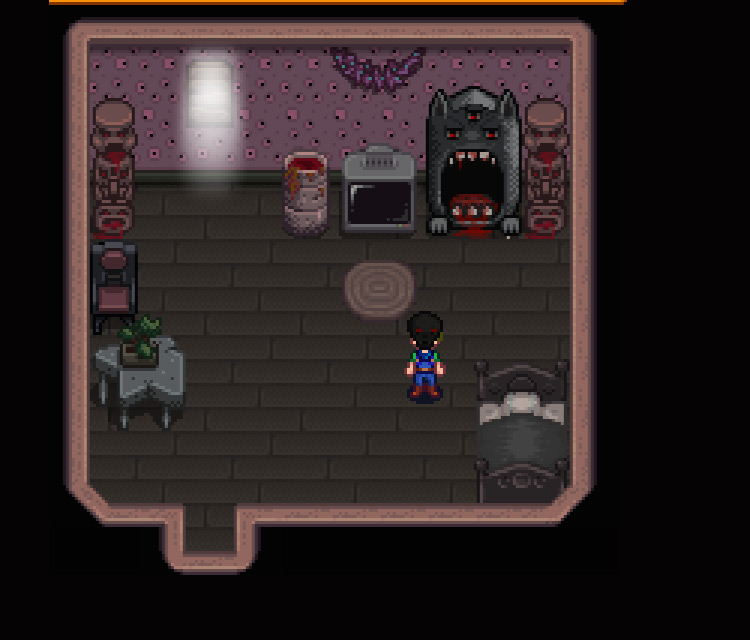 This neat mod replaces the music and backdrop for the Fall month in game to a Halloween-themed one.
Spooky Day doesn't have to be only one day, after all – hardcore horror fans will tell you it's a month-long commitment.
More specifically, the mod redoes the interiors in village and farm buildings to be decorated for the holiday. And it even adds some monsters!
Definitely worth checking out.
6.

Spooky Scary Creatures
This horror fun-filled mod totally overhauls the animals in game.
Instead of butterflies, you'll find flying eyeballs.
And poison snakes instead of rabbits, and radioactive undead seagulls… lots of switches.
The switch seems to be year round too, so no need to keep your love of Halloween to just fall.
So this just lets you enjoy the spookier side of life all the time!
The mod page lists all the changes in total, so if I can't convince you, go have a look for yourself!
5.

Halloween Decor
Some people really love decorating for Halloween. It's a lot of fun!
And this mod lets you do that in-game by changing some items (like the Futan Bear) into cute, cuddly, horrific items.
There's pumpkins, squashy ghosts, and all sorts of other fun things to discover.
Even if you aren't a hardcore Halloween fan, there's also some pretty cute items so it's worth checking it out on its own.
4.

Horror Rain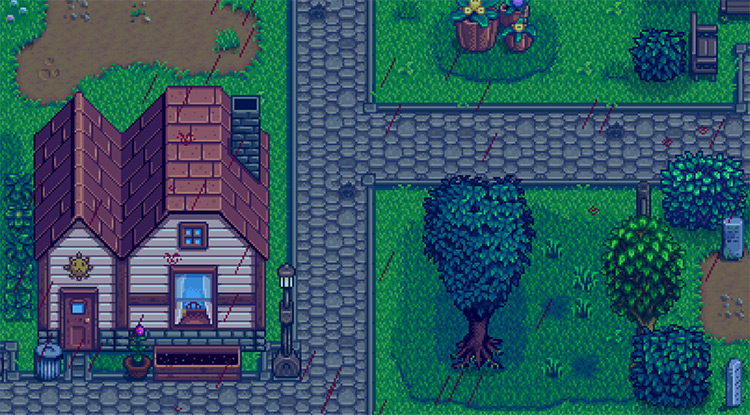 Sometimes, even a thundering rainstorm outside isn't enough pathetic fallacy to get the spooky mood going.
No problem, this modder created a nice change for you: instead of simple water, now acid or blood falls from the sky.
You're welcome.
I feel like Sebastian and Abigail would absolutely love this.
Acid and blood rain is pretty edgy, after all.
It sure would set the spooky mood, though. I'm sure nobody would be no doubting that!
3.

Horror Hats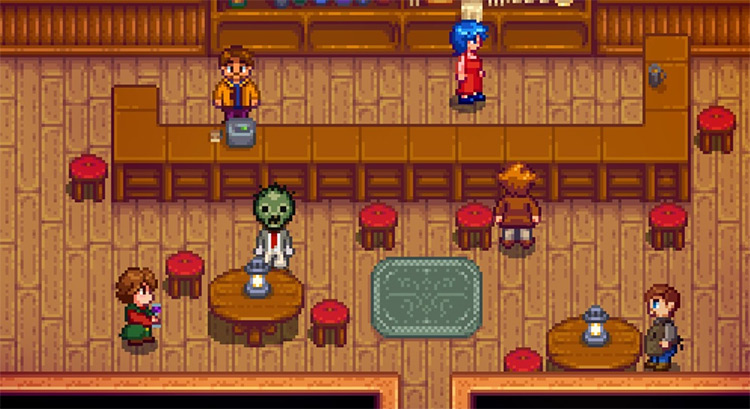 If it wasn't scary enough that a mouse cat thing is in an abandoned building in the woods selling hats, now he's selling horror hats.
Well, masks.
Here's a way for you to wear a costume to the Halloween party, though!
There's all sorts of neat masks to choose from, so there's something for everyone.
Zombies, skulls, dwarves, you name it.
Just don't be surprised if you scare Jas and Vincent to tears… they're just little, after all.
2.

Halloween Pet Replacement

Have you ever looked at your dog or cat and thought "hm, I wish you were a pumpkin"?
No?
Me neither, but this mod lets you do just that.
It's a simple switch: for as long as you have this mod installed, your pet just becomes a walking, meowing, barking pumpkin.
You still have to fill their water bowl and give them love. But now they might get mistaken for a vegetable.
It's one of the funnier mods out there, and worth taking a look at.
1.

Halloween Scarecrows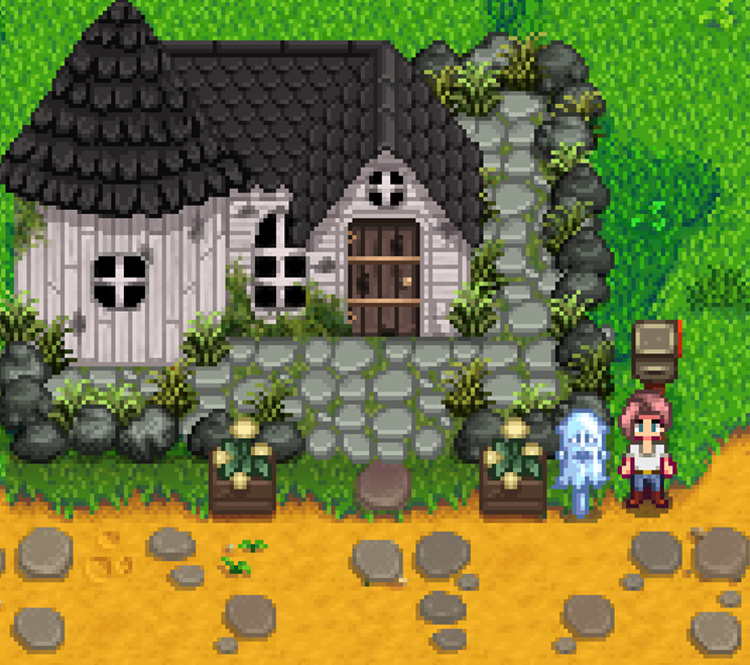 There's plenty of neat Rarecrows in the vanilla game.
But this mod adds even more to catch your eye.
Now you can get into the spooky spirit with scarecrows that look like skeletons, ghosts, pumpkins, vampire bats, and plenty more.
I'm no crow, but they would sure scare me.
Browse:
Lists
Stardew Valley
Video Games