The Best Kitchen Mods For Stardew Valley (All Free)
This post may contain affiliate links. If you buy something we may get a small commission at no extra cost to you. (Learn more).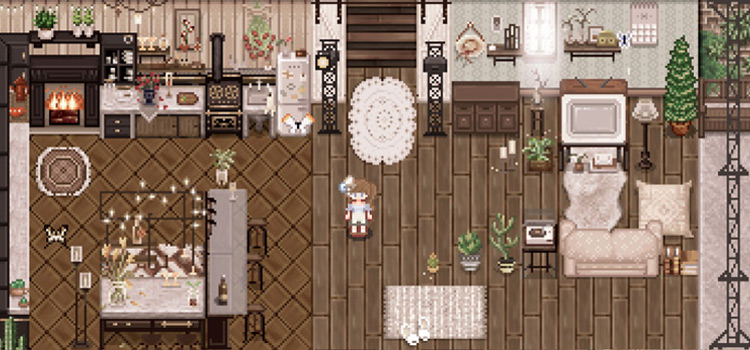 Cooking is a big part of the Stardew Valley experience for me.
I really like completing as many things as possible. And once you get a feel for who likes to eat what, it can make it much easier to make the townsfolk like you.
When the alternative is using up precious items like pearls, prismatic shards, and golden pumpkins, it pays to know some of the most loved foods around, so you can save them for more important things.
That said, the vanilla kitchen is kinda ugly.
You can customize a lot of your house, but without mods, not the cabinets!
So here's a bunch of mods that will help you build your dream kitchen in Stardew.
10.

Remodeled Kitchen: Elite Appliances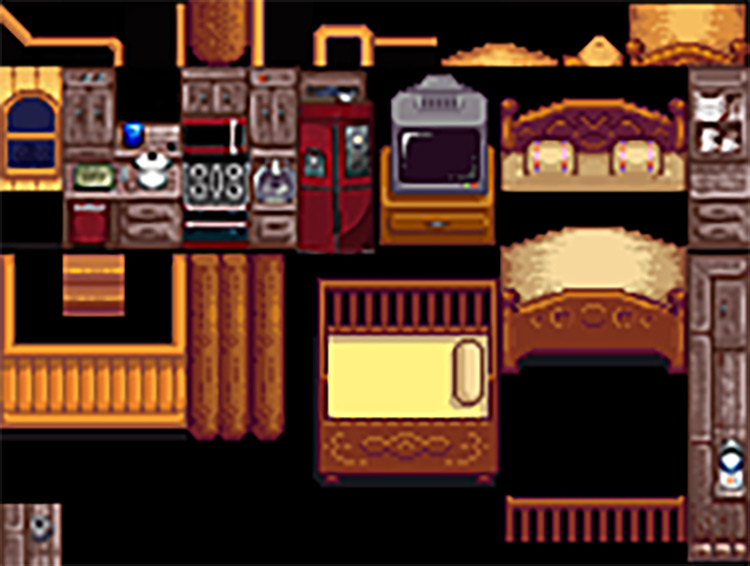 The vanilla appliances are honestly so out of date.
Granted it makes sense, since farmhouses usually aren't known for being the most chic of architectural styles.
But seeing as how the farmer in Stardew Valley seems to singlehandedly runs Pelican Town's economy, you'd think they'd be able to splurge for some stainless steel.
This mod gives you four options of swanky new kitchen appliances- stainless steel, black, gold, and red.
Personally I'm pretty fond of the red ones – this color gives a cool retro vibe, in my opinion.
9.

Chic Cute Kitchen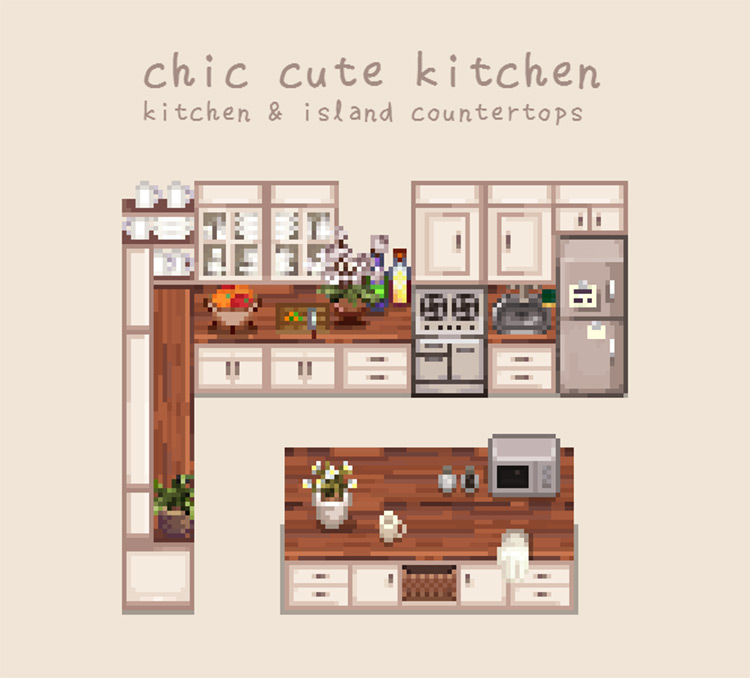 I'm a big fan of cutesy stuff, and this kitchen is no exception.
It's a really nice mod, with a fireplace, counters, a china cabinet, and even a counter island in the center.
It's got some really nice colors too, and it offers a pretty innocuous in its design so it blends in nicely with the rest of the farm vibe.
There's a lot of details put into the re-design too.
You'll find new stuff added like flowers on the table, a microwave, some cooking ingredients left on the counter, and even some plants and photos.
If I could have a kitchen like this in real life I'd be fine with throwing away my education to become a housewife, TBH.
8.

Industrial Kitchen and Interior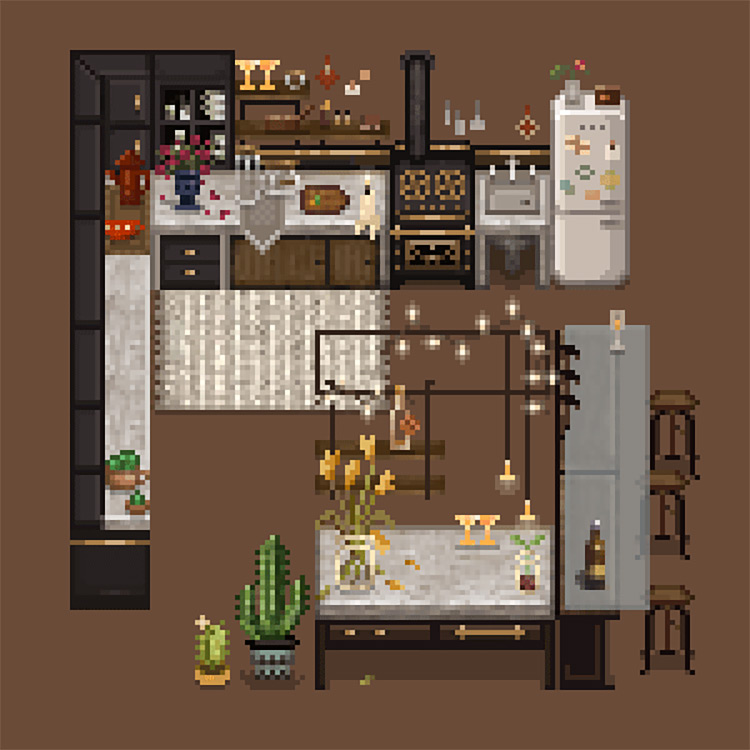 Maybe cute isn't your style.
But how do you feel about the industrial look?
This mod introduces some edgy charm to the farmhouse, with black metal accents and a rugged look into your kitchen area.
The home and kitchen are meant to feel lived-in, so expect plenty of odd items out.
One really neat feature with this mod is the rotating clutter on the kitchen counter.
It changes on the daily, just like real clutter – at least that's how it seems at my parents' house!
7.

Elle's Kitchen Replacement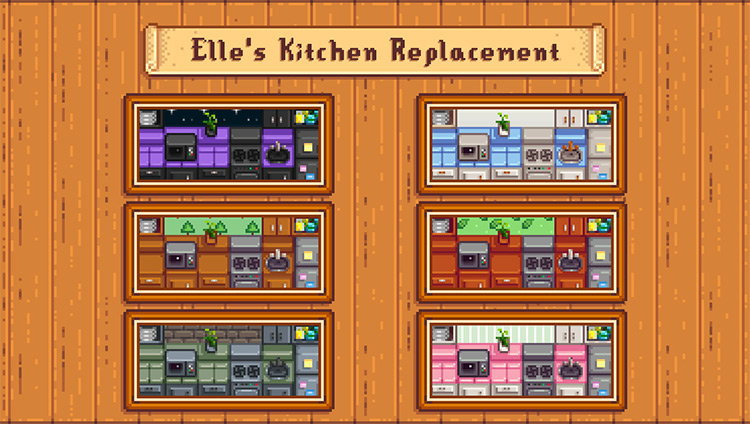 Elle's Kitchen Replacement is a simple but charming little recolor mod for the vanilla kitchen.
Choose from several color schemes including black and purple, blue and white, and several more natural looking options as well.
This one's nice if you want to keep the original feel of the farmhouse, but don't want it to be exactly the same as the vanilla version.
Some players prefer small tweaks over huge changes, and that is a-ok.
Plus this mod is pretty customizable, since it allows you to mix and match all sorts of things, including wood or tile counters.
6.

Spooky Gothic Kitchen
So this is pretty much what I'd imagine every player who marries Abigail would pick as their dream kitchen.
Not only does it change the kitchen to a spooky & witchy spot, but it also retextures the bed and fireplace to match.
This mod is definitely worth looking at for Halloween fans, or just plain-old goths!
5.

Kimberley's Witch Kitchen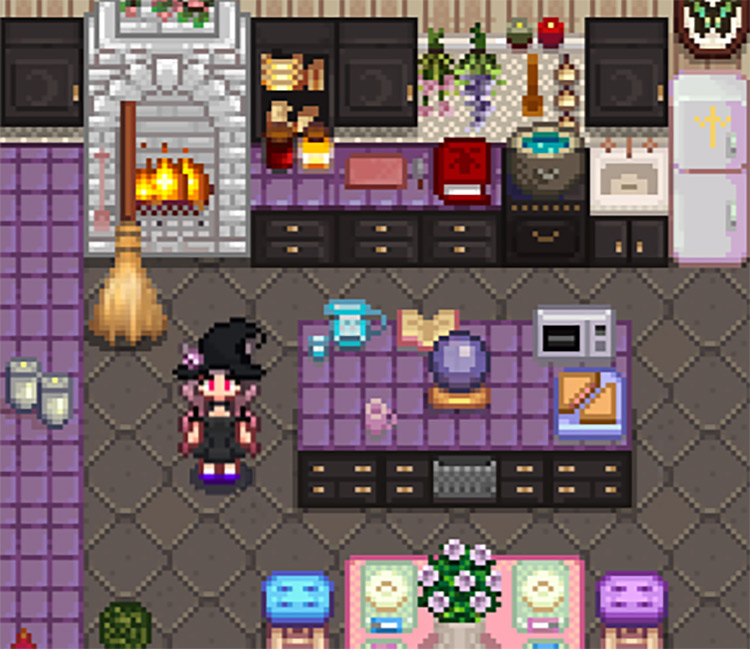 Here's another spooky kitchen mod, but different from the previous one in a few ways.
This kitchen is lighter in color, and a little more on the cute side than the spooky side.
This one also updates the rest of the house entirely, including the nursery, bedroom, bathroom, and everything else!
And it can't be stated enough that colors are really very cute – more pastel pinks and purples than dark goth vibes.
4.

Lovely Kitchen
So this custom kitchen is pretty close to my IRL dream kitchen – with swatches in dusty rose, mint green, deep teals, and pretty blues, I could definitely see myself cooking here.
The appliances look pretty similar to the uber expensive brand SMEG, which draws on retro designs for their kitchenware.
I am so here for it.
3.

Kitchen Nook for First Farmhouse
Grandpa was kind to leave us the farm.
But you kinda have to wonder how he made it as long as he did without, you know, a kitchen or a bathroom.
Either he lived off a raw food diet from foraging, or he was Gus' best customer at the saloon.
Regardless, this mod puts a small kitchen right in the farmhouse from your first day.
Get ready to take advantage of spring produce-heavy recipes right from year one, baby.
2.

Montag's Modern Kitchen & Farmhouse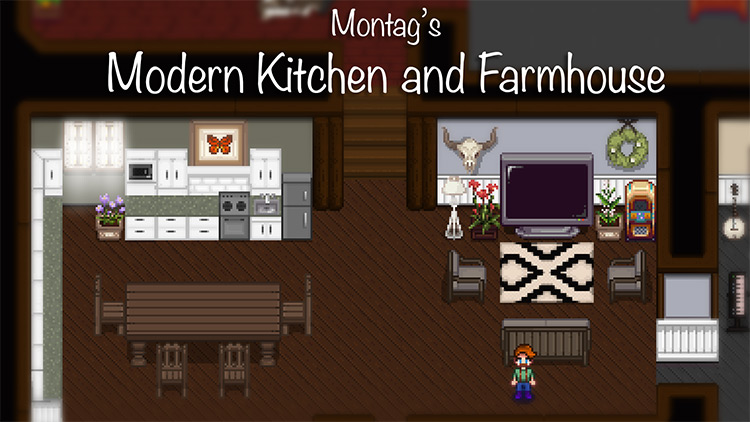 This kitchen set matches the rest of the modded farmhouse in a neat yet modern style.
And it's absolutely worth trying out to see what you think.
With dark floors and granite cabinets, this offers a comfy space to whip up all sorts of recipes for your friends, or just to eat on your own!
And this design seems to be a very "Penny kitchen", in my opinion.
I could totally see her bustling around baking in here.
1.

Cerri's Dark Wood Kitchen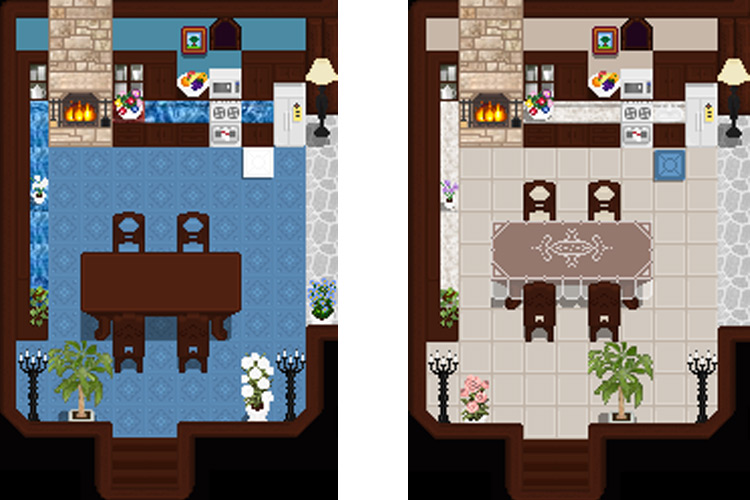 In the words of Effie Trinket: "That is mahogany!"
I think so, anyway.
I mean, the wood is dark in this beautiful kitchen set that also includes some pretty swanky swatches.
With multiple color options to choose from here (like red, blue, or tan) you're sure to find something that'll fit the vibe you're going for in your farmer's home.
Browse:
Lists
Stardew Valley
Video Games