Best Stardew Valley Texture & Visual Mods (All Free)
This post may contain affiliate links. If you buy something we may get a small commission at no extra cost to you. (Learn more).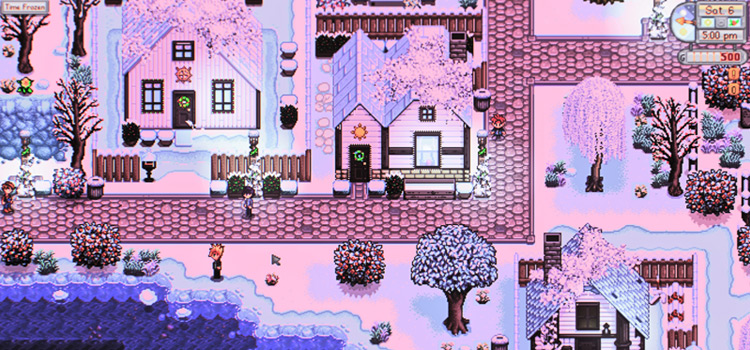 Stardew Valley is an awesome game.
And the pixel-style art is pretty iconic, but after hundreds of hours of it, sometimes you're ready for a couple of changes.
This list will share some awesome custom texture mods to up your game in lots different ways, all for the low, low price of free!
10.

Wildflower Grass Field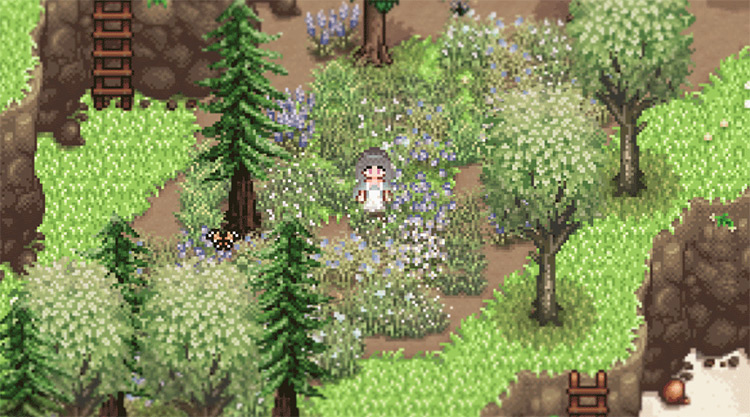 Do you like flowers?
Are you tired of your grass looking like, well, grass?
This mod might be for you!
This bad boy transforms all of the in-game grass into patches of darling wildflowers.
They're all seasonal, so you'll get your autumnal hues of red and orange in fall, some pastels in spring, greens in summer, and seasonally appropriate browns and whites in the winter.
It's a great add to retexture your game just a little if you're new to modding Stardew Valley, so give it a shot and see what you think.
9.

Simple Foliage
One thing that always bothers me about Stardew (even though I love it!) is the three trees.
Even though they change slightly by season, there's only three at a time – which throws me off, visually.
This mod takes the old trees and retextures them, which totally changes things up.
Not only do they retexture the oak, maple, and pine tree design, but they retexture some of the fruit trees too!
With thicker bunches of leaves and nicer colors, this is a great mod for those who want a breath of fresh air.
8.

Artisan Goods Icon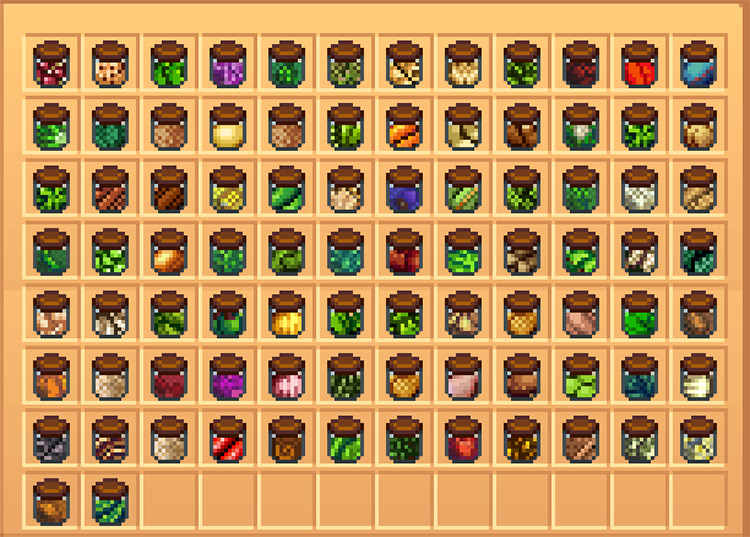 Picture this:
You go to collect products from your twenty seven fermenting barrels.
You take out the first jar: red.
The second jar: red.
The third: you get the picture.
"What the heck," you whisper to yourself. "This was supposed to be peach jam."
Does that sound familiar?
Not anymore, with this nifty Artisan Goods icon mod.
Now your peach jam will be a pleasant orange like it was always meant to be. No more universal dubiously cherryish jam!
Oh, and pickles too.
7.

Visible Fish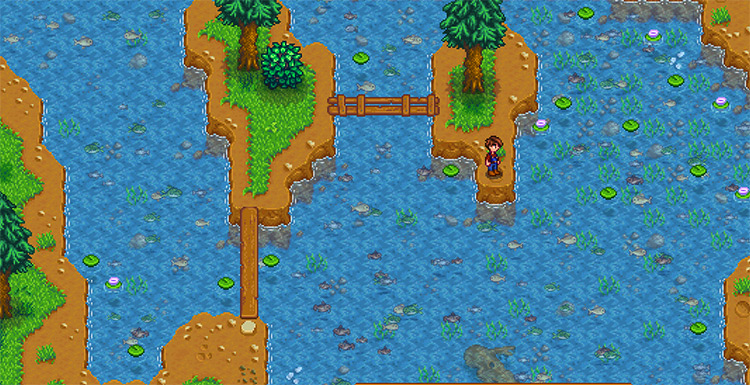 It's super weird that even though there's so many fish in all of these bodies of water, that you can't see them, right?
Like, huge fish in really shallow water. Something's going on here…
Well this awesome mod shows all the fish catchable in the water of wherever you're at.
For example, it'll show tuna in the ocean, but you won't find that in the mountain lake.
Not only is this a visually appealing mod, but it's also super helpful for completionists and those working on their bundles.
No more frantically searching Google for where you can find a Pufferfish!
6.

Korea Retro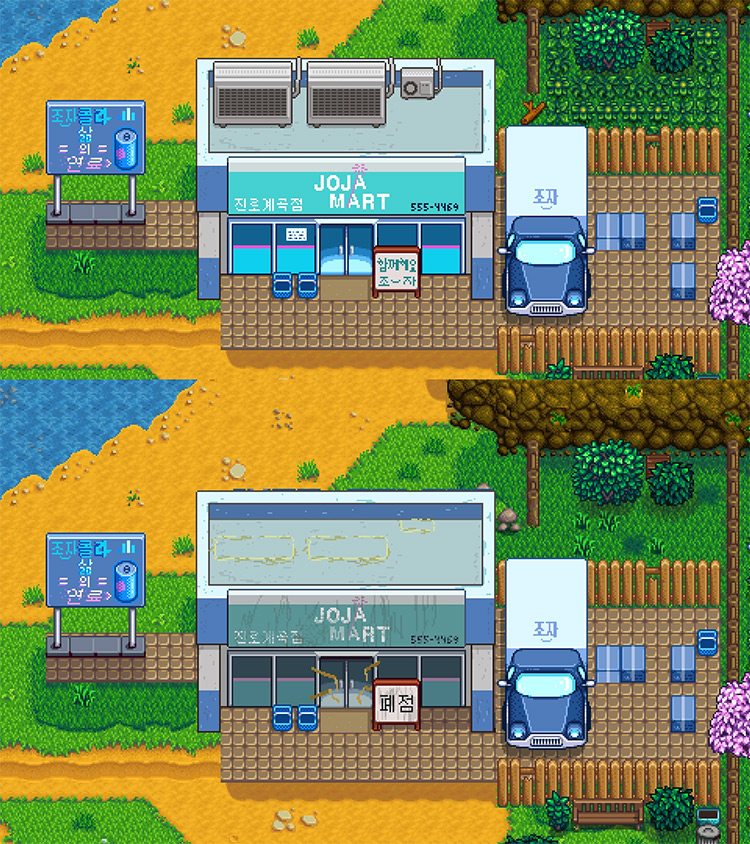 OK, this is a pretty big mod here.
It retextures all of the town buildings, farm buildings, and your house in a retro Korean style.
Looking like something straight out of 90s Korea, this awesome retexture pack looks just like the Korean countryside.
It's a great way to really change up your game, especially if you're deep into the roleplay side of things.
Aside from the retextures, it also changes wine into fruit-infused soju, pickles into kimchi, mayonnaise jars into squeezable pouches, among lots of other details.
5.

Victorian Buildings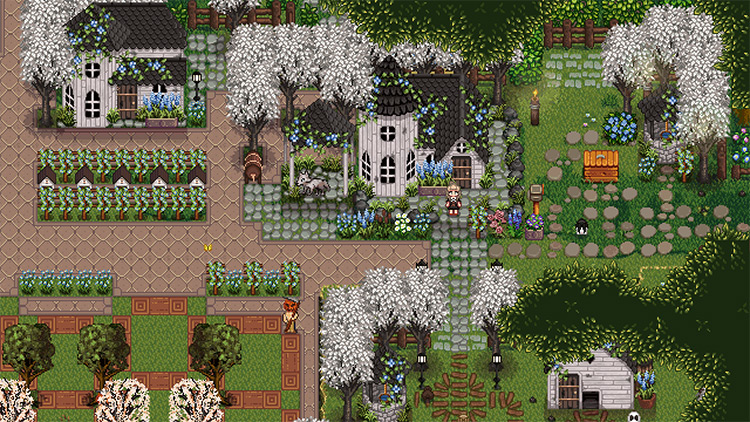 You know what's better than farming?
Farming, but it's Victorian.
Build the Victorian farm of your dreams with the gorgeous black tiled roofs, viney stone walls, and beautiful overgrown foliage.
This is another great example of a retexture mod for roleplay.
If you want to take things a step farther, remove your TV, since they didn't have those back then.
This'll retexture your farm and farm buildings to make them look straight out of the late 1800s – Victoria approved.
4.

Victorian Craftables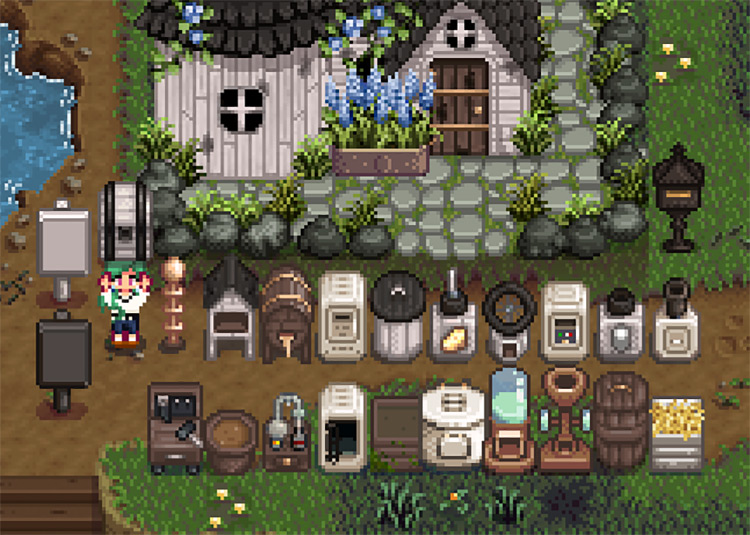 You've got your Victorian house, and life is good, until you try to make a cask and it's all out of place.
No worries!
This creator made a mod that retextures craftables like the cask, bee house, and keg to match the aesthetic of the previous entry on this list.
Some of the items are pretty simple, making the wood match, for example.
But others are really neat and out there.
The Slime Egg Press becomes a neat brass doohickey, for example.
And what farm doesn't want a neat brass doohickey?
3.

Shardust's Hairstyles

ConcernedApe already gave us a pretty comprehensive list of hairstyles, but there's always a need for more.
This list uses some existing textures and some edited content to bring 24 swanky new hairstyles to the Valley.
This is a great mod because it adds not only more fun styles, but also more hair textures.
There's curls, waves, and even undercuts!
BRB, changing my farmer's hair to these cute lil space buns.
2.

Transparent Objects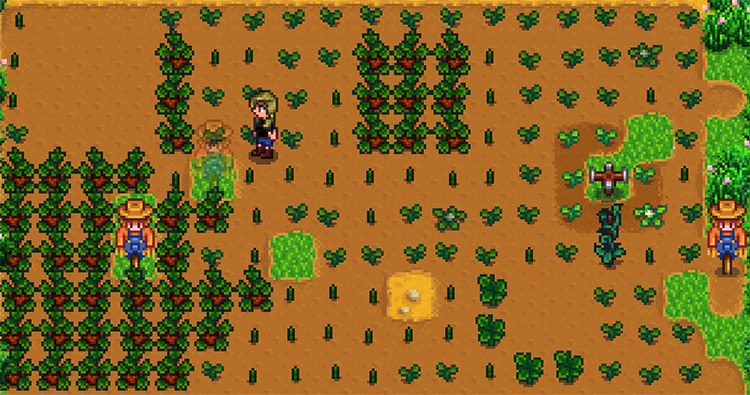 How annoying is it when you're going through your maze of kegs and you suddenly can't move because, lo and behold, a weed has popped up?
There will be no more surprises with this brilliant visual mod installed.
Transparent Objects does exactly what it sounds like: it makes objects transparent when you walk behind them, so you can see if you need to attack the evil spawn with a hoe, pickaxe, or axe.
This mod works on things like kegs and barrels, but also scarecrows, which makes it way easier to be certain you've watered all of your crops.
I don't know about you, but when I can't see, I sometimes water behind the scarecrow like three times to be safe.
1.

Dreamy Valley Reshade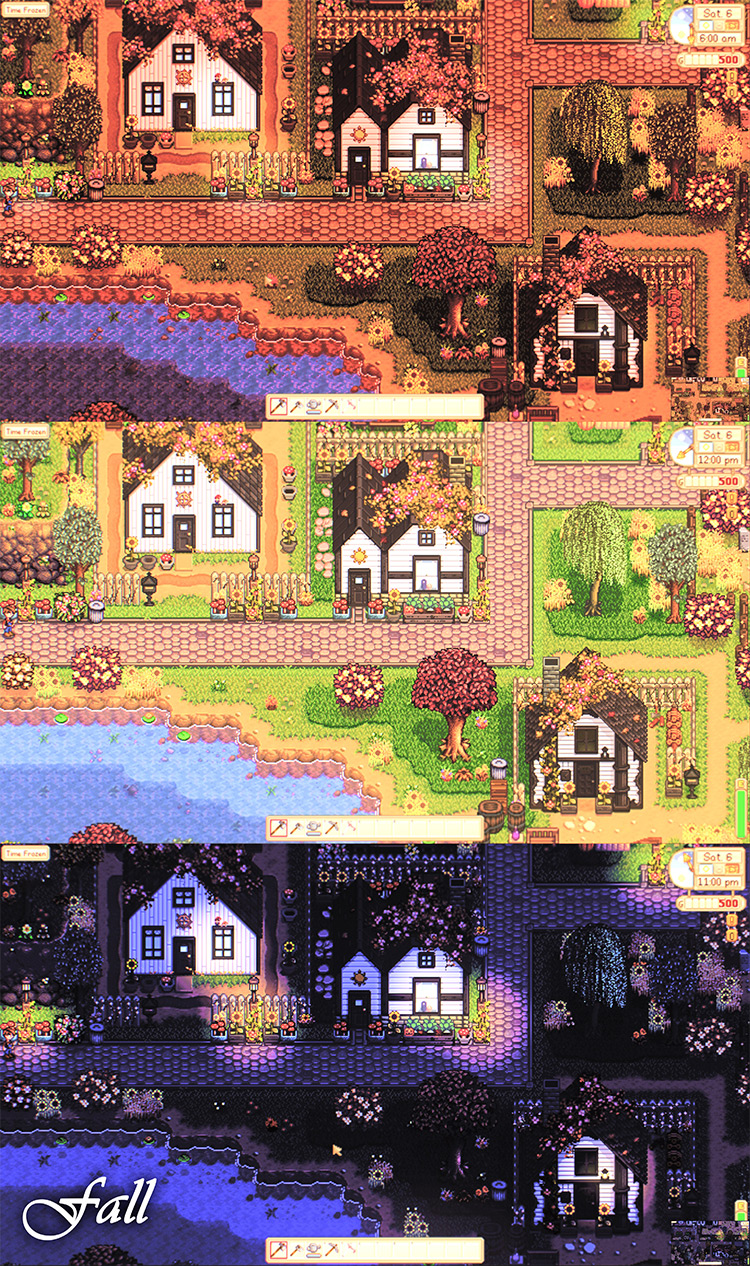 This gorgeous mod reshades and retextures a lot.
Dreamy Valley turns Stardew Valley into a pastel wonderland, but still keeps the seasonal tone shifts.
It's very pretty and cottagecore-y, so you're sure to love it!
If you want a cute change without being sugary sweet, this is definitely a retexture to consider.
Even though the colors are lovely and pastel, it's not going to give you cavities like some other cottagecore mods.
It does have a few other mods that it runs in tandem with to get the desired effect, so check the description and make sure you download those as well!
Browse:
Lists
Stardew Valley
Video Games