10 Best Stellaris YouTube Channels & Streamers To Check Out
This post may contain affiliate links. If you buy something we may get a small commission at no extra cost to you. (Learn more).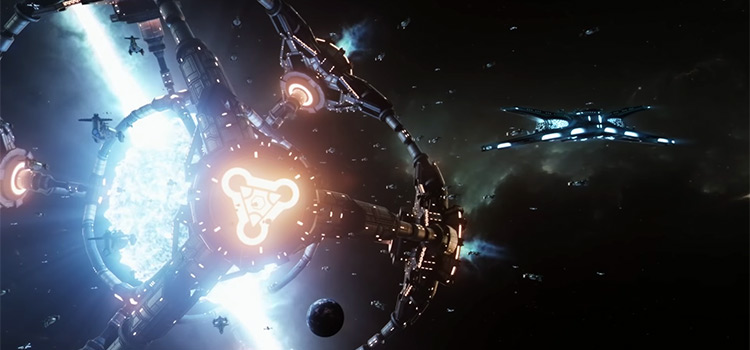 We enjoy playing games in front of our PC or console, but many of us enjoy watching other people's gameplay on platforms like YouTube and Twitch.
Stellaris is no exception.
Many talented creators put their time and effort into creating guides, editing supercuts of their most entertaining campaigns, and generally bringing us Stellaris-themed entertainment in video form.
Looking for "Stellaris" on any video streaming site will lead you to many creators – but how do you know which ones to watch?
If you don't have the time to go through hundreds of creators, then let me point you to some of the most entertaining & engaging Stellaris channels online.
10.

Quill18
If you love watching people trying to take over the world from many different perspectives, you must check out Quill18.
Quill18 has a ton of fun Stellaris playlists where he'll create a unique spacefaring civilization and take on whatever the game throws at him with his vast strategy game experience.
It's hilarious to watch him struggle to pronounce other empires' names. With stuff like the Groknaploran and the Prikkiki-Ti, I can't blame him.
Nowadays, the stream of Stellaris content has slowed, and you'll see him playing other games like Galactic Civilizations IV and Europa Universalis 4.
A game designer himself, Quill18 also tries to make game development easier for his followers on his secondary channel – so check that out if you're trying to get your own game off the ground.
9.

Republic Of Play
Republic of Play is headed by Darren, a British gamer with a charming accent and a knack for making deep and complex strategy games look like the most fun you could have in front of a PC.
Darren shares narrative-focused campaigns like rebuilding the Roman Empire IN SPACE and intense, winner-takes-all multiplayer.
At almost 400 uploads, Darren's content is varied and includes several other strategy titles such as Frostpunk and Humankind.
If you prefer to watch the action live, check out his Twitch channel, where he frequently streams strategy games.
8.

Many a True Nerd
One of the most well-established channels to ever grace the Stellaris community is Many a True Nerd, where the host Jon takes over half a million subscribers on epic and very entertaining adventures.
Along with Stellaris campaigns where he tries out MegaCorps or tackles new updates, you're treated to over 3800 uploads covering all sorts of games, ranging from the action-packed Elden Ring to the tense and frantic survival hit Project Zomboid.
If you enjoy this British creator and can't wait to get back home to check out a new video, consider giving his Podcast – The PodCats – a listen.
7.

Colonel Damneders
Colonel Damneders has quickly made a name for himself as a relative newcomer to the YouTube scene with his quirky and beginner-friendly Stellaris videos.
Unlike our previous entries, this creator is almost wholly dedicated to Stellaris – at least since Overlord was released.
While his Stellaris content is mainly in guide format, tackling specific mechanics like Megastructures and offering newcomers a comprehensive beginner's guide, his humor keeps things casual.
It might entertain even veteran players who might need a refresher.
In addition to Stellaris, Colonel Damneders is obsessed with the Total War: Warhammer series – so check that out if you're into beefy Space Marines.
6.

Ep3o
With only 60 uploads and around 12,000 followers, Ep3o is still a relatively small creator, but it's hard to find more engaging Stellaris content.
Instead of uploading guides or random gameplay, this Gen Z YouTuber comes up with crazy challenges that'll draw your attention and hook you in no time.
Some of my favorites are attempting to vassalize the entire galaxy in the Overlord expansion to show off the new gameplay elements or conquering the galaxy exclusively by hiring mercenaries to do the dirty work.
5.

Lathrix
Next up, we're looking at Lathrix, another British creator with a knack for min-maxing any type of empire and leading his people to victory.
Lathrix isn't fully dedicated to Stellaris.
But when he does come back to our favorite sci-fi 4X, it's always a pleasure to watch this upbeat Brit dominate his foes.
You can watch up-to-date Overlord gameplay, or check out some of his older playlists. Something I love about Lathrix is that he organizes his content by update, so you can see him play on Nemesis or Federations if you're already done with the more recent gameplay.
Stellaris roleplaying is some of his best content, so don't miss that.
You can also check out different series, like Slay the Spire or Oxygen Not Included.
4.

The Templin Institute
Suppose you're the kind of person whose enjoyment of lore-heavy video games goes hand in hand with watching YouTubers like VaatiVidya or MyNameIsByf break it down.
In that case, you can't overlook The Templin Insitute.
This Canadian creator uploads deep dives into the epic lore of many Sci-Fi and Fantasy games, including Stellaris.
I never saw Stellaris as having rich lore due to the "choose your own adventure" nature of its gameplay – but The Templin Institute uses it as the basis to turn their campaigns into epic stories, like that of the Greater Terran Union, or the Antares Confederacy.
You'll also enjoy the Institute's deep dives into other series like Warhammer 40K and, most unexpectedly, Shrek.
3.

ASpec
ASpec is the perfect YouTuber for anyone who wants a deep manly voice to walk them through the steps to becoming a great galactic power.
Also known as Matt Hoving, ASpec is a Dutch-American YouTuber focused 100% on Stellaris.
Throughout 1500+ videos, he offers incredible guides on several subjects of galactic governance, along with less technical videos like arranging all the Stellaris DLC into a tier list.
Even when he's just having fun and fooling around in a campaign, you'll learn a ton about the game thanks to his in-depth experience, which has made him one of the most respected voices in the Stellaris community.
2.

Stefan Anon
If you want someone a little younger and more upbeat to walk you through the game by example, Stefan Anon is the way to go.
This American YouTuber and his adorable pet birb run a 100% xeno-free YouTube channel where you can learn about the Stellaris meta as you watch him play a hardcore multiplayer game or try to get as many achievements as possible in a single playthrough.
His information is always straightforward and concise, and his sense of humor keeps the videos engaging and light.
Make sure to check out his other series too!
1.

MontuPlays
The current Stellaris YouTube scene king has to be MontuPlays, a relative newcomer sitting at 60,000 followers and rising steadily.
This guy started his channel after a friend asked him, "damn, man, how did you wipe the floor with me so easily in that last multiplayer game?"
Instead of just explaining it to him, Montu set up a YouTube channel and started sharing his wisdom.
Some of his most-watched videos include guides for newbies, DLC reviews, and tier lists.
The guy can even make Stellaris espionage fun, which is nothing short of miraculous.
All of the creators we've covered are excellent options if you're looking for some videos to watch in the background while you play Stellaris, but Montu should definitely be your first stop.
Browse:
Lists
Stellaris
Video Games