Terraria Build: Menacing vs. Lucky (What's Better)
This post may contain affiliate links. If you buy something we may get a small commission at no extra cost to you. (Learn more).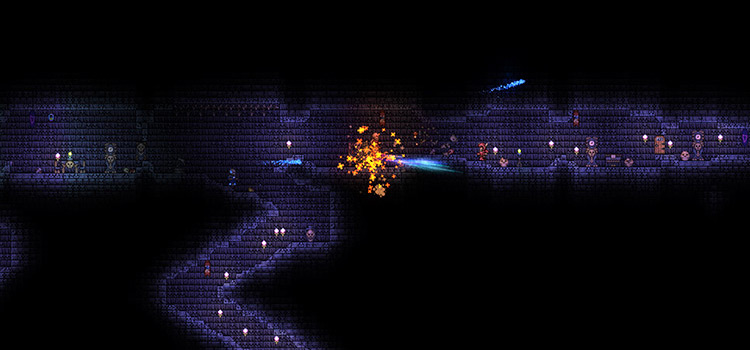 There is no definitive answer when it comes to Menacing vs Lucky builds. There are, however, specific situations where one is better than the other.
Menacing is definitely better when you have a build with high or maximum critical strike chance.
Lucky is better if your critical strike chance is on the lower side.
The Menacing modifier gives you +4% critical strike chance per modifier, and the Lucky modifier gives you +4% damage per modifier.
Let's dive in and explore the specifics.
Understanding the Stats
Since picking the best modifier is situational, it's best to understand how the stats work. This way, you can pick for yourself.
Critical Strike Chance
Critical hits deal double the damage you would normally deal. This damage is dealt after the defense of enemies has been applied to your damage calculation.
The majority of weapons have a base critical strike chance of 4% (there are some that have a greater value).
Critical strike chance above 100% will not increase your damage output. This means you can use other gear instead if your stat is greater than 100%.
Summons and minions themselves will not get critical strike chance from your gear. If you're running a summoner build, it's best to focus on damage.
Note: The only way to make summons and minions crit is with the Kaleidoscope whip. This weapon gives summons a 10% chance to deal a critical strike.
Damage Output
Damage is calculated with multiple variables before it is dealt.
First, the base damage of the weapon is multiplied by (1 + WeaponModifier/100). To show this, we'll use a Pwnhammer with no modifier and no gear equipped.
To calculate the damage, 26 was multiplied by (1 + 0/100), which is equal to 26. Damage will always stray slightly lower or greater, so don't worry about the 23.
Next, the same calculation is done, except all other mods and equipment are added up. For example, if a Solar Flare Breastplate were equipped, the equation would look like 26 multiplied by (1 + 29/100).
This is equal to 33.5 damage.
Sure enough, the damage increased accurately. There are more mathematical steps, but those are the basics.
After these calculations, enemy defense is factored in. This is WeaponDamage minus (EnemyDefense/2).
Now let's add on a full set of end-game armor and accessories and see how much damage the Pwnhammer does.
The damage has now increased to about 47. The purpose of this test was to show how damage calculations are additive when it comes to modifiers.
After modifiers are added together, they are then converted into a multiplier for the base damage value.
Picking the Best Modifier
Since damage modifiers are additive, they can be lackluster or beneficial depending on your critical strike chance.
For example, the Sniper Rifle below has a total critical strike chance of 99%.
The Sniper Rifle saw DPS averaging between 950 to 1100, with outliers on both ends.
The total critical strike chance will now be lessened to 89%, but the damage will be increased by 12%.
The Sniper Rifle still saw DPS averaging between 950 to 1100, with outliers on both ends.
This supports the idea that a balance is the best way to go.
If a loss in critical strike chance is made up for with higher damage, and vice-versa, your DPS will likely remain at its peak.
This means a blend of both Menacing and Lucky modifiers is also viable. Your goal should be to fill the hole that is in greater need of better stats.
If you have a low critical strike chance but an insanely high damage multiplier, you'll likely want to sacrifice some damage for a higher critical strike chance.
Consistency
A solid reason to go for Lucky is for consistency, though at the end of the day your average DPS will still be the same.
Damage numbers are closer and more consistent the more critical strike chance you have.
For example, with the Starlight at 53% critical strike chance and 140 melee damage, the average DPS is between 3000 to 3200. However, the DPS would move as low as 2800 and as high as 3500.
Now, with the Starlight at 83% critical strike chance and 115 melee damage, the average DPS is still between 3000 to 3200. This time, the DPS stayed within 3000 and the highs were a little above 3300.
At first glance, this may sound like less damage.
But when it comes to a real fight that's not the case.
In this case, the average DPS stayed in the same range for both tests.
Browse:
Terraria
Video Games