How To Farm Rotten Chunks in Terraria
This post may contain affiliate links. If you buy something we may get a small commission at no extra cost to you. (Learn more).
Rotten Chunks drop from three different enemies in The Corruption:
Eater of Souls, found on the surface of The Corruption or in its chasms
Corruptors, same locations as Eater of Souls in Hardmode
Devourers, found in the underground of The Corruption
You can farm Rotten Chunks in both pre-Hardmode and Hardmode. They have a drop-rate of 33% in Classic Mode, which remains the same in Expert Mode.
Rotten Chunks are crafting materials which can craft some useful utilities, such as Monster Lasagna, Battle Potions, or the Mechanical Worm summoning item.
All three enemies spawn at a fast rate in The Corruption, so spending some time fighting will earn you a decent amount.
You can also create an automatic farm, which is the most efficient method. Let's check it out.
Preparing To Farm
The Corruption may be difficult in early pre-Hardmode and early Hardmode, but as you progress in both you should find it easier.
If you're farming in pre-Hardmode, Molten or Meteor armor is best. Some good weapons are the Night's Edge, the Minishark, or the Diamond Staff.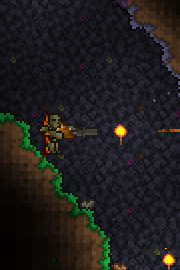 If you're farming in Hardmode, Adamantite or Titanium armor both work well.
Good weapon choices are the Anchor, the Megashark, or the Crystal Serpent.
Farming Corruption Enemies
Method 1: The Traditional Way
Eater of Souls and Corruptors both spawn on the surface of the Corruption as well as the chasms. The Devourer spawns within the chasms.
You'd likely run into the first two at a faster rate.
Due to how spawning works in Terraria, leaving the area and coming back will immediately spawn in new enemies. Since the Corruption is quite large, there should be an infinite swarm coming at you.
Repeat this process for a while and you should have a stack of Rotten Chunks.
Method 2: Setting up an Auto Farm
Rather than running around the Corruption for enemies to come attack you, you can set up a faster way to farm them.
Here's what you'll need:
Large stack of any block
Stack of any wall
1 or multiple Lava Buckets
1 Water Candle
You want to build this on the surface of The Corruption.
To begin, go up by a couple blocks, about 20. Here, place a row of blocks, about 20 to 30 in length.
Tip: You can use a Ruler to count the exact number of blocks you place while building. You can buy this tool from the Goblin Tinkerer.
Next, build walls that will converge at the top, like an upside down V, but leave about 6 blocks flat at the top.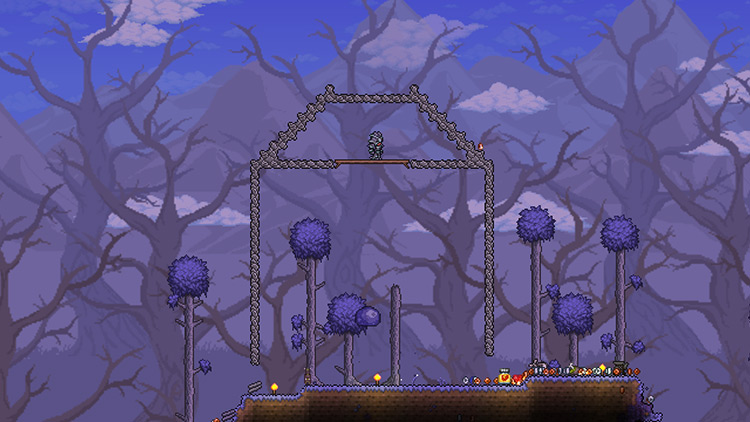 After that, you'll want to hammer the walls so that they create slopes.
The last part is to build an upward V shape above the structure you've built, the same length as the blocks you left flat.
This will be 4 blocks above the flat part.
Go ahead and hammer those as well so that they create slopes.
Now that that's done, place lava in the flat part on the first structure you made. This is where enemies will be led into and killed.
Also, place a water candle inside the area under the flat part.
The water candle increases enemy spawn rates, making farming faster.
Stand here for a couple minutes and swarms of Corruption enemies should die in the lava quickly.
Browse:
Terraria
Video Games