Best Mods For Command & Conquer 3: Tiberium Wars
This post may contain affiliate links. If you buy something we may get a small commission at no extra cost to you. (Learn more).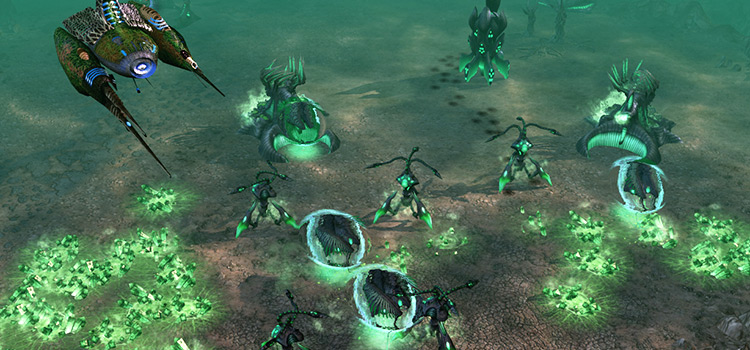 Tiberium has always been bad news ever since it appeared in the Command & Conquer universe. The alien substance reshaped the world in unexpected ways, leading to the rise of new superpowers and the arrival of a mysterious alien faction that seeks to bring peace to the world… by obliterating humanity.
C&C 3: Tiberium Wars is among the best entries in the series, thanks to its engaging single player campaign and varied multiplayer modes, but also for the amazing support it has received from the modding community.
There really are dozens of mods that improve the experience in so many ways, and I'm certain this list has all the best ones to get you started in your C&C modding journey.
20.

Tower Defense
To kick things off with a quirky one, this mod turns Tiberium Wars into a full-fledged tower defense game.
Which shouldn't really surprise you, considering tower defense games evolved from real-time strategy games.
This mod doesn't just introduce new mechanics, but also tons of graphics updates that will turn the game into the spin-off you never knew you wanted. And much like Pringles, once you pop the fun don't stop.
19.

Mix Mods
Are you tired of seeing the same old units after playing the game for hundreds of hours?
No worries, general: we're here to serve you!
Mix Mods is a very handy pack that introduces a lot of different units taken from other C&C history mods, allowing you to put together armies that have no historical right to exist. And yet, here they are.
And the problem isn't because of the age difference, mind you. Just due to how difficult it is to implement single edits in Tiberium Wars!
18.

Heroic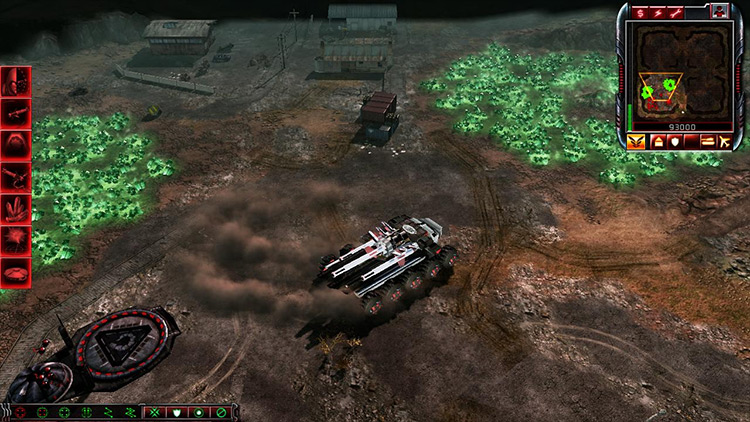 War doesn't stop in front of anything or anyone.
Soldiers and civilians die under bombs. And buildings collapse in the most spectacular of ways.
The Heroic mod adds destructible buildings to the game, in the vein of the Company of Heroes series, allowing you and your opponents to literally take down anything in your path.
If death and destruction are the price to pay for these beautiful particle effects, I'm more than willing to pay.
I know, I know, I'm a terrible person. But at least we can have some fun.
17.

Command & Conquer 2142
The appearance of Tiberium on our planet led to some of the most devastating battles in the history of man.
But if you thought they stopped with the end of the Tiberium Wars campaign, you're sorely mistaken.
The C&C 2142 mod is more of an expansion rather than a mod, as it features a brand new campaign set in 2142.
This is a dark age where the few surviving humans are fighting for the last scraps of habitable land. With two factions featuring their own unique units, new battle features, and a lot of new missions, this is the mod to get if you can never have enough of warfare; modern or futuristic.
16.

Alternate Warfare
We're not just going back in time, we're going back in alternate time.
This is a total conversion mod that brings you back to an alternate Cold War era where the US and the Soviet Union go at one another with experimental weapons that were never truly employed on the battlefield.
Despite these experimental weapons, the Alternate Warfare is a really grounded mod. So it's the perfect one to try for those history buffs that want to participate in realistic war scenarios, but also want to try some fictitious new history.
15.

Red Alter
Lower your pitchforks, folks. Red Alter is not a typo.
Red Alter is a conversion mod that provides a new campaign based on an alternate ending of World War II, and subsequently of the Cold War. So yeah this one's pretty big as well.
And this time around, the Cold War wasn't so cold. As such, expect all those new elements you love such as new factions, units, and the like.
Sadly, the project was abandoned and later evolved into something completely different. So this alternate history will never see a proper ending. But it's still so fun that I really recommend trying it out, even just for half an hour one lazy evening.
14.

Xenoforce Reborn
If you're a hardcore Command & Conquer fan and you were downloading mods before it was cool, there's a good chance you've heard about the Xenoforce mod.
Games come and go, but mods are here to stay.
The Xenoforce Reborn mod brings the new futuristic factions and units from the original Command & Conquer: Generals mod, all into Tiberium Wars.
This mod also rebalances the vanilla game's factions so the experience is way more dynamic, and way more fun. Total conversion or gameplay overhaul? You decide.
13.

Tiberium Wars Advanced
I don't know about you, but some strategy games are not exactly about strategy.
Some feel more about rushing enemies down with the biggest army you can put together in the shortest time possible.
Tiberium Wars does suffer from this issue as well. But the Tiberium Wars Advanced mod brings back the focus onto strategy.
We get brand new units, abilities, structures, and updated gameplay. Almost as if the game was developed by the original developer Westwood. Oh, the memories!
12.

MidEast Crisis 2
While something like occupation warfare doesn't sound pleasant at all, I can assure you it's a very good thing.
For a strategy game, that is.
MidEast Crisis 2 is a Tiberium Wars total conversion mod set in the Middle East. It features a new campaign that brings players all the way to Jerusalem, Beirut, and the biggest cities of the area.
While the new units and abilities are a welcome addition by themselves, it's the new gameplay mechanic of Occupation Warfare that elevates the experience.
Conquering certain areas on the map will bring you a lot of benefits, making the game almost feel like a 4X strategy game. Neat!
11.

Kane's Wrath Reloaded
Did you know that it's possible to expand an expansion?
It seems that everything is indeed possible in the world of video games.
Kane's Wrath Reloaded is a must-try for C&C fans.
It gives us tons of new content in Tiberium Wars based on the Kane's Wrath expansion like new units, new enhanced maps, ten new factions, and more.
The total number of additions here feels so large that no official expansion could ever satisfy your needs. Give this a try for just 15 minutes, see for yourself why this is so great.
10.

Tiberian Apocalypse
Partial conversion mods are just as good as total conversions, if they've been developed with the same amount of care as Tiberian Apocalypse.
This mod doesn't completely overhaul the vanilla Tiberium Wars experience.
Rather it introduces some major changes for the GID, Nod, and Scrin factions, so that they play radically different. And they feel almost like a part of the Tiberian Sun sequel we never got.
9.

Forgotten Mission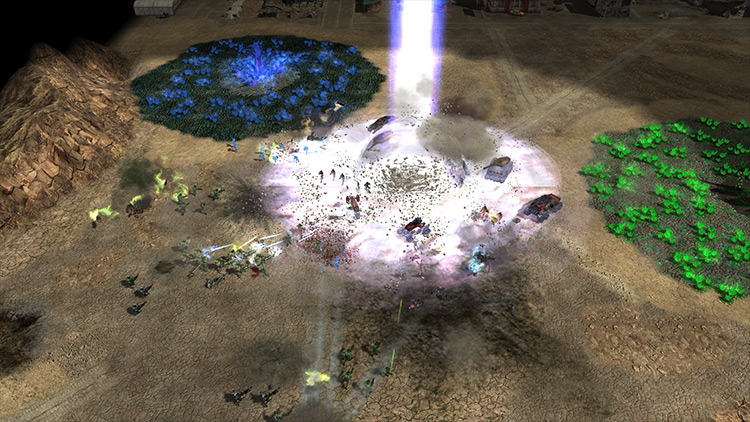 Nostalgia is a powerful thing.
Especially when things we loved from years past decide to take a trip through time.
Forgotten Mission (which requires the Tiberium Essence modification to work) is one such mod that longtime fans should really try out.
We get new units and gameplay tweaks inspired by the classic Tiberian Sun. And this mod brings back some fan-favorite units, along with some brand new ones inspired by the technology seen in the now-classic entry in the Command & Conquer series.
Now this is some true dedication. Nostalgia really is a helluva drug.
8.

The War To End All Wars
A modification of a modification? What kind of sorcery is this?
The War to End all Wars is a mod that grants us a new campaign set during the third Tiberium War. This is a war that broke out after a nuclear fireball exploded in 2047, setting off the events that led to yet another bloody war.
Like Russian nesting dolls full of battlefields.
To witness the return of Kane as the leader of Nod, and the end of this war, you'll have to install the Tiberium Essence mod first. Because this is really a custom add-on to the core mod.
But both are pretty lightweight and the install process is surprisingly simple. Give it a try, you won't be disappointed.
7.

Nod's Revolution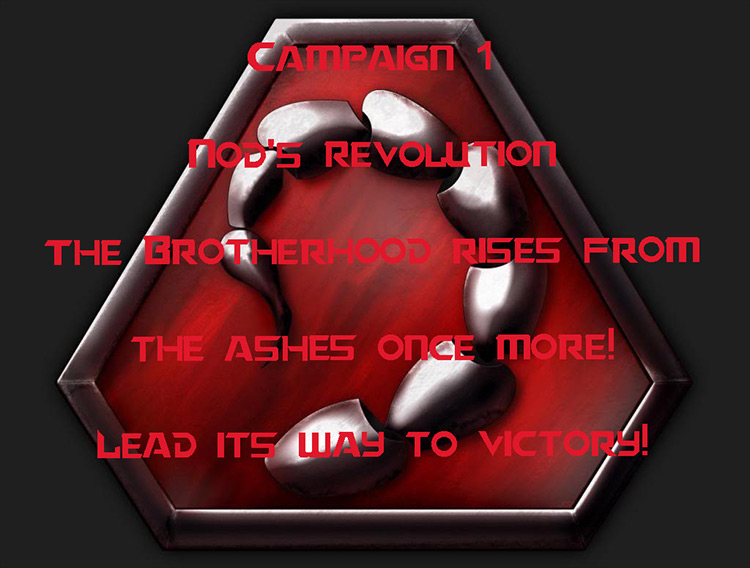 Are you a big fan of the Nod faction? If you are, well keep reading my friend.
Created for Tiberium Essence, the Nod's Revolution campaign is actually related to another modded campaign called Revenge of the Forgotten. That campaign focuses on the GID faction.
Now how about this mod's campaign? Well I can say the story is really well done, and it doesn't go against the established canon at all.
Perfect for longtime fans or even for those of you who loved the original Tiberium Wars when it first came out.
6.

The Forgotten
Is it possible to forget which has already been forgotten? Not if you're a die-hard Command & Conquer fan!
The Forgotten is an excellent total conversion mod focused on The Forgotten, the fascinating faction seen in Tiberian Sun and Firestorm comprised mostly of people afflicted with Tiberium illnesses.
Despised by the rest of the world (and the other factions) the Forgotten finally decide to rise up and show the GID, Nod, and Scrin that they mean business. How does this story end?
Download this first-ever Tiberium Wars mod that features full-motion videos to find out!
5.

C&C 3 Original
Command & Conquer 3 changed a lot with the release of its expansions. And not all changes sat well with all players.
If you're looking to go back to the good ole' days then maybe give this mod a try. Just note that it does require the Kane's Wrath mod to work, but again it's an easy install.
This one aims to make Tiberium Wars play exactly like the original game did, with a much more dynamic economy and the ability to create way more units and structures.
All quality of life changes of the game's final patch haven't been reverted back, either. So you really get the best of both worlds.
4.

Fallout
The Fallout total conversion mod behaves exactly like a nuke.
It destroys the old order to bring forth a whole new environment.
This mod, which has got nothing to do with the Bethesda series (sorry, Fallout fans) completely overhauls C&C Tiberium Wars by introducing a new scenario set after the assassination of Mikhail Gorbachev in 1988, an event that prevented the Soviet Union from getting disbanded.
With three new factions, 66 new units, exotic new weapons, and fast-paced gameplay, the Fallout mod is among the best total conversion mods ever made for Tiberium Mods.
Not a small feat, considering how many of them are out there. But absolutely give this one a try if you've got time on your hands.
3.

Tiberium Secrets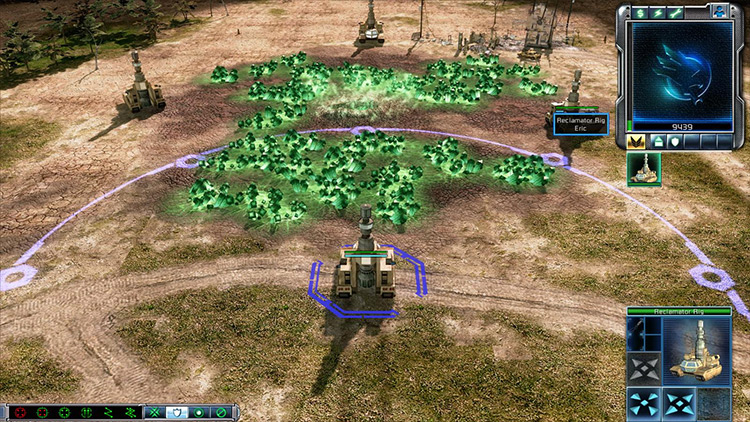 Let's move away from the limitations of the Tiberium canon, and take a look at the Tiberium Secrets mod.
This mod is among just a few that try to do something truly different:
By introducing a new world and new factions that have nothing to do with the established canon.
This allowed the creator to come up with some very interesting factions, including one ruled by an artificial intelligence that thinks it's the next step into the evolution of humanity. I'm getting some weird Terminator vibes here.
2.

Tiberian History
Gameplay overhauls are great.
But there are times when something much simpler is more than enough to make an old game feel fresh again.
Tiberian History comes with a selection of new units that replace some of the worst units seen in Command & Conquer 3 as a whole. Out with the old, in with the new.
Most of these units are based on historical pieces, so you may spot plenty of similarities with designs you have seen before.
Name all of them and you'll become the Command & Conquer historian our world needs.
1.

Tiberium Essence
We've mentioned the Tiberium Essence mod a few times already, but never quite explained why this mod is so good. Or why it has been expanded so many times by other modifications.
Well let's just say there's a reason why this bad boy is ranking in at the top.
Tiberium Essence is not a radical departure from the Tiberium Wars vanilla gameplay, as it only expands the title with new units based on tech that was present in Tiberian Sun. It also has some new special effects, new sounds, and plenty of balance changes that are meant to make the experience more enjoyable for veterans of this war.
It's also really approachable for beginners, too. Making it a great all-around mod for anyone picking up this game again (or for the first time).
Did the mod succeed in achieving what it set out to do? Well, the fact there are so many add-ons based on top of this mod should be more than telling.
Browse:
Command & Conquer
Lists
Video Games