40+ Totoro Crafts, DIYs & Project Ideas (All Handmade)
This post may contain affiliate links. If you buy something we may get a small commission at no extra cost to you. (Learn more).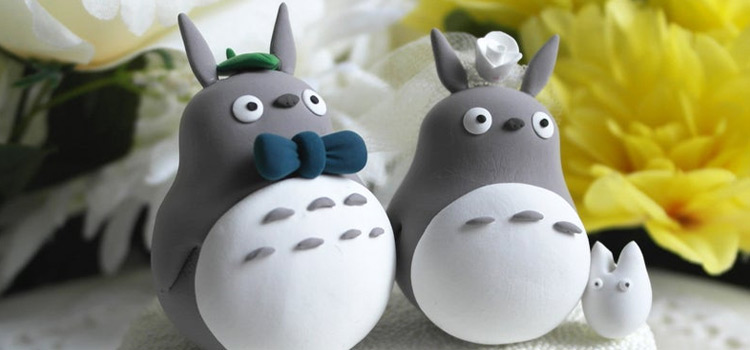 My Neighbour Totoro is based on the story of a few children who go out to their forest and meet all kinds of friendly mythical beasts.
The Totoro is a large, cuddly bear-like creature and this provides some real inspiration for a bunch of DIY crafts and handmade projects.
Let's have a look!
1.

Travel Pillow & Sleeping Mask
It's important to be comfortable when you travel, especially when you have long flights or layovers.
While there's nothing wrong with leaning your head against the back of the chair, you might find yourself in a constant loop of dropping your head, waking up momentarily before nodding off again.
Luckily with this incredibly cozy travel pillow and sleeping mask craft, you will feel as warm and comfortable as if you were receiving a hug from Totoro yourself.
2.

Handmade Pencil Holders
Super cute and colorful, these handmade Totoro pencil holders can bring a breath of fresh air to any child's pencil case.
Perfect to deviate from that monochrome room or home office that needs livening up, these eye-catching pencil holders in the form of Totoro will bring a smile to any Miyazaki fans.
Note you can pick these up handmade too so if you don't have the time to fully DIY them yourself, just grab some copies off Etsy.
3.

Totoro Embossed Rolling Pin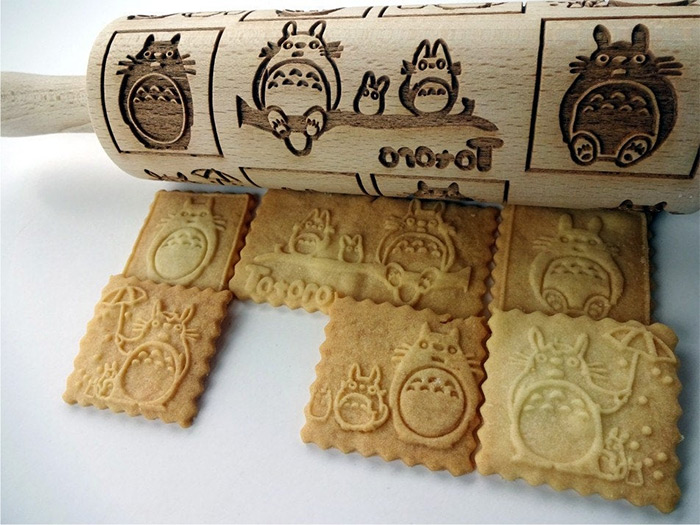 A crazy creative craft that might have you in the kitchen a lot more than you realize.
Take a rolling pin and emboss it with these Totoro designs to imprint the happy creature onto your next batch of cookies.
This is one more piece where you can always pick up a handmade version right from Etsy, then use it to follow some DIY recipes of your own. It's handmade stuff all the way down.
4.

Cookie Cutter Set
Following in the same vein as above, these Totoro cookie cutter designs will allow you to make some adorable cookies super easy.
And this can turn into a fun family project pretty fast.
This cookie cutter set, made from plastic, will give you permission to cook up a new batch of your favorite cookies.
5.

Totoro Hat
A surprisingly simple craft that lets your kid to go to a party dressed as the lovable Totoro.
This hat is definitely worth considering making if you've got the materials.
Get your sewing equipment together as it's time for another project which will be a guaranteed hit with anyone who loves the movie.
6.

Totoro Ornament
Christmas is a time when weird and wonderful creatures come to the fore; from flying red-nose reindeers to the grumpy-greedy Grinch.
With that in mind, why not introduce the mythical Totoro into the mix? With some holiday cheer you can create this cute ornament to decorate the tree with something truly special.
7.

My Neighbour Totoro Lamp
A highly creative piece, this Totoro lamp taking inspiration from the movie would look great in any bedroom on the nightstand.
Incorporating a tree stump to conjure images of enchanted forests and Totoro's habitat, this lamp is certainly special.
It's also fully handmade and ready to go if you want to skip the detailed DIY process and pick up an adorable memento already made-to-go.
8.

Totoro Papercraft
It's time for a challenging papercraft for anyone out there willing to take the dive.
This large Totoro papercraft could be the test you've been wanting after all that time spent working on wonderful things through origami.
9.

Totoro Nightlight
A very friendly addition to a kid's bedroom, this Totoro nightlight fits snugly over any light and keeps your little one company through the night.
Grab it for yourself or even try reverse engineering this to DIY for your own home.
10.

Ghibli Fairy Garden Decor
An incredibly detailed and striking piece of garden decor, this Ghibli Studio fairy garden bowl provides an awesome perspective into the world of Totoro.
And it'll have you and your kids starting in wonderment for hours – not to mention the fun it will be to make for yourself!
11.

Super Easy Origami Totoro
Now if a big papercraft seems a bit above your DIY capabilities, then why not try this super easy origami Totoro?
A great starter craft for all ages too.
This cool Totoro model will be a fun one to involve the kids with and certainly worth keeping as a bookmark.
12.

Totoro Pinata
Every kid's favorite party pastime has to be tearing down the piñata with as few swings of the bat as possible.
Make the experience even more enjoyable by customizing it to look like Totoro for a party they won't forget any time soon.
13.

My Neighbor Totoro Inspired Music Box
If you or someone you know is a big fan of the My Neighbor Totoro movie, then it's worth considering this movie inspired music box.
It plays the soundtrack whenever you want and you can pick it up totally handmade and ready to go. Definitely a great gift for a guy or a girl, as long as they love the film.
14.

Handmade Wooden Clock
With umbrella in hand, this Totoro wooden clock design is a great depiction of the creature which will have your kids wanting to tell the time at every possible opportunity.
Or if you're a fan of the movie maybe add this into your own bedroom. I mean, you're never too old to love anime right?
15.

Totoro Hair Clips
A fun way to personalize a cute hairdo, these handmade Totoro hair clips would make for an adorable gift for any girl.
You can snag some handmade for yourself or look into customizing your own hair clips from scratch.
16.

Totoro Rubber Stamp
A creative rubber stamp design, this Totoro styled deskpiece will have you stamping all future letters with one of these lovable creatures.
Definitely worth making if you have friends who would appreciate receiving a letter with the image of Totoro in the corner. Or you can also pick it up from Etsy and start stamping right away.
17.

Crochet Blue and White Totoros
A crochet craft to remember, and one that will look great on the shelf or in the bedroom.
How can you not love these fun little bundles of joy? They'll keep you warm and cozy through all the cold rainy days and remind you of (quite possibly) the best anime movie of our time.
18.

LilyPad Arduino
Another fun toy craft to look into, this soft plush Arduino project comes with umbrella in hand for that extra level of character.
A great plush in itself and a nod to the movie, this lilypad design should be the next addition to your kid's toy collection. And if you want to get your hands dirty with some Arduino DIYs this merges anime & pop culture with modern tech in such a natural way.
19.

Totoro Bath Bomb
Definitely visually pleasing, this Totoro bath bomb will melt into a river of different colors and make bath time so much more enjoyable.
Not to mention this works great for both adults or kids. Or both!
20.

Totoro Pumpkin
A slightly different take on traditional pumpkin crafts at Halloween, this Totoro design will have yours stand out from the rest.
While most pumpkins are carved out to look frightening, this Totoro one will make all the monsters running around trick or treating want to be friends.
Super easy to follow if you're already comfortable with pumpkin carving.
21.

Handmade Pillow Design
Here's an eye-catching Totoro pillow design worth chasing down if you can.
This craft will make your living room look one of a kind and really stand out.
Spice up your sofa game by having a go at this pillow design and introduce some Totoro into your home.
22.

Nursery Mobile
A fantastic inspiration for a kid's craft due to its cuddliness and cuteness. And naturally Totoro is the basis for this nursery mobile.
Make your child's first nursery mobile special with this little guy they won't be able to resist looking at and playing with.
Easy to make yourself or pick up pre-handmade too.
23.

Hand-Painted Totoro Tissue Box Cover
Even tissue boxes sometimes need a makeover.
So get your paints out and give this Totoro tissue box design a go. With a little DIY love you can turn something arbitrary into something quite enjoyable.
24.

Miniature Bottle Gift
A craft that would make an outrageously good gift for whatever the occasion, this Totoro miniature bottle complete with inspirational message will be one that the recipient will want with them at all times.
If you're a fan of the movie you're definitely going to want one of these in your home.
25.

DIY Totoro Hat
Another take on the Totoro hat craft (number 5), this one is guaranteed to keep your head nice and warm on those cold days outside.
It's also pretty easy to make if you've already done some basic needlework.
26.

Kawaii Totoro Device Case
Now here's an easy craft to make sure you have somewhere fun to keep your device.
This Kawaii Totoro device case will add a splash of character and playfulness to your daily life. Definitely a great choice for kids who still play with their gaming consoles all the time.
27.

Custom Liquid Charm
This custom Totoro liquid charm is a great option for a gift of anyone who's a bigtime fan of the movie.
Not only is it fun to hold, it's aesthetically pleasing too. Great choice for a handmade Etsy item and perfect for adding into your bedroom or anywhere as a decoration.
28.

Mini Planter
Possibly the most gorgeous planter you'll have laid your eyes on, this mini Totoro planter paints a scene from the movie which will capture the attention of anyone roaming your garden.
It's absolutely brilliant if you actually have space in your backyard. Or maybe someone else you know loves this movie and would love it in their backyard!
29.

Totoro Pencil Case DIY
Every kid likes to have their own cool pencil case, proud to own and can show off to their friends.
Makes theirs one of a kind by hand-crafting this cool Totoro pencil case for them.
30.

Custom Wedding Cake Topper
To make your nest cake extra special and add a Totoro theme to the design.
This Totoro wedding cake topper is a good place to start and certainly not just for weddings.
With a Totoro inspired bride and groom, this one will definitely have the wedding guests stopping to take a photo with the cake. Or you could just use this for a goofy birthday party topper. No limits when it comes to anime stuff!
31.

Concrete Succulent Planter
A playful succulent planter craft, this Totoro inspired garden project is certainly a different way to display your plants and is worth it for a giggle or two from visitors.
I absolutely think this would go well in any garden for a true Ghibli fanatic.
32.

Totoro Bowls for Kids
These Totoro bowls are the perfect way to ensure your kids look forward to their next meal time.
Whether it's spaghetti bolognese or just good old chicken soup, with these handmade bowls will help your kids polish off the contents just to see the Totoro at the bottom.
Note: obviously this works great for adults too but maybe break these out on special occasions, you know like movie night.
33.

Crochet Baby Toy
Another crochet Totoro craft (like number 17), this cute toy is especially for the younger kids.
One that will probably stick with them for a long time and fit perfectly into a newborn's crib. This Totoro crochet toy will act like their best friend.
34.

Totoro Inspired Earrings
Accessorize with these characterful Totoro inspired earrings which are sure to draw looks of envy among your family or friends.
Well, depending on if they know the movie or not.
35.

Totoro Inspired Towel
Wrapping your towel around yourself after a relaxing shower should feel like receiving a warm hug.
A good way to make sure this is the case is to have a crack at these Totoro inspired towels so you can guarantee maximum comfort immediately after washing.
36.

Hat With Tassels
The only hat you'll need during the colder days of the year, this Totoro hat with custom tassels will not only keep your head wonderfully warm, but also make for a fun way to level up your look.
Again you can pick this up handmade and add it to your massive collection of My Neighbor Totoro goodies.
37.

Wooden Engraved Box
This incredibly intricate engraved wooden box would make a truly special gift for anyone who loves the movie.
Put something equally as special inside the box and watch as their face lights up. Or just keep it for yourself. I mean, this thing is pretty awesome!
38.

Totoro Cuddly Plush Backpack
Just like every kid needs a cool pencil case (number 29), they also want a snazzy backpack to take to school.
So go the extra mile with this super soft and cuddly Totoro plush backpack to make sure they always have their favorite movie character with them. Who knows, they might even make a friend who's into anime too.
39.

My Neighbour Totoro USB Night Light
Replace your boring nightstand lamp with this awesome Totoro inspired nightlight that will brighten up your room and your evening.
This quirky design will illuminate your room in such a way that'll make you want to read and study with your Totoro lamp friend all the time.
40.

Totoro Costumes
It's time to crank up the stakes and become Totoro with this next craft.
A perfect project to add some much-needed coziness to those days you want to spend indoors with your partner, these Totoro costumes are essentially the onesies you never knew you needed.
41.

Handmade Cat Bed
Don't leave your cats out of the crafting fun!
This playful handmade cat bed is a great way to get your furry friends into the action.
With this craft you get an awesome-looking cat bed and your cats get a really cozy place to lay their heads at night. It's a win-win if you ask me.
42.

Totoro Mini Fairy Garden Terrarium
Gardens are for decorating with all manner of beautiful plants and ornaments.
So this Totoro mini fairy terrarium should be a no-brainer if you have a garden that's sorely lacking some inspiration, or if you just want to add this into your living room and bring some design sense indoors.
This Totoro terrarium is ridiculously cool and will be a perfect conversation starter whenever your anime-loving friends come over. You should be darn proud to show this one off.
Browse:
Lists
Studio Ghibli
Anime
TV & Movies