Fandom Collectibles: Which Fandom Memorabilia Stands Above The Rest?
This post may contain affiliate links. If you buy something we may get a small commission at no extra cost to you. (Learn more).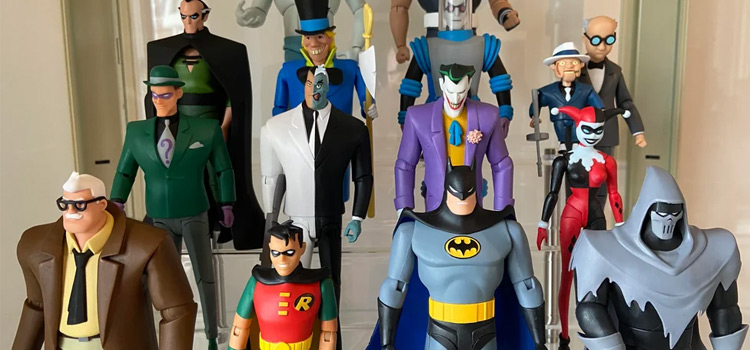 Have you ever wondered what all of those Pokémon cards in your attic could be worth? Or perhaps that Star Wars figure you got for Christmas in the 90s and never opened?
Well, now it's time to stop wondering, because we've collated a list of the 20 most valuable collectibles that are worth a lot more than your average Funko Pop or mini figure!
We worked with pop culture memorabilia experts to compile this list, which includes general memorabilia, props, cards, and figures from a variety of fandoms including anime, fantasy, sci-fi, and superhero.
The 20 most valuable collectibles are as follows:
1. Pokémon – Pikachu Illustrator card – $233,000
2. One Piece – Solid Gold Monkey D Luffy – $200,000
3. Gundam – Solid Gold Gundam Converge – $200,000
4. Gundam – Solid Gold RX-78-2 Gundam – $200,000
5. Star Wars – Rocket Launcher Boba Fett – $150,000
6. Star Wars – Obi-Wan Kenobi With Double Telescoping Lightsaber (1977) – $76,700
7. Harry Potter – First edition book of Philosopher's Stone – $51,680
8. Pokémon – First Edition Shadowless Holographic Charizard card – $50,000
9. Star Wars – Brazilian Glasslite Vlix Figure (1988) – $45,000
10. Game of Thrones – The Iron Throne Official TV Prop – $30,000
11. Pokemon – Magikarp Tamamushi University Promo Card – $27,000
12. Dr Who – 50th Anniversary 9ct Gold Doctor Who Ingot – $15,357
13. GOT – Game Of Thrones Pinball Machines – $9,000
14. Harry Potter – Wax sealed prop envelope – $6,500
15. Dr Who – Full Size Giant Robot figure – $3,841
16. Dr Who – Limited Edition Sevens Movie Dalek – $3,494
17. Game of Thrones – Full set of 1st edition books – $3,000
18. Marvel – 32 inch Sentinel figure – $2,800
19. Marvel – 1976 Marvelmania Ghost Rider figure – $2,595
20. Supernatural – Dual Wardrobe Card OM21 – $1,290
Pokémon takes the top spot in the list with items such as the Pikachu Illustrator card and the First Edition Shadowless Holographic Charizard card, worth $233,000 and $50,000 respectively. Despite landing in the top 10 fandoms, only one collectible item from Supernatural made its way into this list – a Dual Wardrobe Card from seasons 1-3, worth $1,290.
For those of you looking to get into the art of collecting but unsure where to start, our experts have created this brief guide on the top tips to consider when starting out in the world of collecting:
1. Why are you collecting?
Whether it is for money, enjoyment or both make sure you have a clear idea of why you are collecting so you have a clear plan of where you want to end up. Collecting for monetary gain may mean that you want to keep an eye out for the rarer, more lucrative items on the market, while collecting for fun leaves you with a bit more variety to go after!
2. Pick a fandom, any fandom!
You have your entire life to collect so pick one to get started with and stick to it. The same goes for what it is that you want to collect, as a beginner you may want to focus on collecting just one type of item, such as books, figures or games, for example. Doing this will narrow down your search and be kinder to your budget.
3. Budget
Collecting – whatever you're buying – can quickly become something that absorbs all of your funds, to avoid this, put a budget in place for yourself. It doesn't have to be extensive but having an idea of how much you're able to spend when you first get started will be very useful in the long run!
4. Learn the language
Learning the language of collecting will lead to an efficient and clear exchange, making you look like a pro even if you are not! For example, do you know what MOC, MIP and MIB mean? What about NIP or NIB? If not, get your research hat on and start learning, knowing these terms and any others could be the difference between buying yourself a mint condition collectible, and buying yourself a toy.
5. Condition is key
When buying your first item, whether it is a card, toy, game or book, make sure you know exactly what it is that you want and understand what you might be buying. Rushing into a sale may leave you with a purchase far from what you were after! The condition of your item will influence its value massively, so look out for items labelled as mint or new in packaging if you want to get hold of a gem.
Got any other tips and tricks for collecting? Let us know via Twitter @FandomSpot or on our Facebook page!
Browse:
FandomSpot Originals
Pop Culture