120+ Best Vaporeon Nickname Ideas (Male & Female)
This post may contain affiliate links. If you buy something we may get a small commission at no extra cost to you. (Learn more).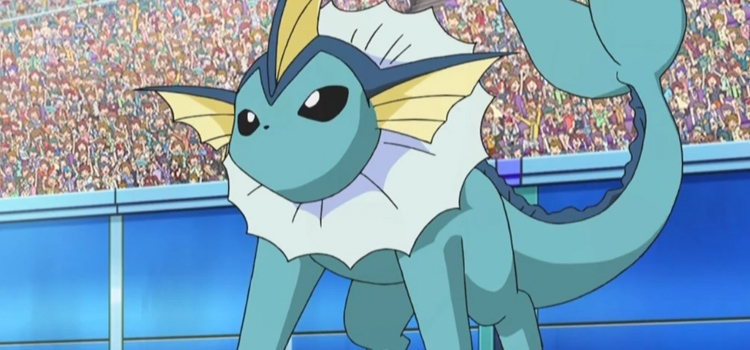 The watery counterpart for any Eevee fanatic is a slippery Vaporeon.
A lovable creature that we first met in gen 1, and have loved ever since. Plus you can pretty much get one just by snagging a water stone somewhere.
But getting your hands on an adorable Vaporeon is the easy part. What about a nickname to fit with your new bundle of liquid joy?
Our list below might have just what you're looking for.
From cute nicknames to funny name ideas, and everything else inbetween.
Aqua
Malibu
Waterfox
Dewdrop
Marino
Bubbles
Tide
Poseidon
Aruba
Bermuda
Shore
Shanty
Fisherprice
Padlock
Pearl
Scarlet
Oprah
Aquarius
Vapor
Milkshake
Cylus
Aquajet
Jacuzzi
Plasmarine
Atari
Waterbed
Waterga
Marshall
Hydros
Umii
Tonkin
WaterLily
Kaori
Pooki
Lulu
Mizu
Gully
Scales
Asheron
Sushi
Sasha
Cordelia
Vaporiee
Surfer
Cyclone
FlipFlop
Rainer
Redux
Seashore
Laker
Baburu
Hotspring
Oceana
Bellagio
Toro
Melody
Piscea
Freon
Demyx
Namor
Arowana
Flarefish
Seahorse
Coral
Garulet
Swipe
Dove
Muttley
Artesia
Fluvella
Condensation
Drizzle
Riparian
Puddles
Soggy
Wetlands
Humaid
Cloudburst
Bracky
Azura
Lapis
Latte
Vape Nation
Packer
Bluefinger
Santiago
Absorba
Seaqueen
Olivia
Octavia
Sebastian
Royal
Flounder
Merlin
Leia
Xenia
Seaweed
Siracha
Mrs Puff
Wanda
Flipper
Algae
Flotsam
Cousteau
Tetra
Delta
Cici
TicTac
Lowtide
Tartar
Lenny
Newport
Binky
Scuba
Astro
Lorde
Mikey
Finley
Niles
Raindrop
Triton
Ariel
Browse:
Lists
Pokémon
Video Games