How To Form Italy in Victoria 2 (Complete Guide)
This post may contain affiliate links. If you buy something we may get a small commission at no extra cost to you. (Learn more).
Italy is a beautiful nation in the middle of the Mediterranean. With its large population, decent literacy rate, and natural resources, it could create an empire and make history in many different ways.
Whatever your plans are, the first step is clear: unification.
You can do this on your own through the "Avanti, Italia!" decision, or with the help of Garibaldi's Redshirts.
It seems an easy task: you only have to conquer the other Italian powers or get them in your sphere of influence.
But one of the core states you need, Lombardia, is firmly held by Austria.
There is no way around it: war is inevitable.
With Austria being a Great Power that vastly surpasses your own might, you need to build up your strength and find strong allies.
Choosing a Nation
Before diving into the strategy, let's check which nations have a good shot at forming Italy:
Sardinia-Piedmont historically unified Italy. It has a strong starting position and access to coal through Sardinia, plus a good starting relationship with France, a land-based power that can easily overpower Austria.
The Kingdom of Two Sicilies has a larger population, a strong military, and easier access to North Africa. It will have to face a redshirt uprising, but it is well equipped to grow on its own and unify Italy later, at your own pace.
The Papal States, Tuscany, Lucca, and Parma are basically weaker versions of the other two, but they can make for a fun challenge run.
For the purpose of this guide, we'll be playing as Sardinia-Piedmont. And we will employ the Redshirts to quickly unify Italy.
Then we will confront Austria directly.
Invading Southern Italy
First of all, you must make the redshirts rebels actually spawn.
This means destabilizing another country through war.
The only Italian nation you can attack without drawing the ire of the Great Powers is the Kingdom of Two Sicilies, so make preparations from day one:
Start justifying a Humiliate casus belli
Build some frigates and at least one Man'o'War to reinforce your navy, the Armata di Mare, and a few clippers
Get an early alliance with the Papal States. You just have to wait to be in France's Sphere of Influence with them before proposing.
Do not develop your industry at all. You don't want to become a Great Power too soon, or you won't be able to secure good allies later.
Position your troops in Sardinia and mobilize to get all the firepower you can.
The Kingdom of Two Sicilies usually does not have any allies in the early game, nor is it sphered by Great Powers. But it still has more than twice your population and army size: you must win this war at sea by outmaneuvering the AI.
Note: Do not call your allies early!
They will either refuse because the Sicilian army is too large, or waste their troops against their superior numbers.
When you are ready, split the navy in two:
Occupy the Tyrrhenian Sea with your military ships, keeping the Sicilian fleet at bay and your Piedmontese homeland secure.
Ferry your armies to Sicily with your transport ships and one frigate, and control the Bay of Naples, preventing the enemy from crossing.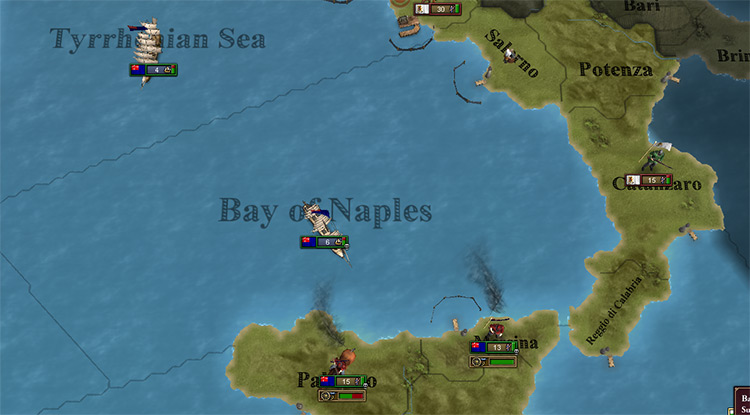 As you wait for your troops to take Messina, you may want to bring in more by detaching some clippers from your fleets. After your grip on the island is secure, you can start destroying the enemy army.
This is a simple maneuver, but it requires some micromanagement.
Step 1: Have your fleet dock in Messina: the Sicilian Army will start crossing the strait.
Step 2: As one stack starts fighting with your troops, blockade the strait again. This traps the enemy soldiers in Sicily, away from reinforcements.
Step 3: They are now facing you with a double penalty for attacking over the strait and fighting in rough terrain. Your victory is guaranteed.
Step 4: Once defeated, the enemy stack can't retreat to a safe position, so it will be destroyed.
Step 5: Repeat until the Sicilian army is no longer a threat.
Now you can advance on the mainland and occupy all of the provinces.
If they still counter your dwindling forces by raising fresh regiments, or if they have reserves you didn't anticipate, call the Papal States to help you out.
Your goal is nothing less than total control.
Besiege everything and do not accept peace deals, just secure the place and return your armies to Piedmont.
Expedition of the Thousand (Event)
The enemy is in disarray. If you've made it this far, congrats: you've completed the most arduous step.
Now you have to wait.
Soon, redshirt rebels will spawn across the Two Sicilies and besiege provinces on their own. In the meantime, improve relations with France as much as you can
Note: There isn't much the AI can do to prevent the rebels from taking over. Accept their surrender now to gain prestige and prevent your allies from routing the rebels.
The waiting game will go on for some time.
But fear not: those Redshirts will become hundreds of thousands and take every province from the weakened kingdom.
Use this time to recover manpower and check what Austria has been up to. It should have one Great Power ally and a few spherelings, some of them in Italy.
To be extra safe, justify a Humiliate casus belli on one of its german satellites.
It shouldn't expire before you receive long-awaited good news from the south: specifically that the Expedition of the Thousand event will fire.
If you accept the offer, the Kingdom of Two Sicilies and most minor states in the peninsula will be annexed, and you will become Italy.
The struggle is not over though.
Some territories are still held by Austria.
War with Austria
With most of the Italian population at your disposal, you should be able to raise an army of no less than 150,000 men, enough to engage Austria in a fair fight.
In strategy games, however, you don't want to pick fair fights.
Remember how you didn't industrialize? So you should not be a Great Power (yet).
And that means that France will consider allying with you even if it's already allied with another Great Power. The same applies to Spain, Prussia, or whoever you want as your partner against Austria.
Get a strong ally and build small arms, canned goods, and ammunition factories as you raise your troops and move them close to the Austrian border.
Note: Pictured above is the "Italia Irredenta" decision. This will grant you several cores on Austrian territory in Italy and Dalmatia. You can do this before or during the coming war.
Once your forces are massed, declare war on any Italian state who didn't:
Join you with the Restore Order casus belli, or
Attack a minor Austrian ally with the Humiliate casus belli
This will drag Austria into the war without its other allies, while you will be free to call your Great Power friend to crush the Austrian armies along with you.
As soon as the tides of war turn in your favor, you can repeatedly "Add Wargoal" against Austria (found in the Show Wars tab of the Diplomacy menu).
Add all the Acquire Core wargoals you want – they cost no infamy.
In the end, I unified Italy two full decades before Victor Emmanuel II, and went on to expand it by crushing its greatest rival, the Austrian Empire, long before the Great War.
You now have control over a large, industrialized country in the second half of the nineteenth century.
From here it's smooth sailing, expanding an empire that will no longer be dwarfed by encroaching powers.
Browse:
Victoria 2
Video Games