Yu-Gi-Oh: The Best Burning Abyss Cards For Your Deck
This post may contain affiliate links. If you buy something we may get a small commission at no extra cost to you. (Learn more).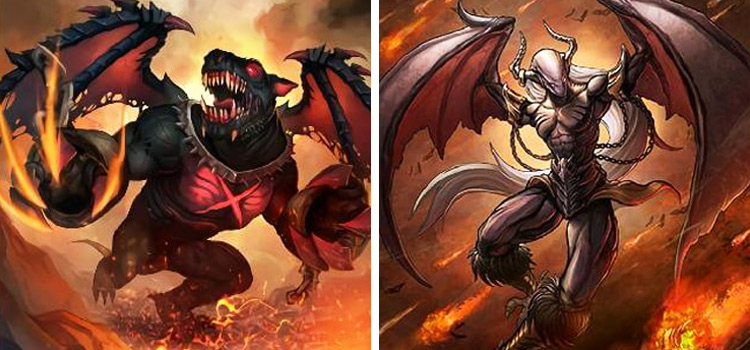 We've had a few archetypes exclusive to the TCG by now.
But Burning Abyss is without a doubt the coolest one.
This deck is based around Dante's Inferno, an epic about Dante's journey through the multiple layers of hell.
Pretty deep meaning for an archetype that made its debut in the same set as Performapals!
And Burning Abyss has all of the characters you'd expect from Inferno. You've got Dante himself, Virgil, Beatrice, and of course, all of the demons from hell itself.
So if you're looking into this hellishly awesome deck, here's our picks for the best Burning Abyss cards out there.
10.

Alich, Malebranche of the Burning Abyss
Each "Malebranche of the Burning Abyss" has two effects.
Firstly, if you control no spells and traps, you can special summon them from your hand for free.
And secondly, each Malebranche has a different effect that triggers when they hit the graveyard – which will usually further your plays, or just generally give you a nice boost.
When Alich, Malebranche of the Burning Abyss hits the graveyard, you can negate the effects of any face-up monster on the field until the end of the turn.
This is great for dealing with pesky monster effects so they don't disrupt your game plan for an entire turn.
9.

Libic, Malebranche of the Burning Abyss
Burning Abyss are a deck made entirely out of level 3 monsters which can all special summon themselves from for free from your hand.
This gives the deck the ability to XYZ summon an insane amount of times.
And with plenty of great rank 3 XYZ monsters to choose from, you'd be crazy not to!
Libic, Malebranche of the Burning Abyss helps extend these rank 3 XYZ summons even further.
When it's sent to the graveyard, you can special summon any level 3 Dark Fiend monster from your hand, but its effects are negated.
While another Burning Abyss card seems like the ideal target here, there are plenty of other options to choose from.
One example is Tour Guide from the Underworld, an incredibly powerful fiend monster who special summons more fiends from your deck when she's normal summoned.
8.

Scarm, Malebranche of the Burning Abyss
I know Burning Abyss is an archetype of literal demons from hell, but really, this card has some absolutely terrifying artwork.
Scarm's role in the Burning Abyss strategy is pretty much just to search out Tour Guide from the Underworld.
When Scarm is sent to the graveyard, you can add 1 level 3 Dark-type Fiend from your deck to your hand – basically any Burning Abyss monster or Tour Guide.
Tour Guide is always the card you want for your normal summon.
Reason being, her normal summon special summons another level 3 from the deck, setting you up perfectly for all sorts of rank 3 plays.
Having Scarm in your deck essentially doubles the rate at which you'll see Tour Guide – which is definitely something you'll want if you're aiming to win.
7.

Virgil, Rock Star of the Burning Abyss
While this deck has absolutely crazy XYZ potential, there's also some synchro plays to be made here.
Virgil, in the original epic, was the Roman poet who led Dante through the circles of Hell.
In this case, Virgil does the same, but is now a rock star?
Weirdly enough, I really love the design change!
Once per turn, you can discard a card to target any other card that your opponent controls or that's in their graveyard, and shuffle it into their deck.
This is amazing for getting rid of pesky monsters that can't be destroyed by card effects, or to prevent your opponent from activating particular cards in the graveyard.
On top of that, when Virgil leaves the field, he lets you draw an additional card so you're not left empty-handed. Pun intended.
6.

Cir, Malebranche of the Burning Abyss
Cir, Malebranche of the Burning Abyss is phenomenal at keeping up board presence.
When this guy hits the graveyard, you can get another Burning Abyss monster in your graveyard (except Cir) and special summon it to your side of the field.
If you can somehow send this guy to your graveyard from the deck with cards like Foolish Burial, then you can see why the value on this card is astronomical.
This essentially turns Foolish Burial into a monster on your side of the field… how can you say no to that?!
5.

The Traveler and the Burning Abyss
Considering that pretty much every Burning Abyss monster requires you to not have spells and traps, you'd think that Burning Abyss wouldn't come with its own trap card…
But hey, with trap cards like this, I'm not complaining!
This card lets you special summon all Burning Abyss monsters that were sent to the graveyard this turn, all summoned in defense position.
If you thought the deck was great at setting up Rank 3 plays before, just wait till you include this card in the mix.
You'll be making summons all over the place, making this trap card truly worth running in any Burning Abyss deck.
4.

Dante, Traveler of the Burning Abyss
It's no surprise that Dante is the centerpiece of the Dante-themed Yu-Gi-Oh deck.
We all saw this coming, right?
Dante, Traveler of the Burning Abyss is the rank 3 monster you'll always want to be XYZ summoning.
And here's what it does:
Once per turn, you can target a number between 1 and 3, and mill that many cards from the top of your deck. This card gains 500 attack for each card milled.
Not only does this boost Dante up to a decent 2500 attack, but it also dumps a bunch of Burning Abyss monsters in your graveyard, all of which will gain their graveyard effects!
This is a fantastic way of triggering your most powerful Burning Abyss effects, and potentially triggering an avalanche of XYZ summons as well.
3.

Farfa, Malebranche of the Burning Abyss
Farfa's graveyard effect is actually a really versatile one that can help out in a whole bunch of situations.
Here's what it does:
When this card is sent to the graveyard, you can target one monster on the field and banish it until the end phase.
Weirdly enough, the first way this effect would come in handy is to protect your own monsters.
If you're getting attacked by your opponent and this card gets sent to the graveyard, you can use this to banish one of your monsters to ensure it doesn't get attacked – that way you can use it again next turn!
This card is also great for getting rid of monsters that are either equipped with spells, or have counters on them.
Banishing them from the field will eliminate all these counters / remove the equip spells, turning them back into their old (and hopefully less harmful) form.
2.

Graff, Malebranche of the Burning Abyss
I'll never get over how stunning the artwork in this card is.
The level of detail is just above and beyond what we normally see in Yu-Gi-Oh!
And putting the artwork aside, Graff is also easily the best main deck Burning Abyss monster.
When this guy is sent to the graveyard, you can special summon any other Burning Abyss monster from your deck straight to the field.
If you're milling cards with Dante, Traveler of the Burning Abyss, then Graff is the guy you want to be milling – as he's the key to starting all your XYZ plays.
1.

Beatrice, Lady of the Eternal
I don't think anyone's surprised to see this card at the top spot!
Beatrice isn't just the best card in Burning Abyss, but also arguably the best rank 6 XYZ in all of Yu-Gi-Oh!
Even though Burning Abyss runs very few level 6 monsters (Virgil and that's it), that's actually not a problem.
To XYZ summon Beatrice, all you need to do is discard a Burning Abyss card, then use any Dante monster you control as the sole XYZ material.
And while she's on the field, Beatrice lets you send any card from your deck to your graveyard at quick effect speed!
If this list has shown you anything, it's that Burning Abyss have some seriously powerful graveyard effects.
Being able to trigger these during your opponent's turn is a recipe for some serious damage, especially when you consider the non-Burning Abyss cards you could target with this same effect.
Browse:
Lists
Yu-Gi-Oh
Tabletop Games