The Best F-Zero SNES ROM Hacks To Try Out
This post may contain affiliate links. If you buy something we may get a small commission at no extra cost to you. (Learn more).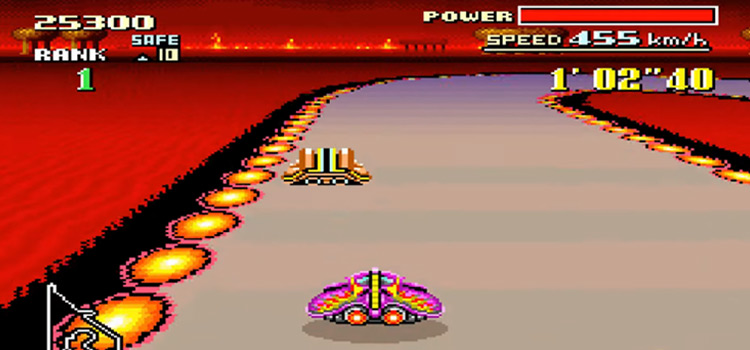 Most people think high-speed racing is all about burning rubber and leaving black tire marks at every turn.
But take one look at F-Zero on the SNES, and you'll realize how short-sighted that is.
This classic racing game was revolutionary in its time due to its gorgeous graphics (at the time) and its use of cutting-edge sprite scaling to simulate 3D environments.
Sonic the Hedgehog may have been the king of speed when it came to side-scrolling. But on the quasi-3D front, the Blue Falcon was the real blue blur.
If you just can't get enough of F-Zero then ROM hacks are a great way to look at your favorite racer from a new perspective.
New tracks, unique visuals, and new gameplay mechanics – you'll find it all here in our favorite F-Zero ROM hacks to take for a test drive.
10.

Axnfanatic's F-Zero
If you're just dipping your toes into the world of ROM hacking, Axnfanatic's F-Zero is the place to start.
This ROM hack features no visual or musical changes – just 15 revamped tracks for a unique experience that'll inject new life into your favorite SNES racer.
There are some glitches here and there, but that's part of the fun of ROM hacking!
They can be hilarious, and the whole experience will give you a feel for what to expect in further hacks.
9.

Tracks Unlocked
The extreme speeds of F-Zero racing tend to make us fail miserably in our first few races.
If you're like me, it's more like your first hundreds of races.
Before you finish first in the Grand Prix, you must first learn to finish your races without blowing up.
Practice Mode is there for just that, but its limited track selection can be a problem if you're playing this for a while.
But this ROM hack simply unlocks all 15 tracks for you to hone your skills in Practice Mode.
It's also the ideal hack for those of us who revisit the game once every full moon, and would rather jump straight to Fire Field than play through the entire cup.
8.

F-Zero: Eternal Boost
Some people believe that if you're in full control of your car, you're just not going fast enough.
That might not be true on a suburban street.
But it definitely applies to F-Zero.
If you want to know what true speed feels like, this ROM hack is for you.
Be ready to bump into walls at nearly every turn as you boost through the entire game at breakneck speeds.
Not only does the boost never run out, but you actually can't turn it off.
Depending on your skill, it can be both a blessing and a curse.
This hack also unlocks White Land II and Fire Field in practice mode, so you can get used to it before tackling the Grand Prix.
7.

Nytezero
One of the most beginner-friendly ROM hacks available for F-Zero is Nytezero, which brings a fresh experience for players who haven't quite become Captain Falcon just yet.
No race in F-Zero is without some risks.
But most people can at least finish the race in Nytezero. It's ideal for newcomers.
It's also great for those of you who hate difficulty spikes in video games. Check it out if you're newer to the series as a whole, or newer to the SNES title.
6.

F-Zero MSU-1
The classic SNES didn't have the most complex audio quality (compared to today's standards).
But this gives all SNES game soundtracks a distinctive nostalgic appeal – yet it's not necessarily the best possible experience.
This ROM hack works by emulating the function of DSP chips in games like Super Mario Kart and Pilotwings, which allowed these games higher-quality audio.
Now, you can replace F-Zero's classic soundtrack with a more modern version. And some of the best options can be found here.
5.

F-Zero: Parallel Dimension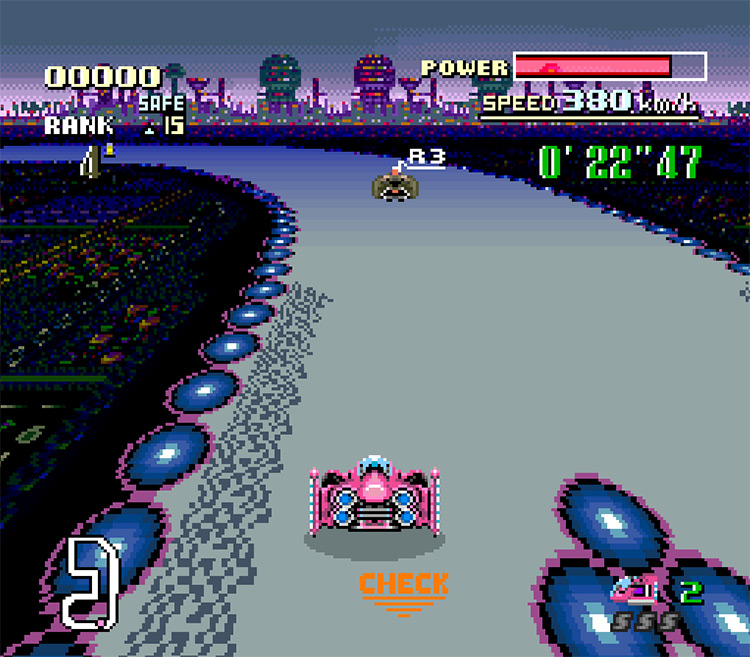 Most F-Zero ROM hacks are happy with redesigning the tracks and maybe messing with the game's color palettes.
But what about mechanics?
Parallel Dimension takes a cue from F-Zero: Maximum Velocity on the GBA, and introduces its opposite drifting mechanic – which can help you land precise turns.
It also supports quick recovery so you don't waste time after an accident.
The track redesign isn't the most creative but coupled with the new drifting, it really changes things up.
The re-colored ships are also a highlight.
Because let's be honest, the Blue Falcon looks fire in pink!
4.

F-Zero: Nebula Highway
In F-Zero, the winner isn't the one with the most powerful vehicle – but the player who keeps restarting after each game over.
This is especially true for Nebula Highway, one of the toughest ROM hacks on the classic racer.
It features 15 vicious new courses to challenge even the most experienced pilots, which become even harder after unlocking the Master Class.
But it's not all about the hard difficulty.
There's also a distinctive new main menu and gorgeous new color palettes for each track that reflect modern aesthetic sensibilities.
The rival AI has also received some significant improvements.
3.

F-Zero: The Revenge
As the series went on, F-Zero became considerably more difficult.
To this day, I can barely finish some of the tracks in F-Zero GX without crashing and burning.
But that's part of the fun!
After all, galactic racing doesn't really get going until ships start blowing up.
The Revenge is the hack for those of you who can't get enough of these thrilling challenges.
It offers a renewed set of tracks with more danger, seemingly impossible turns, and maliciously-placed mines that turn the Grand Prix into a real death race.
It's hard, but not overwhelming if you've got some experience.
You just need to go pedal to the metal until the thrill of speed overcomes your fear of failure!
2.

F-Zero Final
One of the most ambitious and exciting projects in F-Zero hacking is F-Zero Final, which alters the league and track loading so creators can add new tracks rather than modifying the existing ones.
Among the project's main goals is to bring the best tracks from other F-Zero games – such as the Japanese BS F-Zero Grand Prix – into a single package, complete with eight ships, custom leagues, and better visuals.
The current working beta still has some bugs (as of this writing) and doesn't yet deliver on all of its promises just yet.
But it's definitely a project to keep an eye on, or try out if you don't mind running the beta version.
1.

F-Zero: Alternative Strike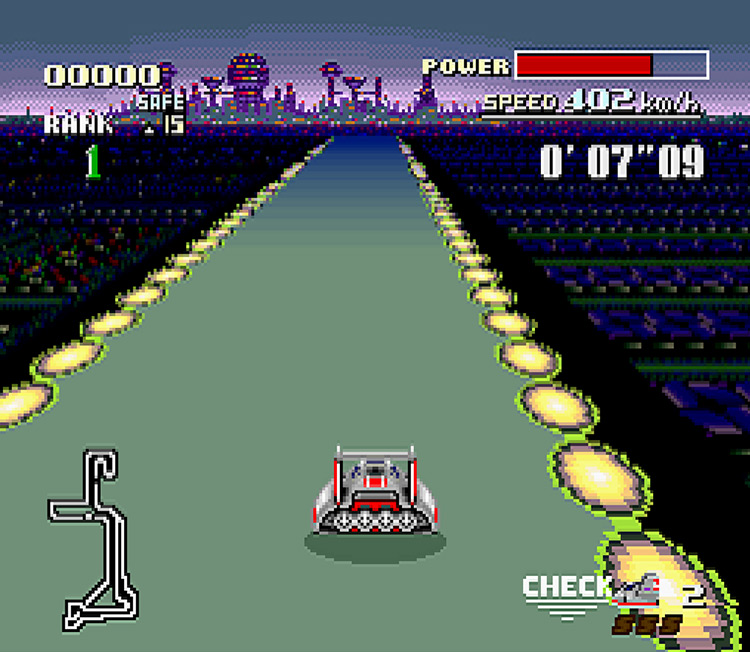 The same people behind The Revenge hack, also bring us Alternative Strike.
This is a fantastic F-Zero ROM hack with new tracks to race on, and renewed visuals too.
More specifically, the hack focuses on providing a fair challenge for experienced players throughout 15 fresh tracks that feature diverging paths, intricate design, and plenty of jumps to test your courage – and your timing!
It also changes up the color palettes for most racing venues, and every one of the four vehicles.
The main menu also looks pretty sleek and much more elegant than in the original.
Browse:
F-Zero
Lists
Nintendo
SNES
Video Games